Kingston has been in the memory business for as long as we can remember. Today we have the newest in the Kingston HyperX Extreme performance line with the HyperX Predator memory. New heatspreader and extraordinarily high speeds make this kit an enthusiast's dream. Now let's take a look further and see if dreams meet reality.
Introduction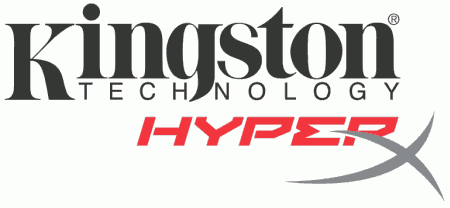 Kingston has been making memory since what seems like the beginning of time. Technology has been improving at a seemingly exponential pace, and it seems like before a board even leaves our test bench it has already been replaced by the next model. This kind of breakneck pace while its nice to always have better and better products it becomes almost unfathomable to try and keep up with it all. Take memory, for example: a few years ago, 2000MHz DIMMS were the top dogs and everyone strove to get solid 2GHz DIMMS in their stable. Now today 2GHz is common place and actually considered rather slow for enthusiasts as the kit we have in front of us. This kit runs at 2666MHz, and no tweaking is necessary as a single XMP setting is all that's needed to set such an insane frequency.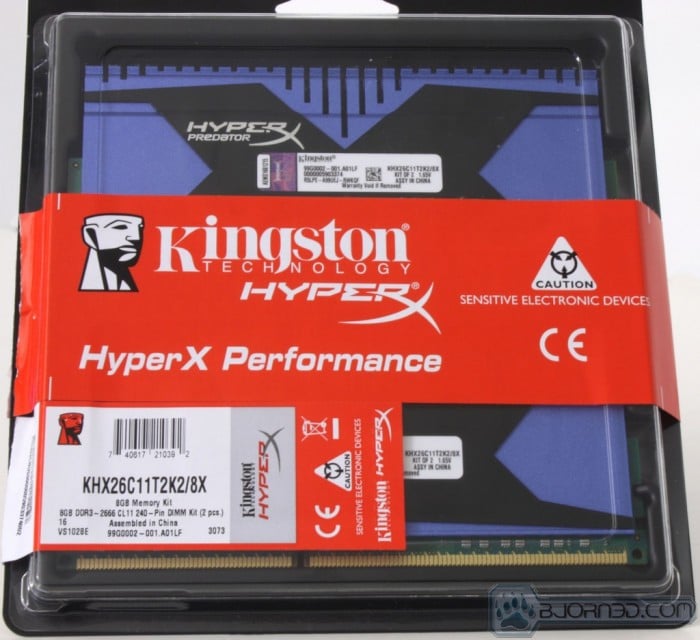 As we have seen before when you start getting to the higher frequencies a higher clockspeed on the CPU is needed to see the increase in performance, which is why these are considered "enthusiast" modules. The new Ivy Bridge platforms are simply so efficient and run so well that pushing a huge memory frequency nets marginal results. To see the full potential of these modules you really do have to overclock the CPU a bit to see them running at full potential.   
The only price we could find online was through Amazon which was a sale price of  $180.47  and this is quite high since the speed bin just below this is 2400MHz and they are substantially lower cost. But when it comes to top bin IC's, many higher end enthusiasts and bench markers will simply spend the extra money because having the best hand screened IC's can mean the difference between taking home a cut or just going home.
Pictures & Impressions
Click Image to Enlarge
This module kit comes just like many Kingston kits we have seen in the past. The main tray is opaque black plastic with alignment notches that retain the modules in place during shipping and also help avoid damage to a certain extent.
Click Image to Enlarge
The modules are very nice looking with a thick heatsink similar to the HyperX T1 series but a newer more edgy or aggressive design. One thing to note is that with these taller modules comes the possibility of fitment issues with some bigger air coolers. This is common knowledge these days but worth noting.
Click Image to Enlarge
The heatspreader on the PRedator modules has more fin separation and more airspace than we have seen on the T1's. They also tends to feather outward instead of meeting at a point but overall with the thermal output of DDR3 DIMMS the heatsink for the most part is more aesthetics than anything.
Click Image to Enlarge
The Predator heatsink makes excellent contact with the IC's on both modules we received so any heat produced should be expelled rather easily through the large heatsink.
| | |
| --- | --- |
| M/B Chipset | Intel Z77 |
| CAS Latency | 11-13-13-32 |
| Capacity | 8GB (4GB x 2) |
| Speed | DDR3-2666 (PC3 21300) |
| Test Voltage | 1.65 Volts |
| Height | 47.9 mm / 1.89 inch |
| Registered/Unbuffered | Unbuffered |
| Error Checking | Non-ECC |
| Type | 240-pin DIMM |
| Warranty | Lifetime |
| Features | Intel XMP 1.3 (Extreme Memory Profile) |
These modules as you can see are XMP profiled for 2666MHz albeit with some looser timings but that kind of comes with the territory in some of these higher end speeds. These modules use Samsung IC's. Anyone who has spent some time tuning these knows they can reach some nice speeds. Nonetheless, pushing speed this high is tough, and we're sure that after screening for this spec of module, the yield is quite low, which puts the price difference between this model and the 2400MHz model in greater perspective. Now let's take a look at what these modules can do.
Testing & Methodology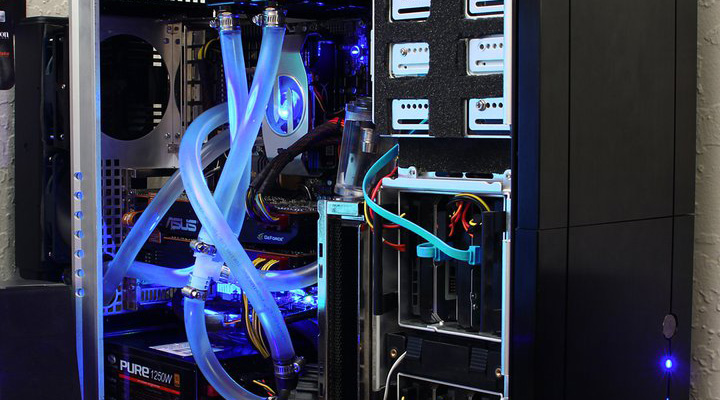 Memory testing can be tough at times as most look at a number (the frequency) and think the higher the better, but in our testing experience we do know that many times there are other numbers at play such as the timings and subtimings which can have anywhere from a minimal to drastic affect on what kind of performance we see from the system when tweaked to the max. Also price can be a determining factor as well and this is why we will run through a few benchmarks to see how this kit affects system performance running at SPD, XMP and custom tweaking to ensure we get a good idea of exactly what kind of value the end consumer can expect for their money.
Overclocking
One thing to note right off the bat is that anything past 1600MHz-1866MHz will not net you much if anything on a stock clocked 3770K. The architecture is just too efficient and therefore the higher memory frequency simply cannot be seen without the CPU moving a bit faster. In order to make this a simple play for anyone who might try this, we did the simple (or EZ) overclock supplied by the ASUS Maximus V Extreme, labeled "Gamers Overclock". This placed the CPU at a nominal frequency of 4.8GHz. When I tested the memory first at stock speeds the difference between SPD 1600MHz C9 was not there it was a marginal to non existent change no matter the benchmark.
The memory is already binned very high and selecting the next strap up required some significant timing changes which simply resulted in worse performance as the modules were too loose. Raising BCLK with the divider left for 2666MHz gave some more frequency but once again required loosening of some timings which lead to marginal increases in performance. However, overall stability could be an issue, not to mention that we cannot guarantee every chip can run higher BCLK with stability as some we have tested have been quite bad with BCLK adjustments.
The final attempt left me with tightening up the memory if possible at an attempt to push for more performance. To our surprise Kingston did leave some room on these modules (likely to ensure a little more yield) but we were able to crank down the timings to 11-12-12-30.  This may not seem like much, but on timings, a single digit of improvement can yield pretty decent gains.
CAUTION: Overclocking can damage components, void warranties and cause all kinds of other unforseen issues.  Perform at your own risk and understand the settings I may list are from my own testing risking my own hardware so it is in no way a guide on how you should overclock your system or components.  (silly I know but I dont want someone jumping up and down on my head because they messed something up)
Test Rig
Test Rig

Case
Open Air Test Bench
CPU

Intel Core i7-3770K

Motherboard
ASUS Maximus V Extreme
RAM

8GB Kingston HyperX Predator 2666MHz (2x4GB)

CPU Cooler

Swiftech H20-320 Edge HD

Hard Drive
Western Digital Velociraptor 300GB
SSD

Kingston HyperX 240GB SSD

Optical
ASUS BD-ROM
GPU

Intel HD 4000

Additional Cards

N/A
PSU

Thermaltake Toughpower XT 1475W Gold

Mouse
Tt eSPORTS Black gaming mouse
Keyboard
Tt eSPORTS Meka G1 mechanical gaming keyboard
Test Suite
We will use the following applications to test the performance of the memory. Benchmarks
SiSoft Sandra 2011
AIDA64 Extreme
Superpi
3DMark 11
Sniper Elite V2
SiSoft Sandra 2011
"SiSoftware Sandra (the System Analyzer, Diagnostic and Reporting Assistant) is an information & diagnostic utility. It should provide most of the information (including undocumented) you need to know about your hardware, software and other devices whether hardware or software. It works along the lines of other Windows utilities, however it tries to go beyond them and show you more of what's really going on. Giving the user the ability to draw comparisons at both a high and low-level. You can get information about the CPU, chipset, video adapter, ports, printers, sound card, memory, network, Windows internals, AGP, PCI, PCI-X, PCIe (PCI Express), database, USB, USB2, 1394/Firewire, etc."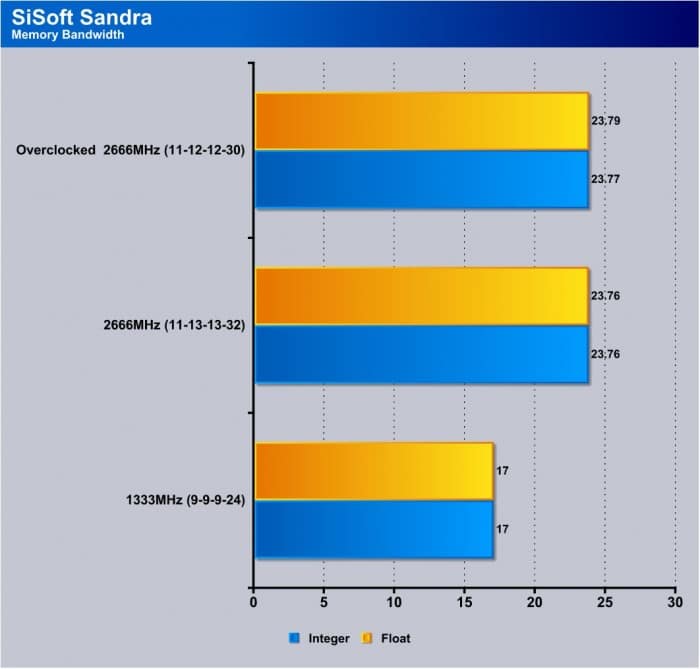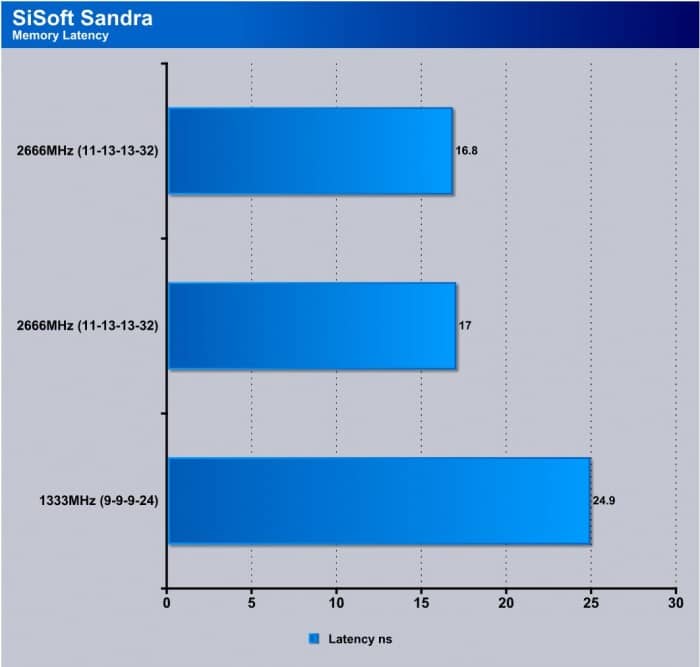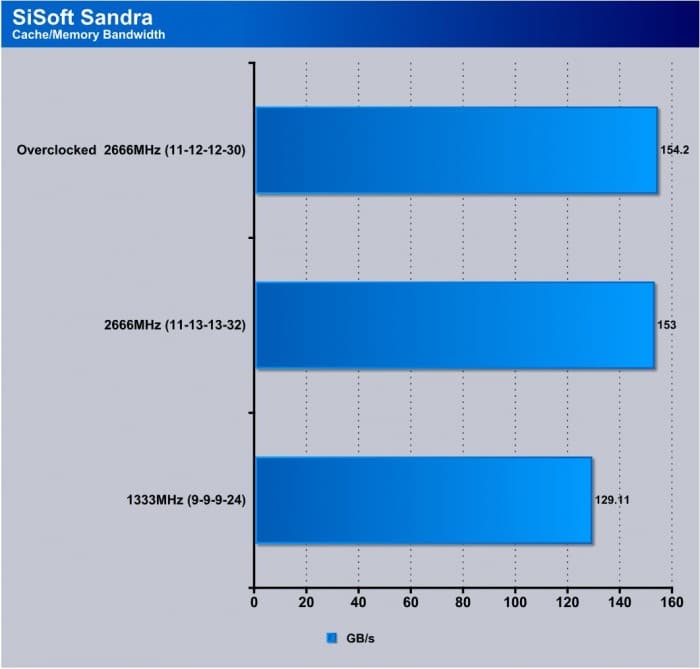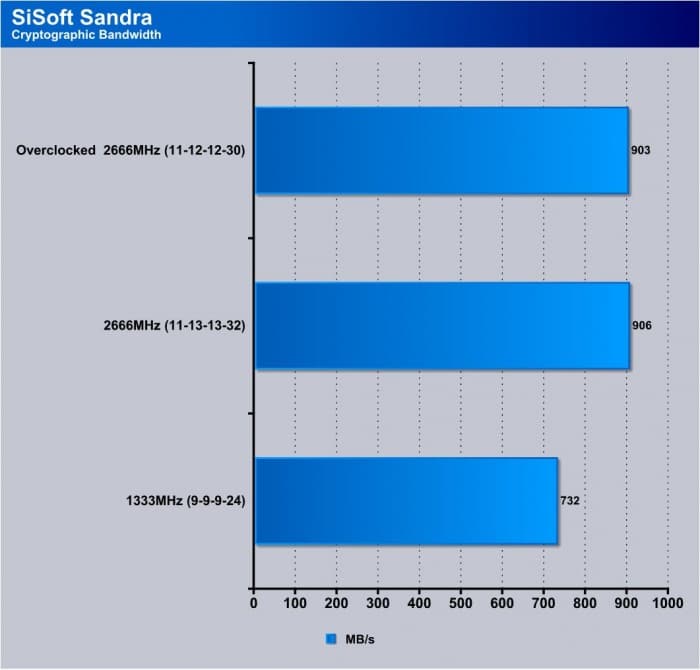 Here we see that going from the 1333MHz SPD default to XMP gives a sizable gain. Tweaking the timings a bit tighter gives some small gains as well but overall the memory seems to run very well sitting at its spec profile.
AIDA64 Extreme
"AIDA64 Extreme is about one of the most comprehensive system information utilities I have used. The integrated memory benchmark is aso very cool as it gives me a repeatable bandwidth and latency result which can then be used for comparison."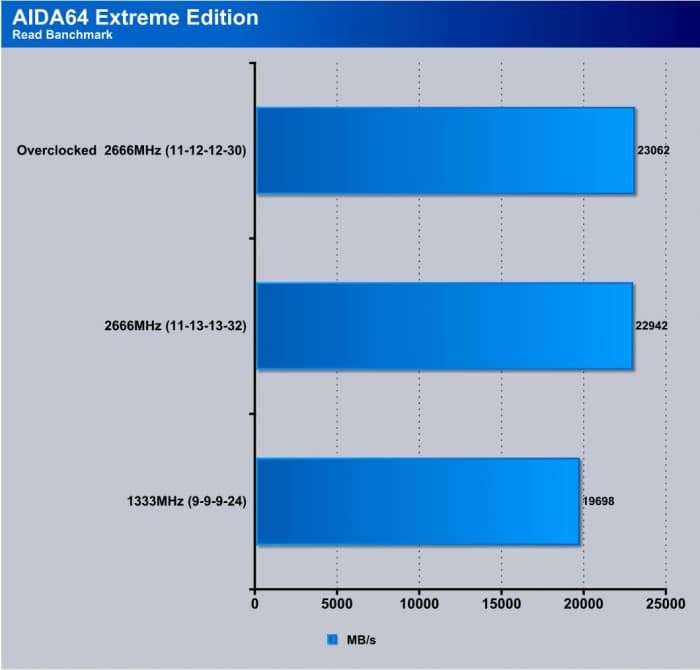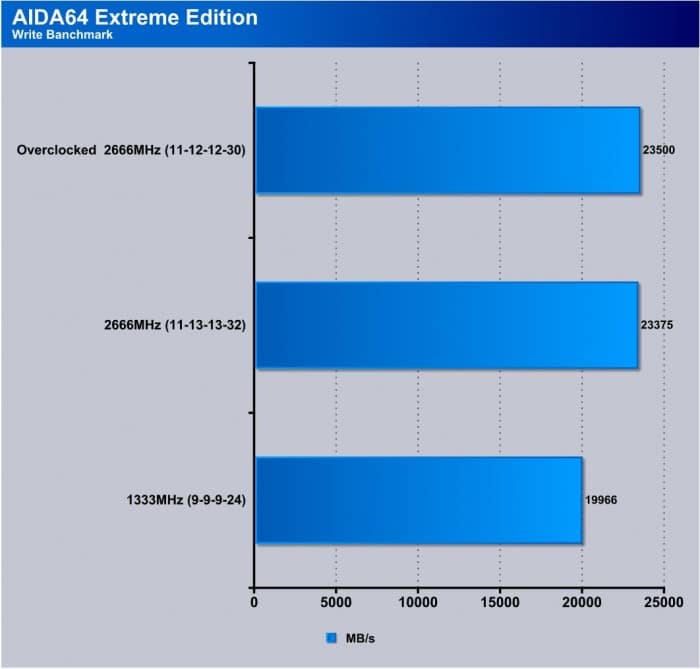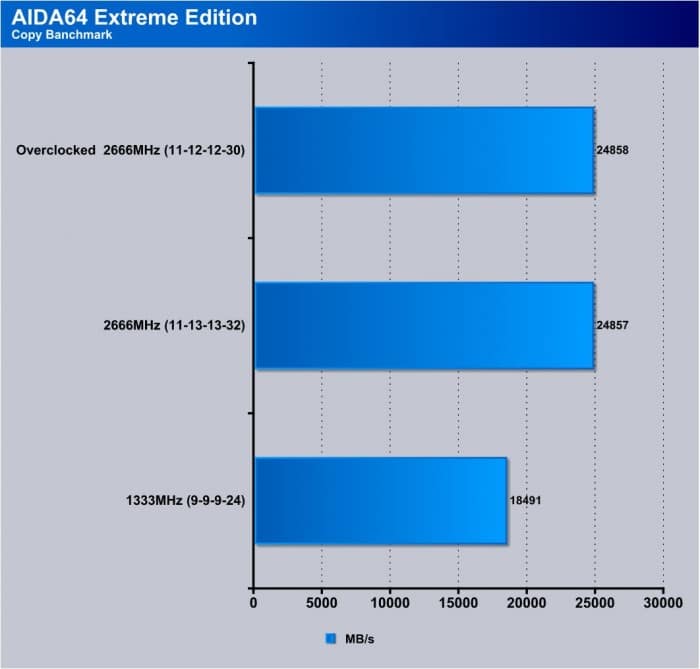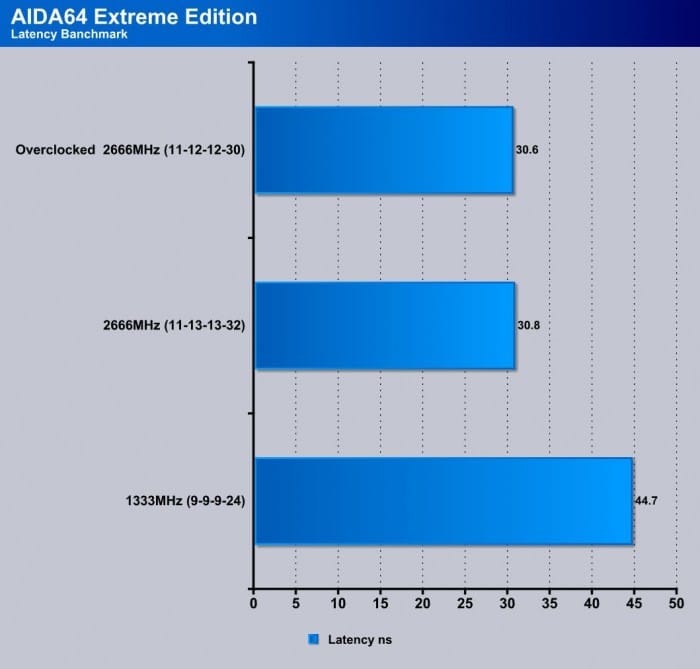 AIDA64 shows similar results as the jump is huge from the SPD default to XMP profile. but also latency improves as well by a large margin which means the system overall will be more snappy with calculations and any other work it performs.
Superpi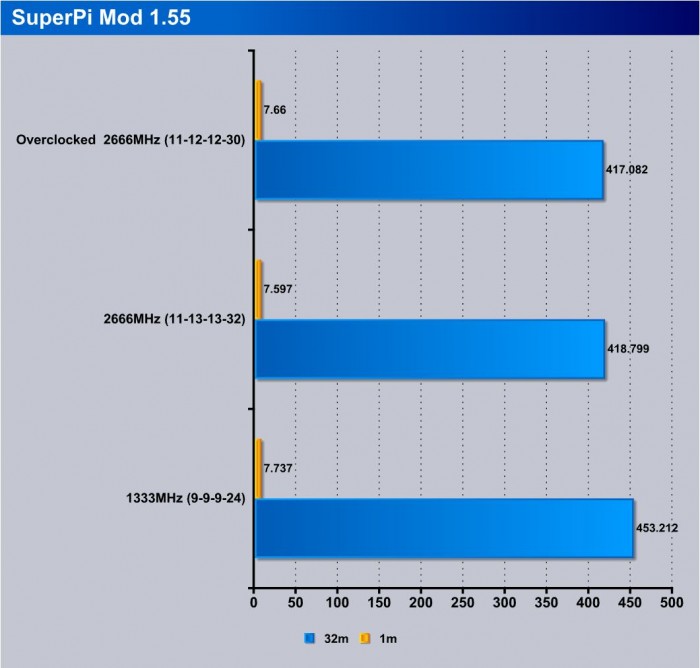 Here we have SuperPi which does very well for testing efficiencies and also stability of a platform. The 1M quick test shows a jump that may seem small from SPD to XMP but it is a very quick test so the smaller improvements actually are quite large. Moving to the 32M long test we see a much more sizable improvement which tells us that the overall system efficiency has been improved and workloads can be completed much quicker at the higher speed and lower latency.
3DMARK 11

3DMark 11 is the newest in futuremark's suite of benchmarking utilities. Its a fully capable DirectX11 benchmark which also stresses and analyzes the system performance as a whole to simulate a heavy rendering environment such as a high end game or other app the end user may run. This benchmark was run with Performance settings 5 times and all runs were averaged for the result below.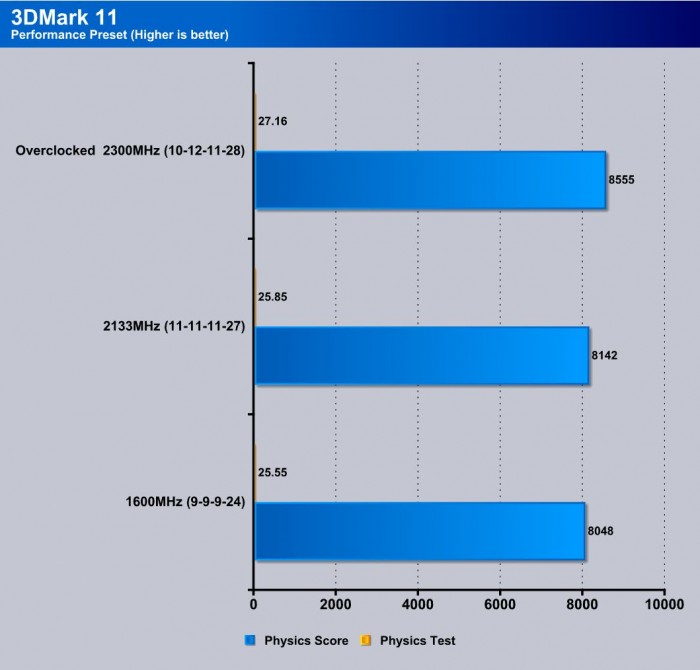 3DMark 11 is a nice synthetic benchmark which represents 3D gameplay. For this we am using the integrated HD4000 running at performance preset and we am only interested in the Physics score and test results. This is a CPU bound test and as you see the jump is very good once again with a small nudge gained from the tightening up of the timings on the memory.
Sniper Elite V2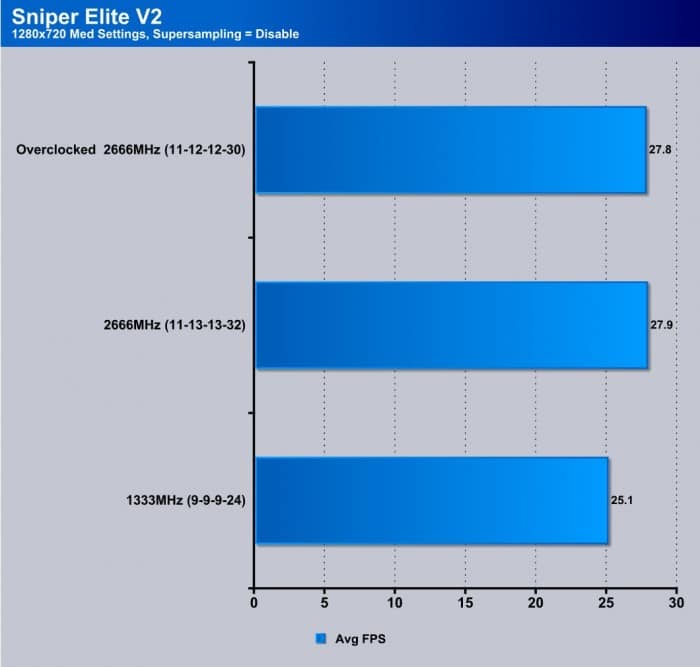 Sniper Elite V2 is a newer game we just recently added to my testing, so we went ahead and threw it in here just to see if it added any performance in real world gameplay. As you see here switching to XMP does make a difference and the FPS gain is pretty decent at almost 3FPS. Tightening the timings actually caused a very minute drop which could be a result of just margin for error or even just affecting graphics performance as the HD4000 uses the system memory as well but that is tough to say with any certainty.
CONCLUSION
When we first got our hands on the Predator kit we was a bit surprised as the modules are simply big!  After some testing we can say the performance rivals the size, and to have a kit that is not only spec'd to run but has a preset profile so that you can run 2666MHz with a simple click in the BIOS is very cool. However, with such a high of a speed you cannot expect huge margins for overclocks as these are tightly binned kits with some of the highest clocking parts they could get through screening. With that noted we're sure that under system LN2 cooling, we could probably get both the IMC and memory cold enough that they could go much higher. However, we haven't reported these scores, as most customers won't actually go that high, and we wanted to provide realistic results. So in gaming you definitely could see some big gains here, but also let's not forget that this is process power and speed overall so if your a content professional this speed could definitely help with render duties or other tasks as well.  
The cost of entry is high, and that would be our one negative point, as anyone who does not overclock the CPU will not see nearly the potential of what this memory can do. With that noted if you are an enthusiast who wants some of the best of the best hand picked modules, you will have to pay the premium but as you can see the performance is there just waiting for you pending you have what it takes.
OUR VERDICT: Kingston HyperX Predator 2666MHz 8GB
| | |
| --- | --- |
| Performance | 9.5 |
| Value | 8 |
| Quality | 9 |
| Features | 9 |
| Innovation | 8.5 |

We are using a new addition to our scoring system to provide additional feedback beyond a flat score. Please note that the final score isn't an aggregate average of the new rating system.

Pros
Cons

Very good performance

Extreme speed via simple profile setting

Nice looking modules

Top binned/screened IC's

Can be tightened up a bit for even more performance.

Taller modules can interfere with larger coolers

Price is a bit steep
Summary: The Kingston HyperX Predator 2666MHz kit carries the new and awesome looking predator heatsink while exhibiting some mean performance capabilities. For this it earns the Bjorn3D Golden Bear Award.