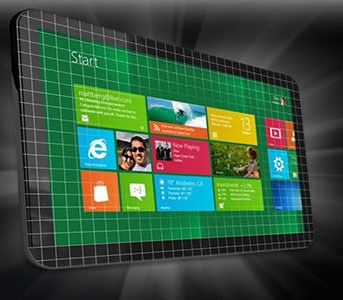 AMD brings Z-60 APU for Windows 8 tablets with promise for better HD Media playback, enhanced gaming, and performance accelerated Apps. The APU promises to bring up to 10 hours of battery life, native USB 3.0 and  SATA 6 Gbps support.
With the imminent release of Windows 8, PC makers are getting ready for the next round of battle with their hardware and designs. Windows 8 tablets is going to be one of the most fierce competition since it is a battle between ARM based Windows RT and the x86 Windows based tablets. Intel's answer to the Windows x86 tablet is the Atom based Clovertrail platform with Atom Z2760 SoC. AMD, on the other hand, has been relatively quiet until  today where the company has launched the Z-60 APU.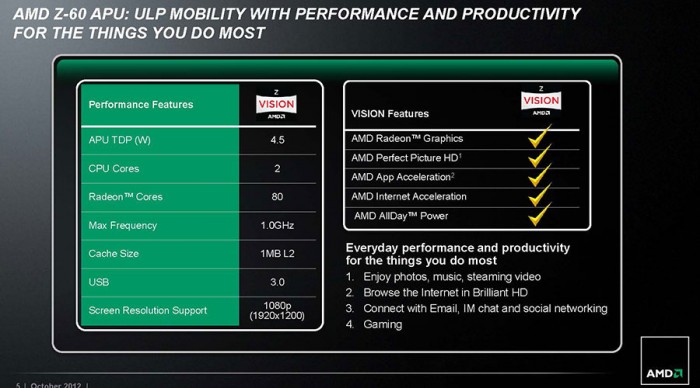 AMD's Z-60 APU is actually the same as the Z-01 APU that was announced at Computex 2011. The APU is a dual-core design based on the Bobcat CPU core running at 1GHz with 1MB of L2 cache onboard. It is paired with AMD Radeon HD 6250 with 80 Radeon Cores though AMD did not announce any clockspeed but we would assume it is clocked at the same speed as the Z-01 (276MHz). Compare to the Z-01 AMD is able to shed off 1.4W of power where the new APU has a 4.5W TDP compare to the 5.9W on the Z-01.
The HD 6250 Radeon GPU on the Z-60 supports DirectX 11, OpenGL 4.1, OpenCL 1.1, and UVD3. It falls under AMD Vision branding where is features AMD Perfect Picture HD, AMD App Acceleration, AMD Internet Acceleration, and AMD AllDay Power technology.  It is capable of supporting resolution up to 1080p. AMD highlights the GPU power by saying that it is capable of delivering good performance for many of current gaming titles like Modern Warfar at 1024×780 resolution, medium setting with 30 FPS.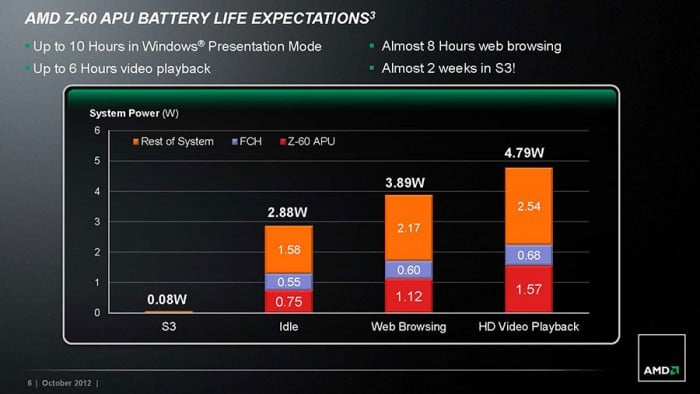 AMD wants to bring the attention to the battery life with system running the Z-60 APU. According to AMD, the system is able to last almost 2 weeks in S3 standby mode. Idle, the system has a rated of 2.88W power consumption, and in web browsing, it consumes 3.89W; while during HD video playback, 5W of power is being used.  AMD quotes the system lasts almost 8 hours in web browsing and 6 hours in HD video playback. The number sure looks impressive, however,  digging into the test setup, we noticed that the quoted battery life is tested with a 30Whr batery pack with the screen set at 60 nits at 720p resolution. While there is no standard at rating battery life (we do hope there is one) across the industry, the 60 nit brightness maybe a tad low for average user.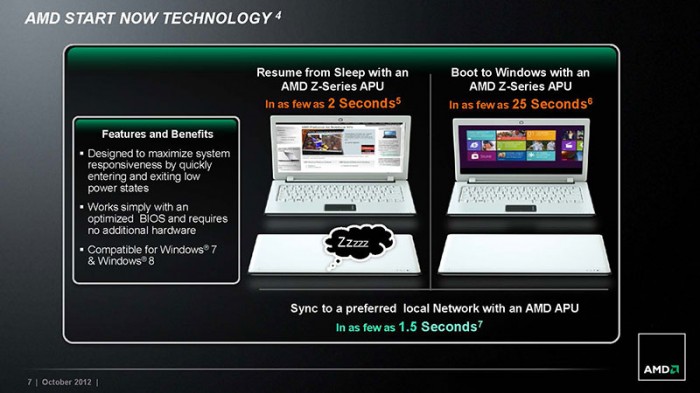 During the press release meeting, AMD highlights the company's push for the faster resume time with its "Start Now" technology. Combining the APU with an optimized BIOS, the APU is able to resume from sleep in as few as 2 seconds and boot to Windows in as few as 25 seconds. Obviously, the test is done with an SSD (Intel 510 SSD as a matter of fact) and Windows 8. 
The Z-60 is expected to pair with A68 Fusion Controller Hub (FCH) where it supports two USB 3.0 and SATA 6Gbps. Intel Clovertrail do not natively support USB 3.0, so this gives AMD a slightly edge over its competitor since there is no need for third party controller. Also, since the Clovertrail based tablet only support eMMC for storage, it would also give AMD a slight edge here as well. Another advantage for AMD is its ability to support up to 8GB of memory but the controller is only single channel speed.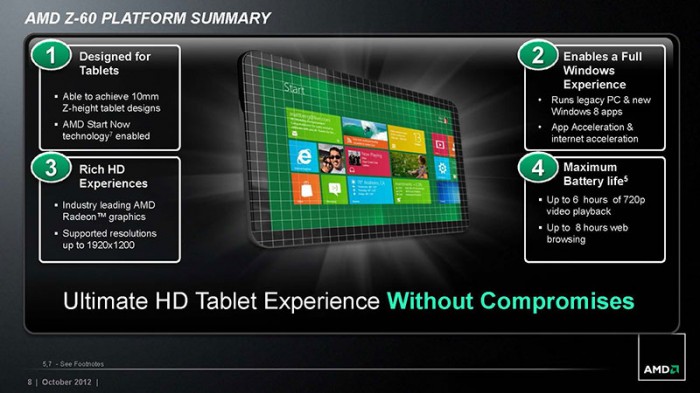 AMD targets the Z-60 APU for 10'~11′ tablets. The company will not disclose any pricing of the tablets based on the Z-60 APU or its availability. We do expect to see the tablets coming out on the market pretty soon probably around Windows 8 launch. While we do not know its pricing, we do not expect it to sell more than $600 since Intel expects its Clovertrail tablets to be around $600 and the ARM based Windows RT tablets are expected to retail around $400, so it would be hard to sell if AMD Z-60 APU tablets at any price higher than $600.