Nvidia last month released the GeForce GTX 660 and GTX 650 graphics cards. The GTX 660 was mainly focused for the mid-range gamers, while the GTX 650 is more focused towards the low-to-mid range users on a budget. Today, Nvidia is releasing their latest budget mid-range graphics card for those that don't want to spend as much money on a video card as the GTX 660, but would like more performance than the GTX 650. We introduce you to Nvidia's latest GeForce GTX 650 Ti graphics card.

Introduction
Nvidia has had a great year with their new Kepler architecture. Throughout the year, they managed to release several cards from the lowest GeForce GT 610, all the way up to the Dual-GPU beast, the GeForce GTX 690. Of course the lower-end cards like the GT 610, GT 620, GT 630, and GT 640 are mainly designed for everyday work, entertainment and maybe some lower resolution casual gaming. The mid-range cards, like the GTX 650, GTX 660, and GTX 660 Ti come with a higher price tag, but can also provide a bit more performance to make even newer games enjoyable to play at higher HD resolutions. Finally the high-end cards, including the GTX 670, GTX 680 and the dual-GPU GTX 690 are the cards that will get you the ultimate performance in just about any game without having to worry about low framerates. These high-end cards can vary in price anywhere from $300 to up to $1000, and even some mid range cards are within the $200+ range, which is why not everyone can afford such cards. Now with the understanding of Nvidia's Kepler line-up, Nvidia just released a new card to complement their mid-range cards, the GeForce GTX 650 Ti. The new GeForce GTX 650 Ti comes in at $149 MSRP, with the potential of easily beating the GeForce GTX 650 ($109) by 40% in gaming performance. The Nvidia GTX 660 will still be a higher performer card, but that also reflects on its price of $229.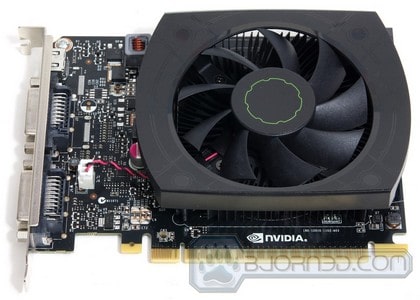 With lots of exciting games coming out this year, especially DX11 titles, the GeForce GTX 650 Ti might be a cheap upgrade for those coming from older DX9 or DX10 hardware, like the 9600 GT, 9800 GT, or even the GTX 250, or GTX 260. The advantage of the GeForce GTX 650 Ti is that new games like World of Warcraft: Mist of Pandaria, Planetside 2, and Mechwarrior will use DX11 and/or PhysX and the GeForce GTX 650 Ti would be a great card not just for dedicated DX11 gaming, but also for a dedicated PhysX card for the PhysX based games. At the moment with the non-unified 306.38  display drivers it is impossible to enable the GTX 650 Ti as a dedicated PhysX card, but hopefully in the next major driver release, this will be possible. In this review we'll be taking a closer look at the performance of the card and what it offers. We'll also compare it to the AMD competition, preferably the 7770, as this cards seem the be within the same price range as the GeForce GTX 650 Ti.  So without further ado, let us dive into what this card can offer and its specifications.
Features & Specifications
The Geforce GTX 660 Ti came with 1344 CUDA cores, the GeForce GTX 660 comes with 960 CUDA cores. In most cases the higher CUDA core count means you get more performance. But it is important to understand that this might not be the case when comparing cards between different architectures. Kepler definitely has more CUDA cores, but sometimes Fermi cards with lower CUDA core counts can still perform better than the Kepler cards with the same amount of CUDA cores. With this said, the GTX 660 Ti was a fantastic card for all the latest DX11 titles. It allowed gamers to really max out their games and still play it without lags. The GTX 660 was also another great card, but with 384 less CUDA cores. The card still managed to perform great in most cases with the games set to high-resolutions and high settings. The GeForce GTX 650 Ti comes with 768 cores, which is 192 CUDA cores less than the GTX 660. This means that performance should not be too far apart as we have seen between the GTX 660 and the GTX 650. Either way, we're not expecting amazing performance from a $149 card, but it will be interesting to see how it performs against AMDs competing cards in this price range. 
| | | | | |
| --- | --- | --- | --- | --- |
| Specifications | Nvidia GT 640 (Reference) | Nvidia GTX 650 (Reference) | Nvidia GTX 650 Ti (Reference) | Nvidia GTX 550 Ti (Reference) |
| CUDA Cores (Stream Processors) | 384 | 384 | 768 | 192 |
| Bus Interface | PCI-Express 3.0 | PCI-Express 3.0 | PCI-Express 3.0 | PCI-Express 2.0 |
| Texture Units | 32 | 32 | 64 | x |
| ROPs | 16 | 16 | 16 | x |
| SMXs | 2 | 2 | 4 | N/A |
| Core Clock | 900 MHz | 1058 MHz | 925 MHz | 900 MHz |
| Boost Clock | N/A | N/A | N/A | N/A |
| Memory Clock | 1800 MHz Effective | 5000 MHz Effective | 5400 MHz Effective | 4100 MHz Effective |
| Memory Bus Width | 128 Bit | 128 Bit | 128 Bit | 192 Bit |
| Total Memory Bandwidth | 28.5 GB/s | 80.0 GB/s | 86.4 GB/s | 98.4 GB/s |
| Texture Fill Rate (Bilinear) | 28.8 GT/s | 33.9 GT/s | 59.2 GT/s | 28.8 GT/s |
| VRAM | 2GB (DDR3) | 1GB (GDDR5) | 1GB (GDDR5) | 1GB (GDDR5) |
| SLI Ready | N/A | N/A | N/A | 2-Way |
| TDP | 65W | 64W | 75W | 116W |
| Recommended Power Supply | 350W+ | 400W+ | 400W+ | 400W+ |
| Power connectors | N/A | 1x 6-Pin PCI-E | 1x 6-Pin PCI-E | 1x 6-Pin PCI-E |
| Outputs | Dual Link-DVI-I, Dual Link DVI-D, Mini HDMI | Dual Link-DVI-I, Dual Link DVI-D, Mini HDMI | Dual Link-DVI-I, Dual Link DVI-D, Mini HDMI | 1x Mini HDMI, 2x Dual Link DVI |
| Manufacturing Process | TSMC 28nm | TSMC 28nm | TSMC 28nm | TSMC 40nm |
| Thermal Threshold | 98C | 98C | 98C | 100C |
| Launch Price | $99.99 (MSRP) | $109.99 (MSRP) | $149.99 (MSRP) | $149.99 (MSRP) |
The 768 CUDA cores on the GTX 650 Ti come with 4 SMX units, 16 ROPs and 64 texture units. This is the double of what you get on a standard non-Ti version GTX 650. As far as memory subsystem goes, the GTX 650 Ti consists of two 64-bit memory controllers, which basically makes it a 128-bit configuration with 1GB of GDDR5 memory. Other configurations are possible as we'll see in other reviews from other manufacturers like GIGABYTE. Core Clock speed is slightly lower than that of the GTX 650, but this is not a big deal due to more CUDA cores. Memory frequency is up at 5400 MHz instead of 5000 MHz. No boost clock speeds on the GeForce GTX 650 Ti though. The GTX 660 still had that feature, along with the 660 Ti, but anything below the 660 line and you won't be getting that feature.
Product Overview
Click Images to Enlarge
The card we have received did not come in any specific packaging, because we'll most likely only see these cards from specific manufacturers, like MSI, GIGABYTE, ASUS, etc.. This is a very small card. It would not necessarily work in a low-profile system, but we're sure such cards might be available from other manufacturers. The card comes in at the length of the PCI-Express slot, which means that if you have a slot available in your system, it should fit without any problems, no matter of the size of the case, as motherboards are usually way longer than the length of the PCI-Express slot. The card will still use two available expansion slots due to its dual-slot cooler design, but because the cooler does not extend to the back of the expansion slot, additional accessory can be installed in the available expansion slot. The cooler on the GPU is a simple heatsink with a fan on top of it. According to our tests, the noise level coming from the fan is almost inaudible, making this card very quiet even during gameplay. This card does need one 6-Pin PCI-E power connector, and at least a 400W Power Supply. Lower wattage power supplies should still work as long as efficiency is ideal, and the power supply is certified for higher-output graphics cards.
Click Images to Enlarge
A reference design GeForce GTX 650 Ti will come with three monitor output connectors: Mini-HDMI, DVI-I, and DVI-D. Certain cards such as the GIGABYTE GeForce GTX 650 Ti OC 2GB video card will not only come with 2GB of VRAM, but also a standard HDMI port, along with a D-SUB (VGA) port. Other cards like the MSI GeForce GTX 650 Ti Power Edition video card will come with a more efficient custom cooler which they call the "Cyclone II". So we'll definitely see some variations across the board and different specifications for each card, so it's good to do some research and figuring out which card will be useful for you before buying the card. Do keep in mind that these cards do not come with SLI support, so you cannot buy another one later down the line to boost performance in games. This was done in order to save cost on the manufacturing, and to make it possible for gamers on the budget to also enjoy a fairly decent mid-range gaming card.
Testing Methodology
The OS we use is Windows 8 Pro 64bit (Retail) with all patches and updates applied. We also use the latest drivers available for the motherboard and any devices attached to the computer. We do not disable background tasks or tweak the OS or system in any way. We turn off drive indexing and daily defragging. We also turn off Prefetch and Superfetch. This is not an attempt to produce bigger benchmark numbers. Drive indexing and defragging can interfere with testing and produce confusing numbers. If a test were to be run while a drive was being indexed or defragged, and then the same test was later run when these processes were off, the two results would be contradictory and erroneous. As we cannot control when defragging and indexing occur precisely enough to guarantee that they won't interfere with testing, we opt to disable the features entirely.
Prefetch tries to predict what users will load the next time they boot the machine by caching the relevant files and storing them for later use. We want to learn how the program runs without any of the files being cached, and we disable it so that each test run we do not have to clear pre-fetch to get accurate numbers. Lastly we disable Superfetch. Superfetch loads often-used programs into the memory. It is one of the reasons that Windows Vista occupies so much memory. Vista fills the memory in an attempt to predict what users will load. Having one test run with files cached, and another test run with the files un-cached would result in inaccurate numbers. Again, since we can't control its timings so precisely, it we turn it off. Because these four features can potentially interfere with benchmarking, and and are out of our control, we disable them. We do not disable anything else.
We ran each test a total of 3 times, and reported the average score from all three scores. Benchmark screenshots are of the median result. Anomalous results were discounted and the benchmarks were rerun.
Please note that due to new driver releases with performance improvements, we rebenched every card shown in the results section. The results here will be different than previous reviews due to the performance increases in drivers.
Test Rig
Test Rig
Case
Cooler Master Storm Trooper
CPUs
Intel Core i7 3960X (Sandy Bridge-E) @ 4.6GHz
Motherboards
ASUS P9X79 WS X79 Chipset Motherboard
Ram
Kingston HyperX Genesis 32GB (8x4GB) 1600Mhz 9-9-11-27 Quad-Channel Kit
CPU Cooler
Noctua NH-D14 Air Cooler
Hard Drives
2x Western Digital RE3 1TB 7200RPM 3Gb/s Hard Drives in RAID 0
SSD

2x Kingston HyperX 240GB SATA III 6Gb/s SSD in RAID 0 (Main)
1x Kingston HyperX 240GB SATA III 6Gb/s SSD (Storage)

Optical
ASUS DVD-Burner
GPU

Nvidia GeForce GTX 680 2GB
Nvidia GeForce GTX 670 2GB
Nvidia GeForce GTX 660 Ti 2GB
EVGA GTX 660 SuperClocked 2GB
Nvidia GeForce GTX 660 2GB
Nvidia GeForce GTX 650 Ti 2GB
MSI GeForce GTX 650 Ti Power Edition 2GB
GIGABYTE GeForce GTX 650 Ti OC 2GB
Nvida GeForce GTX 580 1.5GB
Palit GTX 560 Ti Sonic 1GB
EVGA GTX 560 SuperClocked 1GB
AMD HD 7970 3GB
AMD HD 7870 2GB
AMD HD 7770 1GB
AMD HD 7750 1GB

PSU
Cooler Master Silent Pro Gold 1200W PSU
Mouse
Razer Imperator Battlefield 3 Edition
Keyboard
Razer Blackwidow Ultimate Battlefield 3 Edition
Synthetic Benchmarks & Games
Benchmarks
3DMark 11
Just Cause 2
Lost Planet 2
Metro 2033
Battlefield 3
Unigine Heaven 3.0
Batman Arkham City
Dirt 3
Synthetic Benchmarks
3DMark 11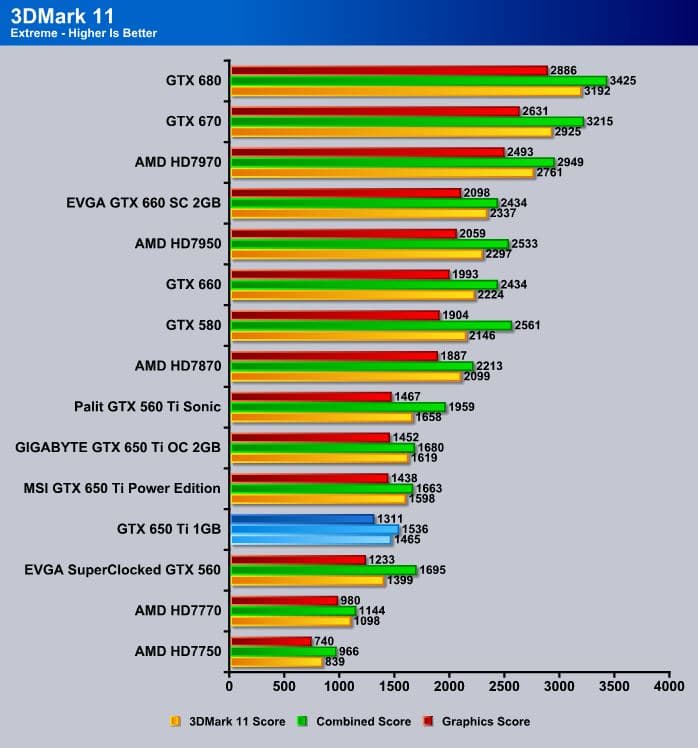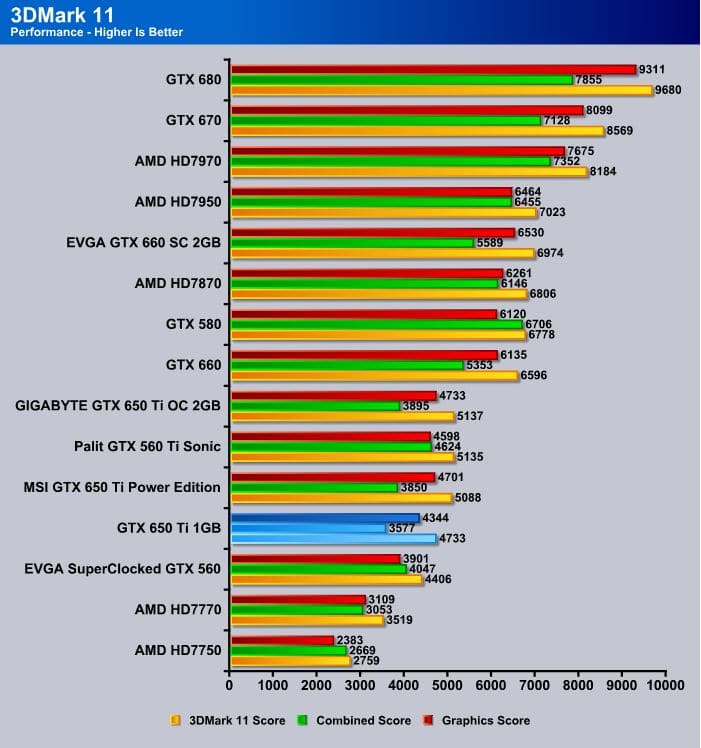 We decided to skip on 3DMark Vantage, and to just use 3DMark 11 for our future testing. All new video cards now support DX11, therefore it is better to see how these cards perform in DX11 based graphics tests. 3DMark 11 can really push these cards to their limit as we have seen in these scores. The good news is that the GTX 650 Ti 1GB reference card beat the EVGA SuperClocked GTX 560 video card which was factory overclocked, and technically one level higher than the GTX 550 Ti. This just shows the great performance increase on the Kepler architecture. The GeForce GTX 650 Ti also didn't have any problem  performing better than the AMd HD 7770 in both the Performance and Extreme settings.
Unigine Heaven 3.0

Unigine Heaven is a benchmark program based on Unigine Corp's latest engine, Unigine. The engine features DirectX 11, Hardware tessellation, DirectCompute, and Shader Model 5.0. All of these new technologies combined with the ability to run each card through the same exact test means this benchmark should be in our arsenal for a long time.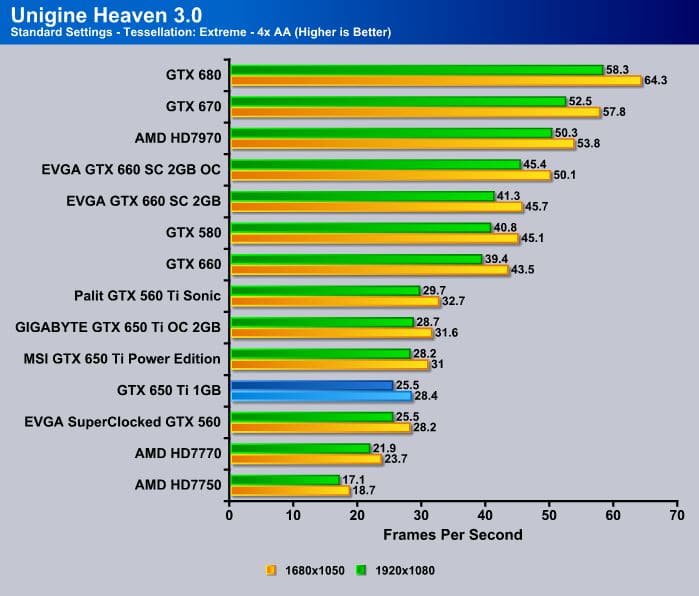 Unigine Heaven shows us similar results. The GeForce GTX 650 Ti still performs faster than the factory overclocked EVGA GTX 560, and the card still outperforms both AMD HD7750 and HD7770 cards by a 4-5 FPS margin.
Game Benchmarks
Battlefield 3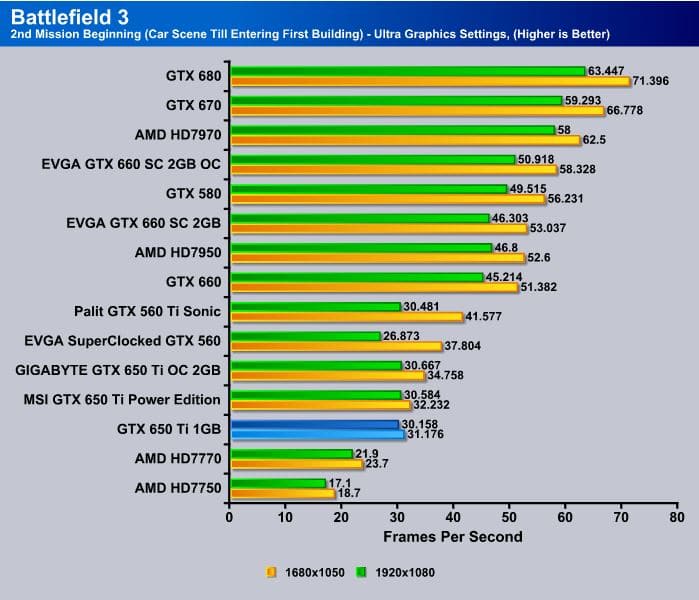 Battlefield 3 just barely gets enough FPS to make the game playable. Though these are average frames per second, which means that there might be lows and highs in framerate. It would be much better if average would be around 40FPS, but this just shows what the GeForce GTX 650 Ti is capable of at maximum settings in Battlefield 3. Lowering these settings would make the game much more playable. As far as checking out other GTX 650 Ti scores, it looks like the 2GB GIGABYTE card has much better performance gap between 1680×1050 and 1920×1080, as if the video buffer difference would make a difference in resolution performance.
Metro 2033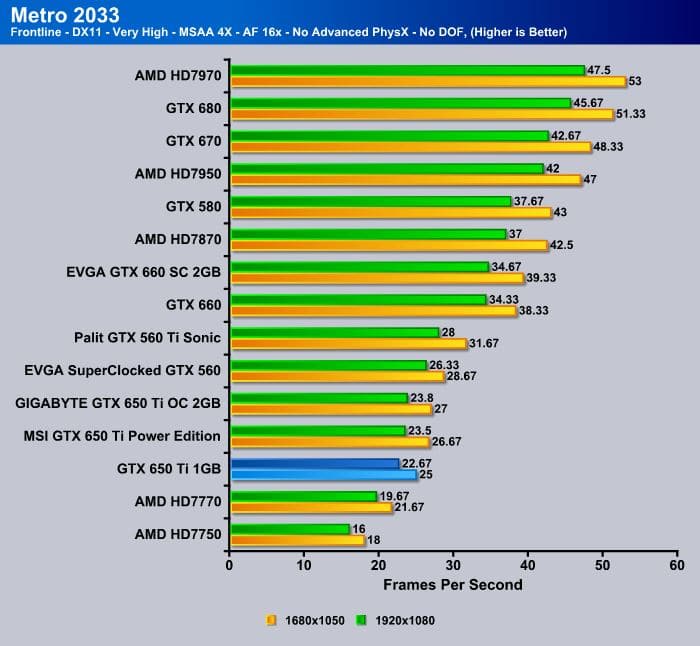 Here we have a prime example showing how certain cards are not designed for extreme gaming. As we know, the GTX 650 Ti costs $149.99, which makes it an inexpensive video card for what it offers. Well Metro 2033 is one of the most demanding games when it comes to graphics rendering. We can see this from our results, as the GTX 650 Ti only got 22.67 FPS at 1920×1080 on DX11 settings with 4x AA and 16x AF. Dropping down to a lower resolution gives us about 2.5FPS higher framerate, but moving down to DX10 mode and no AA would drastically improve gameplay and would make the game enjoyable to play.
Batman Arkham City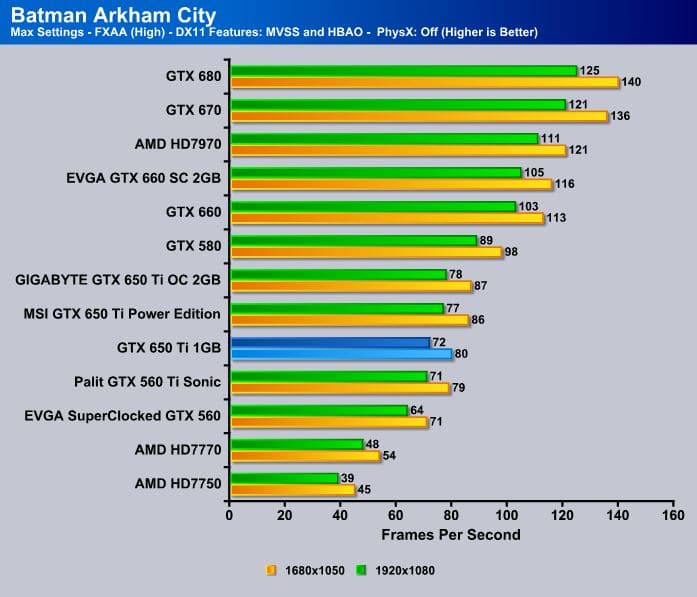 While Batman Arkham City has some fantastic graphics, it is also not too demanding on the graphics card. The GTX 650 Ti got 72FPS at maximum graphics settings at 1920×1080, which is quite impressive. Though lets keep in mind that PhysX was disabled. PhysX would drastically drop this number, because extra load would be put on the GPU or CPU. However, we have thought about using another GTX 650 Ti to test how a dedicated PhysX card would perform with another GTX 650 Ti, but the current drivers did not support this option yet. Let's hope the next drivers will support it. Taking a look at the AMD competition, they have really fell behind. This is most likely due to Batman Arkham City being optimized for Nvidia graphics cards.
Just Cause 2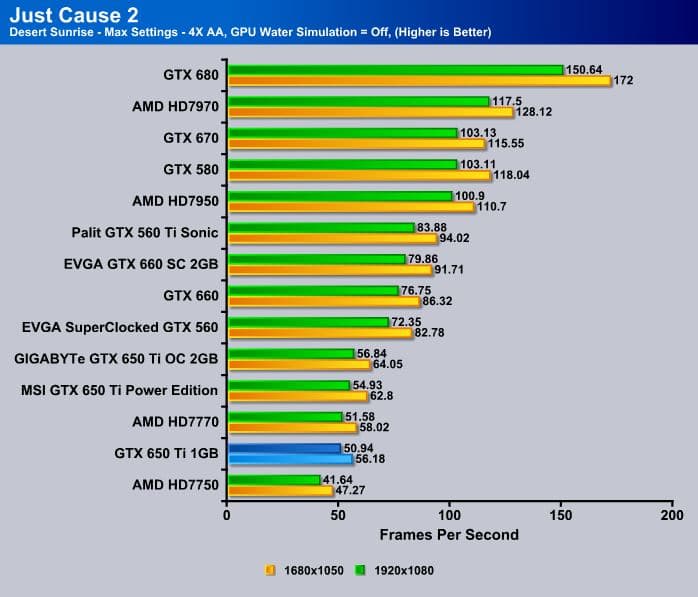 Just Cause 2 seems to be a game that works far better on AMD graphics. We can see this as the AMD HD 7770 beat the GTX 650 Ti in performance. Though even so, the game is fairly maxed out, and we are still getting a nice 50 FPS during gameplay.
Lost Planet 2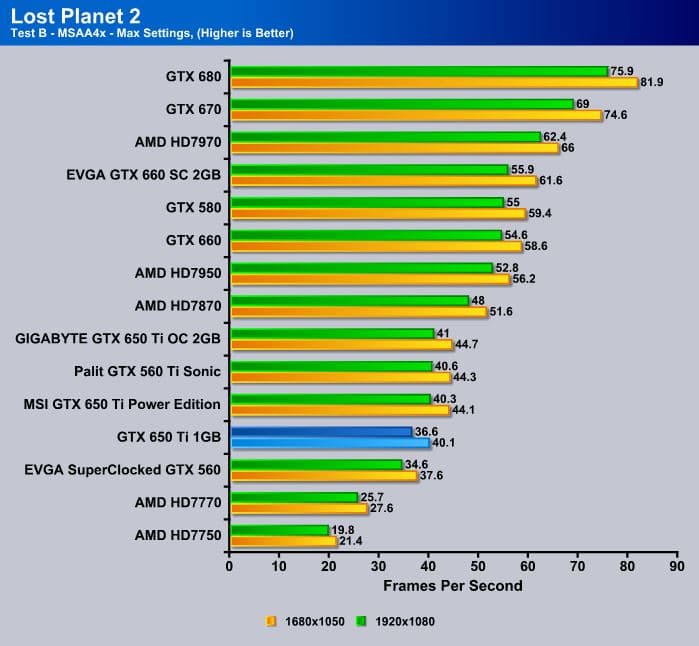 Lost Planet 2 was tested in DX11 mode, at maximum graphics settings. While 36.6 FPS is reasonable for gameplay, it is probably better to lower the graphics to get above 40FPS for even smoother gameplay at 1920×1080. This is another great example where a lower end card shows its weakness. Not a design fault, as the card was designed like this on purpose to make it accessible to the lower-end budget gamers. In all honesty though, we can see almost double the performance from AMD's HD 7750 video card, and a quite a bit of jump from HD 7770.
Dirt 3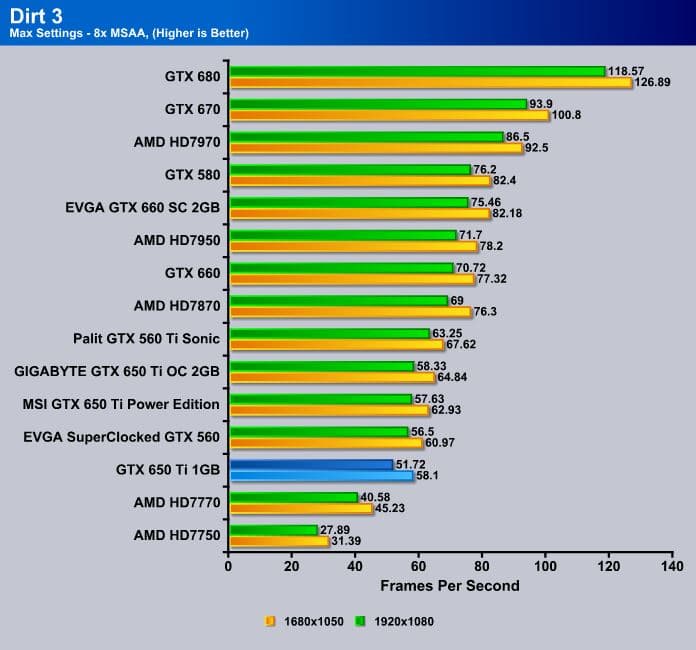 Dirt 3 is one of the games were we have seen some very interesting performance numbers in the past. Including the EVGA GTX 660 SC 2GB card, which almost scored just as high as the GeForce GTX 580. This is however not the case with the GTX 650 Ti. The card still outperforms the AMD HD 7770 by 11 FPS at 1920×1080 and by 13 FPS at 1680×1080. The performance is still very good and the game should be playable at maxed out settings.
Other Stability Tests
TEMPERATURES

To measure the temperature of the video card, we used EVGA's Precision X and ran the Metro 2033 benchmark in a loop to find the Load temperatures for the video cards. The highest temperature was recorded. After looping for 10 minutes, Metro 2033 was turned off and we let the computer sit at the desktop for another 10 minutes before we measured the idle temperatures.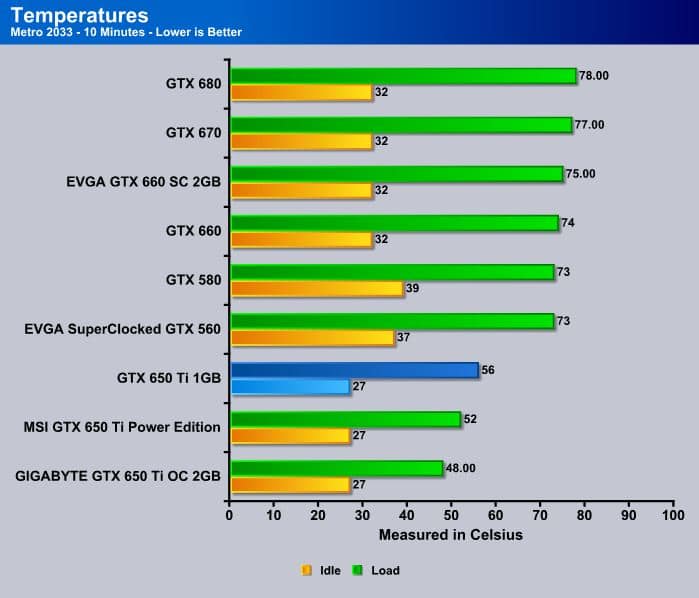 Unfortunately, we do not have any recent tested AMD cards for temperatures, but the temperature readings we got from the GTX 650 Ti were quite astonishing. We were not expecting temperatures in the lower 50s and higher 40s at full load. The reference design card which uses a very small heatsink with a fan on top of it manages to keep the card at 56C at full load after several minutes of gameplay. This is definitely a big improvement over last years Fermi architecture, which showed a 73C temperature at full load on a weaker card.
POWER CONSUMPTION

To get our power consumption numbers, we plugged in our Kill A Watt power measurement device and took the Idle reading at the desktop during our temperature readings. We left it at the desktop for about 15 minutes and took the idle reading. Then we ran Metro 2033 for a few minutes minutes and recorded the highest power usage.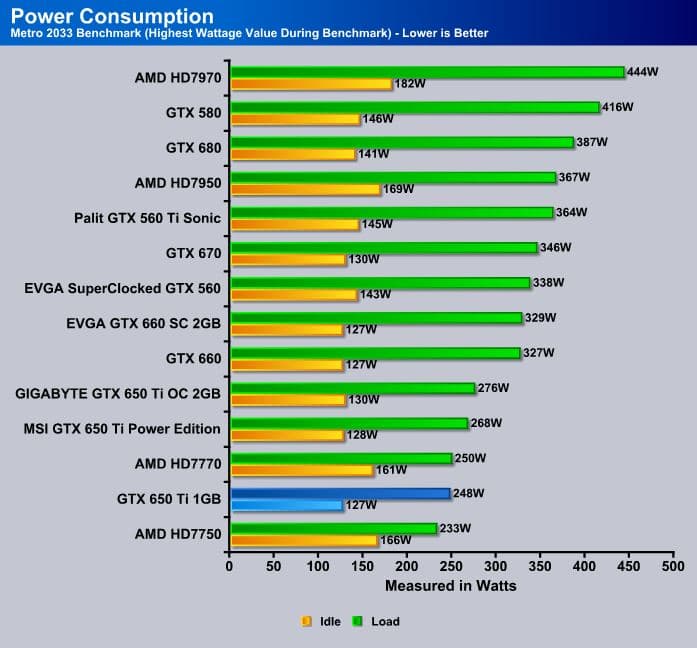 The power consumption of the GTX 650 Ti reference card was quite surprising. In all honestly, we were expecting the card to use roughly about 270-280W, but the reference design only used 248W at full load, and 127W at idle. The idle power consumption is drastically lower than that of the AMD HD 7770, but the load power consumption is also 2W lower on the GTX 650 Ti. Impressive. As we will take a look in the other GTX 650 Ti reviews we are publishing, the MSI and GIGABYTE GTX 650 Ti cards did use a bit more power, but that's also due to their factory overclocked settings, VRM configuration and cooler designs.
Conclusion
The Nvidia GeForce GTX 650 Ti is a very nice budget graphics card. It runs all the latest games on the market, and will run them flawlessly, with the sacrifice of lower graphics settings. While our tests have shown that the GeForce GTX 650 Ti can outperform the AMD HD 7770 in most of the games, certain games are better optimized for AMD graphics cards. With this said, we can definitely point out some of the best parts of the card, including its low power consumption, low heat output, and low acoustic level during gameplay. As we've mentioned earlier, Nvidia decided to leave SLI out of the picture on the GTX 650 Ti. This was done to lower manufacturing costs, and to make this card available to the lower-end market, but it would have still been nice to see SLI, because having that option would have potentially given the user the possibility to later add another card for even better performance.
Also, we would like to note that during our testing, we came to realize that the GeForce GTX 650 Ti could be a potentially great dedicated PhysX card. At a price tag of $149.99, it wouldn't break the bank if someone would get this card for a dedicated PhysX card. While we wanted to run some tests to see how much a dedicated PhysX card would help out while running it with another graphics card, we didn't get the chance to do so due to driver limitations. We're hoping that Nvidia will soon release new drivers that will allow us to test this feature and give you guys a better overview of what this card could do in a PhysX environment.
To summarize everything into two sentence, if you're looking for a card that will not cost you much and will play all the latest games at mid to high settings, the GeForce GTX 650 Ti is for you. If you need more performance and would like to enjoy higher graphics settings, you might want to consider saving up for the GTX 660 or the GTX 660 Ti.
OUR VERDICT: Nvidia GeForce GTX 650 Ti 1GB Video Card
| | |
| --- | --- |
| Performance | 7 |
| Value | 8 |
| Quality | 7.5 |
| Features | 7 |
| Innovation | 7 |

We are using a new addition to our scoring system to provide additional feedback beyond a flat score. Please note that the final score isn't an aggregate average of the new rating system.

Pros
Cons

Small Card
Quiet during Gameplay
Runs Cool
Low Power Consumption
Decent performance at a good price.

GPU supports 4 display outputs, but card only comes with 3.
No SLI support
Summary: The GeForce GTX 650 Ti is an excellent card for the budget gamer. You might not be able to use high resolutions in certain games, and you might not be able to max out the graphics settings in all video games, but this card will get the job done nonetheless. While we know that the card is designed for gamers on a low budget, the card still lacks a few features that would have made this card stand out a bit more, including SLI, and GPU Boost. This is why we're awarding the Nvidia GeForce GTX 650 Ti Bjorn3D's Bronze Bear Award.