Benchmarks Continued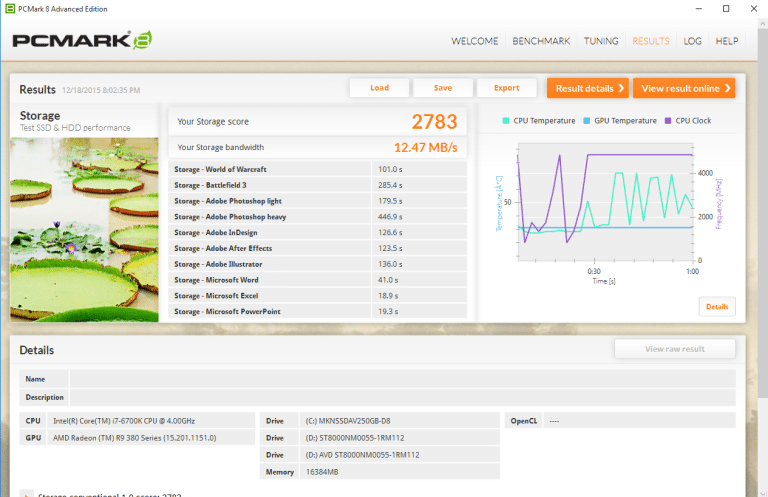 PCMark 8 shows an overall score of 2783 and storage bandwidth of 12.47 MB/s and we find it rather strange that the benchmark shows the number of seconds to complete a task without defining the task it completed so lets break it down and look at a portion of the log created by PCMark 8.
World of Warcraft: Playback time 101.000s, bandwidth 8.85MB/s
Battlefield 3: Playback time 284.000s, bandwidth 5.90MB/s
Adobe Photoshop light: Playback time 179.000s, bandwidth 36.86MB/s
Adobe Photoshop heavy: Playback time 446.000s, bandwidth 60.23MB/s
Adobe InDesign: Playback time 126.000s, bandwidth 14.17MB/s
Adobe After Effects: Playback time 123.000s, bandwidth 6.07MB/s
Adobe Illustrator: Playback time 136.000s, bandwidth 7.00MB/s
Microsoft Word: Playback time 41.000s, bandwidth 15.00MB/s
Microsoft Excel: Playback time 18.000s, bandwidth 8.98MB/s
PCMark 8 looks like it is depending far to heavily on Adobe and photos are totally incompressible but those are the numbers it churned out while every other test we ran had the drive at 230(ish) MB/s so we aren't sure how much stock to put into PCMark 8.
ATTO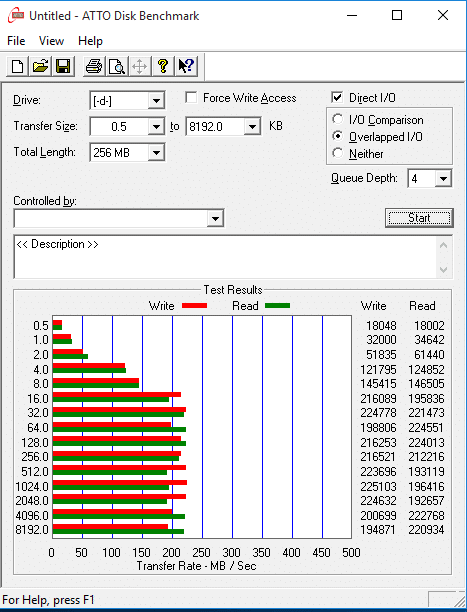 ATTO is used by almost all drive manufacturers and the ultra small reads and writes start the drive at 18.048 write and 18.002 Read and the transfer rates range up to 225 MB/s write and 224 read. Through all the testing the Seagate 8 TB Enterprise Capacity has consistently performed like a champion and exceeded our seasoned expectations.