Seagate 8TB Enterprise Capacity 3.5″ HDD v5 (ST8000NM0055)
We all need storage on our computers and we've seen 4 and 5 drive setups with cables running willy nilly through machines until it looks like a mass of electrical spaghetti bulging the motherboard side of the computer case out. Most of us our stored files, pictures and letters are more than just 1's and 0's stored on a magnetic spinning disk, those pictures are priceless and the music collection carefully stored by artist by album and genre are just waiting for us to access them. Well until a catastrophic failure of your hard drive happens anyway; then it's crying in your Code Red Mt Dew time and no amount of Zena tapes or Hot Pockets will console you over your lost files. At times like that you wish you hadn't gone for the less expensive drives manufactured no one knows where, you wish you'd gone strong name brand, a name brand like Seagate and their new high density 8TB Enterprise Capacity 3.5″ Hard Drive.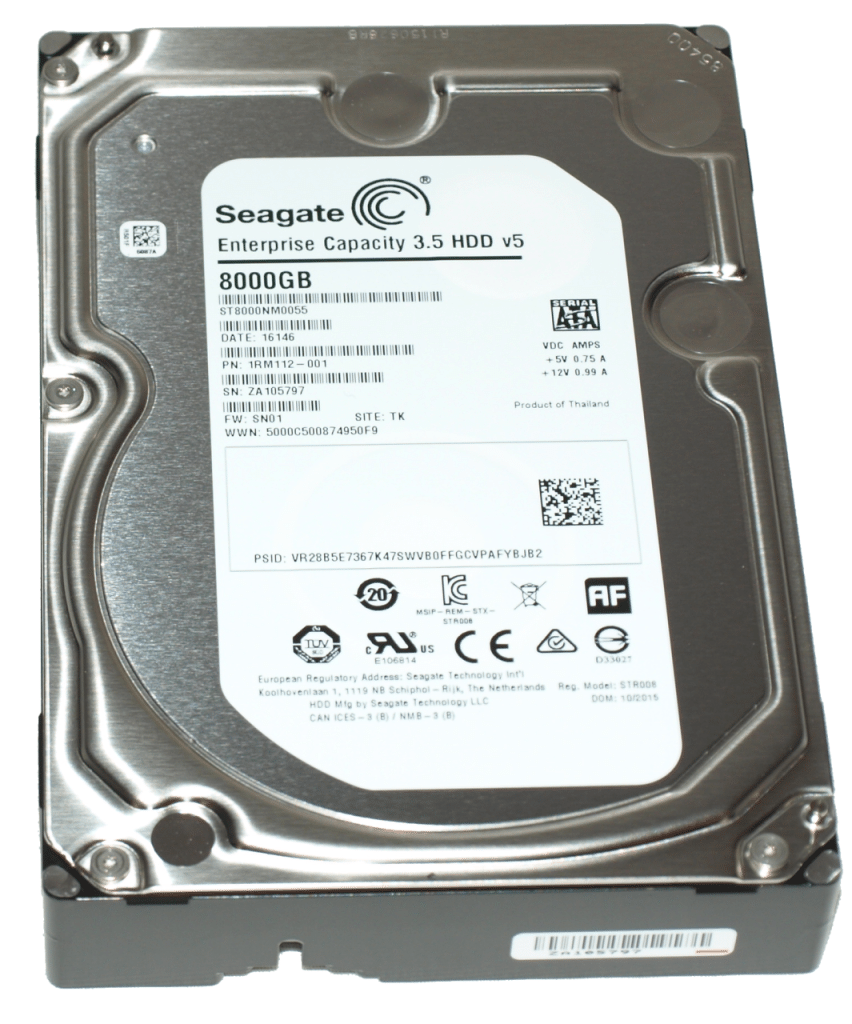 Yes it's an Enterprise class drive but at times a melding of Consumer desktop and Enterprise can yield amazing results and to that end Seagate has sent us one bruiser of an Enterprise class drive! This Seagate monster spins at a pretty typical 7200 RPM with almost no cache at all just a tiny 256 MB whopping massive cache (Tiny being a joke of course as this drive has a monster sized cache).  This model is a Sata 6Gb/s but it has a brother SAS drive, the ST8000NM0075, that runs on a 12Gb/s SAS interface so we suspect that Seagate knows that non-Enterprise consumers are interested in large storage devices. The drive is rated to run at up to 237 MB/s maximum sustained data transfer rate but speeds will vary depending on workload and data being transferred.
The Seagate 8TB Enterprise Capacity HD uses a dual processor setup which allows it to spin at 7200 RPM but spew data like a faster spinning drive. Hard drives have processors to plot the most efficient route of the hard drive heads to the data, or to the spot the data will be written to and having dual processors allows the drive to do those jobs faster. The main reason for having dual controllers in the Seagate 8TB Enterprise Capacity HD is that it gives the drive a 100% faster random read write access time over previous generations of hard drives. The Seagate 8TB Enterprise Capacity HD is aimed at business data storage and retrieval and the 100% faster random read write makes it extremely advantageous for businesses because business moves at the speed the data moves. Push that data to the servers or end users faster and your storage system is faster and more responsive.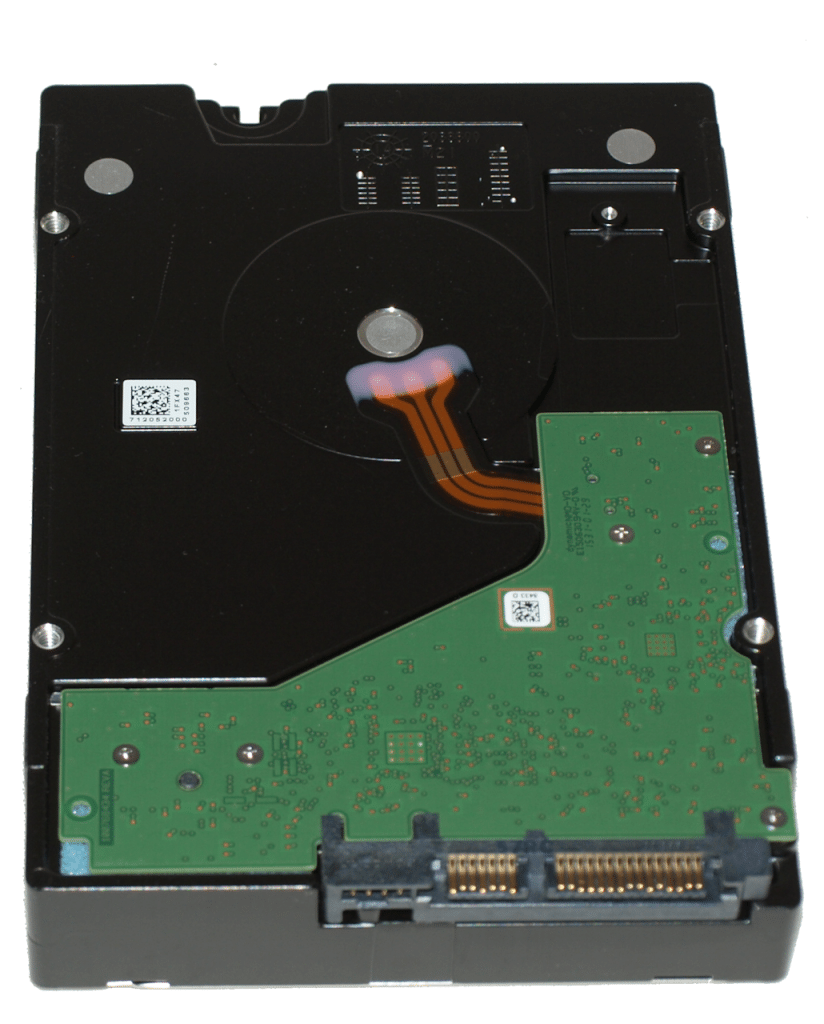 Packing a 256 MB multi-segmented cache and 6 platters yielding a total of 8000 MB (8TB) an increased capacity of 33% over previous generations of drives. For some time now HD manufacturers used magnetic spinning platters that the maximum density per platter was 1 TB. The Seagate 8TB ST8000NM0055 has 6 platters and stores 8 TB hence the 33% increase in storage capacity (areal capacity). There are some large capacity drives using Helium to increase the areal density of the platters but Seagate has gone with 9th generation conventional perpendicular recording technology and achieved the 8 TB density on 6 platters without having to resort to the more expensive helium filled solution.
Yes we know some of you are saying "Helium have they had too much coffee today or something". No we're spot on, given the current limitation of normal sized 3.5″ drives the maximum number of platters you can have in a drive without using an exotic gas is six platters. Pump a drive full of helium and there's less resistance spinning the platters because helium isn't as dense as air and the platters can be closer together fitting a total of seven platters yielding a higher overall capacity. The data in a helium filled drive can be written a little closer together and the drive can have 10TB in the same form factor 3.5 inch drives have always had. So why the big fuss about form factor lets just make drives bigger! Well bigger drives have been made as far back as 1985 when the ESDI (Enhanced Small Device Interface) and those drives typically took up two 3.5″ drive bays. The problem hard drive manufacturers face today is drive bay size and the number of servers and desktops designed for single height 3.5″ drives making it prohibitive to go to double height simply because they wouldn't fit in the server trays. We do have to say that the ESDI drives were majestically big for the day and at the time quite impressive but at least for now the current 3.5 inch form factor is here to stay.
The drive uses 512K emulation which means that the physical sectors are actually 4K and the logical sectors are 512K so it uses a firmware emulation layer to achieve the emulation. Amazingly enough both the 512K and 4K information are available to the end-user. The reasoning behind the 512K emulation is that the majority of operating systems and applications don't understand physical 4K sectors and the emulator needs to send 512K logical sector information the OS and applications that they can understand. Seagate also has a 4K native drive in this class for hardware specific uses (such as servers) that do use and understand 4K sectors. The migration to an all 4K physical and logical sector is coming but it's not quite here yet.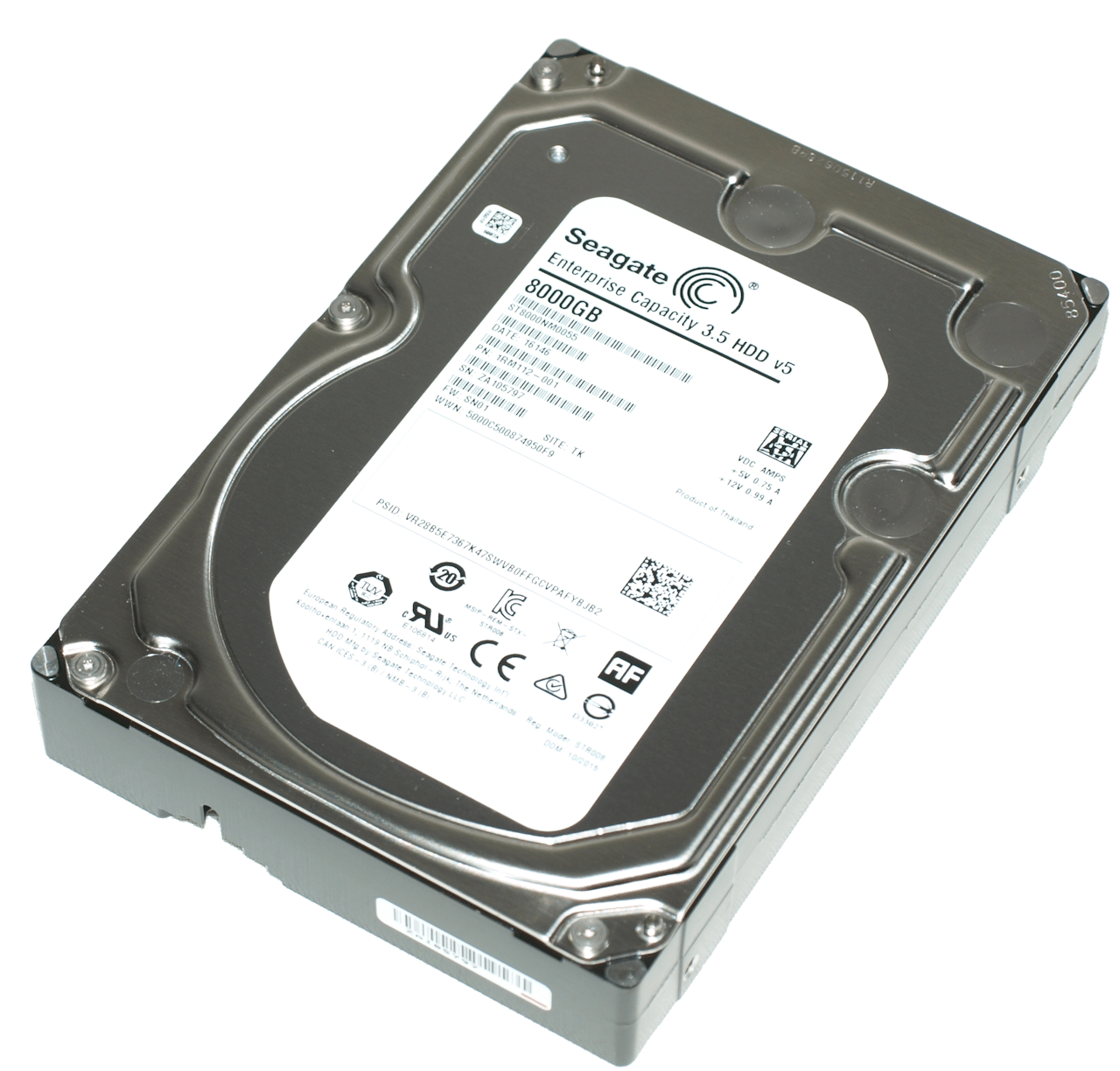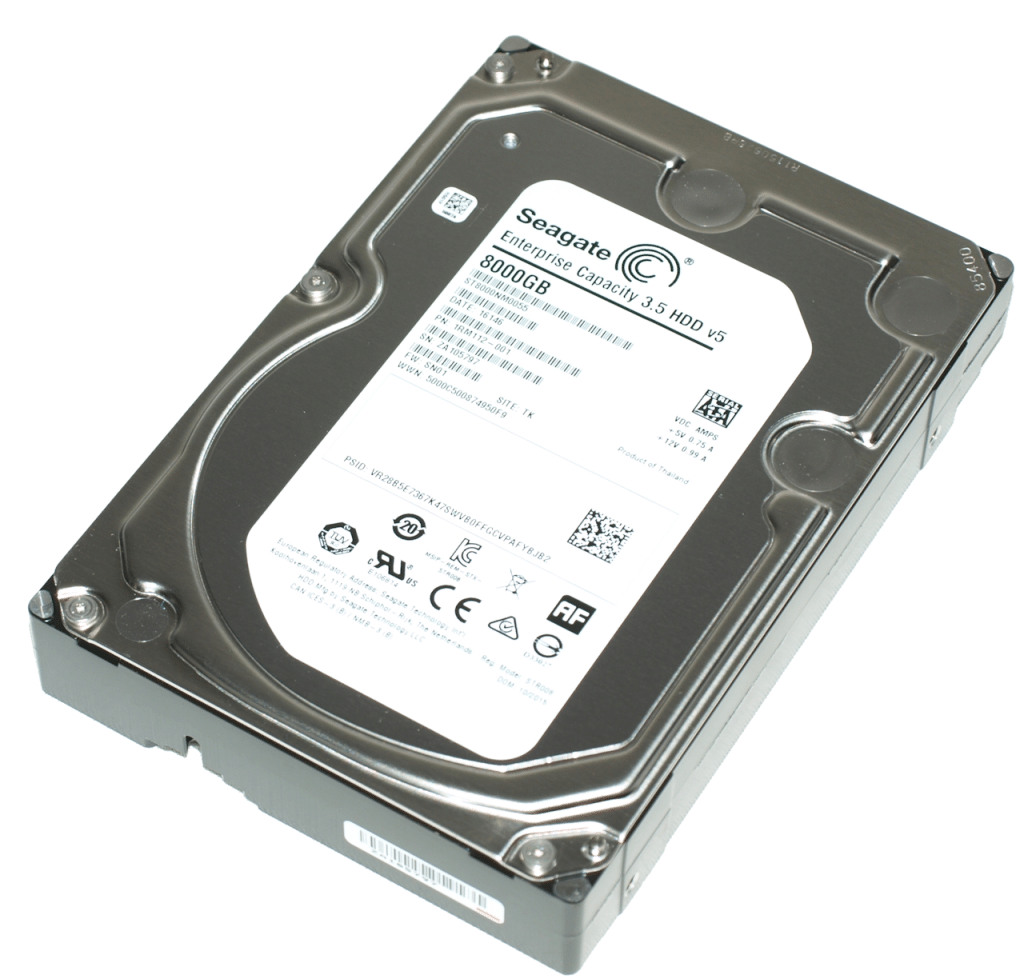 Another advantage of Enterprise drives is the lifespan which is rated at 2 million hours and 550TB/year and that's 10x the use of a consumer desktop drive and Seagate stands behind the 8 TB ST8000NM0055 with a rock solid 5 year Warranty. The drive uses an Advanced Write Caching Feature utilizing enhanced algorithms to achieve the industries highest nearline storage workload performance efficiency. How much improvement you ask, that's 100% more efficiency than the previous generation of drives. How much more technology can you pack into the drive? How about industry leading state-of-the-art cache, on the fly error correcting algorithms, super parity and end-to-end SAS-based data integrity.
The Seagate 8 TB Enterprise Capacity hard drive just keeps getting better with dual processors, ramp load capacity, a top cover mounted motor and humidity sensor for optimized operation in all climate conditions and chassis. The drive also features Seagate Secure™ Self-Encrypting Drive featuring Instant Secure Erase for cost-effective end of life drive retirement.
Seagate lists the best fit applications for the Seagate 8 TB Enterprise Capacity hard drive as:
Hyperscale applications/cloud data centers with replicated storage
Massive scale-out data centers and big data analytics
High-capacity density RAID storage • Mainstream enterprise external storage arrays (SAN, NAS, DAS)
Distributed file systems, including Hadoop and Ceph
Enterprise backup and restore—D2D, virtual tape
Centralized surveillance 1 Seagate recommends validating your configuration with your HBA/R
We would go on to say that the higher capacity of the Seagate 8 TB Enterprise Capacity drive is a highly effective way to increase data storage on existing systems without having to shoulder the added expense of adding data storage systems. Remove the older smaller HD's and replace them with the high-capacity drive and your storage capacity is increased minimizing the financial outlay of increasing your existing data storage infrastructure.
Specifications
Specifications
SATA 6Gb/s 8TB
SAS 12Gb/s 8TB
Standard Model Number (4K Native)
ST8000NM0045
ST8000NM0065
Standard
Model Number (512 Emulation)
ST8000NM0055
ST8000NM0075
SED Model Number (4K Native)
ST8000NM0115
ST8000NM0095
SED Model Number (512 Emulation)
ST8000NM0105
ST8000NM0085

Features

Protection Information (T10 DIF)
NA
Yes
Humidity Sensor
Yes
Yes
Super Parity
Yes
Yes
Low Halogen
Yes
Yes
PowerChoice™ Technology
Yes
Yes
PowerBalance™ Technology
Yes (512 Emulation models only)
Yes (512 Emulation models only)
Cache, Multisegmented (MB)
256
256
Advanced Write Caching (2M Internal NOR Flash)
Yes
Yes
Reliability/Data Integrity
Mean Time Between Failures (MTBF, hours)
2.0 Million
2.0 Million
Reliability Rating @ Full 24×7 Operation (AFR
0.44%
0.44%
Nonrecoverable Read Errors per Bits Read
1 sector per 10E15
1 sector per 10E15
Power-On Hours per Year
8760 (24×7)
8760 (24×7)
Sector Size (Bytes per Logical Sector)
512 and 4096
512, 520, 528 and 4096
Limited Warranty (years)
5
5
Performance
Spindle Speed (RPM)
7200
7200
Interface Access Speed (Gb/s)
6.0, 3.0, 1.5
12.0, 6.0, 3.0
Random Read/Write—16QD WCE (IOPS)
164/342
164/342
Max. Sustained Transfer Rate OD (MB/s)
up to 237
up to 237
Average Latency (ms)
4.16
4.16
Interface Ports
Single
Dual
Rotational Vibration @ 1500 Hz (rad/s²)
12.5
12.5

Power Consumption

Idle Power, Average (W)
9
9
Typical Operating, Random Read (W)
<10
<10
Power Supply Requirements
+12V and +5V
+12V and +5V
Environmental
Temperature, Operating (°C)
5 to 60
5 to 60
Vibration, Nonoperating: 10Hz to 500Hz (Grms)
5.0
4.9
Shock, Operating, 2ms (Read/Write) (Gs)
70/40
70/40
Shock, Nonoperating, 1ms and 2ms (Gs)
300
300
There's the specifications chart for 8 of Seagate's best, four SATA and four SAS with the drive we are reviewing highlighted in blue. The most notable and shocking is the transfer rate which is up to 237 MB/s which is blazing fast for a platter drive. The drive is rated at 2 million hours MTBF and designed to run 24 hours a day, 7 days a week all year and is warranted for 5 years. Notice the average latency of 4.16ms which is the lowest latency we've seen on a platter drive. The operating temps were a bit of a shock and we ran some lengthy tests (5 hours and longer) and the drive will get a bit warm but it operated well within the given specifications but we would recommend a chassis with a fan in front of the drive. The fan we recommend would be more for pushing the extra heat out of the chassis than for the drive itself. Enterprise drives are used in some rugged conditions like server trays so they are built for extremes.