Final Thoughts & Conclusion
The Crucial Ballistix Sport 2666MHz 16GB kit is listed as an entry-level / Mainstream kit and those are set up more for ease of use and stability than anything else. The

Crucial Ballistix kit delivers on ease of setup and on stability and the first time we booted the machine the kit booted directly to 2400MHz at 16 16 16 39 and ran like a champ without so much as a single error.
The kit wasn't the best overclocker but then we don't expect a entry-level / Mainstream level kit to overclock like a big dog. We did manage a BCLK overclock and hit 2496MHz and after spending a healthy amount of time trying to OC the kit we called it good at 2498MHz. The kit wouldn't cooperate with a Multiplier / Divider OC and every time we tried to increase the speed to 2500MHz no matter what we did we got a failed to boot and free trip back into BIOS.
In all the kit performed well and that's what counts for an entry-level / Mainstream kit. We've had hands on enough motherboards with the 1151 socket and most of them with early BIOS wouldn't boot memory at over 2400MHz and what's worse none of them would boot to 2133MHz or JEDEC default speed so we were forced to load with a single-stick of 2400MHz Quad channel then up the voltages a tad then reboot, turn the machine off, install the faster kit and try to boot. At times that process took 6 hours so an entry-level / Mainstream kit that boots and runs right the first time every time looks pretty good to us.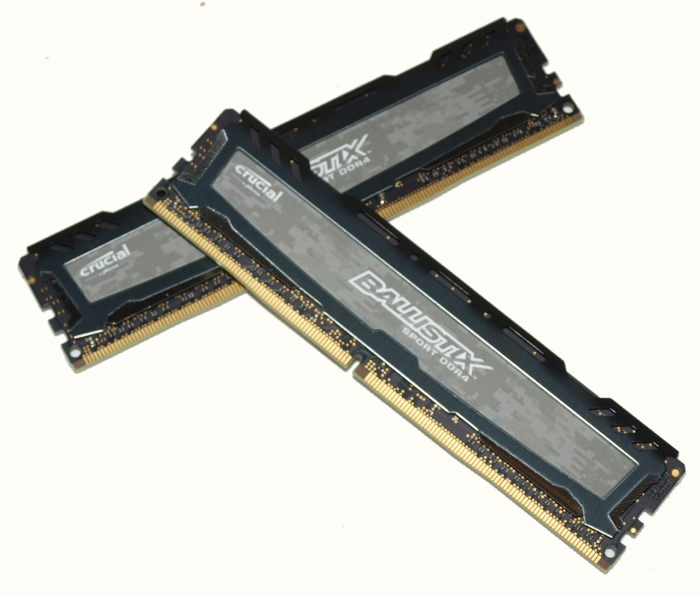 Crucial did a good job with an entry-level kit and priced it at an price tag (around $130 at the time of writing). Considering the attractive price and decent performance if you're a beginner and want Skylake and good memory without all the hassles this might be the kit for you.