Test Rig & Overclocking
Testing has changed a bit with Windows 10, we disable Auto Updates so the machine isn't downloading updates while we test. We clear the cache and prefetch before test runs and disable the firewall and virus scanner. Windows 10 is updated as much as possible and we manually go on and select updates applying all patches and updates prior to beginning the testing. We run a single SSD or multiple SSD's so there's no drive indexing going on. We shut down the internet to insure no background task is checking for updated Virus Definitions. All non-mandatory system Tray Icons are closed.
The Windows install is done fresh for every review, we install all the latest drivers and utilities for the Motherboard. We leave the system at the normal overclock (in this case 4600MHz) but the Ram is left at factory speed for benchmarks. We do run a picture of the stock speed benchmark on one benchmark, then run an overclocked benchmark to show the boost you get from the overclocking.
Test Rig
"Quadzilla"
Case Type
CPU
Motherboard
Ram
CPU Cooler
Hard Drives
Optical
Liteon DVD Burner
GPU
AMD R9 380 4G
Case Fans
1 x 180mm Mosfet / CPU / Ram cooling fan
1 x 120mm PCI-E Cooling Fan
Docking Stations
None
Testing PSU
Legacy
None
Mouse
Keyboard
Any Attempt Copy This System Configuration May Lead to Bankruptcy
Overclocking

To be honest we don't really expect much OC out of the Crucial Ballistix Sport 2400MHz 16GB kit. The Ballistix Sport kit is designed for entry-level and Mainstream users and more designed for ease of install and stability than overclocking. Put the tight 16 16 16 timings on top that and there's two ways to overclock the kit. Raise the multiplier or increase the BCLK.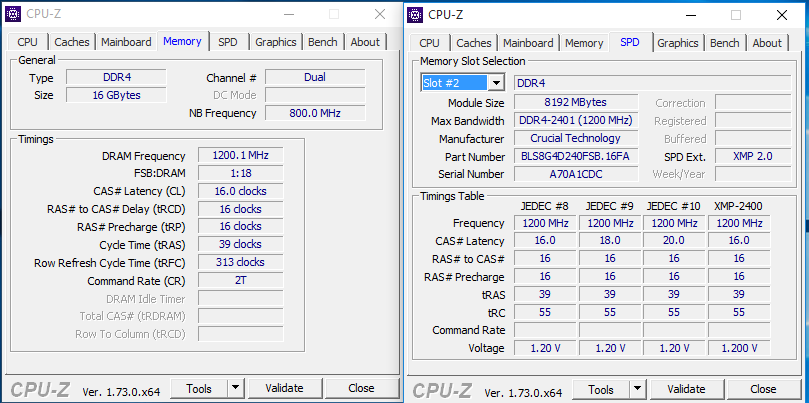 Here's the stock shot at first boot showing it as a 2400MHz kit and timed at 16 16 16 39 and as we mentioned this is just seconds after we installed the kit and hit the start button. The Gigabyte Gaming G1 picked up the Kits XMP and installed it flawlessly.
We played with the timings, the voltages and nothing we could do would get the Ballistix Sport kit to take a multiplier OC. We'd increase the multiplier (divider) to 25 and even at 1.35V with 17 17 17 39 and 18 18 18 39 we got no response from the kit except to boot into BIOS with a failed OC. Like we mentioned these are mainstream entry-level and mainstream entry-level don't overclock much.
With the multiplier (divider) overclock not giving us any joy about 4 hours into the process we went for a BCLK OC and after fiddling with the VCCIO, System Agent and PCH voltages we got a little OC to 2447MHz and it ran stable for a couple of hours with no problem.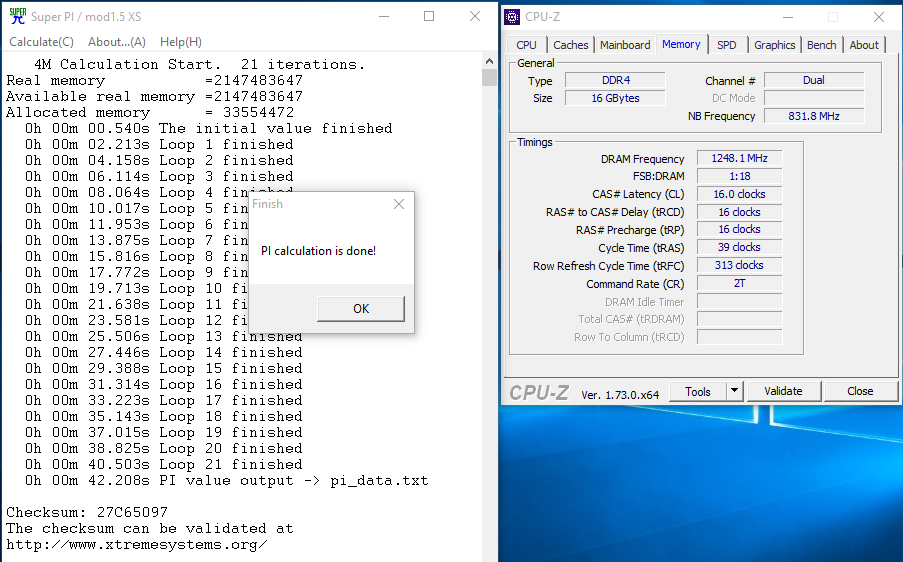 We went back to the BIOS drawing board and upped the BCLK to 4 and were rewarded with 2496MHz which is as high as we could get the kit in the 8 – 10 hours we spent at wrestling an overclock from the kit. Perhaps with more time a better OC can be had but after a 10 hour day we called it at 2496MHz.