Power Consumption, Thermals & Overclocking
Power Consumption


I took power consumption at the wall using a Kill A Watt Power drain measurement device, I loaded Unigine Heaven and let it idle for 30 minutes recorded the Idle temperature and Power Consumption, shut it down and let it cool for a half hour then repeated the test twice in this sequence, For the load I ran Unigine Heaven looping for 30 minutes, let it cool down to the Idle temps established in the previous test then looped it 30 minutes repeating the process a total of 3 times. Once completed I take the three results form each test and average them giving me an aggregate  average for each result. Killing two birds with one stone and getting Power Consumption and Thermals.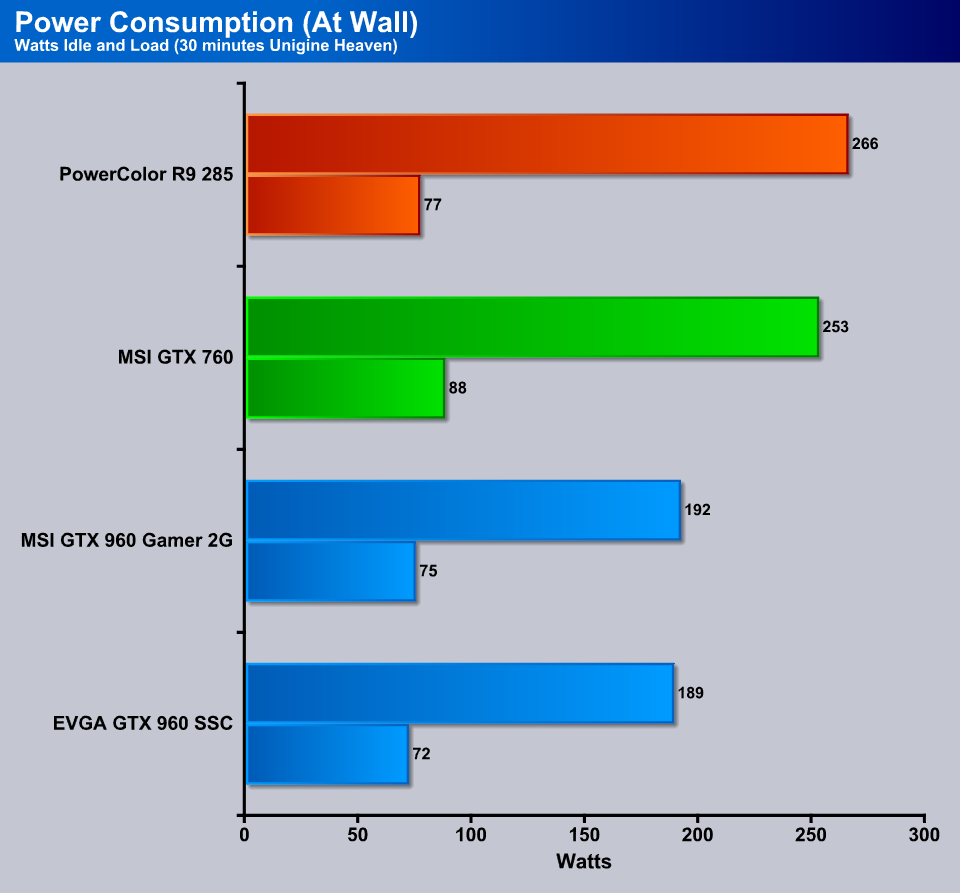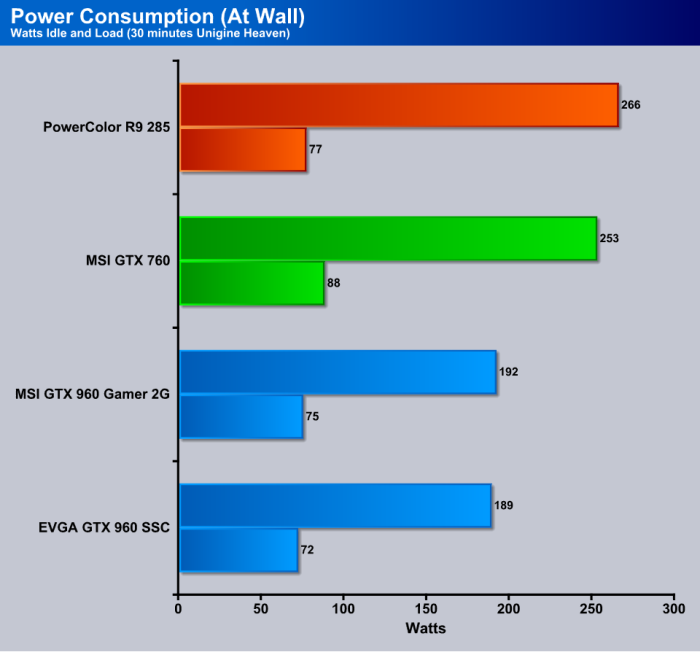 Of course the MSI and EVGA GTX 960's ran a similar power profile but if you notice the EVGA model comes in about 3 Watts lower and we attributed that to the well designed fans providing more overclocking head room.
 Temperatures


For Thermal readings I looked Uingine Heaven for 30 minutes then read the thermal load, Cool the machine down for 30 minutes at an idle then read the Idle temperatures. I repeat that same process three times then average the three runs and report those scores. An eye is kept out for anomalous runs, if an anomaly occurs I shut the machine down let it cool off, reboot and rerun the test.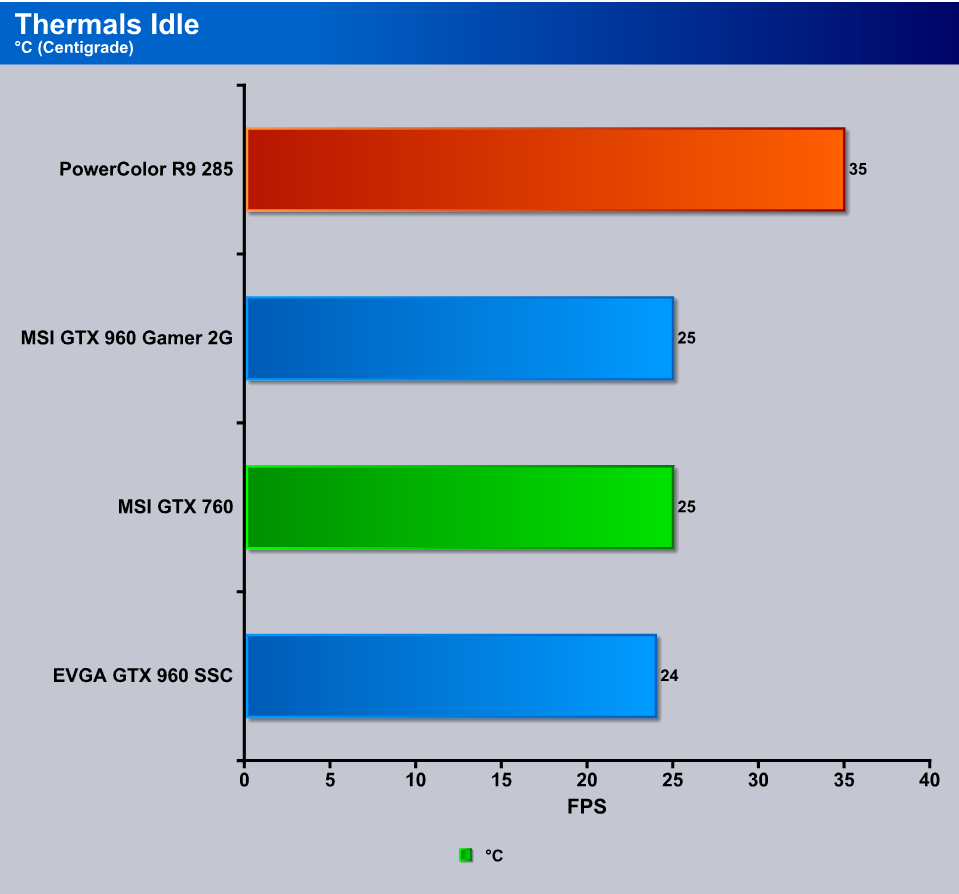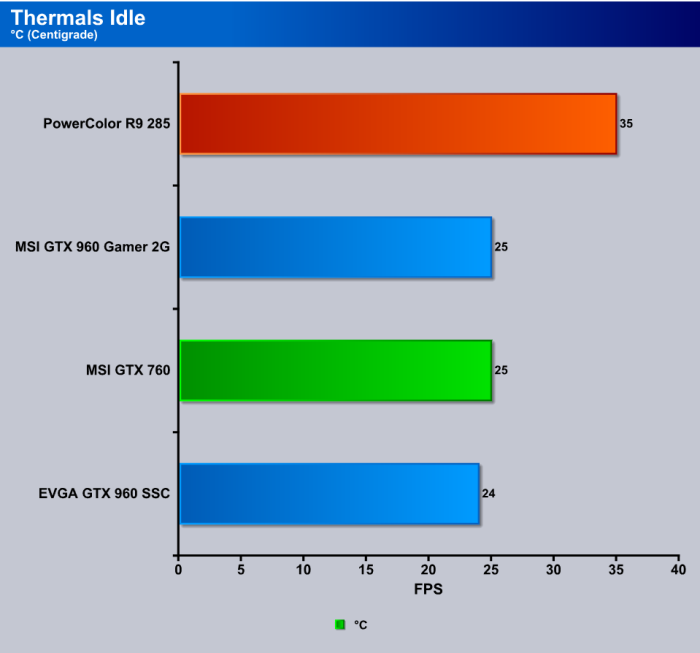 The EVGA GTX 960 SSC with its redesigned fans and straight heatpipes beat the whole pack and came in at a silent 24°C at Idle, the Radeon card was a full 14°C higher,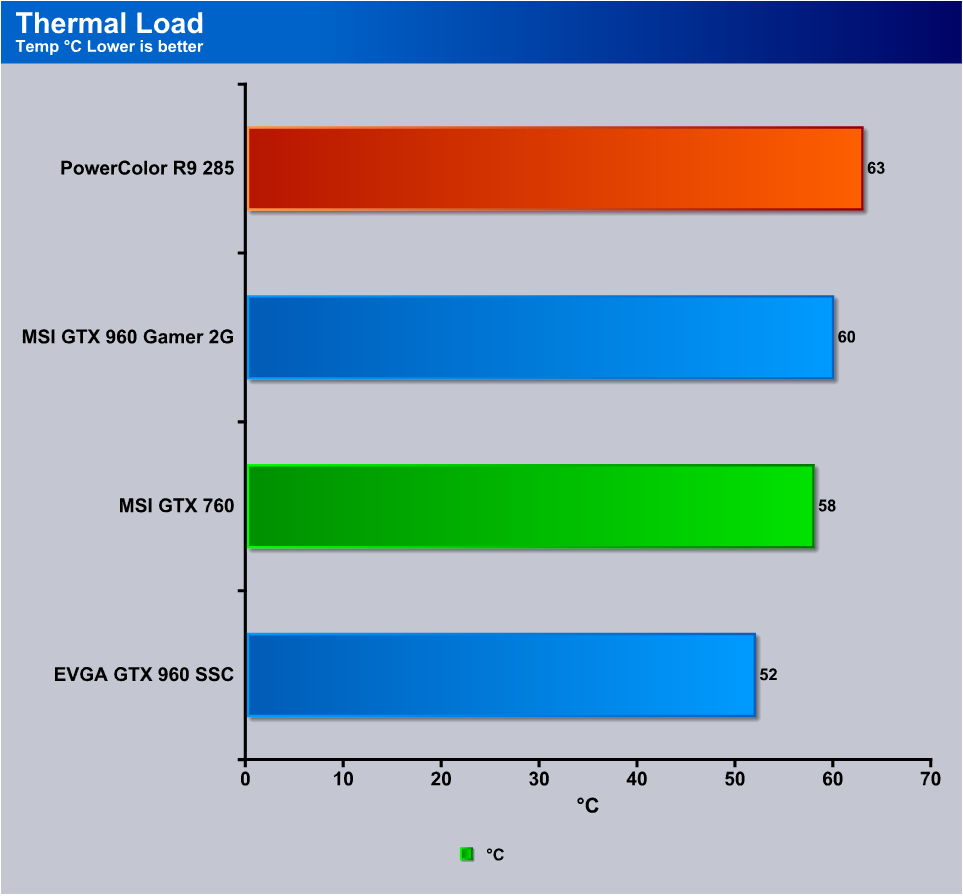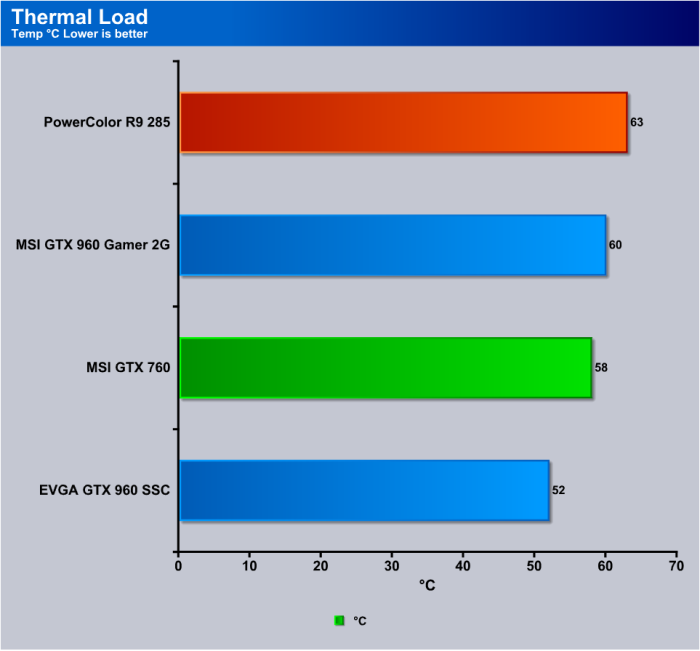 The EVGA GTX 960 came out the winner on thermals running a full 8°C behind the MSI 960, the hottest card the R9 285 came in at 63°C, The thermal performance of the Maxwell GPU's is pretty amazing considering generations past. I still have a reference GTX 480 going strong and for fun fired it up and loaded it on the same test rig and it hit 98°C but did come in handy warming up my coffee.
Overclocking
Overclocking the EVGA GTX 960 we left the default Voltage and fan profile intact ensuring the longest lifespan for the EVGA GTX 960 and as we've observed in several samples applying more voltage doesn't help much. Default voltage and standard fan profile are the most realistic Overclock using the Auto tune features in EVGAs' PrecisionX and represents an overclock you can expect. Please note that every GPU overclocks differently and your results may vary slightly but every GTX 960 we got hands on overclocked about the same so these are realistic attainable results.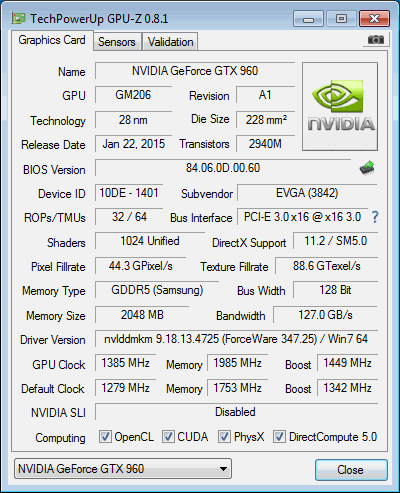 We Pushed the card to a core clock of 1385MHz and 8% increase or 106MHz increase over the Factory OC EVGA applies to the 960 SSC. The EVGA GTX 960 SSC is already well overclocked from the factory so the additional 105MHz is a pretty decent no added voltage OC. We like to call no added voltage OC's Longevity overclocks. That might leave you scratching your head but we have cards still running no voltage overclocks in every generation since the 8800GT  Alpha Dog. The 8800GT Alpha Dog was introduced in 2007 so it's been overclocked on a daily basis for 8 years, added voltage overclocks are ok if you don't mind a degraded lifespan and early demise of your GPU. With some GPU's running $500+ dollars the no voltage overclock is getting quite popular with GPU purchasing sector.
Our No added Voltage OC got us 5 or 6 FPS in some of the benchmark video games so it's worthwhile to run the OC but even then we recommend backing off the OC for less taxing activities.  There's really no advantage to the OC playing Solitaire.
Review Overview
Value - 9.5
Performance - 9
Quality - 9.5
Features - 9.5
Innovation - 9.5
9.4
The EVGA GTX 960 has that kind of quiet style of an era gone by. Instead of a Bikini cowling with flimsy plastic it sports a full cowling and under that cowling it packs a plethora of technology.