Final Thoughts & Conclusion

The EVGA GTX 960 SSC packs one of the best factory overclocks we've seen so far and it's scores proved it providing all the Maxwell technology at an affordable $210 price range. We can't wait to get a couple of these in SLI and see what the numbers look like. The EVGA GTX 960's smart fan design and straight heatpipes combined with all the technology EVGA tucked under the black cowling makes for a formidable GTX 960 card.  There are cards out there with fancier cowlings and a little sleeker looks but we doubt they pack the performance of this highly factory overclocked EVGA GTX 960 and in the end it comes down to performance.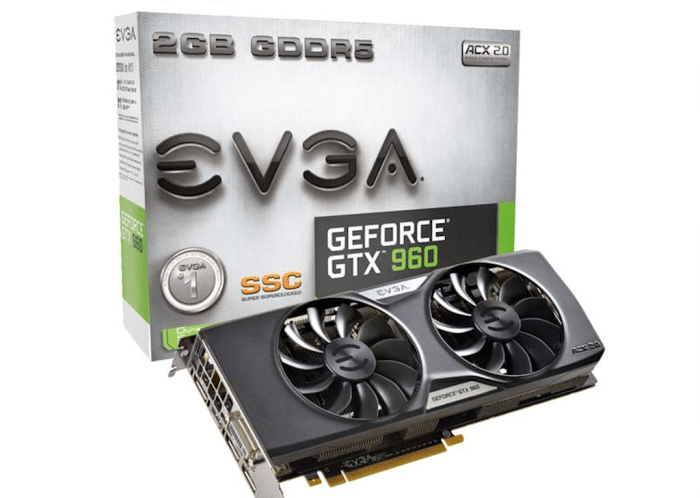 The EVGA GTX 960 SSC packs a powerful pile of technology into a power sipping design, then leave it to EVGA to work around the power limit imposed on Maxwell GPU's by hollowing out some headroom from the fan voltage. The ACX 2.0+ silent fan technology is a welcome addition to the lab, fans spinning to a stop delivering sweet silence sure doesn't hurt our feelings. The double ceramic ball bearings and 4x longer lifespan are like money in the bank to a guy that's purchased a dozen or so fans off EBay to replace worn out fans. The memory Mosfet Cooling Plate (MMCP) insures your mosfets stay cooler for additional overclocking headroom and in short the EVGA GTX 960 not only performs well but also keeps the serious overclocker in mind,
Pros
Cons

High Quality
True Maxwell
Price
DX11 & 12
Good Thermal Properties
Sips At Power
Quiet
Classic Black

128-Bit memory bus
Older Gen GPU's may outperform
Sparse Bundle
Review Overview
Value - 9.5
Performance - 9
Quality - 9.5
Features - 9.5
Innovation - 9.5
9.4
The EVGA GTX 960 has that kind of quiet style of an era gone by. Instead of a Bikini cowling with flimsy plastic it sports a full cowling and under that cowling it packs a plethora of technology.