Face it not all of us can afford a couple of GTX 980's. most of us would balk at buying a single 980. More likely we would indulge ourselves with a GTX 970 but then the reality of bills, keeping the fridge full, gas money, those thoughts kick in. Nvidia and EVGA have you covered with their sweet spot strategy. Maxwell GPU's in the $210 dollar price range with all the Maxwell technology tucked inside.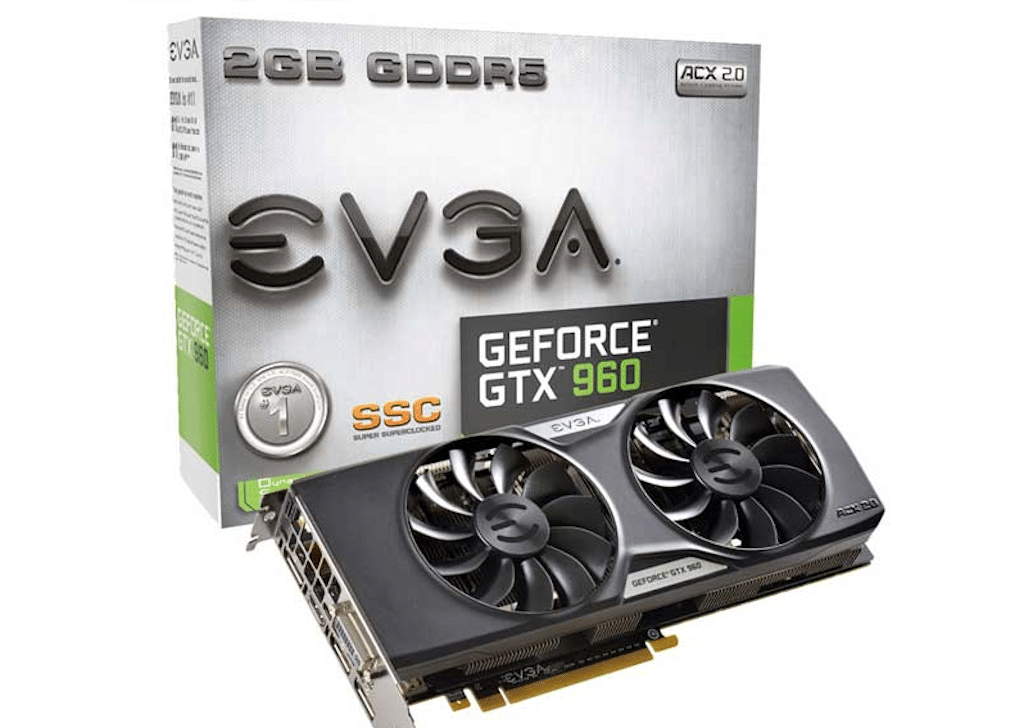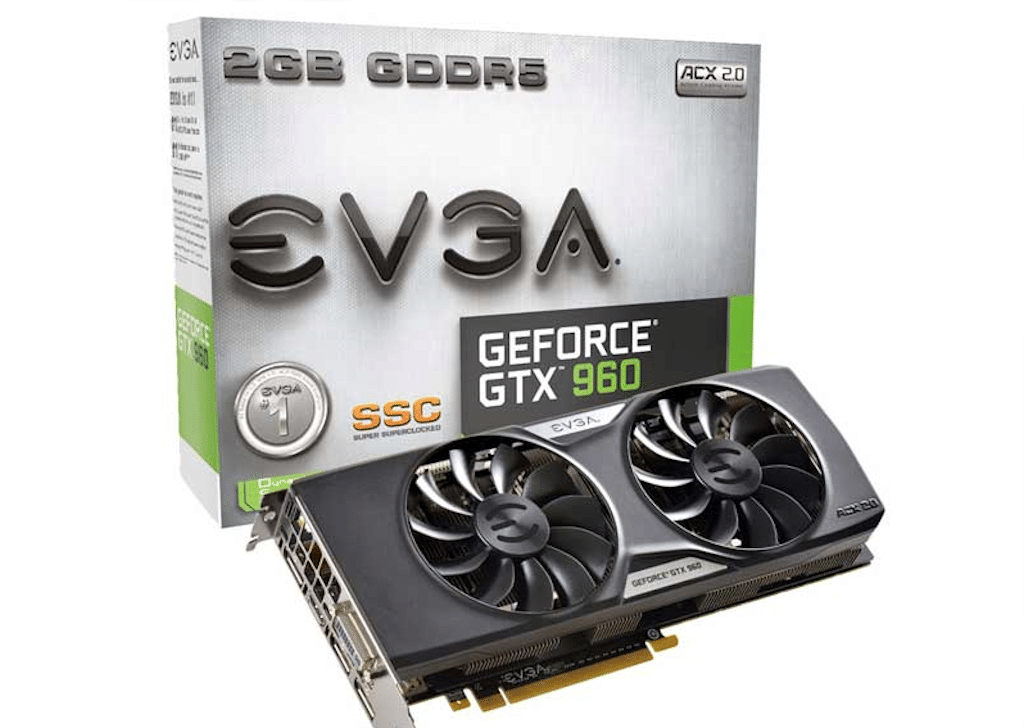 Incorporating EVGA's ACX 2.+ Plus technology those fans will slow to a stop under 60″C leaving you with a completely silent GPU. The fans have double ball bearings 4x the fan lifespan 20% more efficient, they consume 250% less power than previous generations. Straight heat pipes for a 6% cooler GPU which translates into more overclocking goodness. Maxwells inherent design provides 33% more processing power than previous generations. Think about 33% for a minute, times past new generation GPU's were scratching at 10 – 14% more processing power and in one Generation Nvidia releases Maxwell with 33% more power. Now pack all that technology into a power sipping EVGA GTX 960 SSC and you have a lot of bang for the buck in one low-priced GPU. Low enough we can have one and not starve this month and not starving goes a long way with me.
Features and Specifications
EVGA GeForce GTX 960 SuperSC

Graphics
Processing Clusters
2
Streaming
Multiprocessors
8
CUDA Cores
(single precision)
1024
Texture Units
64
ROP Units
32
Base Clock
1279MHz
Boost Clock
1342MHz
Memory
Clock (Data rate)
7010MHz (Effective Speed – ~9300MHz)
L2 Cache Size
1024KB
Total Video Memory
2048 MB GDDR5
Memory Interface
128-Bit
Total Memory Bandwidth
112.6 GB/s
Texture Filtering Rate (Bilinear)
72.1 GigaTexels/sec
Fabrication Process
28 nm
Transistor Count
1.94 Billion
Connectors
3 x Display Port
1 x Dual-Link DVI
1 x HDMI
Form Factor
Dual Slot
Power Connectors
One 8-Pin
Recommended
Power Supply
400 Watts
Thermal
Design Power (TDP)
120 Watts
Thermal Threshold
95°C
Price
Lets deal with the common misconception cast unfairly upon the GTX 960 in general. Yes there's about half the hardware of the GTX 980 and considerably less than the GTX 970 but the simple fact is you pay far less than half the price of a GTX 980 and in cases about half as much as a GTX 970. You still get all the technology, DirectX 12, MFAA technology. GPU Boost 2.0 and you are dual card SLI ready. We could make noise about just Dual GPU ready but face it for 200 bones you have to draw the line somewhere. I'd like to think Nvidia could produce a 4x SLI $210 card and make a profit but that's not realistic. I'd have 4 of these puppies in my rig for about what 1 1/2 GTX 980 cost, just not a money-making prop for Nvidia in doing that.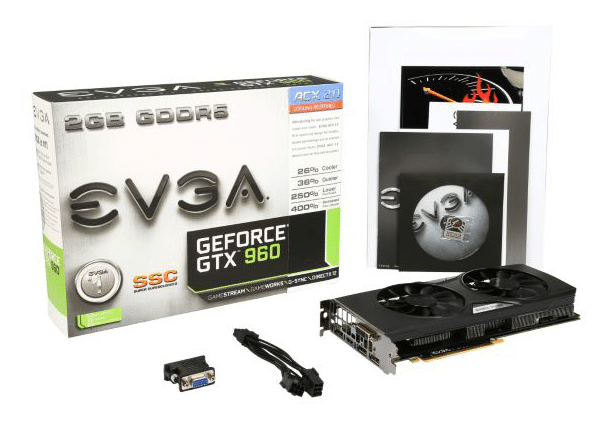 In the Box:
DVI to VGA connector and 8-pin power connector.
User Guide
Installation CD
Manual
Case Badge


Review Overview

Value - 9.5

Performance - 9

Quality - 9.5

Features - 9.5

Innovation - 9.5

9.4

The EVGA GTX 960 has that kind of quiet style of an era gone by. Instead of a Bikini cowling with flimsy plastic it sports a full cowling and under that cowling it packs a plethora of technology.