Installation
We decided to install the following components:
MSi Z87I Gaming AC motherboard + 8 GB DDR3
Core i5-4440 3.1 GHz
Stock PSU-cooler
Intel 530 SSD 180GB + Seagate 1 GB HDD (3.5″)
As you will see from some of our photos we did indeed have a few different components at first. Instead of the Fractal Design PSU we had another PSU that was modular and a bit longer. It turned out that the space for the PSU is  a bit limited in length so if your PSU has inflexible modular cables you can run into issues.
We also ran into an issue with the CPU-cooler. Our first choice was the Reeven Hans RC-1205. There is plenty of space upwards so even such a big cooler fits well but we did at first not notice that the motherboard itself had some issues so that when the cooler was installed it did indeed stretch over the pci-express slot a bit making it impossible to fit a graphics card there. This is NOT any fault by the case. It did however give us an opportunity to get a feel how complicated it is to install and then remove a motherboard in the case. It turned out to be pretty easy and quick. 
SSD-drives and small 2.5″-HDD's are screwed to the holder while 3.5″-drivers can be inserted without any screws.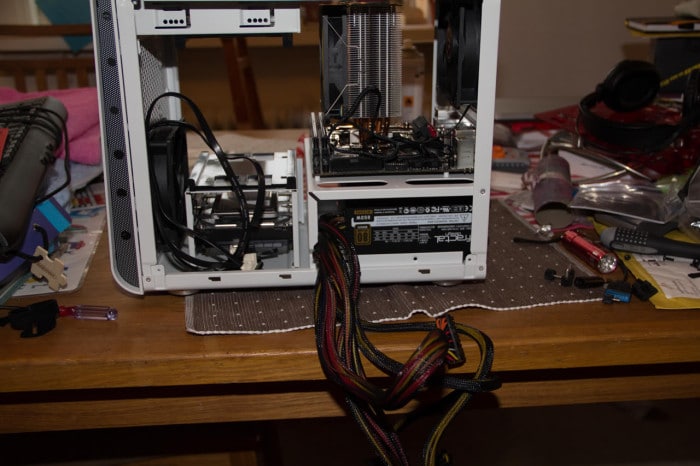 Here you can see how the different sections are separated. There are holes around the motherboard for cables so it is quite easy to get some good cable management even if there is not a lot of room in the case. In this image you also can see how a tall CPU-cooler fits. This CPU-cooler, the Hans RC1205 from Reeven is 155 mm high (6.1″).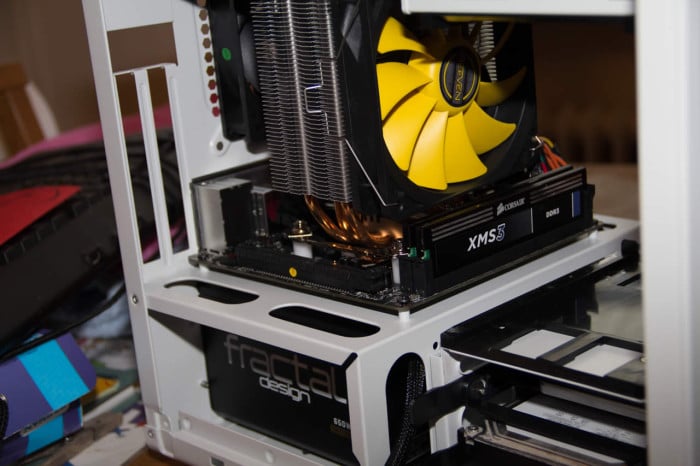 And here is the reason you should check if everything fits before assembling it in the case. Turns out this CPU-cooler is slightly to wide for the motherboard and thus sits a few mm over the PCI-express-slot.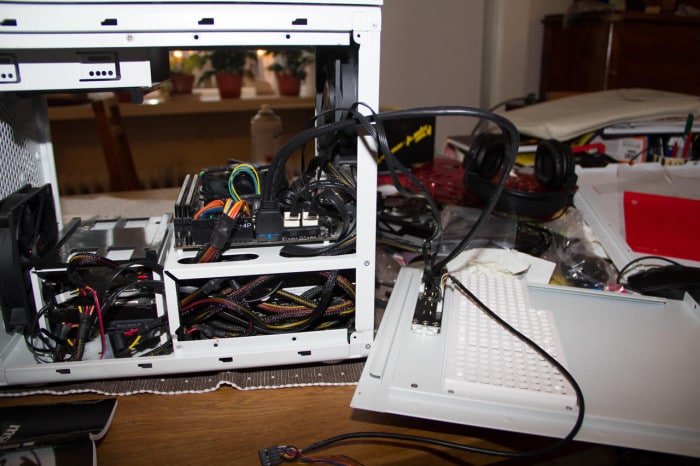 This is a view of the case from the right side. This side of the case also has the on/off-button as well as external USB-connectors so it needs to be hooked up to the motherboard. This can be a bit tricky if the motherboard has the connectors in a hard to reach place but in our case it was easy to hook everything up. As you can see also we managed to store most of the non-used cables to the side of the power supply and got a very clean installation.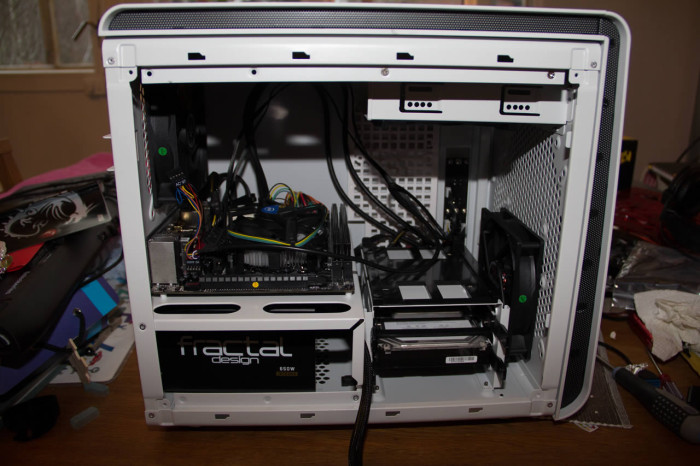 This is the view from the left side, before any graphics card has been installed. As you can see we choose to remove the upper hard drive cage as we want to fit in a larger graphics card. There still is plenty of room for drives.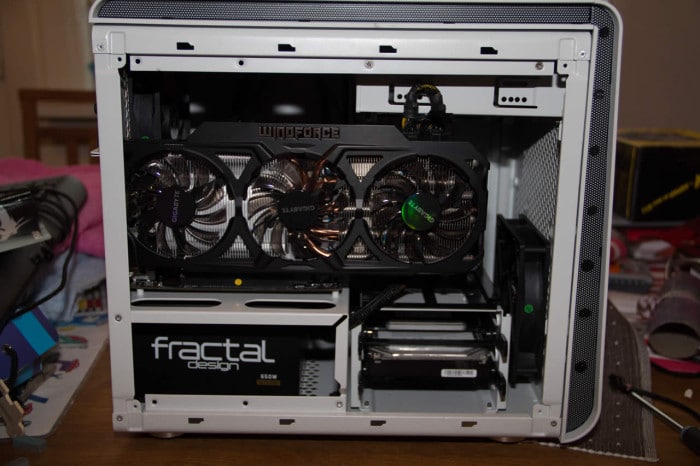 With the upper hard drive cage removed there is plenty of room even for longer graphics cards. It should be noted that there are no air vents on the side plate and that the graphics card will sit pretty close to the side plate so the space for air to be sucked in on these fans isn't as big as it could be but we found it working well anyway. 
Review Overview
Value - 9
Features - 9
Innovation - 8.5
Quality - 8.5
8.8
The Bitfenix Phenom mini-ITX case is a impressive case that can not only handle regular dual-slot graphics cards and tall CPU-coolers but also have space for tons of 2.5"- and 3.5"-drives. The case proves that just because you want a smaller case does not mean you have to compromise with the components.