Streacom is a company that mainly has small mini-ITC chassis, preferably made in aluminium. Today we are looking at one of those chassi, the Streacom FC8 Alpha. This is a pretty small case that comes with a fanless CPU-cooler that transfers the heat from the CPU to the side of the case. This case in an update to the Streacom FC8 Evo.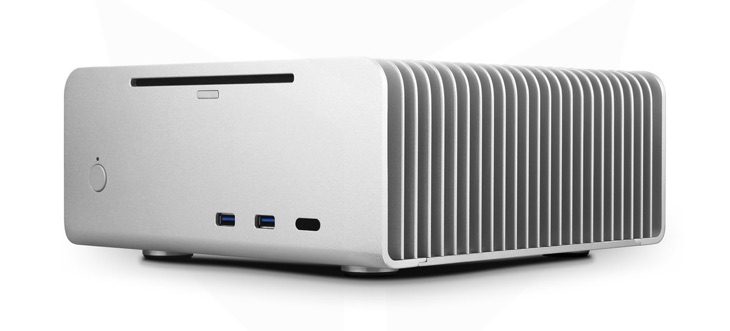 SPECIFICATIONS
Chassis Material: Premium Grade (6063) All Aluminium, 4mm Thick Extruded Panels
Available Colors: Silver / Black – Sandblast Finish
Motherboard Support: Mini-ITX
Drive Capacity Non Optical: 2 x 2.5″ + 2 x 3.5″ or 5 x 2.5″ or 3 x 2.5″ + 1 x 3.5″*1
Drive Capacity FC8 Optical: 1 x ODD + (1 x 2.5″ + 2 x 3.5″ or 4 x 2.5″ or 2 x 2.5″ + 1 x 3.5″)*1
Optical Drive Support: 1 x Slim 12.7mm Slot Loading Drive (Optical Version Only)
Front Ports: 2 x USB3.0, 19/20 PIN
Expansion Slot: 1 x Low Profile Expansion Card
Cooling: Heatpipe Direct Touch 4 Pipes – Recommended CPU TDP 65W, Max TDP 95W*2
External Dimensions: 240 x 250 x 100mm (W x D x H, 109mm including feet)
Internal Dimensions: 196 x 242 x 88mm (W x D x H)
Power Supply: Nano Series PSU (Not Included)
Remote Control: FLirc or IRRC Solution (Not Included)
Net Weight: 2.7KG
We received the silver-version for review.
As you can see from the specifications this is not a light chassi. in fact at 2.7 Kg + internal components it is a quite heavy case.
Even though the size it not big it still has support for quite a few storage options including an slim optical drive. As we will see though you need to work hard to fit in bigger 3.5″-drives.