CLOSER LOOK – THE INSIDE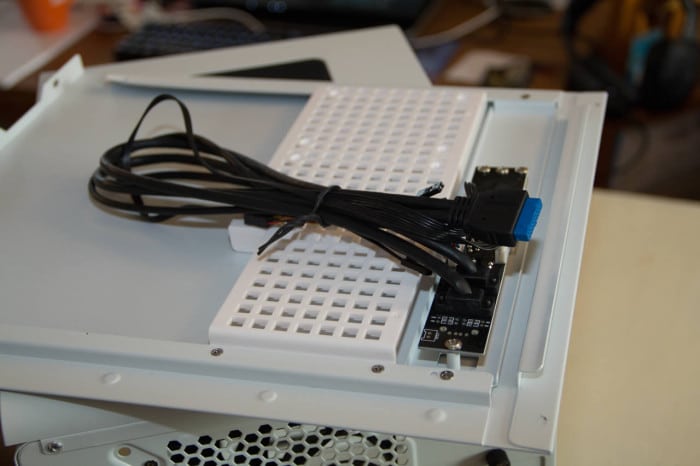 The two sides are both removable. One of them is just plain but the other side has the power-button and USB-connectors so here we find a bunch of cables that needs to be attached to the motherboard. you might wonder what the white plastic is for. One might think it has something to do with fans but the fact is that this is 2 additional spaces for 2.5″-drives.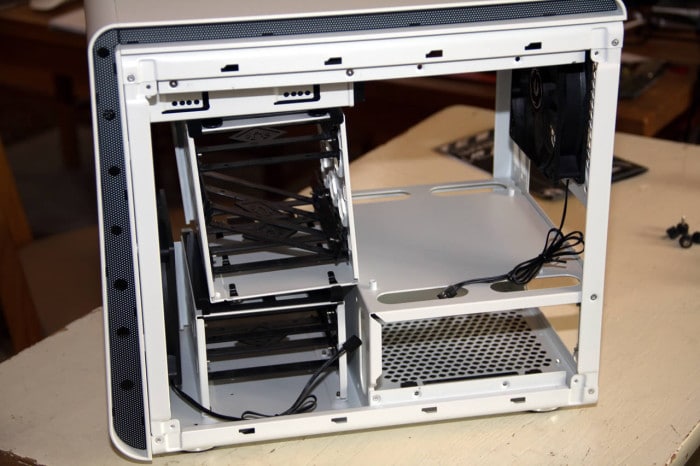 The case is divided into several main areas. At the bottom rear we find the space for the power supply. Above it is the space for the motherboard. In the front we have two separate holders for storage drives and at the top we find the last space where we can put another drive. Note, on this image the main cage for the hard drives is bent and sits at an odd shape. This is how it looked when we opened the case. At first we thought it had been damaged during transit or even before transit but it turned out all we had to do was take it out and put it back again to get it straight.  
Two 120mm-fans are included, one in the front and one at the back. These both can be exchanged to bigger fans if you want more airflow or a quieter system. 
 The removable hdd-cage can hold up to three 2.5- or 3.5″-drives.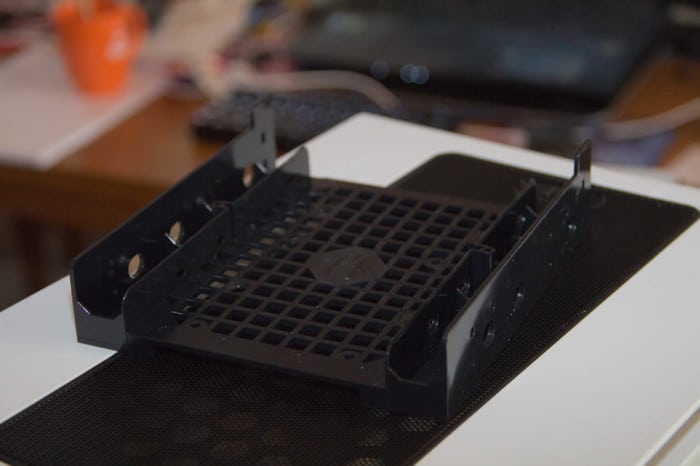 At the top you can put another 2.5- or 3.4″ drive.
In addition to the hdd-cages you can put additional 2.5″ drives to one of the side-plates (as shown before), one at the bottom of the case underneath the bottom drive cage as we as 2 standing vertical being screwed to the wall between the power supply area and the drive-area. This is how we can fit in up to 11(!) 2.5″-drives in this case.
Review Overview
Value - 9
Features - 9
Innovation - 8.5
Quality - 8.5
8.8
The Bitfenix Phenom mini-ITX case is a impressive case that can not only handle regular dual-slot graphics cards and tall CPU-coolers but also have space for tons of 2.5"- and 3.5"-drives. The case proves that just because you want a smaller case does not mean you have to compromise with the components.