The Hornettek Slipper performs just as we would expect from an external enclosure or dock. It is fast, supports USB 3.0, and is extremely easy to use.
Introduction
Hard drives and external backup drives have always been an important part of computing. Recently many companies have begun to cater to this portion of the market by providing simple external enclosures for internal drives. This product is one such external enclosure, but the Hornettek Slipper has plenty of unique features to make it stand out from the rest.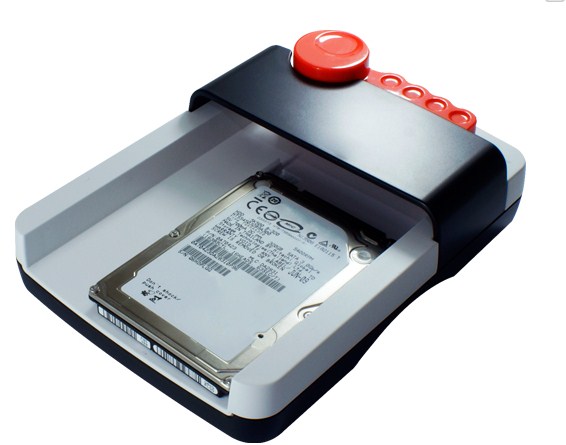 The Slipper is a unique design for an external enclosure/dock, so we will be testing it to make sure everything works as anticipated. The Slipper name was clearly given to this dock because of the fact that it looks like a slipper; this design also makes it surprisingly easy to slide a hard drive into place. The fact that the dock supports hot swapping also makes it quite easy to change out hard drives even when the device is connected.
Currently the Hornettek Slipper can be purchased for $39.99.
Overview
Compact and lightweight, Hornettek Slipper is the revolutionary design for HDD Docking Station. Users can easily install their SATA drives (3.5" & 2.5") horizontally on the Slipper, assuring drive stability while transferring mass amount of data. A smart ejection jack allows users to swap different HDDs in seconds.
With USB 3.0 interface, the Slipper U3 supports a data transfer rate up to 5Gbps. The additional One Touch Backup software can help backup files more easily. Slipper is powered by a 12V/2A adapter and supports all the latest 3.5" SATA HDD's.
Features
Slipper design, open space for 3.5"/2.5" HDD connection
Smart ejection jack to help install and remove HDD easily
Universal fitting for 2.5"/3.5" SATA HDD/SSD
One Touch Backup software included
Maximum Transfer Rates Up to 5 Gbps w/USB 3.0
Maximum Transfer Rates Up to 480 Mbps w/USB 2.0
Blue LED power/ status indicator
USB Hot-Swappable: Plug & Play without Rebooting.
Power Adapter, 100-240 VAC(47Hz~63Hz), 12V/2A output
Specifications
| | |
| --- | --- |
| Model | Slipper |
| Interface | USB 3.0 |
| Data Transfer | USB 3.0 at 5.0Gbps Max |
| HDD Support | 2.5"/3.5" SATA HDD |
| Material | ABS Plastic |
| Package Dimensions | 8.75" x 5.25 " x 4.25 " (inch) |
| Product Weight | 2.35 lbs |
| Units Per Carton | 12 |
| OS System Support | Supports Windows 2000/XP/Vista/7 , Linux 2.4.1.0 or above |
| CE/FCC CE/ FCC | Approved |
| RoHS Compliancy | RoHS Approved |
Pictures and Impressions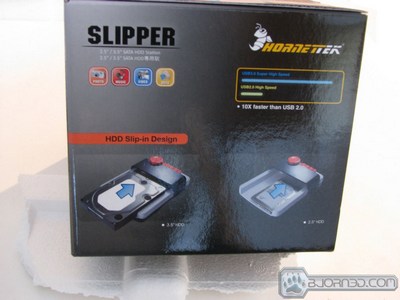 Click Image to Enlarge
The packaging for the Hornettek Slipper is simple yet effective, as we would expect. All of the important features and specifications are outlined clearly on the box and the product shape and design are clearly visible in the first picture. As for protection, the entire box was filled with foam to keep everything in place so there should be no problem with damaged product.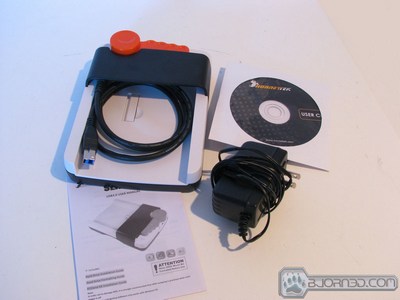 Click Image to Enlarge
Next we see all of the accessories and other things included with the Hornettek Slipper. Obviously the actual dock is the most important part of the package. Along with the dock, Hornettek included a power supply to power the device, a disk with backup software, a manual, and a USB cable that supports USB 3.0.
Click Image to Enlarge
Here is the back panel of the Slipper dock. There obviously isn't a whole lot to see in terms of ports. The left port is the power port, there is a power switch in the center, and the right side is the USB connection port that supports USB 2.0 and USB 3.0. On top of the dock is a large orange lever in the shape of toes, used to release the hard drives from the SATA connection easily.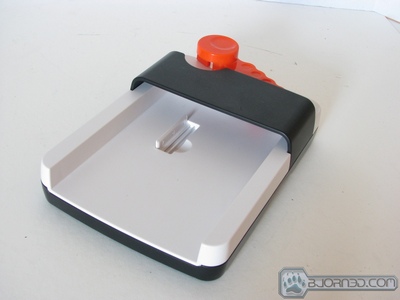 Click Image to Enlarge
And finally we see the entire overview of the dock. The design is very simple and it is quite clear where they got the name "Slipper". Sliding hard drives into place on the Slipper is very easy, and thanks to the center guide, it is easy to switch between 2.5″ and 3.5″ drives. The fact that the Slipper supports hot swapping is also great because it makes it incredibly easy to change out hard drives at will.
Click Image to Enlarge
Next we see the enclosure both with and without a drive installed. The image on the left makes it easy to see  how the hard drive connects automatically to the SATA connections while the image on the right shows how snugly a hard drive fits in the dock. Obviously the drive is not installed all the way but thanks to the center guide it is easy to install both 3.5″ and 2.5″ hard drives.
Software
Lastly we see the software included with the Hornettek Slipper. It is a fairly simple program that supports automatic backup as well as manual file management. It works quite well, and it was nice of Hornettek to include an automated backup system. For those who are planning on using the Slipper as an external backup system, then the included software will work quite well.
Testing
As always there is more to a product than just if it works. Performance is always important when it comes to external storage so we conducted multiple tests to see how well this enclosure performs using both USB 3.0 and USB 2.0.
Specs

Test Hardware
Case
Silverstone RV02
CPU
i7-2600k
Motherboard
Asus P67 Sabertooth
RAM
6GB OCZ Platinum

 

Hard Drives

Hitachi 7200RPM Laptop Drive

Seagate 7200RPM Desktop Drive

USB 3.0 Controller
Onboard
methodology
In order to adequately test the Hornettek Slipper the numerous tests were conducted using both a 2.5″ and 3.5″ drive. Each drive was also tested while connected to both USB 2.0 and USB 3.0 so the performance difference could be observed. For each test the test system was rebooted so everything within the Windows environment was exactly the same for each test. While each test was run the computer was left untouched so as to avoid skewing the results.
Results
2.5″ Drive Testing
Click Images to Enlarge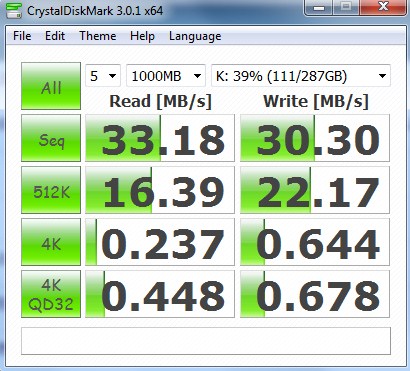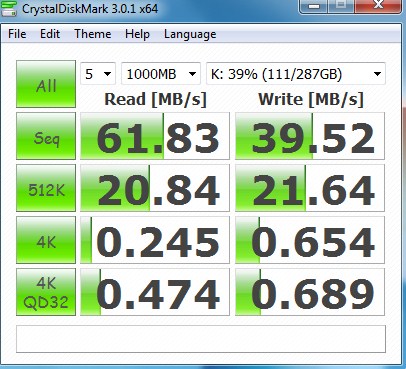 USB 2.0                                                                                       USB 3.0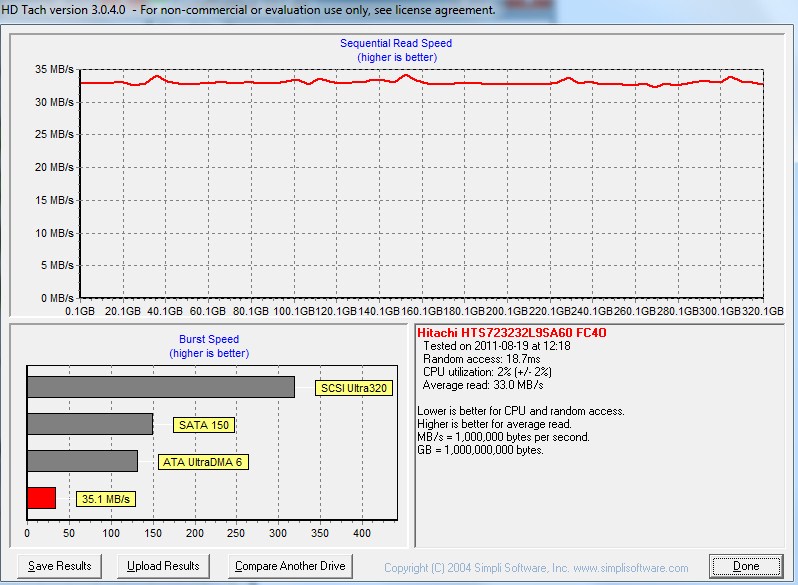 USB 2.0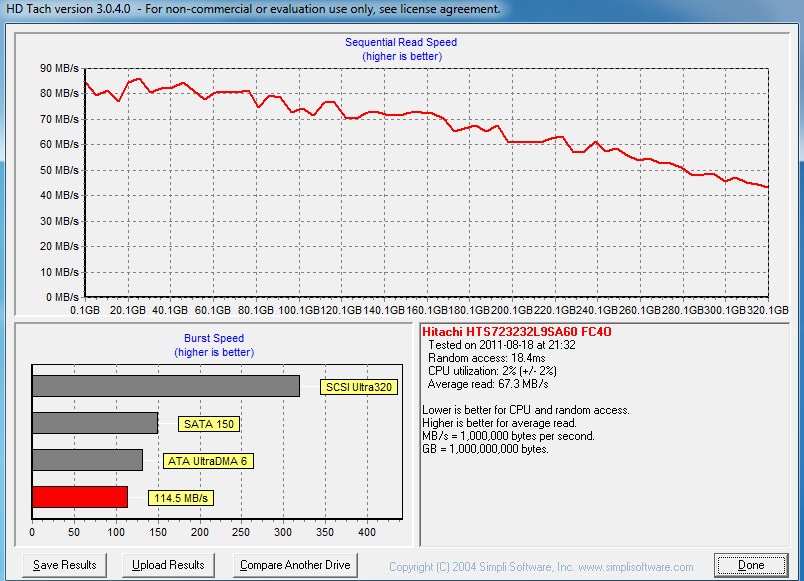 USB 3.0
For both tests the USB 2.0 test is on the left while the USB 3.0 test is on the right. It is obvious that USB 3.0 is quite a bit faster than USB 2.0, which is to be expected. In both tests the enclosure was approximately twice as fast when using USB 3.0 as when using USB 2.0. It is important to note that this speed is due to the USB interface difference and not the enclosure. Obviously we recommend using USB 3.0 if users have the ability to do so. Also, a faster hard drive should easily see an increase in speed for USB 3.0 though it will not be any faster on USB 2.0 as the maximum speed is essentially achieved on this test.
In the end the important part of this test is that the hard drive performed adequately when connected with USB 3.0. It was able to read and write nearly as fast as it does when connected via SATA, which shows that the Slipper will not going to create much of a bottleneck; for an external dock/enclosure this is great news.
3.5″ Drive Testing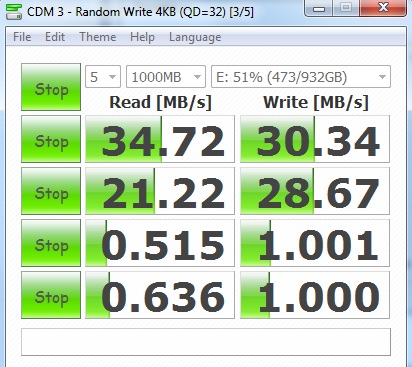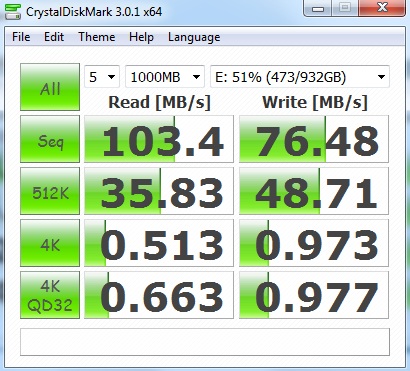 USB 2.0                                                                                       USB 3.0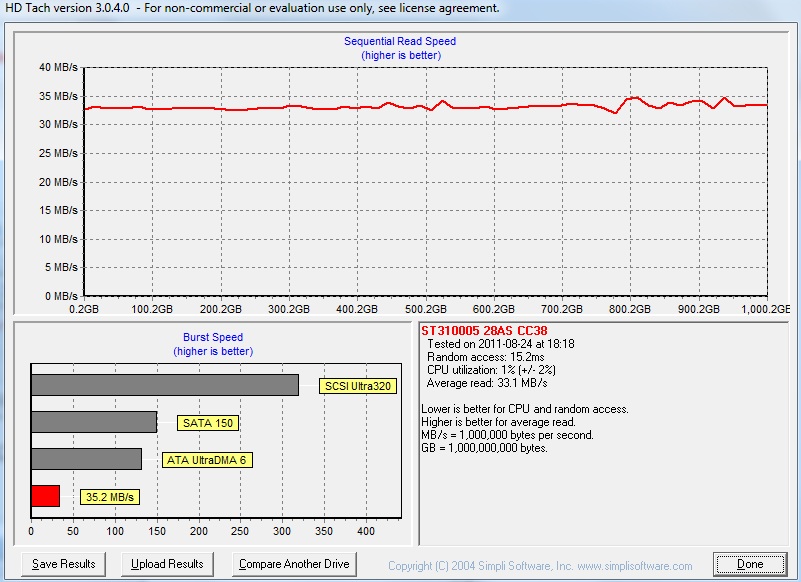 USB 2.0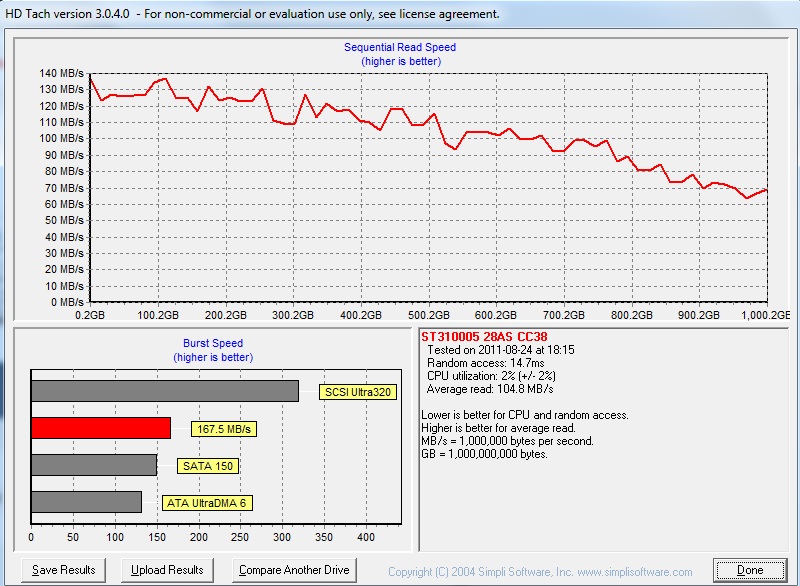 USB 3.0
USB 2.0                                                                                       USB 3.0
Just as with the 2.5″ drive the USB 2.0 results are on the left and the USB 3.0 tests are on the right. Once again USB 3.0 is significantly faster, just as we would expect. It performs very well and is definitely meeting our expectations for performance from an external drive/dock. Overall the performance of the Hornettek Slipper is on par with what is expected from a device such as this.
Conclusion
Hornettek has always had a wide variety of external enclosures or docks and the Slipper is another great addition to the lineup. It functions just as we would expect and the unique design makes it remarkably easy to change out hard drives. It might be slightly over priced for what it offers but otherwise it performs adequately and does everything you would need from an external dock like this.
OUR VERDICT: HornetTek Slipper
| | |
| --- | --- |
| Performance | 8 |
| Value | 7 |
| Quality | 9 |
| Features | 7 |
| Innovation | 8 |

We are using a new addition to our scoring system to provide additional feedback beyond a flat score. Please note that the final score isn't an aggregate average of the new rating system.

Pros
Cons

Easy to use and connect

Included backup software

Supports USB 2.0 and 3.0

Adequate Performance

Supports Hotswapping

Price may be a bit high

No major features other than hotswap

 
 
Summary: The Hornettek Slipper performs just as expected from an external enclosure or dock. It is very fast, offers USB 3.0 support, and can carry both 3.5″ and 2.5″ drives. For its quality and performance, it earns the Bjorn3D Seal of Approval.