Today we take a look at the ASUS Matrix GTX 580 Platinum, and see how it stacks up against its direct competition. Keep reading to see who wins this epic battle!
Introduction – Asus Matrix GTX 580 Platinum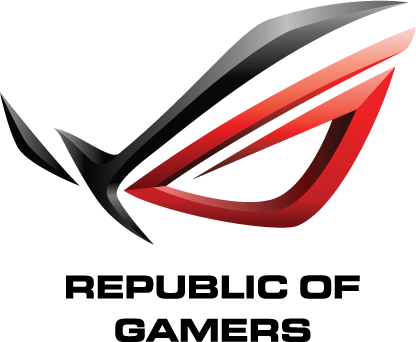 Welcome to the first half of our 580 Faceoff. There are many high-performance graphics cards out there, and the NVIDIA GTX 580 is one of the best. Many manufacturers have made their own versions of the GTX 580, so how do we know which card to buy? This week, we'll be taking a look at two of the best: the ASUS Matrix GTX 580 Platinum, and the GIGABYTE GTX 580 SOC, and pitting them head to head.
The Republic of Gamers is the premier gaming and performance hardware line from ASUS. The ROG lineup consists of the very top end of the ASUS engineering capability. The ROG lineup consists mostly of motherboards, and it wasn't until very recently that we saw high performance graphics cards added to the mix. However, one thing that we notice is when ASUS designs a custom model of a card they go all out. this can be seen with previous ASUS custom model cards such as the ASUS Aries and Mars series cards which were very limited, expensive, and top performers. The card we have today is the ASUS Matrix GTX 580 Platinum which is the top single-GPU card in the ASUS lineup at this time.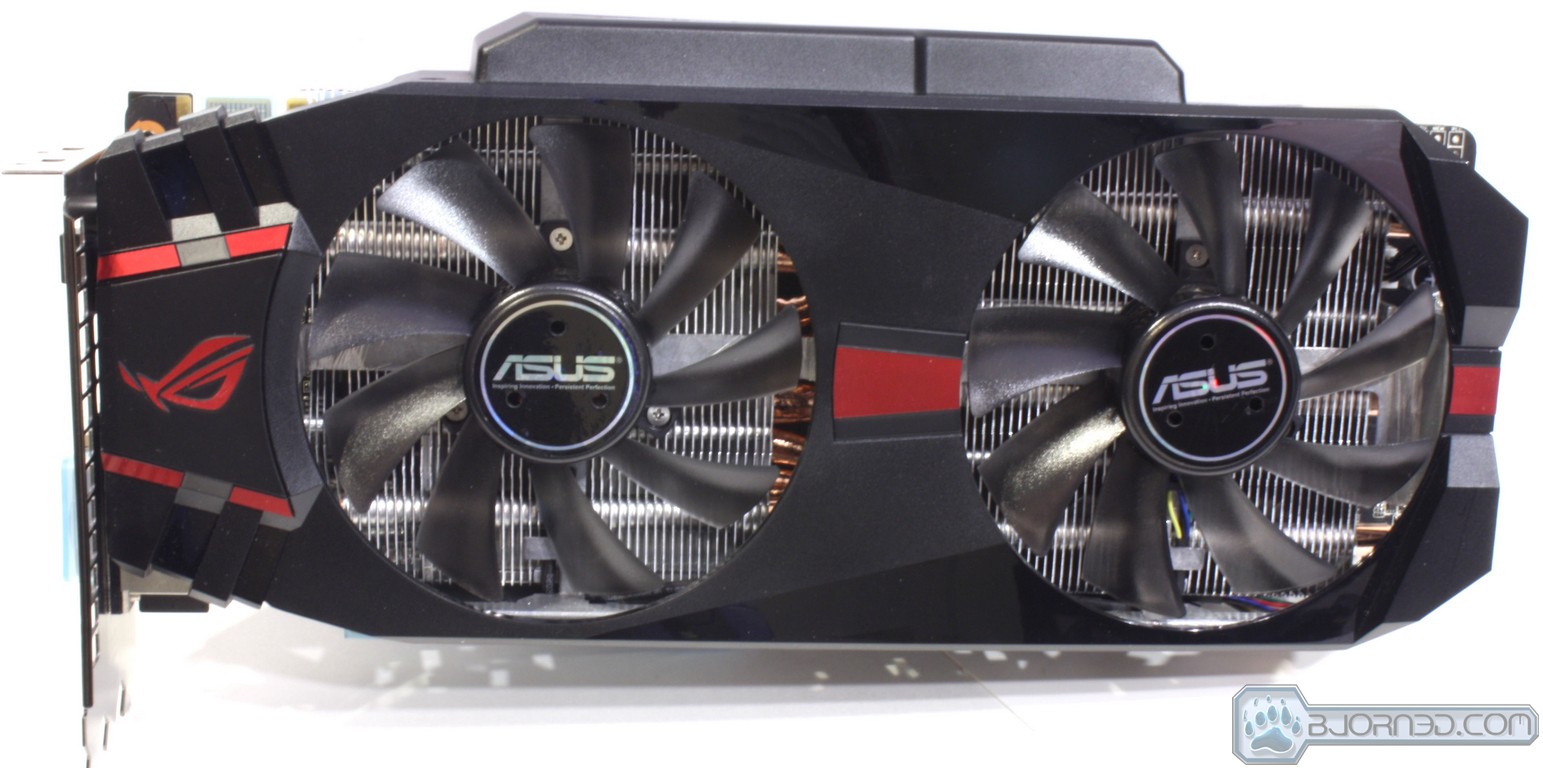 In this review we will look at some of the unique features that separate the ASUS Matrix GTX 580 Platinum graphics card from a reference card and how can users utilize those features. This card retails for $529.99, which is only 20 dollars more than the DirectCU II card and about 70 dollars more than a reference card, which retails for about 459.99.
Features
ASUS Exclusive Innovation
TweakIt – Instant voltage adjustment!

TweakIt provides users with flexible overclocking control even when running benchmark programs! The "+" and "-" button puts overvolting adjustments in the user´s fingertips, offering them performance optimization options during game play to gain the competitive edge. 



ProbeIt – Instant voltage measurement!

ProbeIt takes the guesswork out of locating the graphics card´s measurement points, identifying them clearly in the form of 6 sets of detection points so you´ll know exactly where to get quick yet accurate readings using a multimeter. 



Safe Mode – Instant settings reset!

Safe Mode button resets the graphics card back to default frequencies & BIOS. This is a very welcomed feature for hardware enthusiasts, think of it like the "Clear CMOS" on a motherboard.



GPU Tweak – Professional graphics overclocking tools for enthusiasts!

The latest ASUS overclocking utility offers 


adjustment core and memory clocks, core voltage and fan speed on up to four cards setting

getting live updates on drivers and BIOS to keep your graphics card protected

viewing accurate card information with the most authoritative graphics card information tool GPU-Z

saving your optimized settings into graphics card BIOS





 

19-phase Super Alloy Power – Efficient power delivery!

Built with exclusive 19-phase Super Alloy Power technology, the MATRIX GTX 580 guarantees much greater overclocking headroom, with a 15% performance boost, 2.5 times longer lifespan and 35°C cooler operation than the reference card design. 



DirectCU II – 600% greater air flow, 20% cooler operation than reference!

Cooling is well taken care of by exclusive DirectCU II technology that puts copper heat pipes in direct contact with the GPU. The pipes efficiently transfer heat through two massive fans that deliver 600% more airflow than the reference design, resulting in a 20% lower operating temperatures.



MATRIX LED load Indicator – GPU loading at-a-glance

A multicolored LED MATRIX indicator at the rear of the ROG MATRIX GTX 580 gives an instant and easy-to-understand visual display of the current GPU load.


Graphics GPU Features
Powered by NVIDIA® GeForce® GTX580

GeForce CUDA™

Unlocks the power of GPU's processor cores to accelerate the most demanding system tasks

NVIDIA® SLI™

Supports multi-GPU technology for extreme performance ode

NVIDIA PhysX™

Delivers dynamic visual effects like blazing explosions, reactive debris, realistic water, and lifelike characters.

NVIDIA® 3D Vision™

Immersive yourself in 3D gaming world

DirectX® 11 Done Right

Brings new levels of visual realism to gaming on the PC and get top-notch performance

Microsoft® Windows® 7 Compatible

Enable PC users to enjoy an advanced computing experience and to do more with their PC

 
I/O Ports Highlight
Specifications
Graphics Engine
NVIDIA GeForce GTX 580
Bus Standard
PCI Express 2.0
Video Memory
GDDR5 1536MB
Engine Clock
816 MHz
CUDA Core
512
Memory Clock
4008 MHz ( 1002 MHz GDDR5 )
RAMDAC
400 MHz
Memory Interface
384-bit
Resolution
D-Sub Max Resolution : 2048×1536
DVI Max Resolution : 2560×1600
Interface
D-Sub Output : Yes x 1 (via DVI to D-Sub adaptor x 1)
DVI Output : Yes x 2 (DVI-I)
HDMI Output : Yes x 1 
Display Port : Yes x 1 (Regular DP)
HDCP Support : Yes
Accessories
2 x Power cable
1 x Extended SLI cable
1 x DVI to D-Sub adaptor
Software
ASUS Utility and Driver
ASUS Features
DirectCU Series
Matrix Series
Super Alloy Power
Dimensions
11.5 " x 5 " Inch
Unboxing & first impressions
Click Image to Enlarge
The ROG packaging is hard to miss. The Matrix GTX 580 Platinum is no exception as it has a bright red similar to the Maximus IV Extreme motherboard packaging along with the ROG splash graphic on the front. Besides that there are also a couple key feature icons on the front.
Flipping the front flap open (another distinctive feature of most ROG packaging), we get a nice view through plastic of the Matrix GTX 580 staring back at us.
Click Image to Enlarge
Here we see the inside flap, which has a wealth of information on key features such as the onboard voltage controls, the GPU loading indicator, the GPU Tweak software (included), the special triple slot DirectCU II cooler, and also the Super Alloy power components.
Next we turn to the rear of the box where we find a lot of the specs and minimum system requirements for the card, along with some pictures mirroring the info we just saw on the inside flap.
Click Image to Enlarge
Here we have the box that comes along inside with the Matrix 580 which holds the included accessories. This bundle looks a little small. Once laid out we have a good look at everything that comes with this card:
Quick start manual
Driver/Utility Disc
DVI to VGA adapter
Extra long flexible SLI Bridge
ROG Case Badge
2x dual 6 pin to 8 pin PCI-e power adapters
This accessory package seemed a little scant for a card of this level but everything necessary is included.
Click Image to Enlarge
At first glance we notice that the dual fans on the cooler are very large, so we hope this will translate to plenty of cooling without being overly noisy. The front of the cooler carries the ROG black/red scheme along with the ROG logo on the tail end.
Click Image to Enlarge
Here we have removed the card and we can see straight into the dense fin array of the cooler. The extended area above the cooler houses the load indicator (we will go into further detail on this later). Once the card is out and we look at the I/O panel we start to see just how thick this card is. It is defined as a 3-slot cooler and it is every bit as large as its description says. Unfortunately, the sheer size of the cooler means that running 4-way SLI is impossible, and a 3-way configuration requires longer SLI bridges.
Outputs are plentiful on this card as well, with dual DVI and HDMI, and even DisplayPort to ensure maximum connectivity. On the I/O is also a rather peculiar "Safe Mode" button. In the event of a VBIOS failure, this button will allow the card to POST in safe mode, so the VBIOS can be flashed or corrected. Note that this obviously does not repair failures that damage the physical components on the card.
Click Image to Enlarge
Here we get a good look at the rear of the card and first thing we notice is that ASUS pre-fitted a backplate to the card from the factory so that the card has some extra support for the cooler. However, when we put the card in, we found that the backplate does not adequately support the weight of the massive cooler, and causes bending at the point where the PCB meets the I/O ports. Though the bending has not actually damaged our sample, it should be corrected, as it leaves the possibility for component damage.
Looking to the center of the card, directly behind the GPU, we see Proadlizer capacitors, which should help when pushing the card past all rational limits.
Looking at the top, we see a Matrix logo that lights up. Upon testing we found that the color of the lighting actively changes depending upon how high the load on the card is. It starts out green when not under load, goes to blue for light load, purple for heavy load, and red for extreme loading.
A Closer Look At the Asus Matrix GTX 580 Platinum
Click Image to Enlarge
First off we get a look at the rear end of the card. Where we would normally see just power connectors, we see a whole host features placed there to make tuning the card much easier. The very conspicuous red button throttles the fan to 100% fan speed, saving gamers the trouble of having to switch out of games to change the speed with software. At first we thought that the other 2 buttons were incremental fan speed adjustments, until we looked into it and found that they are for on-the-fly voltage adjustment. This is a really nice feature as it gives us real-time voltage scaling at our fingertips, without the need to go through a program.
Speaking of voltage as we move to the top edge we see the voltage readpoints. Pretty much any voltage on the card can be checked with a voltmeter directly from these 6 solder points. This will help greatly when testing for stability issues or extreme benching.
Click Image to Enlarge
Below the on-the-fly adjustment buttons we see the iROG chip, which surely controls a lot of the ROG functions built into this card.
Moving to the rear lower section of the card we have the card's mod zone, which allows bypassing of OCP (Overcurrent Protection), along with frequency adjustments via hardware modifications. By soldering certain electrical components onto these points, users can disable built-in voltage and current limitations such as OCP. This will allow users to increase power and overclock the card to its limits while cold-benching. These mods should not be enabled unless benchmarking with subzero cooling, as they allow a lot of adjustment that is out of the range of any air cooler. Pushing the card past these limits on air cooling will result in damage to the components.
Click Image to Enlarge
Here we see another shot of the I/O side of the card. We just cannot wrap our head around how thick this card really is. It is a monster.
Here we've stripped off the cooler to get a good look at the parts underneath. Once below the cooler we see the memory IC's along with a large cooler that should guarantee a stable and cool power section for this card, regardless of the load.
Software Overview

ASUS has its own GPU tuning utility named GPU Tweak. This is similar to some utilities we have seen included with other manufacturers' cards. However, the GPU Tweak utility has some features specially designed for ROG cards, allowing finer tuning and adjustability.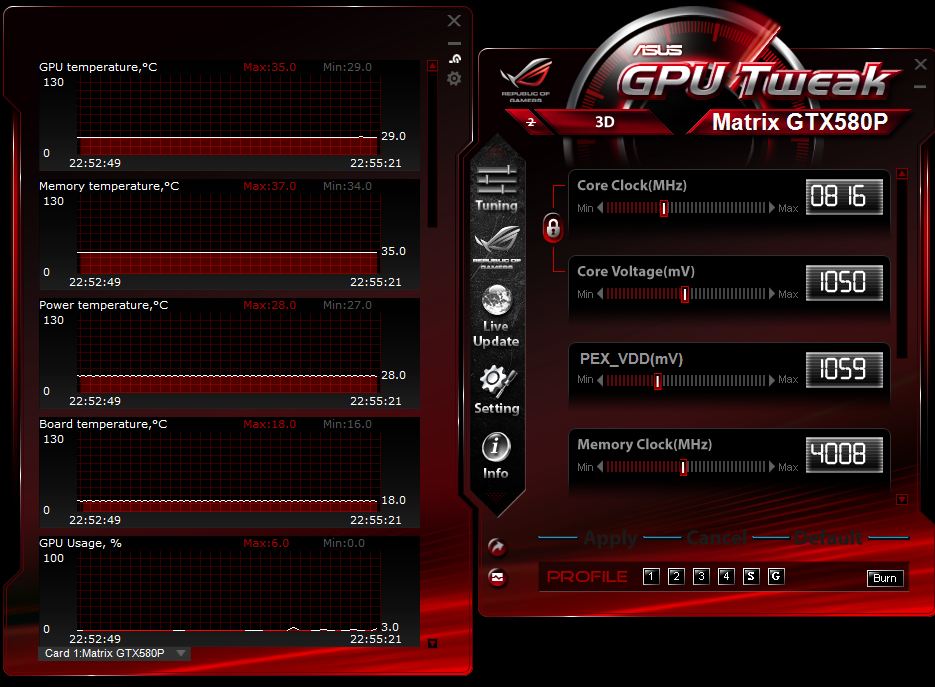 Here is what we see when we first open the program: the adjustments for the GPU clock, GPU core voltage, PEX voltage, memory clock, memory voltage, and lastly, individual fan speed controls. To the left we see the the monitoring screen which monitors the card's activity in real time.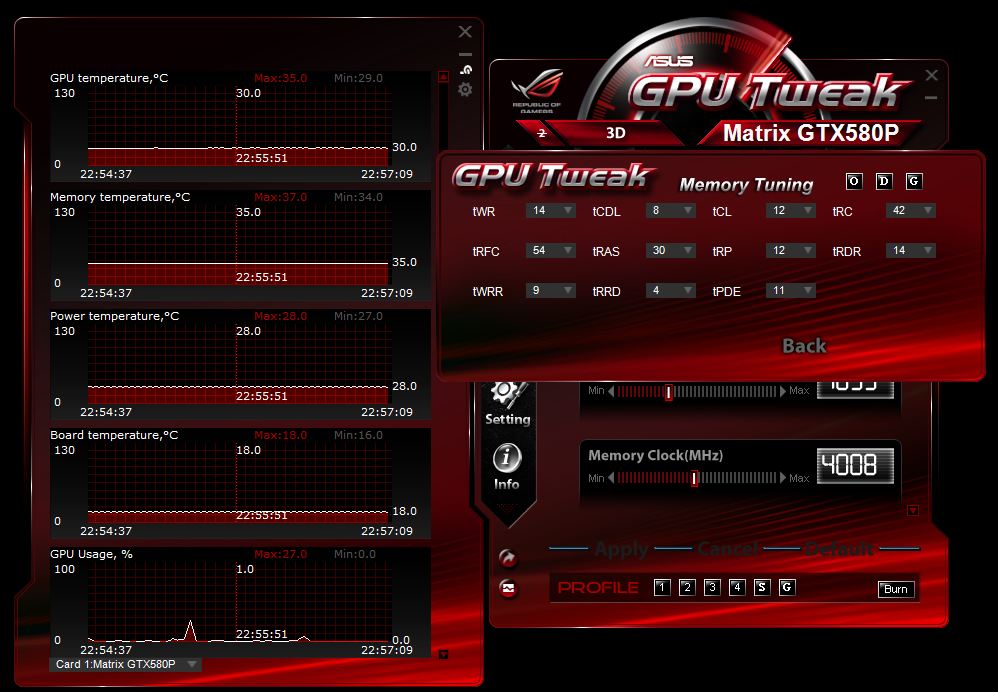 The ROG tab allows adjustment of the memory timings on ROG cards, which allows for the fine tuning necessary to really test the limit of the card. This is especially important, as incorrectly set timings can result in crashing and instability.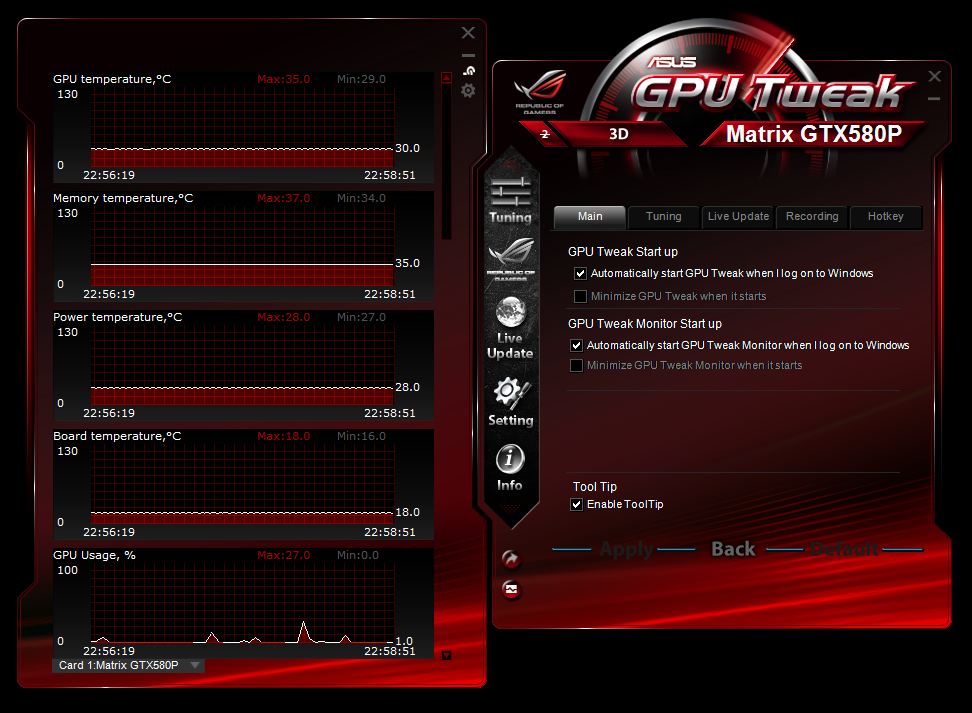 The setting tab allows users to customize the GPU Tweak utility, including settings for the appearance of the user interface, Tuning options, Hotkey settings, recording options and pretty much anything else necessary.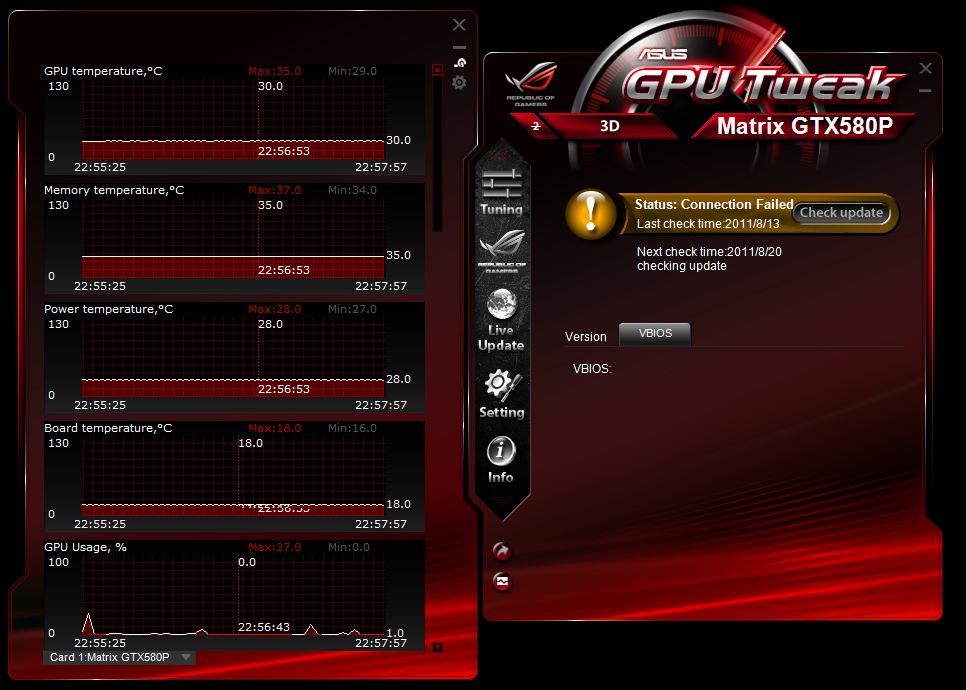 The ASUS Live update tab allows users to update the card and software in real time from the ASUS servers. The "Connection Failed" message is due to the fact that our system was not connected to the internet at the time the screenshot was taken.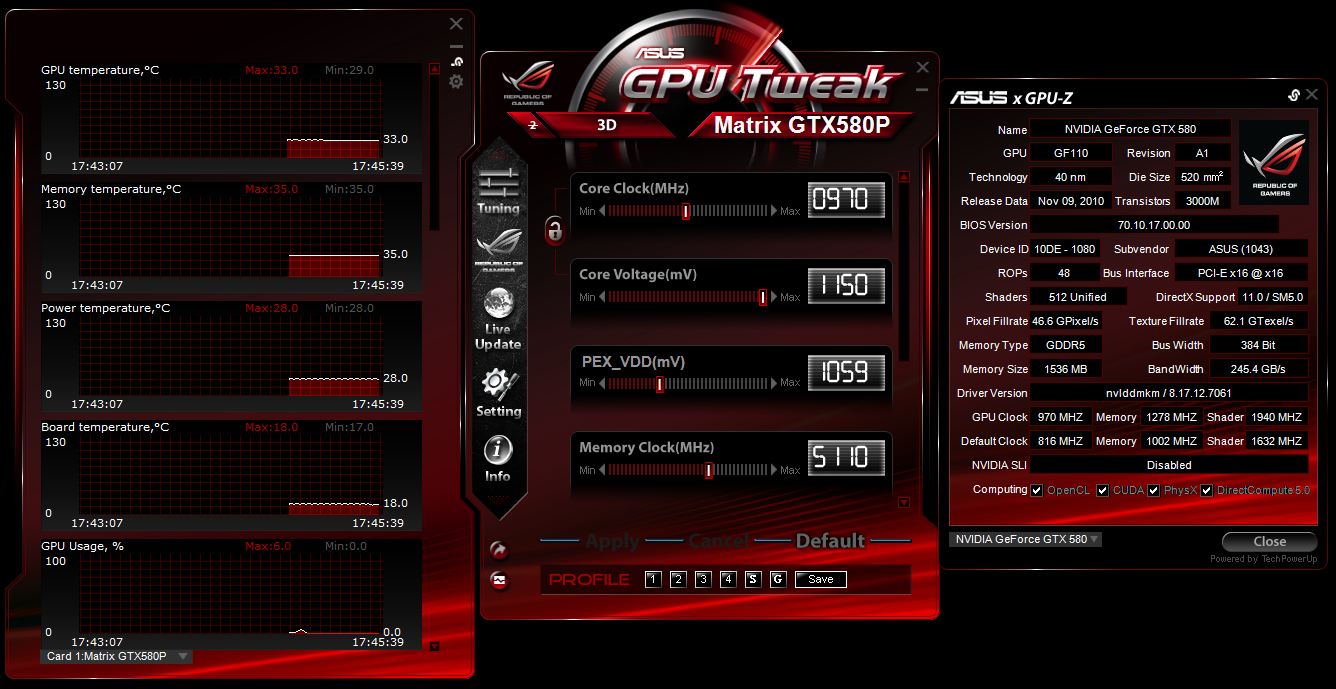 Pressing the Info button it opens yet another custom ASUS utility–a custom version of GPU-Z which carries similar information to the normal version, but with a custom skin to match the GPU tweak skin.
Testing & Methodology
We've expanded our testing suite considerably since the Z68 chipset release, and will continue to use the same methods for most of the motherboards and CPU's we test. In the interests of thoroughness and accurate results, we run each test at least three times, and some tests more than that. We average the total of all the tests from each benchmark then report the average here.
The OS we use is Windows 7 Pro 64bit with all patches and updates applied. We also use the latest drivers available for the motherboard and any devices attached to the computer. We do not disable background tasks or tweak the OS or system in any way. We turn off drive indexing and daily defragging. We also turn off Prefetch and Superfetch. This is not an attempt to produce bigger benchmark numbers. Drive indexing and defragging can interfere with testing and produce confusing numbers. If a test were to be run while a drive was being indexed or defragged, and then the same test was later run when these processes were off, the two results would be contradictory and erroneous. As we cannot control when defragging and indexing occur precisely enough to guarantee that they won't interfere with testing, we opt to disable the features entirely.
Prefetch tries to predict what users will load the next time they boot the machine by caching the relevant files and storing them for later use. We want to learn how the program runs without any of the files being cached, and we disable it so that each test run we do not have to clear pre-fetch to get accurate numbers. Lastly we disable Superfetch. Superfetch loads often-used programs into the memory. It is one of the reasons that Windows occupies so much memory. Vista fills the memory in an attempt to predict what users will load. Having one test run with files cached, and another test run with the files un-cached would result in inaccurate numbers. Again, since we can't control its timings so precisely, it we turn it off. Because these four features can potentially interfere with benchmarking, and and are out of our control, we disable them. We do not disable anything else.
These settings while being based around motherboard testing is the same for testing GPU as well to ensure that all tests are similar to ensure comparative results.
Test Rig
Test Rig
Case
Thermaltake Level 10 GT
CPU

Intel Core i7 2600K (@ 4.8 GHz)

Motherboard
ASUS Maximus IV Extreme
Ram
4GB Corsair GTX3 2400MHz CL 9 (9-11-9-27) (@ 2133 MHz)
CPU Cooler

Swiftech H20-220 Edge

Hard Drive
Western Digital Velociraptor 300GB
SSD

Intel 510 series SATA III/6G 120GB

Optical
ASUS BD-Rom
GPU

ASUS GTX 580 Matrix Platinum

Case Fans

Front (intake): 200 x 200 x 20 mm ColorShift Fan x 1 (600~800RPM, 13~15dBA)

Rear (exhaust): 140 x 140 x 25 mm Turbo Fan (1000PRM, 16 dBA)

Top (exhaust): 200 x 200 x 30 mm ColorShift Fan (600~800RPM, 13~15dBA)

Side (intake): 200 x 200 x 30 ColorShift Fan (600~800RPM), 13~15dBA)

Additional Cards

N/A
PSU

Thermaltake Toughpower Grand 1200W

Mouse
Thermaltake esports Black gaming mouse
Keyboard
Thermaltake Meka G1 mechanical gaming keyboard
We have overclocked the CPU very highly, along with very high RAM speed to ensure that the card will not be bottlenecked by the system clock.
Here she is built and ready to run!
Here we see the test rig with the Matrix GTX 580 Platinum installed.
There are 2 pictures included to show the LED indicator and how it responds to loaded conditions. Under low load the lighted Matrix logo is blue, while during maximum load, we can see the LED changes to red.
Test Suite
We will use the following applications to test the performance of the Graphics card. Benchmarks
Benchmarks
Heaven benchmark
3DMark 11
3DMark Vantage
Crysis Warhead
Just Cause 2
Metro 2033
Overclocking

The GTX 580 GPU is a very strong GPU and the best GPU Nvidia presently offers. However, overclocking the GTX 580 reference cards has always been problematic due to the power limiting circuits which cause the card to downclock under certain high stress situations such as stress test utilities. These changes in clockspeed can go virtually unnoticed, unless changes in FPS were noticeable, or the user had special programs to monitor clockspeed. Luckily, when testing we did not see this kind of activity. Additionally, ASUS has provided plenty of power to this card via the dual 8 pin configuration, in addition to the custom PCB and the slate of voltage tweaks and hard mod locations.
Overclocking began by just pushing the GPU core frequency up to see how far it would go on stock voltage. At first this card seemed too good to be true as we were scaling past 920 MHz core on air, but then we noticed that that the GPU Tweak utility automatically links the GPU core voltage to the GPU speed slider, so as we were ramping up the speed the voltage was ramping up as well. After resetting to defaults then unlinking the core/voltage we found that the card would max on stock voltage at a GPU core speed of 877 MHz with a memory frequency of 1108 or QDR 4432 MHz. This is about average for most GTX 580 samples. Since this card is an even higher performance version of the GTX 580 though, we were very interested to see how it dealt with higher voltage. After scaling up some we found that our maximum stable overclock as seen below was a GPU core clock speed of 970 MHz along with a memory speed of 1278 or QDR 5112 MHz on the memory. We spent many hours running benchmarks and games to find the highest stable overclock that ran acceptable temperatures (below 80C) with no other issues or visual artifacts. Please note that the card can go higher, but our tests above 970 MHz resulted in crashes and instability after prolonged testing, and therefore we settled on this as our OC testing standard. However, with subzero cooling and hardware modifications, we are sure this card can easily scale above 1000 MHz.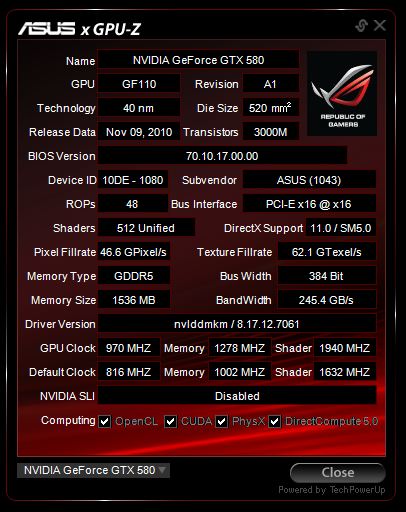 Important note: Overclocking can cause component failure.  Please exercise caution when attempting any level of overclock on system components.
Temperatures

The temperatures were recorded with the ASUS GPU tweak utility, after looping 3D benchmarks for a minimum of 30 minutes, with a total of 5 different runs to ensure a consistent result. The highest temperature achieved was recorded on all 5 runs, and the results were averaged. The results were as follows:
| | |
| --- | --- |
| GPU Temperatures | Temperature (Idle/Load) |
| Matrix GTX 580 Platinum (O.C.) | 31C/79C |
| Matrix GTX 580 Platinum | 28C/71C |
We found that the stock DirectCU II cooler was quite impressive by design, as even at our overclocked settings, the max temperature observed was just short of 80C. In comparison, a stock reference GTX 580 can get higher than 90C under similar stress at default clocks. There was one disadvantage noted when testing is that the DirectCU II cooler exhausts pretty much all of the heat into the chassis, and so good airflow is a must. A card this powerful can easily raise case temperatures, and users running air cooling on their CPUs will see noticeable temperature increases after prolonged periods of gaming.
Power Consumption

The power consumption was tested while running 3D stress tests and benchmarks at the same time as we were monitoring the temperature tests as well; we call it killing 2 birds with one test. The results were recorded carefully with a Kill-A-Watt power consumption meter at the wall. After the results were recorded, we waited for yet another few minutes minutes before taking Idle power consumption measurements.
| | |
| --- | --- |
| Configuration | Power Consumption (Idle/Load) |
| Matrix GTX 580 Platinum (O.C.) | 224W/517W |
| Matrix GTX 580 Platinum | 160W/461W |
The power consumption is the maximum we recorded during an extended period in multiple instances to ensure accurate results. As seen here the overclock does pull almost 50 more watts which, does not necessarily come as a surprise due to the heavy loading nature of a GPU, along with the extreme overclock.
3DMARK VANTAGE

For complete information on 3DMark Vantage Please follow this Link:
www.futuremark.com/benchmarks/3dmarkvantage/features/
The newest video benchmark from the gang at Futuremark. This utility is still a synthetic benchmark, but one that more closely reflects real world gaming performance. While it is not a perfect replacement for actual game benchmarks, it has its uses. We tested our cards at the 'Performance' setting.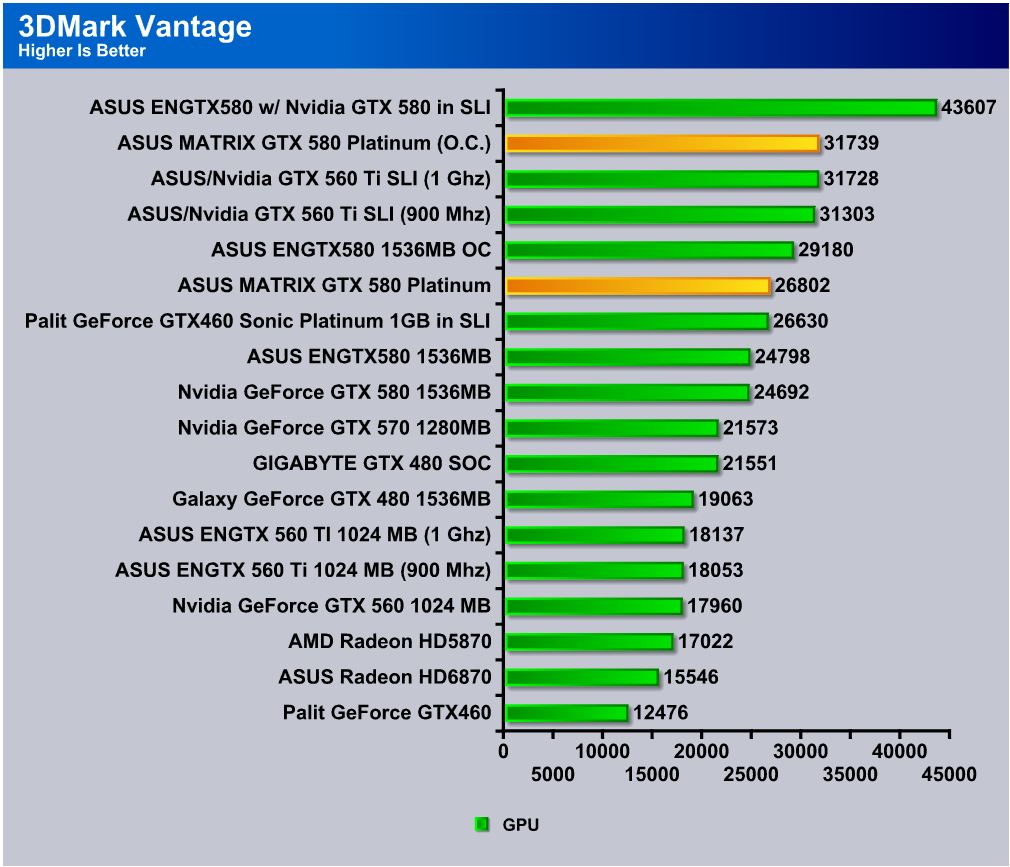 3DMARK 11

3DMark 11 is the newest in futuremark's suite of benchmarking utilities.  Its a fully capable DirectX11 benchmark which also stresses and analyzes the system performance as a whole to simulate a heavy rendering environment such as a high end game or other app the end user may run.  This benchmark was run with Performance settings 5 times and all runs were averaged for the result below.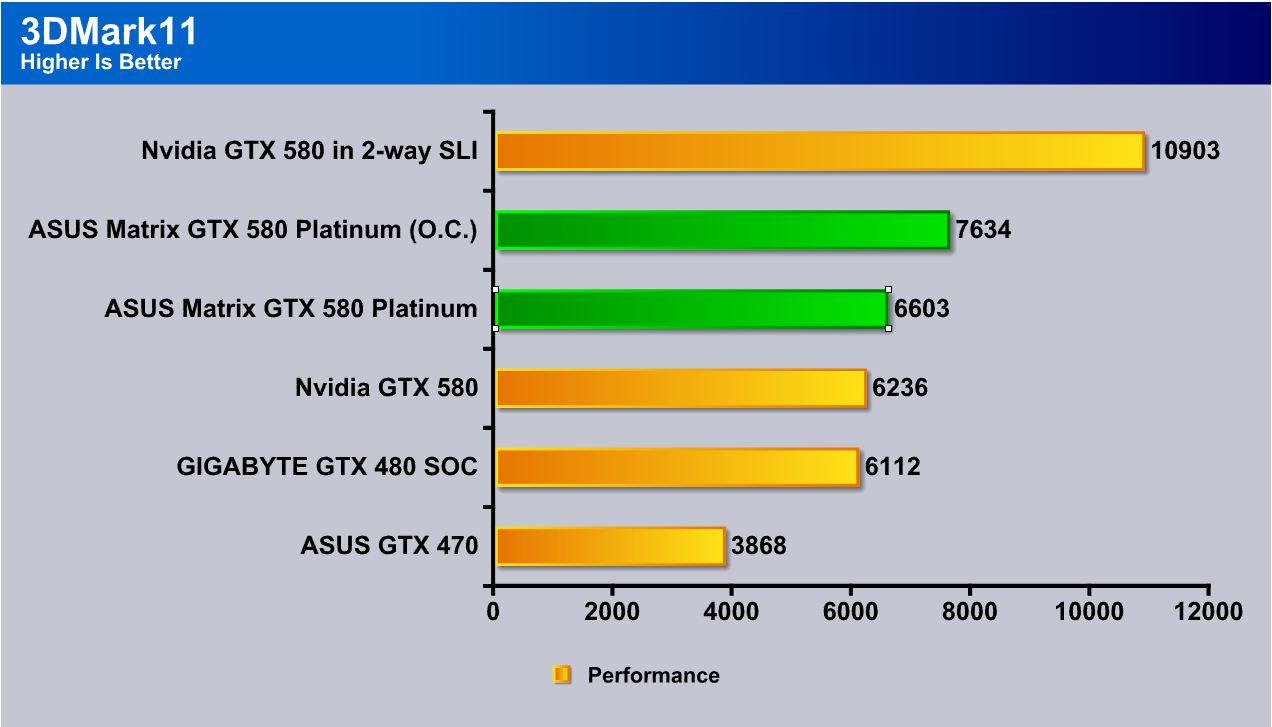 3DMark Vantage and 3DMark 11 both showed a significant increase in performance. This result should give a good idea of what the Matrix GTX 580 platinum is capable of on air alone, so on extreme cooling, it should be even better.
Heaven Benchmark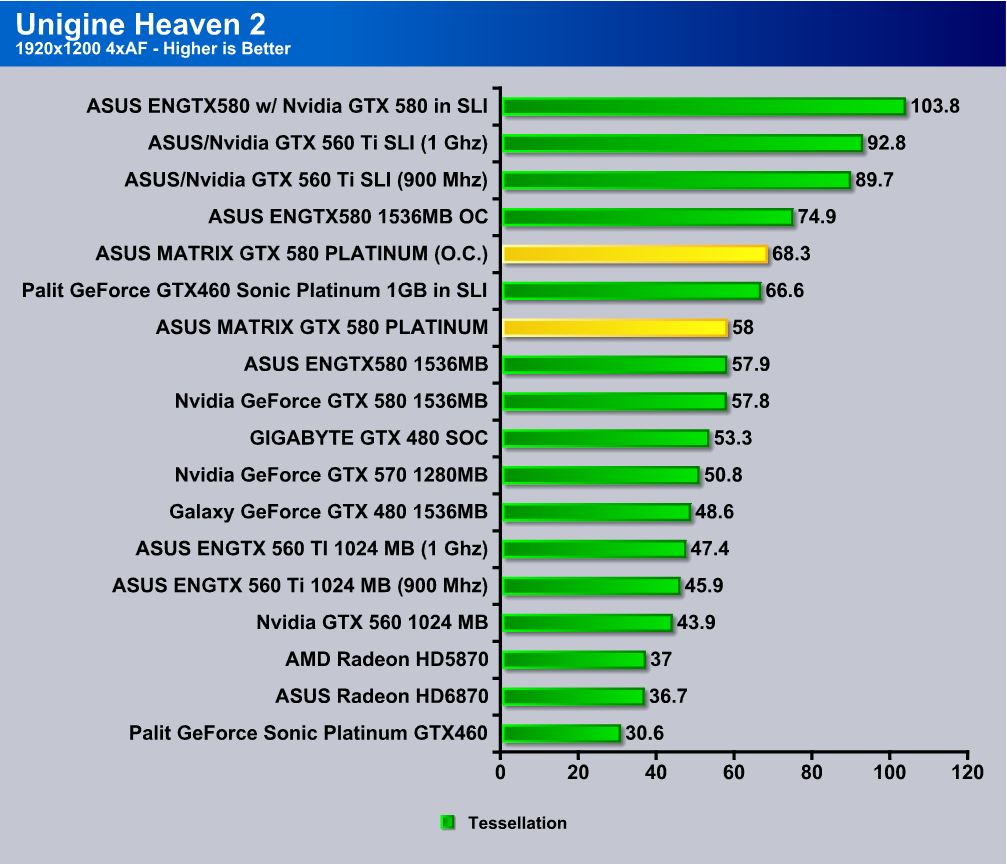 We see similar results here, with a 10 FPS jump in performance with the overclock.
Crysis Warhead
Crysis Warhead is the much anticipated standalone expansion to Crysis, featuring an updated CryENGINE™ 2 with better optimization. It was one of the most anticipated titles of 2008.
We ran Warhead using gamer's setting at resolution of 1920X1080 and DirectX 10. We tested 16xQ AA setting.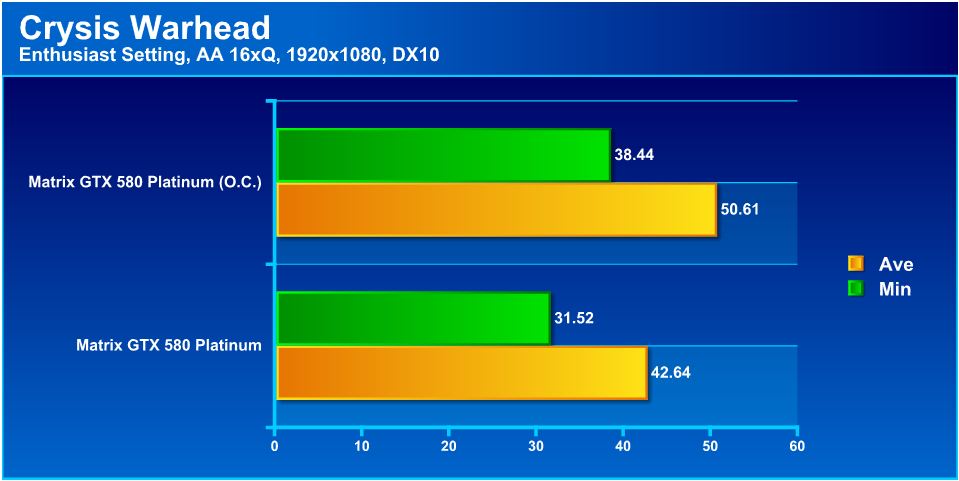 The results here are similar to those of our benchmark testing, where both minimum and average FPS jumped dramatically. This can mean the difference between stuttering gameplay and a smooth playable environment, just by doing some tweaking.
just cause 2
Just Cause 2 has been out for almost a year now, but instead of running lower resolution tests, we were also interested in checking out what to expect at higher resolutions where graphics performance might get in the way. This will give a great example to those people playing games at much higher resolutions.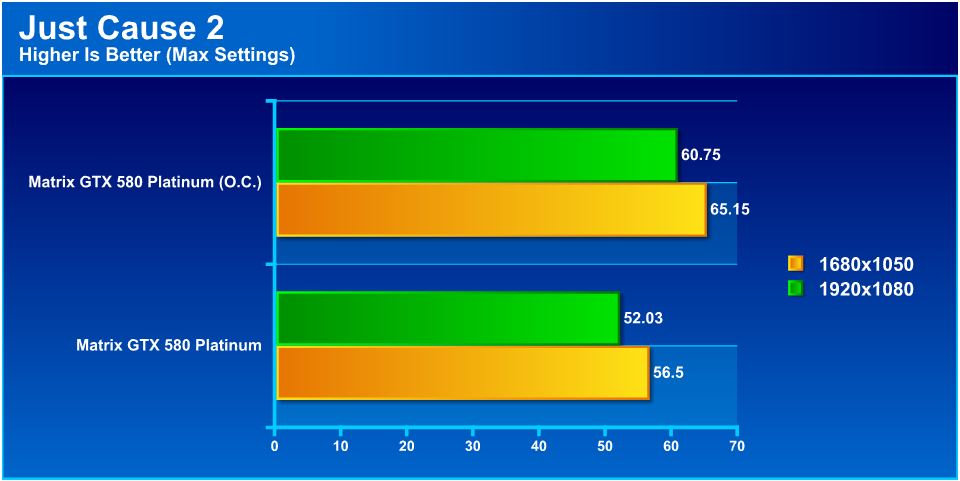 This test is the same, as performance jumped almost 5 FPS across the board, which can be a significant gain when deciding whether to purchase an extra card for only a couple FPS. This is very respectable for a simple clockspeed increase, and our overclock is definitely something users can achieve without extraordinary effort.
Metro 2033

Metro 2033 is very graphically intensive, and has become the standard to meet for graphics cards, similar to Crysis when it was first released. This tests the card very heavily and if overclocking will help with better FPS or gameplay this should tell us.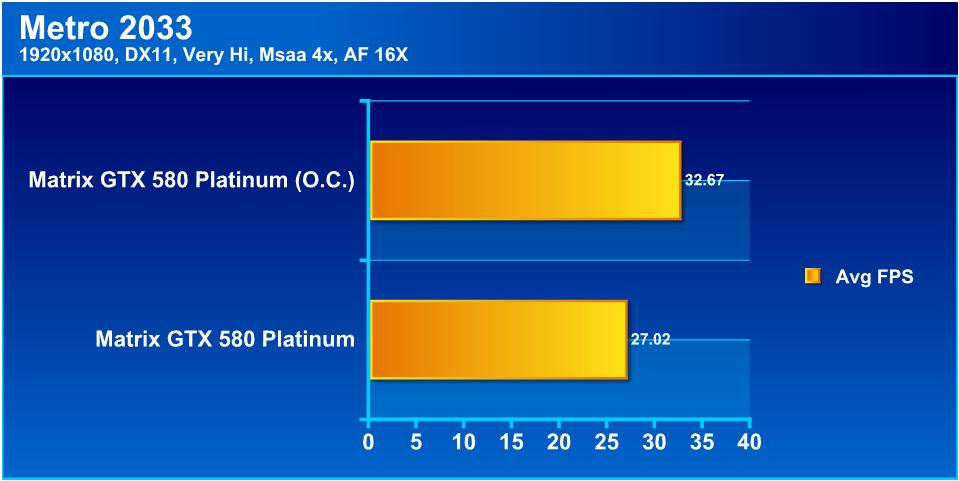 Metro 2033 is so intensive, it is barely playable, and visual stuttering is prevalent at the stock GPU frequency. As we overclocked it, gameplay did smooth out slightly and stuttering decreased, but the truth is that no amount of overclocking will allow users to play this game perfectly smoothly. The only thing we can recommend is to add another card for a multi-GPU configuration. The game is so powerful that no single GPU can successfully handle it perfectly.
ASUS MATRIX GTX 580 vs. GIGABYTE GTX 580 SOC
Here's the part everyone's been waiting for. The ASUS Matrix GTX 580 Platinum is going face to face with the GIGABYTE GTX 580 SOC. We've matched up our test systems as closely as possible to ensure that there is no interference, and the cards are run at out-of-the box factory settings.
One thing to note is that while the Matrix GTX 580 Platinum has a lot of overclocking headroom, it does come out of the box with a 816 MHz core clock, which means at default settings, it may yield lower results than some of the competition. Instead of a huge factory overclock, ASUS has decreased the out-of-the-box increase and left greater headroom for user overclocking.
Heaven Benchmark 2.5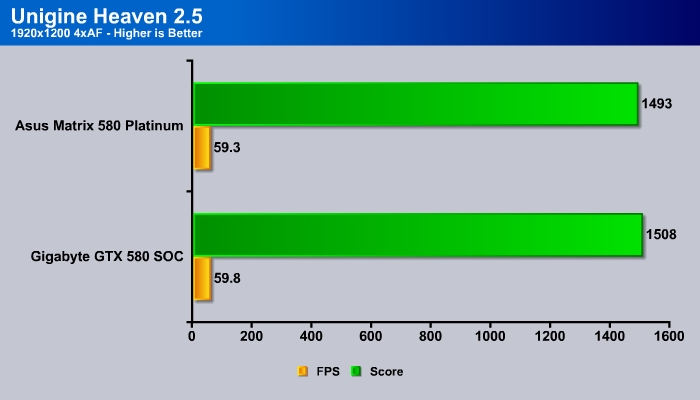 The performance is about same for both cards here, and the difference between the two cards is virtually unnoticeable.
3DMark11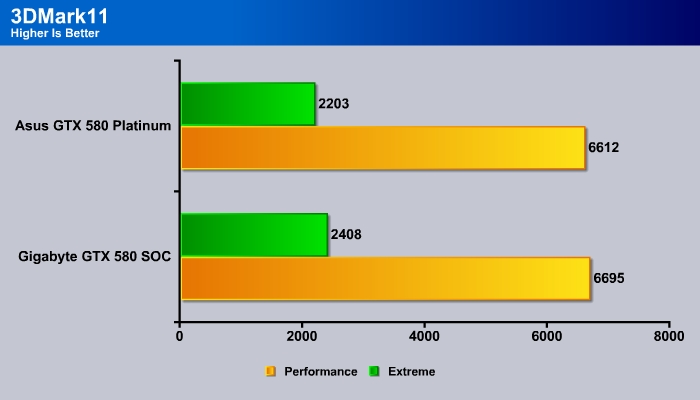 The GIGABYTE card is about 1% faster here under the Performance setting and 9% faster under the Extreme setting. The higher factory overclock on the GIGABYTE card allows it to perform slightly better in this benchmark. Under medium to high game settings, the two cards would perform very similarly, and the extra overclocking will not be noticeable.
3DMark Vantage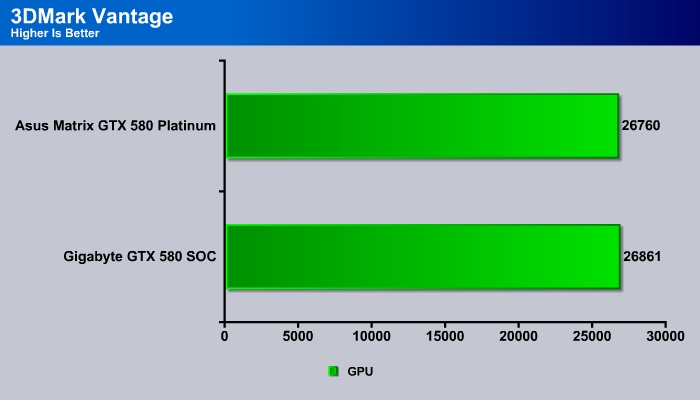 3DMark Vantage is a DirectX 10 benchmark and we can see that the two cards are not that far apart.
Metro 2033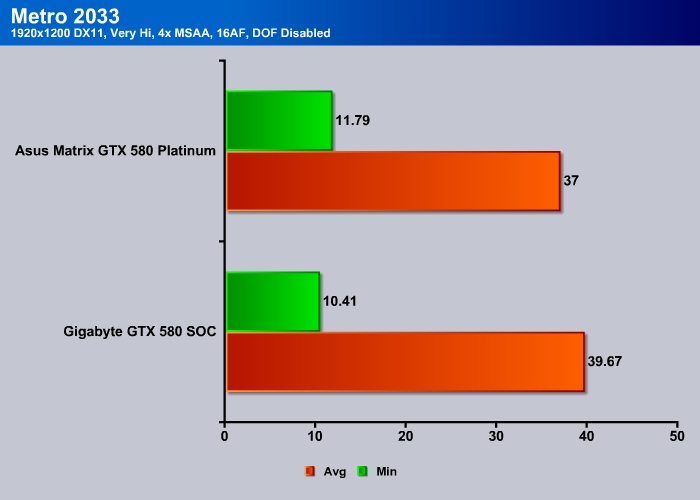 Metro 2033 is one of the most graphical intensive games on the market. We can see that the GIGABYTE card averages an about 7% increase over the ASUS card, again most likely because of the higher factory overclock. However, it is remarkable that both cards can break the 30 FPS needed for smooth gameplay.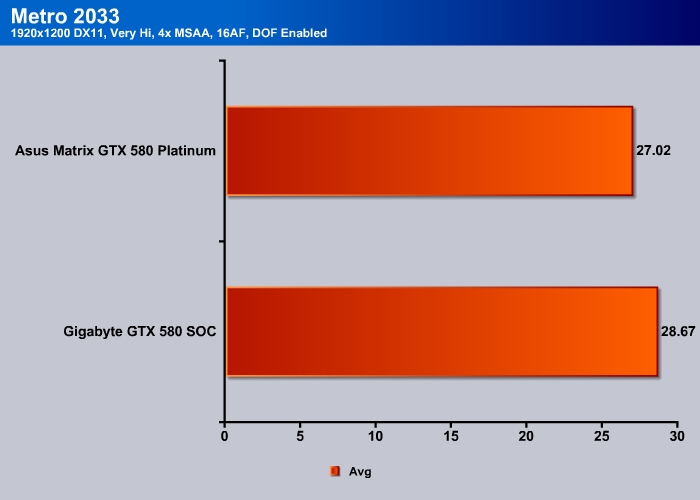 When we enabled the DOF, neither cards achieved the minimum average 30FPS, but the extra overclocking on the GIGABYTE card resulted in a 6% performance gain.
Lost Planet 2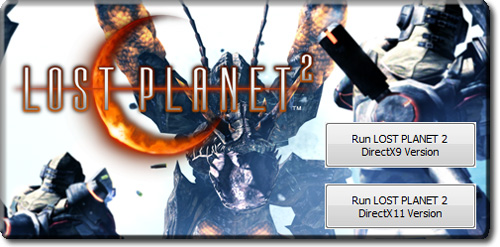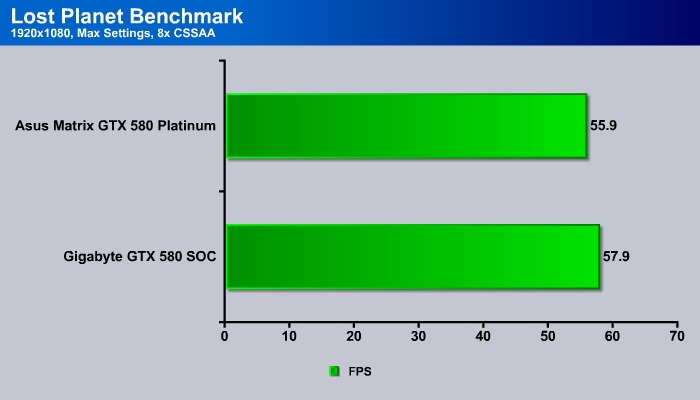 The GIGABYTE GTX 580 SOC is about 3.5% faster here, but both cards handle the game comfortably, and are well above the 30 FPS minimum.
S.T.A.L.K.E.R: CoP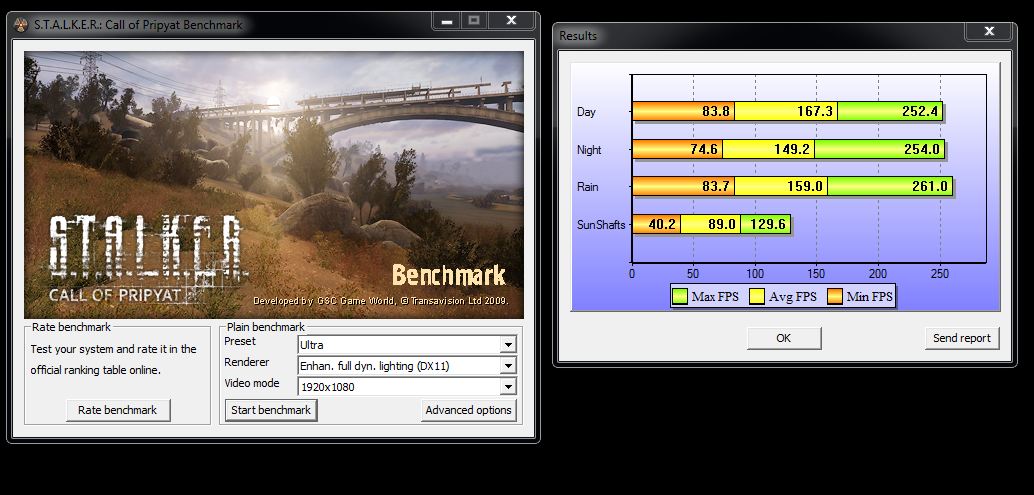 ASUS Matrix GTX 580 Platinum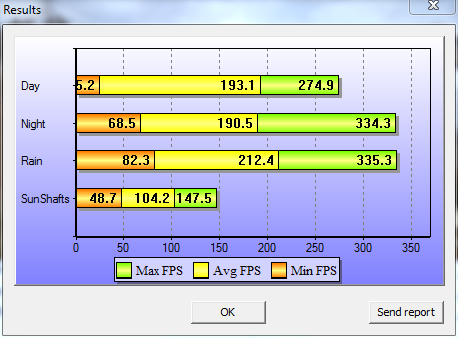 GIGABYTE GTX 580 SOC
We decided to show the actual screenshots of the S.T.A.L.K.E.R. benchmark for both cards. Here we can see that the GIGABYTE card is about 15% faster than the ASUS card. They both perform very well, and handle the game with room to spare.
CONCLUSION
The GTX 580 is the flagship of the Nvidia GPU lineup. There is a lot of power behind the GF110 core, once we get past the limitations of the reference design. ASUS and the ROG design team have done an excellent job of maximizing the potential of the GF110 core. The card has great performance, excellent headroom for overclocking and tweaking, and can also be modified for the most extreme enthusiasts. Its massive DirectCU II cooler also does a great job of keeping the card cool.
As much as we appreciate all the possibilities ASUS has included, a great portion of the gaming market will not use 90% of the features on this card, as it is obviously designed for overclocking. To that effect, we feel that ASUS should draw some distinction between the two. The Republic of Gamers line has increasingly merged into an overclocking brand, and it would do the company a great service to have a split. This would offer customers a better idea of whether parts are more geared for gamers or overclockers. It would also prevent them from spending money on the wrong product, and would eliminate all the frustrations of playing with features they may not fully understand. The card is by no means bad, but the ROG line is migrating towards overclocking rather than gaming. However, that is ultimately a decision for ASUS, and the card itself is an excellent performer, with the exception of a few issues.
The first problem is that the massive triple slot cooler eliminates any chance of running 4-way SLI, and even 3 way requires long SLI bridges. Secondly, the cooler dumps hot air into the case instead of exhausting it out, and a card as powerful as this can increase ambient case temps dramatically. Lastly, when installed in the case, the card starts to bend at the joint between the PCB and I/O ports. This could have been corrected by attaching the backplate to the I/O to better support the card. As it is presently, there may not be a big problem but seeing it bend like that is a little unsettling.
OUR VERDICT: ASUS Matrix GTX 580 Platinum
| | |
| --- | --- |
| Performance | 9 |
| Value | 8 |
| Quality | 8.5 |
| Features | 9 |
| Innovation | 9 |

We are using a new addition to our scoring system to provide additional feedback beyond a flat score. Please note that the final score isn't an aggregate average of the new rating system.

Pros
Cons

Excellent overclocking potential

Strong triple slot cooler

Onboard voltage control buttons

Onboard 100% fanspeed button

Large backplate

Multiple display output options

Large dual cooling fans keep cool and quiet

Custom PCB made for performance

Excellent software package

Multiple extensive tuning options to enhance performance

Memory timing adjustability

Heat exhausted into chassis

Large cooler limits 3 way and 4 way SLI options

Bending of PCB when mounted in chassis

Some options geared towards overclockers rather than gamers

 

 
Summary: The ASUS Matrix GTX 580 Platinum is an excellent performer and carries multiple features that make it a top pick. For its great performance and outstanding features, it earns the Bjorn3D Silver Bear Award.