Laptops have for quite some time offered a lot of extra advantages over a stationary computer as they offer good performance while still being mobile.
The docking station we are looking at today is a universal USB3.0 dock that offers both a bunch of extra USB3-ports, a gigabit ethernet port and two DVI-display ports that can be used with a HDMI and a VGA-monitor with adapters.
SPECIFICATIONS
Hardware
Bus Type
USB 3.0
Chipset ID
DisplayLink – DL-3900 (Display, LAN, Audio)
Genesys Logic – GL3520 (USB 3.0 w/ Charge)
Industry Standards
IEEE 802.3, IEEE 802.3u, IEEE 802.3ab
USB Battery Charging Specification Rev. 1.2
USB 3.0 – Hub ports support USB 2.0/1.1 backward-compatibility
Performance
Auto MDIX
Yes
Compatible Networks
10/100/1000 Mbps
Full Duplex Support
Yes
Maximum Analog Resolutions
2048×1152 (VGA)
Maximum Data Transfer Rate
5 Gbps (USB 3.0)
2 Gbps (Ethernet; Full-Duplex)
Maximum Digital Resolutions
2048×1152 (Dual-Link DVI/HDMI)
Type and Rate
USB 3.0 – 5 Gbit/s
UASP Support
Yes
Connector(s)
Connector Type(s)
1 – DVI-D (25 pin) Female
1 – DVI-I (29 pin) Female
2 – USB 3.0 A (Fast-Charge; 9 pin; SuperSpeed) Female
3 – USB 3.0 A (9 pin; SuperSpeed) Female
1 – RJ-45 Female
1 – 3.5 mm Mini-Jack (4 Position) Female
1 – USB 3.0 B (9 pin; SuperSpeed) Female
Software
OS Compatibility
Windows® 8 / 8.1 (32/64bit), 7 (32/64), Vista (32/64), XP SP3 (32)
Mac OS® 10.6 and up (Tested up to 10.10)
Special Notes / Requirements
Note
HDMI and VGA adapters included
VGA adapter can only be used on the DVI-I (29-pin) port
System and Cable Requirements
USB 3.0 port interface and USB 3.0 cable to connect the Laptop Docking Station to a host computer (USB 3.0 host cable included)
Physical Characteristics
Cable Length
3.3 ft [1 m]
Color
Black & Silver
Enclosure Type
Aluminum and Plastic
Product Height
7 in [178 mm]
Product Length
3.3 in [83 mm]
Product Weight
10.1 oz [285 g]
Product Width
0.9 in [23 mm]
Indicators
LED Indicators
1 – Power
Packaging Information
Shipping (Package) Weight
2.2 lb [1 kg]
What's in the Box
Included in Package
1 – USB 3.0 Laptop Docking Station
1 – 1m USB 3.0 Cable
4 – Rubber Feet
1 – Stand
2 – Stand Screws
1 – Screwdriver
1 – DVI to VGA Adapter
1 – DVI to HDMI Adapter
1 – Universal Power Adapter (NA/UK/EU)
1 – Driver CD
1 – Instruction Manual
There are no HDMI-connectors on the dock, only one DVI-D and one DVI-I connector. The combinations that this allows are: DVI + DVI, DVI + HDMI, DVI + VGA, HDMI + DVI, HDMI + VGA. It feels a bit unfortunate that we cannot use two HDMI-cables.
One cool feature is the fact that two of the 5, the two in the front, of the USB 3.0- connectors are of the fast-charge type (up to 1.5A, even when the computer is sleeping) meaning they will charge your mobile or tablet device faster.
CLOSER LOOK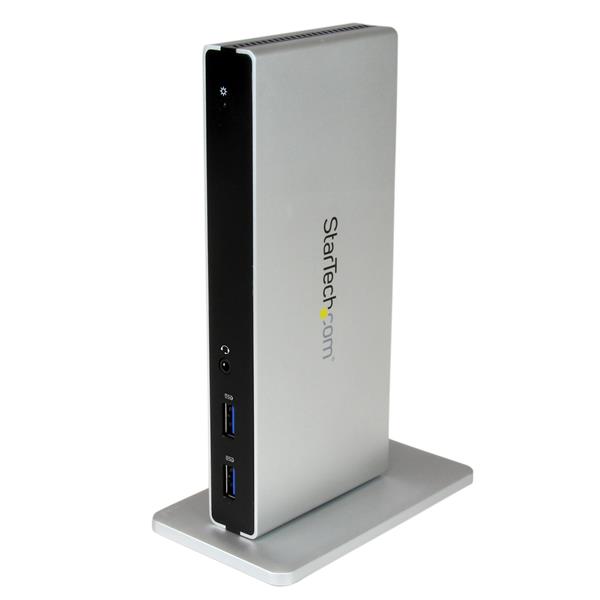 The Startech Universal USB 3.0 Laptop Docking Station is a pretty small device. It is made of aluminium which fits perfectly besides a Mac Book but it of course works great with Windows machines also. You can choose to have the unit lying down horizontally or add a stand and let it stand vertically.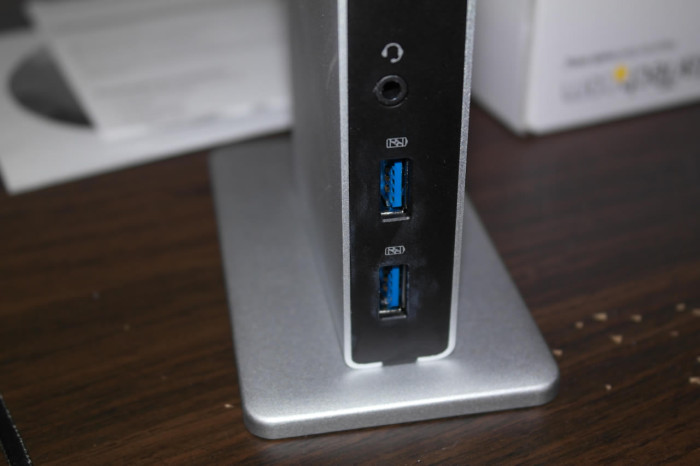 On the front we find two USB3-connectors which are of the fast charge type. This means they should help charging any mobile or tablet quick. We also get a headphone connector.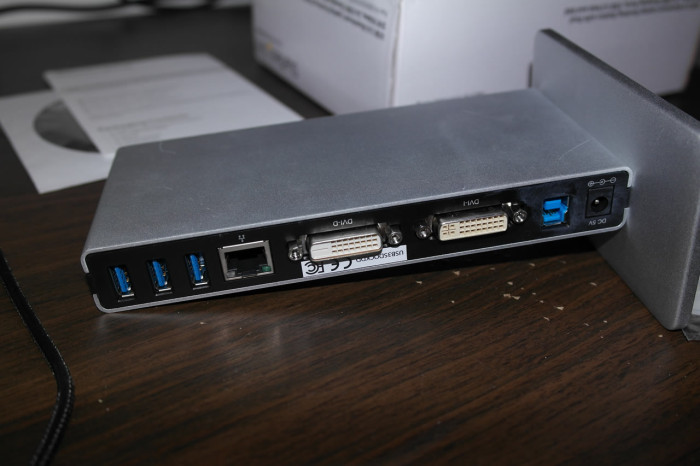 The back is a lot more busy. At the bottom we have the power connector and the USB3.0 B-female connector. Then we have a DVI-D and DVI-I-connector, a gigabit ethernet-connector and lastly three USB3.0-connectors.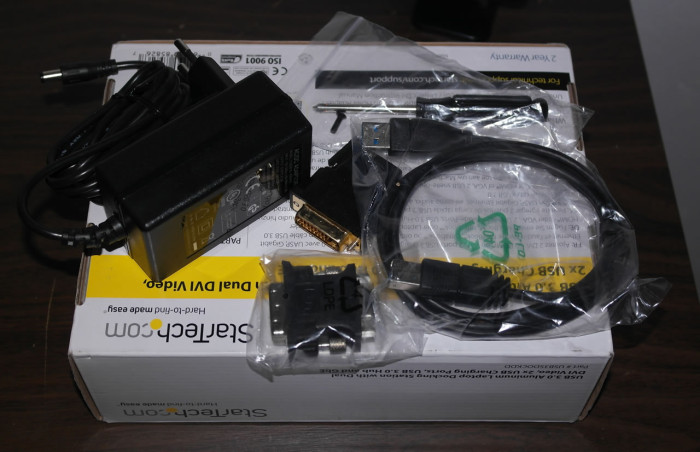 In the bundle we get two adapters (DVI => HDMI and DVI => VGA), a USB-cable and a screwdriver. The screw driver is used to screw on the bottom plate so we can let the dock stand up.
INSTALLATION
Since the dock comes with a DisplayLink chipset for the display it means you have to install a driver in your computer before you can start using it. We installed it on a Mac Book pro (13 inch, retina, mid-2014) and the install was painless. The latest version from Startech is v2.3 which was released in january 2015. There is a 2.4 beta on the DisplayPort-website but we decided to stay at the last official version from Startech. As soon as the driver was installed and the computer restarted the connected monitors kicked in.
Next we installed it on a ASUS G550JK laptop. We also had no issues with the install there.
USAGE
So how does it work? We hooked up first one and then two monitors to the dock, a ASUS PB278 and a Dell U2711. Both those monitors have a resolution of 2560×1440 which means that they actually are not running at full resolution, only at 2048×1152, but to be honest both monitors handled the scaling fine so the image still is pretty sharp. It did feel that this was depending on the software though since Chrome seemed to have blurrier text than other programs. This issue also was a bit more visible on the ASUS laptop. A 1920×1200 or 1920×1080 or lower resolution probably is even better but we could not really complain. If you are using higher resolution monitors though you might want to look at the newer 4K-supporting docks, for example the  .
Regular work with one connected monitor
We used the extra monitor while working and generally using the computer for things except games and video. This included webbrowsing, word processing, working with images in Pixelmator etc.
Mac Book Pro: Overall it worked fine. While just using one monitor, the ASUS PB278, we did not encounter any weird issues. There were no perceivable lag while working on the monitor and we could for example work on big images without noticing any weird behaviour. Basically it felt like the monitor was hooked to the computer via normal means with some exceptions. For example for some reason Launchpad on the Mac were far from smooth when flipping through the pages. It is hard to see why doing that would be more demanding than taking a few windows and moving them around.
ASUS G550JK: Using the dock with the Asus laptop and Windows was even nicer and we did not find any issue similar to the launchpad issue on the Mac.
Video and gaming with one connected monitor
Mac Book Pro: Playing videos on the connected monitor also worked fine. We tested both Youtube and Plex and had no issues what so ever. Games however was a different matter, at least on this Mac Book Pro. We tested the new game Sid Meiers Starship which shouldn't be to taxing but when the game window was running on the connected monitor everything was chugging along at very low framerates. When we dragged the window to the laptop screen everything was smooth. So so far gaming is a no-no with this dock, at least on a connected monitor and with a Mac.
ASUS G550JK: Also on the PC playing videos work. What is more interesting is that when we run some games on it in window mode, including Sid Meiers Starship, it works fine, not like on the Mac Book Pro. So it seems that gaming can work via the external monitor as long as you are on a PC.
2 Connected monitors
Mac Book Pro: With 2 monitors connected we ran into a very annoying bug. The browser window on both monitors would randomly flash in white from time to time. Most of the time things were fine but then suddenly everything flashes in white. It made it almost unusuable. We did however decide to download the 2.4 beta directly from DisplayLink and that actually seems to fix the issue and we could run a video on one monitor, work on the other and have the mail on the laptop screen and nothing flashed white or annoyed us. Unfortunately the new version did not fix performance issues with games or in Launchpad on the Mac.
ASUS G550JK: In contrast to the Mac Book Pro even the latest stable version (2.3) we tested worked fine and we could not notice any issues with flashing windows when using two monitors.
USB 3.0 Performance with one and two connected monitors.
Since everything is shared over USB 3.0 we were a bit curious if using one and two external monitors would affect the performance of a connected USB 3.0-drive. The drive we used was a WD My Passport Ultra which usually gets around 95 MB/s both in sequential read and write speed. Regardless if we connected none, one or two monitors and played video on them and then benched to drive could we detect any performance issues. It seems that the 5 Gbit/s bandwidth is enough for both displays, ethernet and usb3.
Summary

The Startech Universal USB 3.0 Laptop Docking Station is a nice little dock. Since it uses USB 3.0 it is pretty universal and not tied to Mac or PC. We definitely like the multitude of USB-connectors it offers, especially the fast-charge pair on the front. When it comes to the display options at first it feels a bit annoying to have to use a DVI => HDMI-adapter just to hook up a HDMI-monitor. However when we look at the other docks that Startech offers that come with a built-in HDMI-port we notice that unless it is one of the new expensive 4K-capable ones all the others have a max resolution of 1920x1080p which of course is surpassed on this dock. So we can live with the DVI-connectors. And of course it is nice to have ethernet built-in, especially of you got a Ultrabook with no ethernet port and do not want to have to use an adapter or WiFi.
The Startech Universal USB 3.0 Laptop Docking Station can be had for around 140$ from Amazon (). When we look around we find a few competing products for a bit less but what seems to be a pattern is that they come with just 2 USB 3.0 connectors and then 4 or 5 USB 2.0 connectors while the Startech Universal USB 3.0 Laptop Docking Station has 5 USB 3.0 connectors.
Pros
Cons

Small footprint
Support for 2 extra monitors
Lots of USB3-connectors
Gigabit ethernet
Two fast-charging USB3-connectors
Support for resolutions over 1080p
Feels stable and offers great performance on PC

Max resolution still under 2560×1440 which makes it less usable for higher res. monitors
Only one HDMI-monitor supported.
Gaming performance on Mac not impressive.
Latest stable driver on OSX a bit unstable with 2 monitors.
A bit more expensive than other similar products.