With the plethora of different storage devices out in the market today to choose from for us to connect from one electronic device to another electronic device makes trying to choose one that fits the bill for us quiet difficult, as well as confusing. Especially, when we start adding the multitude of different connectors that each and every device has differs. Meaning, that our computers utilizes a USB blade style connector while our phones/tablets uses a micro-USB blade style connector (or if you are Apple something completely different). Not to forget the different speed ratings of each of these storage devices will have adds even more confusion to our over whelmed minds on trying to figure out what will work and what wont work for us. We here at Bjorn3D.com going to be looking at a storage device that will fit the bill quite nicely, and it has quite a bit of storage space to give us the greater flexibility we need.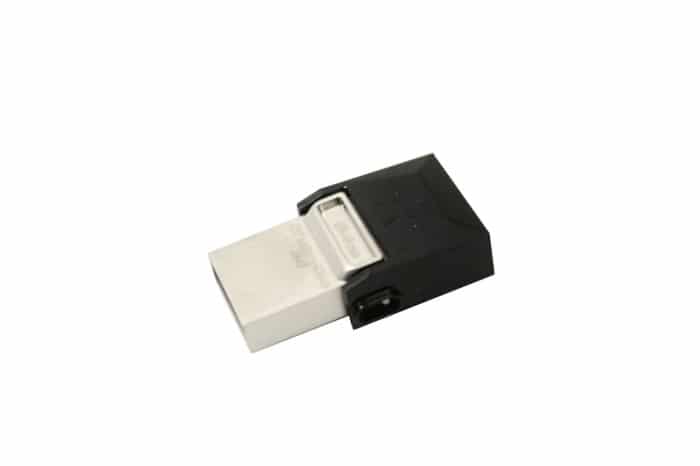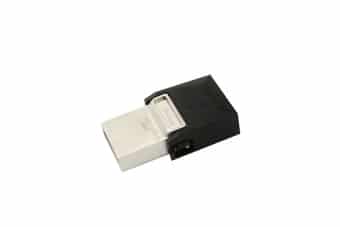 Data Traveler MicroDuo 3
The more we get integrated with our mobile devices, as well as with our computers, the more we need to have the ability of transferring large amounts of DATA between all of our devices. This requires small portable storage devices that not only have a large capacity, but also requires moving this DATA quickly from one device to the next effortlessly. Then, we need to take into account that some of us have different types of devices that are not all one of the same type of Operating systems. We may have a Windows-based PC, but we may have Android based tablet(s), with Apple based Smart Phones. Or any number of varying configurations in our households. Therefore, adding to the complexity of our storage device(s), to seamlessly work across all of these varying and different types of mobile/home based devices or computers if you wish to call them that.
Kingston Technologies has been one of the many storage device manufacturers that have tackled these rather complex storage device requirements of our daily lives. We over here at Bjorn3d are going to be looking at a device that not only can connect to our large home based PC's; it can also directly connect to a mobile device without the need of special adapters, dongles, or require the use of some special type of applications/programs (Apps) on our smart phones/tablets. This storage device is Kingston's 64GB (Gigabyte) Data Traveler MicroDuo 3.0.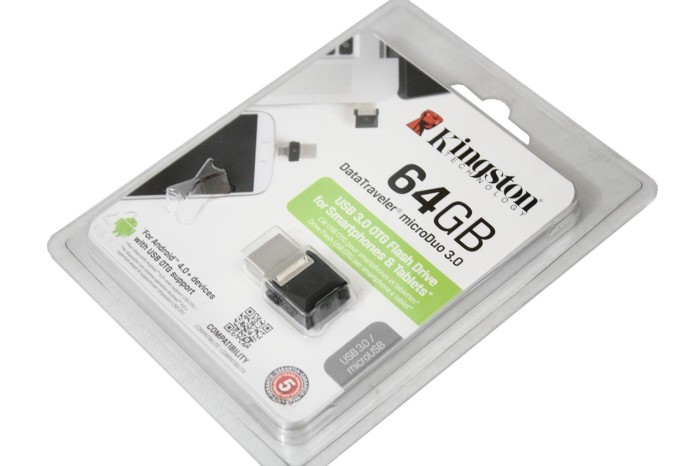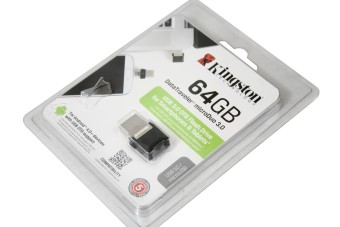 Specifications
Capacities: 16GB, 32GB, 64GB
Speed:16GB – 70MB/s read, 10MB/s write
32GB – 64GB – 70MB/s read, 15MB/s write
Interface: USB 3.0, micro USB
Dimensions: 27.63mm x 16.46mm x 8.56mm
Operating Temperature: 0°C to 60°C
Storage Temperature: -20°C to 85°C
Warranty/support: 5-year warranty with free technical support
Compatible with: Windows® 8.1, Windows 8, Windows 7, Windows Vista®, Windows RT, Mac OS X v.10.6.x+, Linux v.2.6+
After a quick look at the specifications, we can see that this storage device comes in varying different storage options; these include: 16GB, 32GB, and the large 64GB. The speeds we should be getting range from 10MBs (Megabytes); writes up to 15MBs, and read speeds of up to 70MBs across all of the different capacities. We also see that this storage device is USB 3.0 capable, and utilizes a micro-USB plugin. Finally, we can see that the Data Traveler MicroDuo 3.0 supports a wide range of different operating systems, from Apple to Microsoft and everything in between.