Testing
There is no real point in listing my computer specifications as I am dealing with USB 3.0 devices, and they are going to be very similar in results across all platforms that utilize a USB 3.0 connection.
All of my testing was done off my RAID-0 128GB's Crucial SSDs that have a nominal read speed of up to 950MB/s, and write speeds of up to 400MB/s, to eliminate any erroneous measurements with this USB 3.0 device. I will be including Crystal Disk Mark 3, HDTune, as well as a real world testing of copying approximately 3.1GBs of MP3 music while using Teracopy of both read and write speeds of the Data Traveler MicroDuo 3. For general purposes, I will add a Crystal Disk Mark 3 results from my Dell Venue Windows 8.1 tablet, to give you an idea of what tablets and this storage device is capable of handling.
Crystal Disk Mark 3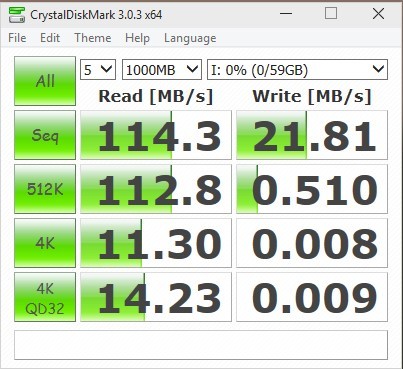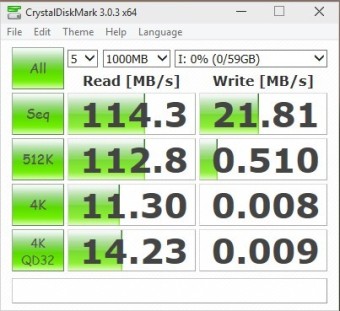 Looking at these results, we can clearly see that this little storage device far exceeds what Kingston Technologies listed this device of doing. Kingston Technologies listed this device as capable of doing 70MB/s read speeds, and 15MB/s write. And with Crystal Disk Mark 3,I am getting 114.3MB/s reads, and 21.81MB/s on writes with the sequential testing portion. When we start looking at the other areas of testing, we can see this little drive struggles to give us good performance numbers on the writes.
HDTune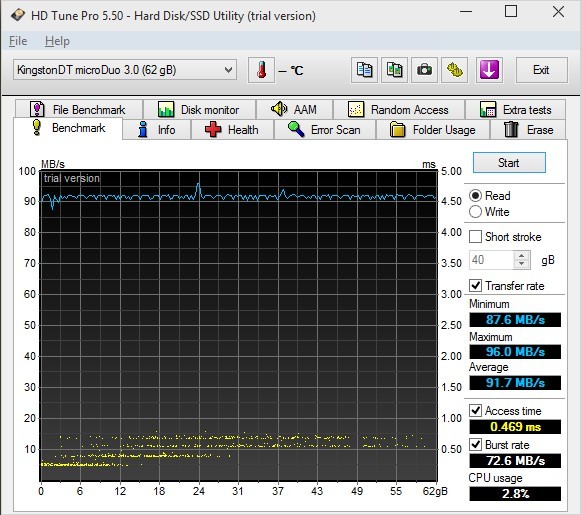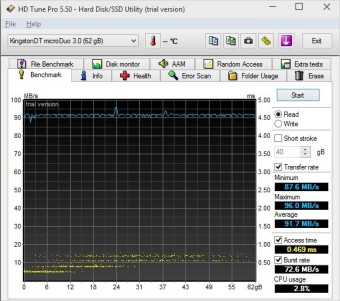 HDTune benchmark is another one of our benchmarks that we use to gauge performance on our storage devices. Even with this testing , it reconfirmed that we are getting well above the rated read speeds of this device, coming in at an average of 91.7MB/s, vs the rated read speed of 70MB/s.
Unfortunately I was unable to do a HDTune write test, as it requires a blank partition of the drive. Windows 8.1 wouldn't allow me to delete the partition and run HDTune's write testing.
TeraCopy


Teracopy testing is more of a real world testing, what we will typically see when using our storage devices on a day-to-day basis. I decided to just randomly copy 3.12GBs of MP3 music files to and from the Data Traveler MicroDuo 64GB storage device. My MP3 music files range anywhere from a few bytes to 20MB, and would test this drives ability of handling normal sized file sizes to extremely small file sizes and not in sequential order. And as we can see, writing to this storage device took right at 3 minutes and 16 seconds (~ 16 MB/s). Considering the write speeds are not much faster than a USB 2.0 connection rates; the Data Traveler MicroDuo 3 is about where it should be at.


Now, when it comes to transferring the same files from this storage device to my RAID-0 SSDs take on a whole new meaning. It only took 36 seconds to complete the same task of transferring 3.12GBs of MP3 music files. Now we are talking getting things done, quick, fast and in a hurry.
Now please keep in mind this testing was done on my home computer while using a USB 3.0 interface. Up next, I will include testing done on my Windows 8.1 Dell Tablet, again this is to give an idea of what to expect when connecting this storage device to our portable electronic devices.
Crystal Disk Mark 3 on a Dell Venue 8.1 Windows Tablet

Now we get to turn our attention to how the Data Traveler MicroDuo 3 performs on a Micro USB connection. I figured we would take a hit on performance because of the Micro USB is not USB 3 capable. I still manage to maintain decent transfer rates of 41.08MB/s on my read speeds, and 10.57MB/s on my write speeds.