Can the CM Silent Pro Gold beat the Thermaltake Toughpower Grand 1200W PSU at full load? Check out as we explore the pros and cons of the CM SPG 1200W.
Introduction
It is hard to come by a power supply that has perfect voltage regulation, high wattage, good efficiency, and a great design. Recently we reviewed a few power supplies, including the Thermaltake Toughpower Grand 1200W PSU and the Seasonic X-Series 660W 100% Modular Power Supply, both 80Plus Gold Certified. The Thermaltake Toughpower Grand 1200W PSU proved to be a great competitor in overall power output offered, but its voltage regulation was a big disappointment, and its 140mm fan was advertised as a quiet fan, but turned out to be quite noisy. Despite the horrific voltage regulation, Thermaltake decided to sell the power supply for well above $300 at the time of reviewing. The Seasonic X-Series 660W power supply, on the other hand, had a quite decent voltage regulation, and most of the time was completely silent due to its fan only turning on when higher wattage requirements are needed. Considering its price, though, we would have liked to see a higher wattage: somewhere in the 800-850W range.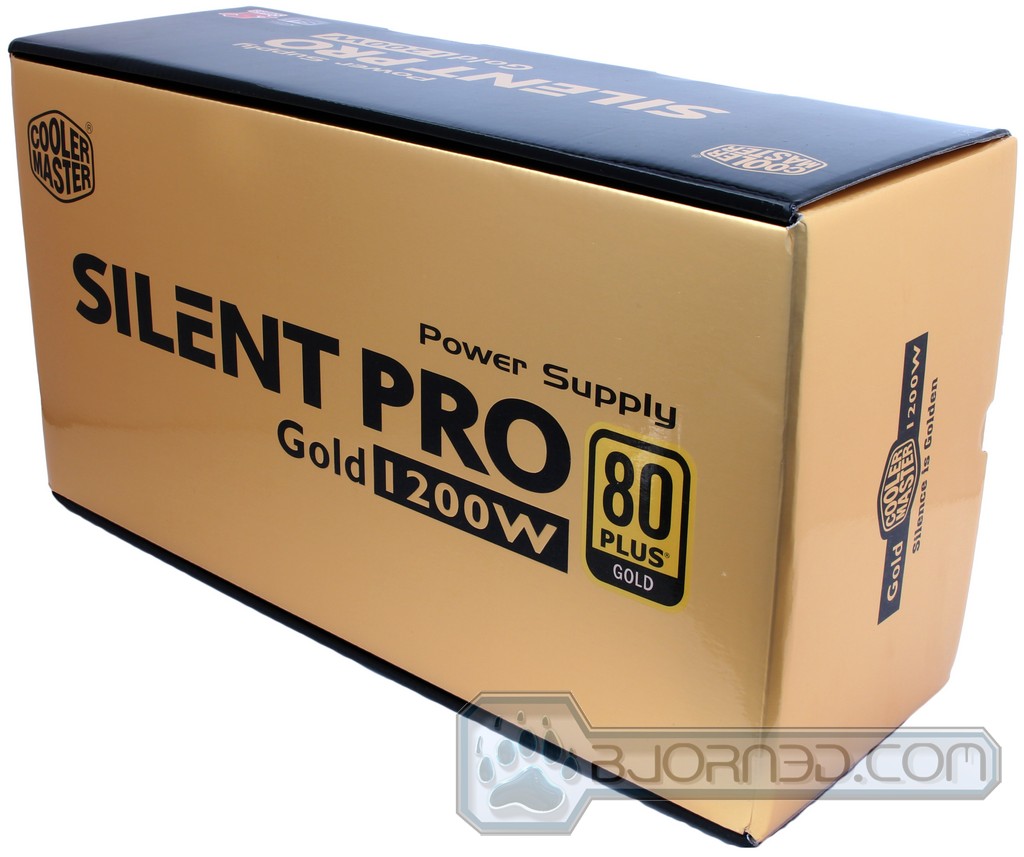 Today we are taking a look at another high wattage power supply, the Cooler Master Silent Pro Gold 1200W 80 Plus Gold Certified modular power supply. This power supply looks to be a great competitor against the Thermaltake Toughpower Grand 1200W PSU as they are both modular but they also have some hard-wired cables. Additionally, they are also both 80Plus Gold certified for efficiency, and both are advertised for their low acoustic levels. The Silent Pro Gold is currently on sale at Newegg.com for $239.99, which is a more ideal price for what the power supply is designed for: wattage and efficiency.
In this review we managed to upgrade our system to use three GTX 580s that will be overclocked, along with a Intel Core i7 2600K processor overclocked at 5.2GHz. We retested our Thermaltake Thoughpower Grand 1200W PSU with the new hardware so we have a direct comparison for both power supplies at full 90%-100% load.
Features
Patent Technologies:

Heat Transfer Technology™:
A unique "L-shaped" heat-sink to remove heat from the PSU.
Hybrid Transformer™:
Unique design that combines heat-sink with transformer.
Hyper Path™:
Places IC close to transformers leading to huge efficiency ratings.

Flat modularized cables provide easy cable management leads to better airflow.

Compliance with the latest Intel standard ATX 12V V2.3.

Operation with intelligent fan speed control.

High reliability (MTBF> 100,000 hours).

Double Layer EMI Filter retrains noise and to avoid affect to users.

Integrating Active PFC with PWN combo controller while increase efficiency.

Multiple protection design (OVP/UVP/OPP/OTP/SCP/OCP).

Japanese-made capacitors.

Single +12V rail up to 98A.

Five-year warranty.






1 x M/B 20 + 4 pin

2 x CPU 4 + 4 pin

4 x PCI-e 6 + 2 pin

4 x PCI-e 6 pin

9 x SATA

4 x Peripheral

1 x Floppy



Specifications
| | |
| --- | --- |
| Model | RSC00-80GAD3-US / RS-C00-80GA-D3 |
| Type | Intel Form Factor ATX 12V V2.3 |
| PFC | Active PFC (0.99) |
| Input Voltage | 90-264Vac (Auto Range) |
| Input Current | 12.5 – 6A |
| Input Frequency Range | 47-63Hz |
| Output Capacity | 1200W |
| Max. Output Capacity | 1440W |
| Fan | 135mm Ultra Silent Fan |
| Power Good Signal | 100~500ms |
| Hold Up Time | >17ms |
| Efficiency | 90% typical |
| MTBF | >100,000 hours |
| Protection | OVP / UVP / OCP / OPP / OTP / SCP |
| Dimension | 150 X 180 X 86 mm5.9 x 7.09 x 3.4 inch |
| Operation Temperature | 0~40°C (Nominal Input Voltage) |
| Regulatory | CE / FCC / UL / TUV / C-Tick / GOST / BSMI / CCC / KCC |
| Certification | SLI / CrossFire / 80 Plus Gold |
| Connector | M/B 20 + 4 pins x 1CPU 4 + 4 pins x 2PCI-e 6+2 pins x 4 / PCI-e 6 pins x 4 (One PCI-e 6+2 pins connector extends to one PCI-e 6 pins connector)SATA x 9 / Peripherial 4 pins x 4Floppy 4 pins x 1 |
| Warranty | 5 Years |
| UPC Code | 884102008528 |
Output Specifications
Coolermaster Silent
Pro Gold 1200W
+3.3V
+5V
+12V
-12V
+5VSB
22A
25A
98A
0.3A
3.5A
Max Power
150W
1176W
3.6W
17.5W
1200W
A Closer Look
Click Image For a Larger One
So let's take a look at the Silent Pro Gold 1200W PSU. Here we have the packaging for the power supply. It is definitely bigger than what the Thermaltake Toughpower Grand 1200W PSU came in. The packaging is simple, and protects the PSU really well due to the soft bubble foam all around the power supply. The overall box design is also very plain and simple looking but has a nice gold reflective look to it, making it look special. Having a cluttered design on the box can be ridiculous sometimes, which is why we enjoyed the simple black and gold design with the name of the power supply on the front with the certification and some specifications on the back of the box.
Click Image For a Larger One
When all the parts are taken out of the box, there are several accessories that you will receive. This includes a bag full of all the modular cables and screws that necessary for setting up the power supply. Next, to the right of the bag, we can see the cooler master User's Manual, and a business card which serves as the warranty card in case the PSU does have some problems.
Click Image For a Larger One
Here we have all the modular cables included with the power supply. The first image actually shows the power connector for the power supply which will plug into the wall and the power supply directly. Below the power cable we can see 4 screws which are included for installing the power supply into your case. Do not use any other screws if not needed, because there is a flaw in the chassis design which can short circuit the system and knock the power out. More on that further down this page.
Right next to the power cable, we can see the additional modular cables that can be attached to the power supply. Interestingly, there are not many power leads for different hardware. Some say Molex connectors are not needed with modern hardware and systems, however we still do see cases that come with Molex power connectors for their LEDs, fans, and other hot-swappable drive bays. We actually had to go out and buy an additional Molex power cable expander which gave us extra 4 Molex connectors for our build. On one of the Molex cables, we can also see a single floppy drive connector. Next up, there are three SATA cables that have 3 SATA connectors on them each, for a total of 9 SATA power connectors, Finally, there are two additional PCI-Express power cables which include one 8-pin power connector and one 6-pin power connector for each cable. For cable lengths please see our features and specifications page.
Click Image For a Larger One
Let's check out the actual power supply. The CM Silent Pro Gold is slightly larger than the Thermaltake Toughpower Grand PSU, but definitely smaller than the Corsair Professional Series AX1200W PSU. Its color design follows the same color scheme as the box had–gold highlights with black enclosure. We can see one massive 140mm fan on the top and a honeycomb mesh design for the hot air exhaust. There is a standard power switch on the power supply, but nothing else out of the ordinary. We can see a big bulge of cables on the back which are hard-wired into the power supply, more on that next.
Click Image For a Larger One
Finally, let's take a look at the included power cables that are hard-wired into the power supply. We can see the standard 20+4 pin motherboard connector, two CPU 8-pin power connectors, and two PCI-Express 6+2 pin power connectors. We would have liked to see the second 8-pin CPU power connector separated from the hard-wired cables because 90% of even high-end systems will not use two 8-pin CPU power connectors, so most users will have to hide this cable in their case so it would not obstruct air circulation. We can also see all the modular power connectors and additional information about the power supply which we also included in our features page for reference.
Click Image For a Larger One
Here we have the internals of the power supply. The fan used in this power supply is from Young Ling Tech Co.,Ltd. which is not a company we recognize from the most common fan manufacturers we know. Overall the design of the power supply is excellent and very clean compared to the Thermaltake Toughpower Grand 1200W PSU. The CM SPG has L-shaped heat spreaders attached to the IC for optimal heat dissipation. We can also see several high-quality Japanese capacitors used in this power supply, along with a nicely designed modular design, while other power supplies are just thrown together without any care. More on the patent technology used for the SPG on our features page.
Finally, the biggest flaw in design has to be mentioned as it can cause major problems and could also be dangerous to users. The chassis is designed so that it accepts long screws as well. This is not particularly good because the user can easily short circuit the power supply with a long screw. We used screws included in our computer case for mounting the PSU, and it caused several short-circuits in our system. Our other reviewer also got shocked pretty badly and fell to the ground, so please use the provided screws to prevent any damage to hardware. This will also prevent any short circuits caused by the flawed chassis design. Please also use caution when working with any materials through which electricity is flowing.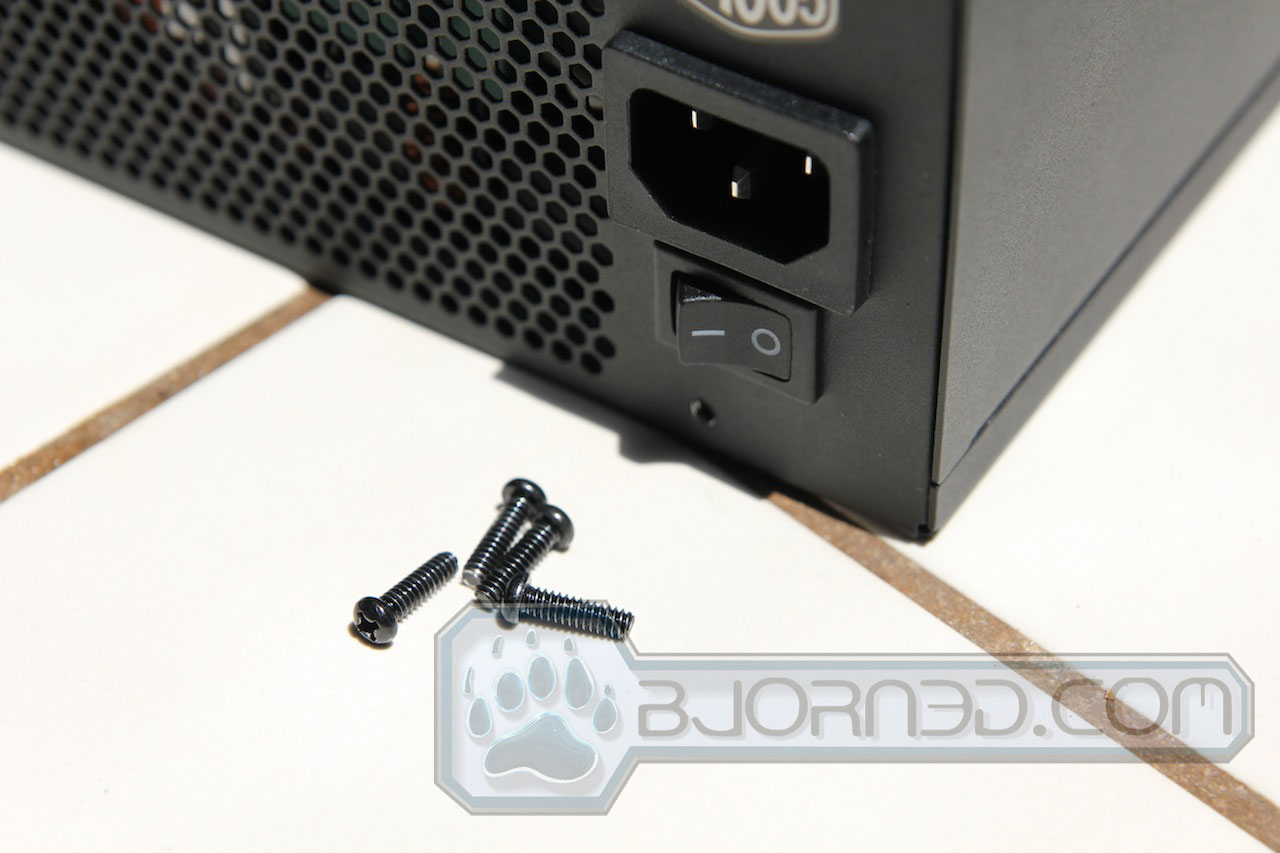 Picture of the screws that we used when installing the CM Silent Pro Gold PSU, causing a short circuit
Understanding PSU RAILS
We have all no doubt been told when purchasing a power supply, that the number to look for is the amps on the 12V rail. What are each of the different rails for though, and why is the 12V rail typically the most important? Why the heck are they called rails? Let's take at look at each and see.
-12V – This rail is pretty much obsolete now and is only kept on to provide backward compatibility with older hardware. Some older types of serial port circuits required both -12V and +12V voltages, but since almost no one except industrial users use serial ports
anymore you as a typical home user can pretty much disregard this rail.
-5V – Again this is another obsolete rail, the -5V was used for old school floppy controllers and some ISA bus cards. Again, no need for the typical home user to worry about this rail.
0V – Though not listed on any manufacturer spec sheet, every power supply
has a 0V ground line. The ground signal is used to complete circuits with other voltages and provide a plane of reference against which other voltages are measured.
+3.3V – Finally we are starting to get into something useful! The +3.3V rail was introduced with the ATX form factor in order to power second generation Pentium chips. Previously the CPU was powered by the +5V rail (along with the system memory and everything else on the motherboard), but a reduced voltage was needed in order to reduce power consumption as the chips got faster.
+5V – As mentioned above, the +5V used to run the motherboard, CPU and the majority of other system components on older pre ATX based systems. On newer systems, many of the components have migrated to either the +3.3V or +12V rails, but the motherboard and many of its onboard components still use the +5V rail so it is of importance to the typical home user.
+5V SB – The +5V Standby or "Soft Power" signal carries the same output level as the +5V rail but is independent and is always on, even when the computer is turned off. This rail allows for two things. First, it allows the motherboard to control the power supply when it is off by enabling features such as wake up from sleep mode, or wake on LAN technology to function. It also is what allows Windows to turn your computer off automatically on shutdown as opposed to previous AT supplies where you had to bend over and push the button. Every standard ATX power supply on the market will include this rail.
+ 12V – The +12V, also known as the mother of all rails, is now used to power the most demanding components in your system including the CPU, hard drives, cooling fans, and graphics cards. Historically the +12V rail was used only to power drives and cooling fans. With the introduction of the 4-pin CPU plug on P4 motherboards and then eventually AMD based motherboards, in order to supply newer power hungry CPUs, the +12V rail suddenly started to grow in importance. Today, multi core based motherboards require an 8-pin +12V connector to supply their power needs. High end GPU cards have also jumped on the +12V rail, which has required PSU makers to adapt. Where previously there was only a single +12V rail, there are now two or more, each designated to power specific devices in order to ensure that nothing is underpowered.
Testing
When it comes to power supplies, what we're really looking for is good clean voltage and plenty of it. Industry standards are 5% variance on any rail maximum, which is a little more lax than our standard of 3% max everywhere except the +5vSB (+5v stand by), which is always on, even when the power supply and computer are off. On the +5vSB it's not unusual to see 5% and since it's only for wake on LAN or by device feature it's not a big deal.
Like a lot of enthusiasts out there, our PC's are an ongoing work of art that we have a lot of cash invested in. If a PSU won't hold to 2 or 3% load/idle no matter what we do to it, we won't use it or recommend it.
Finally, we pushed the Power Supply close to their Full load to accurately represent a real-life high load scenario. We recorded Idle and Load voltages, Wattage, Ripple, and fan noise.
Testing Equipment
Thermaltake ToughPower Grand 1200W Power Supply
Testing Equipment
Multimeter
RadioShack Digital Multimeter
Wall Voltage
Kill-A-Watt Measuring Tool
Oscilloscope

Hitachi Oscilloscope V-212
Phonometer

Extech Instruments 407730 Sound Level Meter w/ tripod
To test the Voltages on each rail and then measure the overall wattage used by the whole computer system, we used two different pieces of equipment. We used the RadioShack Digital Multimeter to measure the voltages on each rail (+5V, +12V, +3.3V). To measure the overall wattage used by the computer system we used a Kill-A-Watt Measuring Tool. The device plugs into the wall and we attach the power supply directly to the Kill-A-Watt. The results were precisely recorded in a Word document. To test the power supply's ripple, we used a Hitachi V-212 Oscilloscope. To measure the ripple we measured the +12V, +5V, and +3.3V rails with the oscilloscope and measured the AC current. To test for ripple the AC current needs to be measured instead of the DC. Finally, we used Extech Instruments' 407730 Sound Level Meter on a monkey bar tripod about 1 foot away from the power supply to record the fan noise. The results for each of the tests performed can be found below.
Test Rig
Test Rig

Case
Test Bench
CPU
Intel Core i7 2600K @ 4.4 GHz (Load)Intel Core i7 2600K @ 5.2 GHz (High Load)
Motherboard
GIGABYTE Z68X-UD7-B3
Ram
Patriot Gamer 2 Series 1600 MHz Dual-Chanel 16GB (4x4GB) Memory Kit
CPU Cooler
Noctua NH-D14 CPU Cooler
Hard Drives
1x Seagate Constellation ES.2 3TB SAS Hard Drive2x Western Digital RE3 1TB SATA Hard Drive
SSD
1x Zalman SSD0128N1 128GB SandForce SSD
Optical
ASUS DVD-Burner
GPU

2x Nvidia GeForce GTX580 in 2-way SLI (Load)3x Nvidia GeForce GTX580 in 3-way SLI Overclocked to 930 Core 2350 Mem (High Load)GeForce GTX 560 Ti (PhysX) (Load)
PSU
Sapphire PURE 1250W PSUThermaltake ToughPower Grand 1200W PSUCooler Master Silent Pro Gold 1200W PSU
Mouse
Razer Mamba
Keyboard
Thermaltake Meka G1 Keyboard
Monitor
Asus VG236H 23″ 120Hz 3D Monitor (1920×1080)
Speakers
Logitech Z-2300 2.1 THX Certified Speakers
Two different tests will be done with this testing system. One test will be conducted under stock settings, while the second test will be conducted under overclocked settings on the CPU and Video Card. To put the system under load, we used OCCT's Power Supply tester to stress the whole system while running FluidMark in the background to load the PhysX card. Let's take a look at the results.
Results
PSU Results
Power Output Results(V) – Overclocked System (GPU, CPU)
Measured With RadioShack Multimeter And
Kill-A-Watt Power Consumption Measuring Tool

Power Rail

Sapphire PURE 1250W PSU

Cooler Master Silent Pro Gold 1200W PSU

Thermaltake Toughpower Grand 1200W PSU

Idle

Load

Idle

Load

High Load

Idle

Load

High Load

3.3v

3.30V

3.29V

3.31V

3.30V

3.29V

3.328V
3.290V
3.25V

5v

5.05V

5.04V

5.00V

5.00V

4.99V

4.98V
4.96V
4.89V

12v1

12.24V

12.23V

12.08V

12.03V

11.98V

12.288V
12.02V
11.84V

12v2

12.24V

12.23V

N/A

N/A

N/A

12.290V
12.03V
11.86V

12v3

12.22V

12.19V

N/A

N/A

N/A

N/A
N/A
N/A

12v4

12.22V

12.21V

N/A

N/A

N/A

N/A
N/A
N/A

12V5

12.21V

12.19V

N/A

N/A

N/A

N/A
N/A
N/A

12V6

12.22V

12.22V

N/A

N/A

N/A

N/A
N/A
N/A

Wattage Used

(Out of the Wall Power Consumption)

227W

851W 

218W 

832W

1220W 

220W

834W
1230W
The Silent Pro Gold 1200W PSU performed exceptionally well under full load, considering that the final voltage at 1220W AC load (~1075W DC Load) was 11.98V for the 12V rail, 4.99V for the 5V rail, and 3.29 for the 3.3V rail. If we take a look at the Thermaltake Toughpower Grand 1200W under the same stress load, we not only see a higher power consumption due to lower efficiency, but also a very bad voltage regulation, where each rail loses a considerable amount of voltage. We can also see that the Cooler Master Silent Pro Gold has very nice and close voltages for optimal operation even at lower power consumption.
So what does it mean when voltages don't drop as much at high power consumption? Usually this means that the system can be pushed further, and will stay stable as voltages do not drop as much as on the Thermaltake Toughpower Grand 1200W PSU. We've added the Sapphire PURE 1250W PSU to the list of tested power supplies to show how efficiency can have a difference on overall power consumption at idle and load.
Ripple Test Results
Example Images for our testing – Click Image to enlarge
| Rails Tested | Overclocked System – Hitachi Oscilloscope V-212 – Ripple Results |
| --- | --- |
| 12V |  ~50mV ripple max |
| 5V |  ~20mV ripple max |
| 3.3V |  ~25mV ripple max |
It is not enough to have good voltage regulation on a power supply if the ripple in the AC current is noisy, since this can also play a role in overall stability of the system. The Cooler Master Silent Pro Gold performed sightly worse than the Thermaltake Toughpower Grand 1200W PSU. The Thermaltake got about ~35mV ripple on the 12V rail and about 15mV ripple on the 5V rail, while the CM Silent Pro Gold got slightly higher numbers. Generally a lower number is better, and we are not quite happy with the results, though it isn't the worst we've seen.
Fan Noise Results
Condition
Acoustic Level Measured – PSUs
Thermaltake Toughpower Grand 1200W PSU
Cooler Master Silent Pro Gold 1200W PSU
Sapphire PURE 1250W PSU
Idle
32dB (A)
LOW dB (A)
33dB (A)
Load
41dB (A)
38dB (A)
43dB (A)
We were very satisfied with the acoustics for the Cooler Master Silent Pro Gold 1200W PSU, even at full load, we managed to get lower acoustic levels than any of the other high end power supplies we have tested. Not to mention, during idle operations, our measuring tool showed LOW dB (A), which means that it is almost inaudible to the human ear. From personal experience, with a high end system, the power supply will not be heard over the other hardware running in the system.
Conclusion
Can we recommend the Cooler Master Silent Pro Gold 1200W PSU to our readers? The PSU does deserve a recommendation. It performed really well, not only in power delivery, but also in voltage regulation and overall acoustics even at really high loads when our system was overclocked not only on the CPU but also on the three GTX 580s. The ripple test showed some higher noise than expected, but it was not the worst we've seen and it was within an acceptable range. Though there is a serious design problem with the Silent Pro Gold 1200W PSU, it will only effect users that use screws not provided by Cooler Master. Nonetheless, the PSU chassis design should have some screw length limitation implemented that would prevent this kind of accident. As the design stands right now, a screw even moderately longer could touch a component in the power supply causing a short circuit, which actually happened in our labs. As a matter a fact, the short circuit knocked the power out in our labs, and also shocked one of the other reviewers that checked out the power supply. Thankfully the power supply did not damage anything inside the system, because it would have been sad to see a few thousand dollars worth of hardware go out the window. In the interests of preserving hardware and saving time, use the screws that come with the power supply.
Overall, we would even recommend the CM Silent Pro Gold 1200W PSU over the Thermaltake Toughpower Grand 1200W PSU. It performs well, can handle lots of power, and has quiet performance with very tight voltage regulation.
OUR VERDICT: Cooler Master Silent Pro Gold 1200W PSU
| | |
| --- | --- |
| Performance | 9 |
| Value | 8 |
| Quality | 7 |
| Features | 9 |
| Innovation | 8.5 |

We are using a new addition to our scoring system to provide additional feedback beyond a flat score. Please note that the final score isn't an aggregate average of the new rating system.

Pros
Cons
Plenty of power for high-end systems

Can handle a system with overclocked CPU, and three GTX 580s overclocked.

Short PSU Design and Modular

Quiet even under high load

Not 100% Modular

Design flaw–possible to short circuit with slightly longer screw
Summary: Due to the design flaw, we cannot award this PSU our Golden Bear Award. However, for its excellent performance, great voltage regulation, low acoustic levels, and a reasonable price point for its wattage range, the CM Silent Pro Gold 1200W PSU receives Bjorn3D Silver Bear Award.