Kingston's HyperX Series 240GB SATA III SSD is Kingston's latest high-performance SSD. Can it hold its own against OCZ's famed Vertex 3 SSD?
Kingston's Flagship SATA III SSD
SandForce first announced their latest SF-2281 controller back in February 2011. Designed for the SATA III 6 Gbps interface, the release of the controller was anticipated, though not many manufacturers actually started delivering new SSDs with the upgraded controller till mid 2011. The OCZ Vertex 3 Pro SSD is of the few SF-2xxx based SSDs that we heard of and seen performance benchmarks for at the beginning of this year. Though we are glad to say that other major memory manufacturers such as Kingston and Patriot have finally joined the race for the fastest SSD, with their latest SandForce 2xxx series SSDs.
Kingston HyperX Series 240GB MLC SATA III 6Gb/s SSD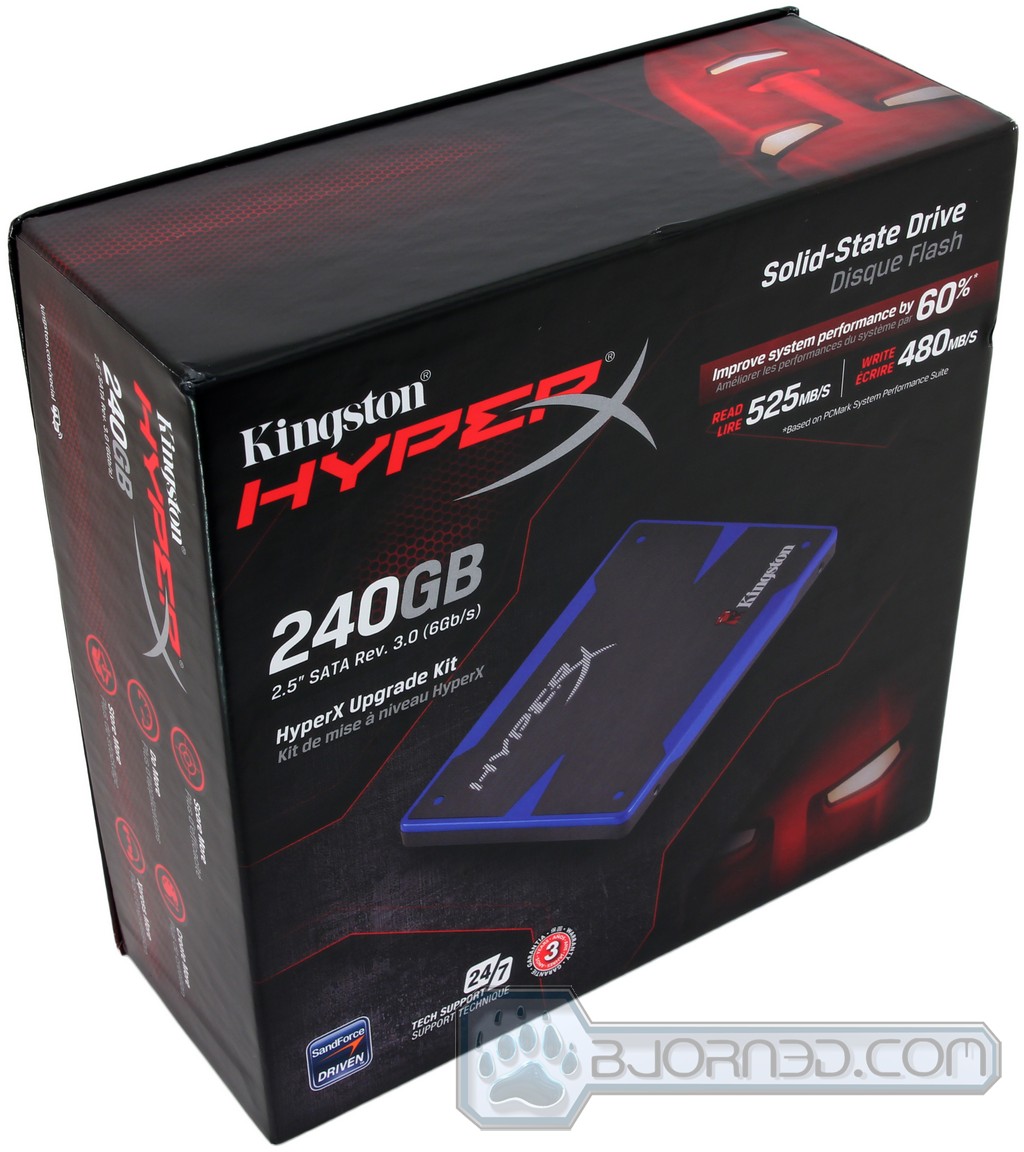 Kingston's latest HyperX series 240GB 2.5″ SATA III 6Gbps Solid State Drive is one of the drives designed to meet the highest performance standards designed for the SandForce SF-2281 controller. It uses Intel's 25nm Compute NAND flash memory, which has 5K programmable/erasable cycles as compared to 3K for standard NAND. While the box to the left is labeled with performance numbers of 525MB/sec. read and 480MB/sec. write, according to Kingston, the drive was able to reach 555MB/sec. read and 510MB/sec. write in ATTO Disk Benchmark 2.41.
Now considering that other SSDs, like the OCZ Vertex 3 was designed to meet the same performance numbers, we'll have a direct comparison of both drives in this review. Before we continue though, note that we are reviewing the HyperX Upgrade Kit from Kingston. The Kingston HyperX series SSDs come in 120GB, and 240GB models, both as a Stand-Alone Drive and as a HyperX Upgrade Kit. The Stand-Alone drive comes with a 2.5″ desktop mounting plate, which allows users to mount the SSD in a 3.5″ hard drive bay. The HyperX Upgrade Kit comes with several other accessories that will come handy for users that want to upgrade their current system and are not specifically buying a complete new system. The following accessories are included with the Upgrade Kit:
Acronis True Image HD migration software
HyperX 2.5″ to 3.5″ Desktop Mounting Plate
HyperX USB External Drive Bay
HyperX Multi-Head Screwdriver
HyperX SATA DATA Cable
The Kingston HyperX 240GB SSD stand alone kit will cost about $479.99 after mail-in rebate on Newegg (as of 8/18/2011), which sounds quite expensive even considering that 240GB SSDs with the new SandForce SF-2281 controller will not be cheap. However, we do believe that SSD prices will drop as they become more popular in everyday systems.
The SandForce SF-2000 Controller


Source: SandForce
The Kingston HyperX Series SATA III SSD uses the SandForce SF-2281 controller. While the SF-2000 is not a major architecture change, the new controller brings a few major upgrades. Among the upgrades include 6Gbps interface, up to 500 MB/s of sequential read and write, 60K IOPS of sustained 4K read and burst write, and 20K IOPS of sustained write. Older SSDs on the SF-1000 series controller, on the other hand, supports the SATA II 3 Gbps interface, up to 285 MB/s read and 275 MB/s write, and 50,000 IOPS random 4K write. The 6 Gbps interface is a much welcomed feature since SSDs are easily bottlenecked by SATA II's 3 Gbps bandwidth limit.
We should take a moment here to note that though this has not been tested, X58-based motherboards are expected to provide far lower SATA 6Gbps performance than P67 or Z68-based boards. This is because P67/Z68 boards natively support SATA 6Gbps, whereas most X58 boards use a third-party controller. Similarly, P67/Z68 boards that use a third-party chip for their SATA 6Gbps ports will experience slower performance. This is not because of the SSD, but because of the controller on the motherboard.
The SF-2281 controller also features support basic smart attributes, 8 channels of 8 bytes per lane asynchronous IOs and supports storage capacity up to 512GB.  Also, it supports 128 bit and 256 bit encryption and features a 55-bit BCH ECC engine for error correcting.
SandForce SF-2000 controller also adds support for Toggle Mode and ONFI 2 NAND support. ONFI 2 and Toggle Mode increase the NAND interface speed up to 133MB/s (ONFI 2) or 166MB/s (ONFI 2.1) whereas the older NAND interface was limited to 50MB/s. This extra bandwidth available contributes to the fact that while the new controller does not have major architectural changes, it can still provide significant gains in the performance.
SSDs use NAND flash to store data. Performance grade SSDs often use single-level cell (SLC), allowing for greater durability, while mainstream drives use multi-level cell (MLC). Think of the single-level cell as a one story house, while the MLC is like an apartment building. Within the same area, more people can fit in an apartment than a single story house. Similarly, though SLC has greater durability, it has less overall data capacity.
Flash memories have a finite number of program-erase cycles. As the NAND gets smaller in size, its program-erase cycles decrease. A 50nm MLC NAND can have 10,000 cycles before it stops being able to write any data. As we transition to 34nm, the number is reduced to 5,000 cycles. Current SSD use 25nm NAND, for which the durability for the program-erase cycle is about 3,000-5,000.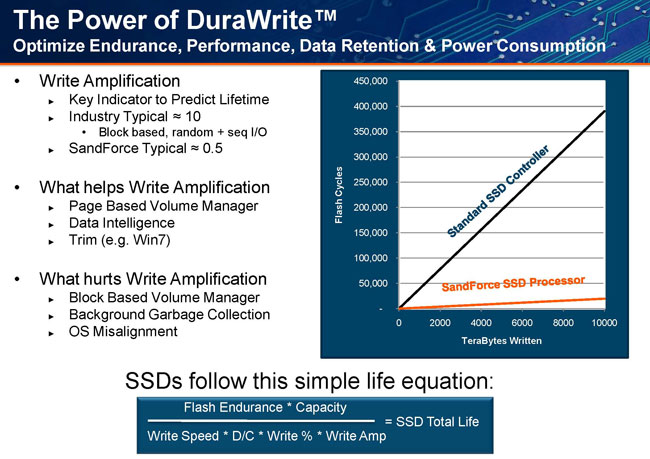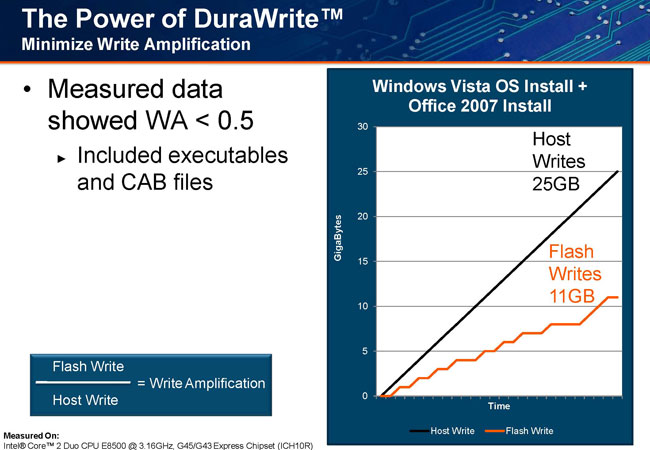 Source: SandForce
To compensate for this, the new SandForce controller features DuraWrite Technology, in which the controller intelligently compress the data using a deduplication algorithm on-the-fly. Data is also encrypted and has redundancy to ensure data integrity, which the company calls RAISE (Redundant Array of Independent Silicon Elements). This effectively reduces the file size needing to be written to the SSD. By writing less data, less NAND will be wear out, and the lifespan can be increased, not to mention the benefit of extra performance gain.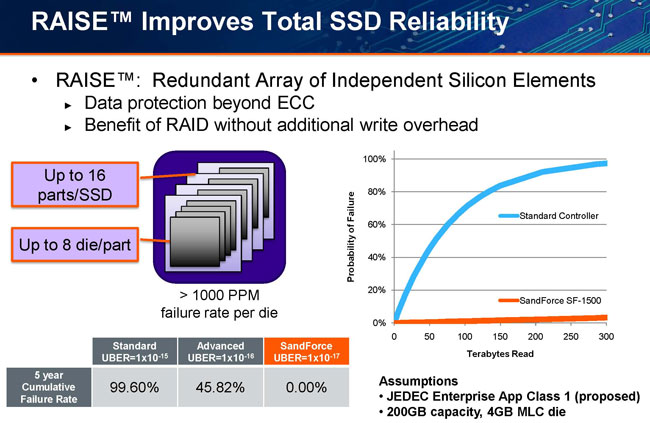 Source: SandForce
The only place where SandForce's approach may not be beneficial is when dealing with uncompressible data, such as MP3 and videos. For average desktop users, many files are compressible and the performance gain can be dramatic. This approach also reduced the need for a large DRAM cache to keep track of data. This in turn, drives the cost down.
Trim
The first SandForce based SSD had limitations where the performance was severely hindered to about 80MB/s when the whole drive is filled with incompressible data. 80MB/s is the maximum speed that the controller clean the NAND block and write new data. Even if the TRIM command was enabled, the performance would never recover to original levels because TRIM only marked the NAND as available, and did not actually clean it. This is an inherent problem with the way solid state drives handle data, as SSD's want to write the least amount of NAND in order to reduce wear on the NAND.
The problem with SF-1200 controller is that the drive was bottlenecked by its block recycling process speed of around 80MB/s. When the drive was filled with compressed data, the performance would eventually be limited to 80MB/s.
With the SF-2000 controller, SandForce has improved the block recycling process, and the drive now is able to clean the NAND block at rate of approximately 200MB/s. Thus, while we still will experience a performance drop, it is, at least, much more acceptable performance.
Features
SandForce controller technology
High-speed SATA Rev 3.0 (6 Gb/s) transfer speeds
Performance — incredible speeds for advanced gaming, multitasking, and multimedia computing power
Reliable — much less likely to fail than a standard hard drive
Shock-Proof — dropping your notebook no longer means losing your data
Cool & Quiet — runs silent and with no moving mechanical parts to generate heat
Innovative — uses NAND Flash memory components
Supports S.M.A.R.T., TRIM, and Garbage Collection
Guaranteed — three-year Kingston® warranty, 24/7 tech support
Specifications
Form factor — 2.5″
Controller — 2nd Generation SandForce® Controller SF-2281
Components — Intel® 25nm Compute-Quality MLC NAND (5k P/E Cycles)
Interface: — SATA Rev 3.0 (6Gb/s), SATA Rev 2.0 (3Gb/s)
Capacities2 — 120 GB, 240 GB
Sequential reads 6Gb/s3 — 555MB/s for all capacities
Sequential writes 6Gb/s — 510MB/s for all capacities
Sustained Random 4k Read/Write —

120GB – 20,000/60,000 IOPS
240GB – 40,000/60,000 IOPS

Max Random 4K R/W4 —

120GB – 95,000/70,000 IOPS
240GB – 95,000/60,000 IOPS

PCMARK® Vantage HDD Suite Score5 —

120GB – 81,196
240GB – 81,394

Supports S.M.A.R.T., TRIM, and Garbage Collection
Warranty/support: — Three-year warranty with free 24/7 support
Power Consumption —

120GB: 0.455 W (TYP) Idle / 1.6 W (TYP) Read / 2.0 W (TYP) Write
240GB: 0.455 W (TYP) Idle / 1.5 W (TYP) Read / 2.05 W (TYP) Write

Dimensions — 69.85 x 100 x 9.5mm
Weight — 94g
Operating Temperatures — 0°C ~ 70°C
Storage Temperatures — -40°C ~ 85°C
Shock Resistance — 1500G
Vibration Operating — 2.17G
Vibration Non-Operating — 20G
MTBF — 1,000,000 Hrs
A Closer Look
Click Image For a Larger One
So here we are, taking a look at what we get with the HyperX 240GB SSD. Just a reminder, we are taking a look at the Kingston HyperX 240GB SATA III Upgrade Kit, which comes with extra accessories and features for easier upgrades. The Stand-Alone version for this SSD comes only with the 2.5″ to 3.5″ Desktop Mounting Plate, which helps the user install their SSD in a standard Hard Drive compartment. The box we are presented with today is definitely something new, but before we go into the design, let's see what the cover shows. The front cover has the capacity of the drive, which in our case is the 240GB. It also shows the new performance increase withe the new SandForce controller. The customer can also be assured that they will receive a 24/7 technical support and will have a 3 year warranty. The side of the box explains some of the uses for the SSD, which include gaming, multimedia, and much more. The back of the box has all the accessories explained for the Upgrade Kit which the buyer can take a look at before they commit to buying the SSD.
Click Image For a Larger One
Instead of the standard soft cover cardboard design that opens up on both sides of the box, Kingston completely redesigned their boxing to make the unboxing process more enjoyable. As soon as the top of the box is lifted off, the user can instantly see the new SSD they have bought. There is a thick anti-static foam covering the SSD on  all sides to prevent damage during shipment. The foam is about an inch or two in height, and it also includes the 2.5″ to 3.5″ Desktop Mounting Plate on the back side of the foam.
Click Image For a Larger One
Simply by lifting out the foam padding, the user has access to the Software CD which comes with Acronis True Image HD migration software. Behind the CD, there is an additional USB External Drive Bay in a soft transparent bag to prevent any scratches to the enclosure during shipment. Right next to it, we see a tool which looks like a pen. This is actually an all-in-one Multi-Head Screwdriver. Under the USB Enclosure, the user will be provided with additional accessories like the SATA III cable to connect the SSD to a desktop PC, and the USB power and data cable for the USB Enclosure.
Click Image For a Larger One
Here we have a closer look at each of the accessories taken out of the packaging. As we can see the screw driver has three different screw driver heads depending on which screws will be used to install the SSD. To get access to the screw driver heads, the user needs to unscrew the top cap of the pen, and slide out the screw driver heads. These can easily be attached at the front of the pen as a strong magnet holds the screw driver head in place. This is a nice addition to the Upgrade Kit, because it eliminates the need to go hunting for screwdrivers that will fit.
Click Image For a Larger One
Here is the USB External Drive Bay enclosure, which can help users back up their files or clone their previous hard drive content to the SSD. It is worth noting though that this is a 2.5″ hard drive enclosure, which means that this will only be useful if the user is replacing a laptop hard drive with an SSD. It can also be useful if an older SATA II SSD is replaced with the current HyperX 240GB SATA III SSD, as the older SSD can be cloned to the new SSD in the system. We would also like to note that this is only a USB 2.0 Enclosure, and will not provide USB 3.0 performance for the users. This was a pretty big disappointment for us, because with a fast device we were also expecting fast accessories, and the fast performance of SATA III compatibility is totally ruined when limited by USB 2.0 bandwidth. The USB Enclosure is super easy to work with as well. Simply unlock the enclosure with the sliding switch on the side of the enclosure, and slide out the top of the enclosure. The SSD or hard drive can be easily placed in and slid into the connectors without any force, and holds nicely in the enclosure.
Click Image For a Larger One
Here we have a closer look at the 2.5″ to 3.5″ Desktop Mounting Plate and the SSD being placed on it. There are 2 types of 4 screws included with the SSD. One of them needs to be used to attach the SSD to the Mounting Plate, while the other 4 screws are used to screw the mounting plate into a case. Some cases have a tool-less design which might work, but it is always better to screw in the devices to make sure they are securely placed in the computer chassis.
Click Image For a Larger One
Finally, lets take a look at the SSD itself. The SSD does not have the extremely flashy look that we were first expecting, but it is also not the worst. Personally, a black and red or a plain black design with some gray highlights would have been a bit better option in our opinion, though the blue and gray doesn't look too bad either. This seems to be Kingston's HyperX color theme, which does look quite nice in a high-end system. As we can tell, there is no apparent difference between an older SATA II and the newer SATA III SSD.
Because there is a special screw used for the SSD, and it was not possible for us to take apart the SSD, though we do have some background information of exactly what is inside the SSD casing. The outer casing has a thin layer of thermal padding to help dissipate heat from the memory modules and the SandForce SF-2281 controller. This is especially necessary on a high-end SATA III SSD, as components can get slightly hotter than older SSD models. We haven't seen many companies implementing thermal padding on the chassis, which just puts Kingston at a higher level, considering that users will be protected against heat problems in most cases, as the chassis will help dissipate heat from the SSD's components.
The PCB of the Kingston HyperX SSD is very similar to previous SSDs we've take a look at. For example, take a look at one of the related reviews linked to this review for some sample overviews of other SSD PCBs. This SSD uses 25nm Intel MLC based NAND flash. This is the ONFI 2.2 chip variety. This particular chip has 5K programmable/erasable cycles over a standard 3K NAND. Additionally, it should have a maximum read/write performance of 95,000 / 70,000 IOPS, as tested with IOMeter08. There are a total of 8 NAND chips on each side of the PCB, adding up to 16 NAND chips altogether. Finally, a SandForce SF-2281 controller is onboard.
TESTING & METHODOLOGY
To test the Kingston HyperX 240GB SATA III SSD we cloned our test rig drive to the SSD. It is the same test drive we've been using on all of our drive testing and is nothing more than a clean Windows load with all the drive testing software installed, as well as all the current drivers and patches for the OS. It's the equivalent of doing a fresh load of Windows 7 from the disc but takes a lot less time and ensures that every drive tested uses exactly the same OS load and drivers. Nothing that may effect the outcome of the testing procedure can creep in. We ran all of the tests a total of 3 times and averaged those results. The Average of the three results are presented here. In the case of a pictorial benchmark we ran the bench 3 times and picked the median result. As with most SSD testing differences from run to run are minimal and the median result is a good indication of what you can expect from the drive.
We ran our usual battery of tests on the drive, and used it as the primary boot drive during testing. All of the drives tested were used as the primary boot drive during testing. That's a more realistic test than strapping the drive in and testing it with a bare format or as a non-boot drive and it represents real life transfer rates, much like you can expect when you install and operate the drive in your own system. Each test was performed 3 times and the average of the 3 test run is reported here.
Test Setup
Test Setup
Case Type
ZALMAN GS1200 Case
CPU
Intel Core i7-2600K @ 4.8GHz
Motherboard
GIGABYTE Z68X-UD7-B3 Motherboard
Ram
Patriot Gamer 2 Series 16GB (4x4GB) Memory Kit
CPU Cooler
Noctua NH-D14 CPU Cooler
Storage Drives
Kingston HyperX 240GB SSD

OCZ Vertex 3
OCZ RevoDrive
OCZ Solid 2
Kingston SSDNow V+ 128GB MLC
OCZ Agility EX 60GB (SLC)
Kingston SSDNow V 40GB (MLC)
Kingston SSDNow V+ 128GB (MLC)
G.Skill Titan 256 GB SSD (FM-25S2S-256GBT1) (MLC)
Patriot 128GB Warp SSD (MLC)
Intel 80 GB SSD X25-M
G.Skill 64GB SSD (FM-25S25-64GB) (MLC)
2 WD VelociRaptor's 300GB (In single and RAID 0)
WD 160 GB SATA 2
Maxtor 160 GB SATA 2
WD & Maxtor in RAID 0

Optical
ASUS DVD-RW Drive
GPU
3x Nvidia GeFroce GTX 580 in 3-Way SLI
Testing PSU
Cooler Master UCP 900W
Mouse
Razer Mamba
Keyboard
Tt eSports Meka G1 Mechanical Keyboard
Test Suite
Benchmarks
ATTO
CrystalDiskMark
HDTach 3.0.4.0
HD Tune Pro
AS SSD Benchmark
PCMark Vantage
PCMark 07
ATTo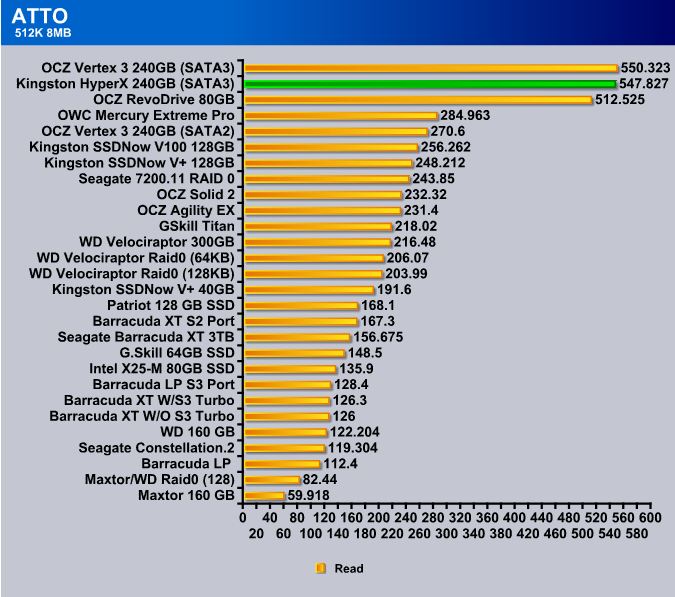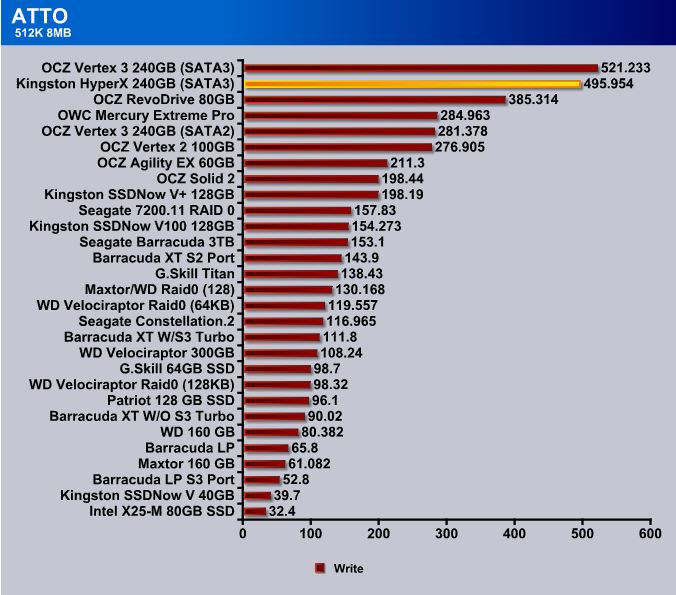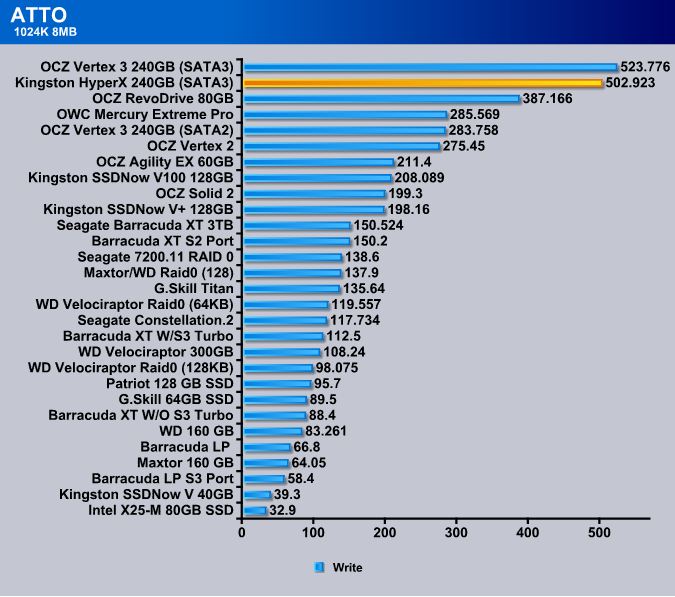 Starting off with ATTO, we can definitely see the performance adjustment that Kingston let us know of before we started reviewing the product. The information on the box of the HyperX SSD is not correct, though it is to the benefit of the user. Kingston has adjusted transfer rates to 555MB/s read speed and 510MB write speed. These new SandForce SF-2281 SSDs can definitely get excellent performance scaling compared to the older SATA II based SandForce 1xxx series or JMicron based SSDs.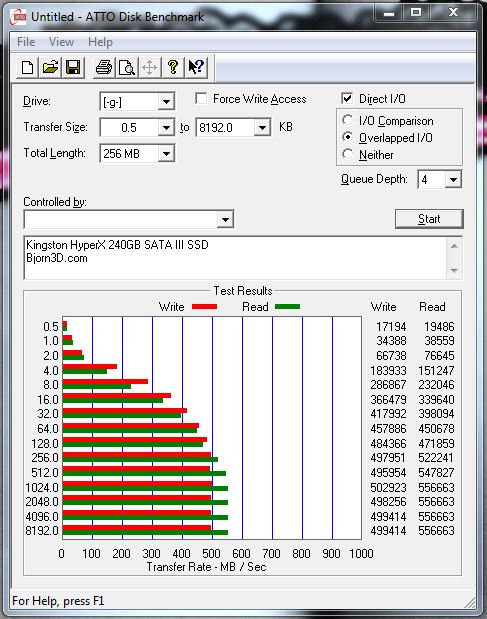 If we take a closer look at the actual benchmark results that we got in ATTO, we can see that once the SSD got to 1024KB, the performance capped at 556.663MB/s for Read. This is absolutely phenomenal.
HDTach 3.0.4.0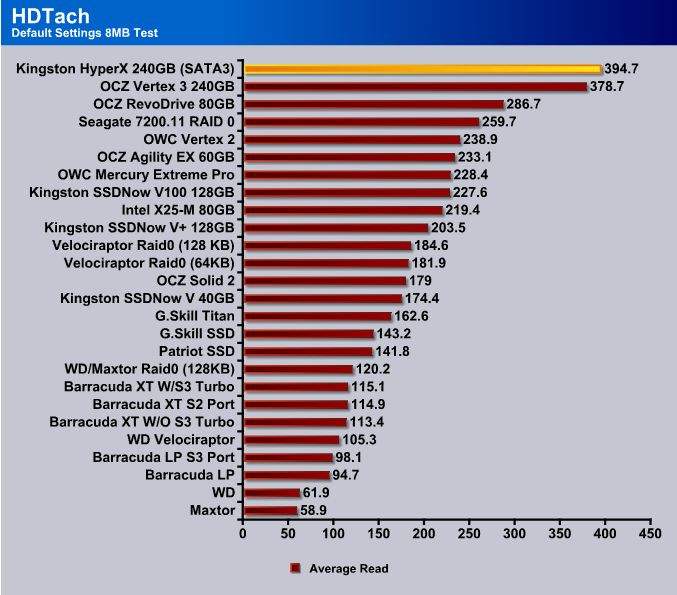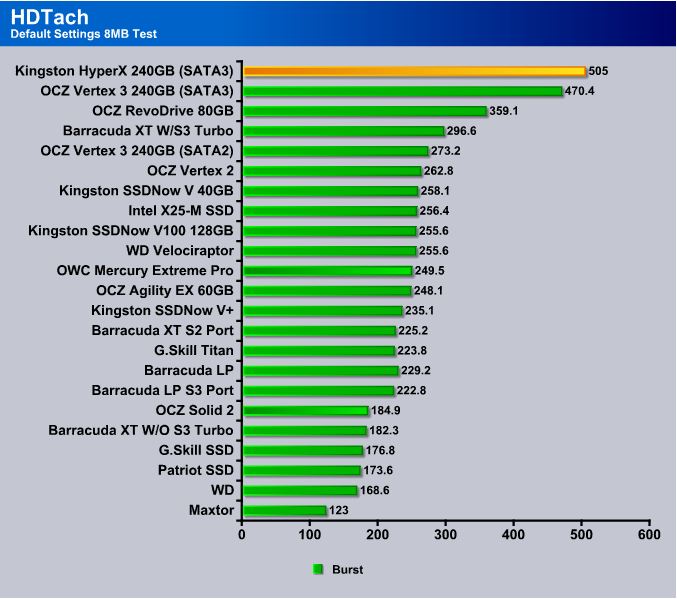 HDTach showed some very interesting results for the Kingston HyperX 240GB SSD. The HyperX 240GB was able to beat the OCZ Vertex 3 roughly by 16MB/s in overall average performance. At burst, the HyperX SSD got about 30MB/s faster throughput, which is quite impressive.
SATA 3 Performance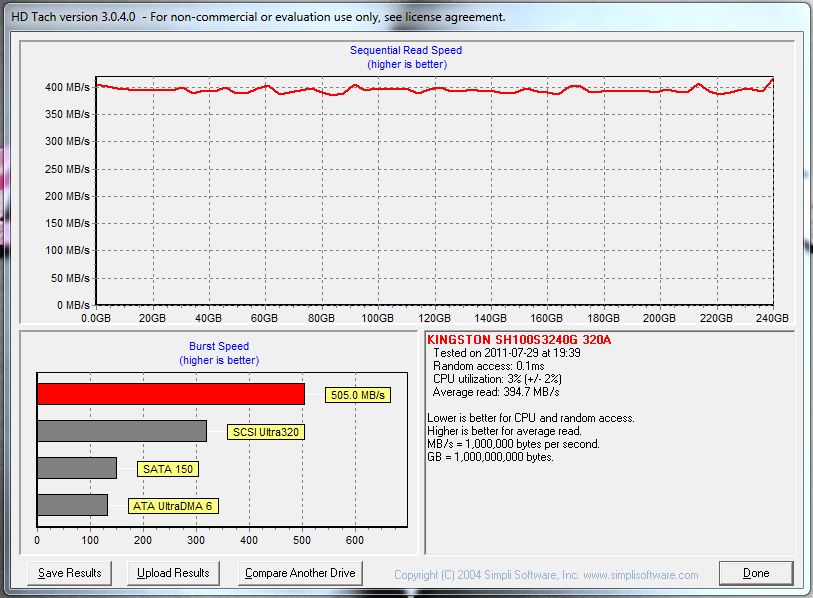 If we take a look at the actual test in HD Tach 3.0.4.0, we can see that the drive is able to keep a fairly stable performance even after an OS has been installed to the drive, along with all the updates and benchmarks. This is quite impressive.
USB External Drive Bay Enclosure Performance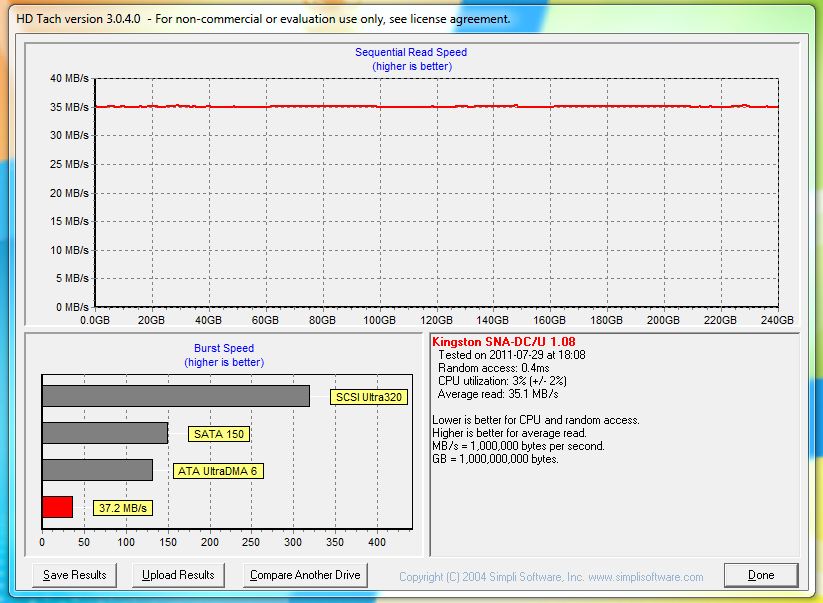 This was a test performed on the SSD before it was placed in our Desktop PC. The test was performed on the USB External Drive Bay Enclosure. We were actually quite disappointed that Kingston only provided a USB 2.0 enclosure for the cloning process when the user will be upgrading their system. Usually with a system that supports SATA III, there is also USB 3.0 support. We can clearly see the limitations of USB 2.0 as it only provides 35MB/s performance on average. Even a 5400 RPM 2.5″ Laptop Hard drive can get about 60-80MB/s performance, so a USB 3.0 enclosure would have been a nice option within the same price range for the Upgrade Kit. Additionally, if a user is cloning an older SandForce SF-1xxx series SSD to the new SATA III SSD, the performance will be highly bottlenecked.
HD Tune Pro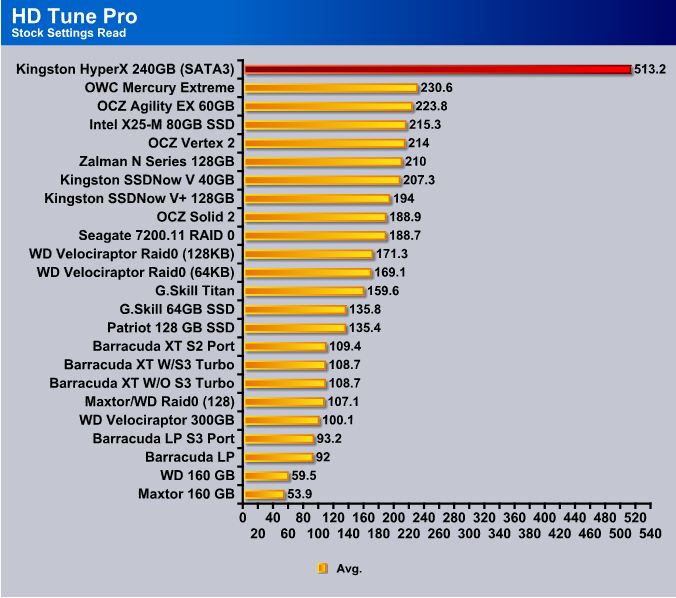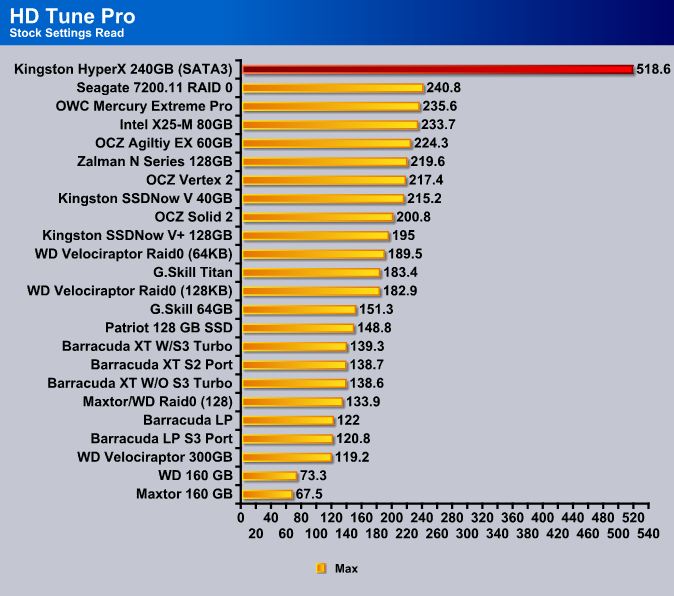 Unfortunately, for HD Tune Pro, we do not have the OCZ Vertex 3 for comparison, however, we can still see the advantage of an SATA III compatible SSD over an older SATA II based SSD.
Crystal DiskMark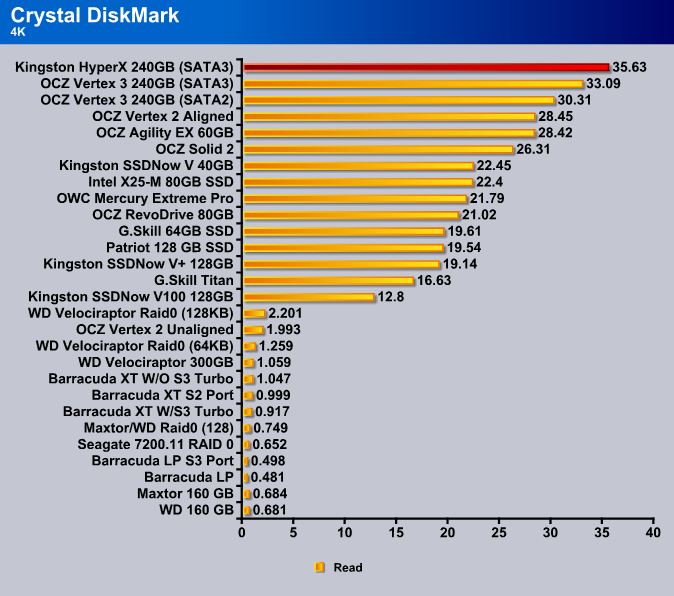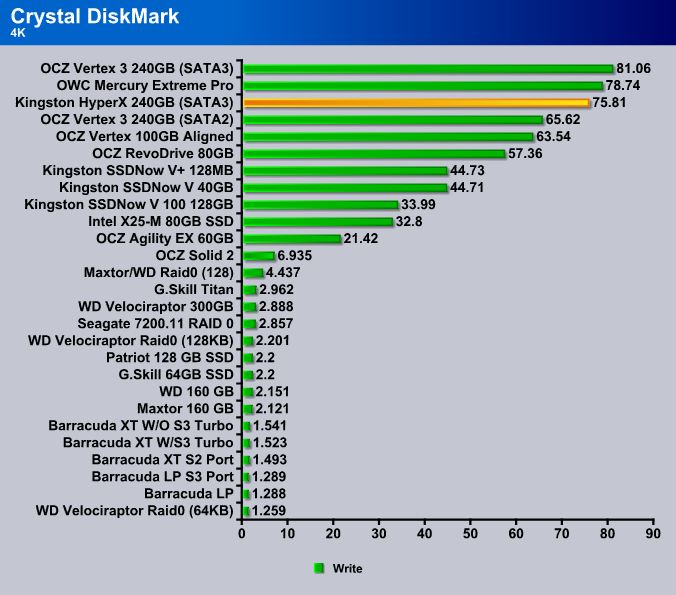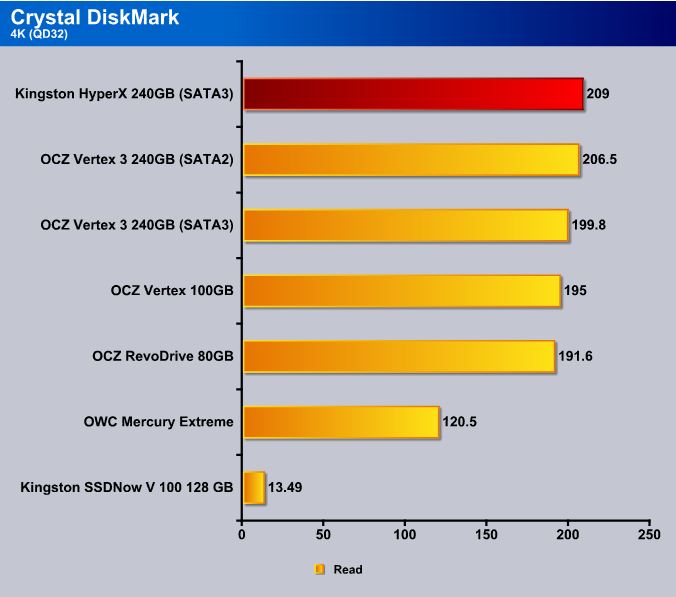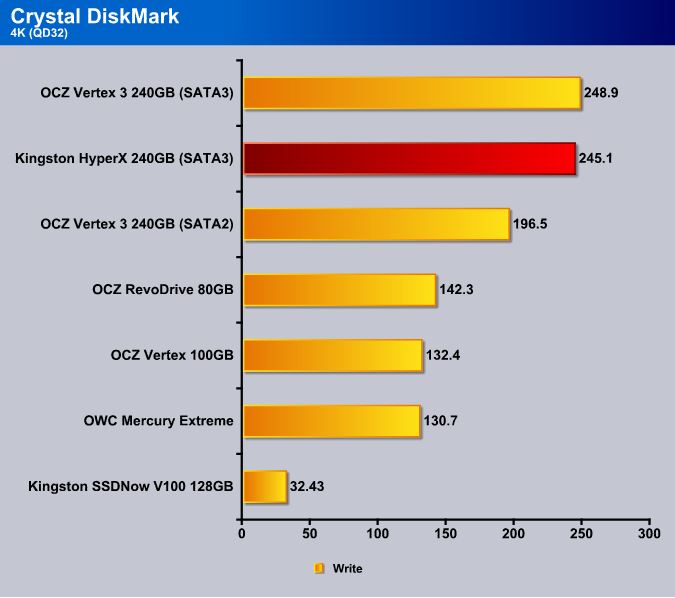 From our test above under the 4K data throughput, we can notice that the OCZ Vertex 3 has a better write performance, however the Kingston HyperX 240GB SSD performs slightly higher in Read performance. Depending on the user, if there will be more 4K files read than written, the Kingston SSD would probably be a better choice over the OCZ, but the OCZ would deliver faster performance in writing conditions. These results can depend on each separate SSD, so it is possible that the next OCZ Vertex 3 might perform slightly slower or the next Kingston HyperX 240GB SSD might perform slightly faster in write speeds.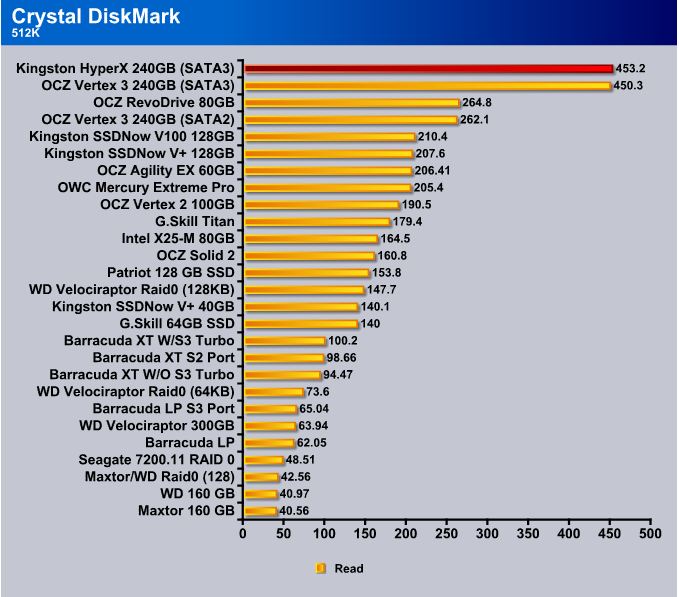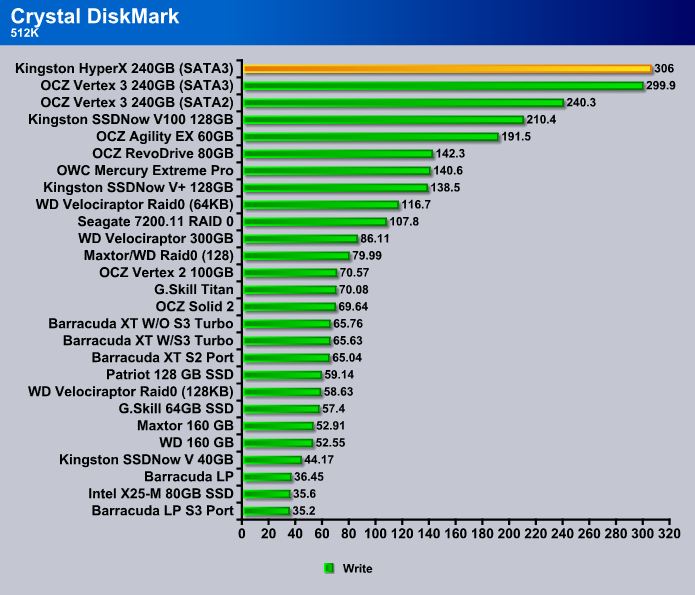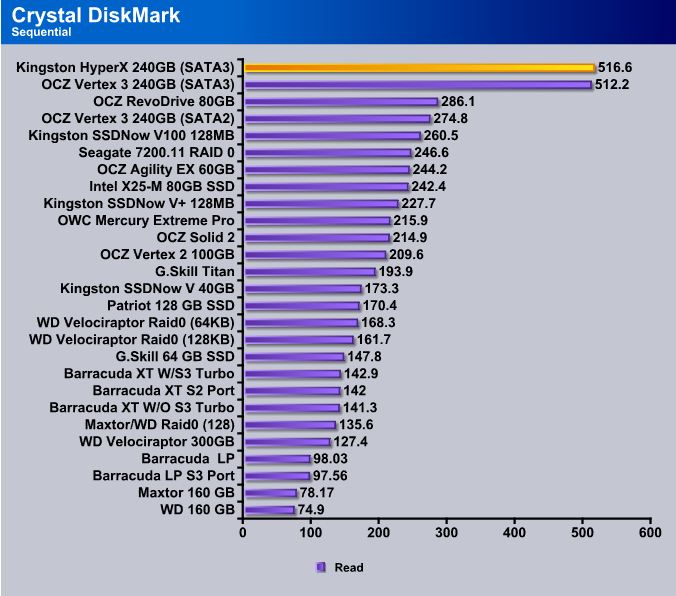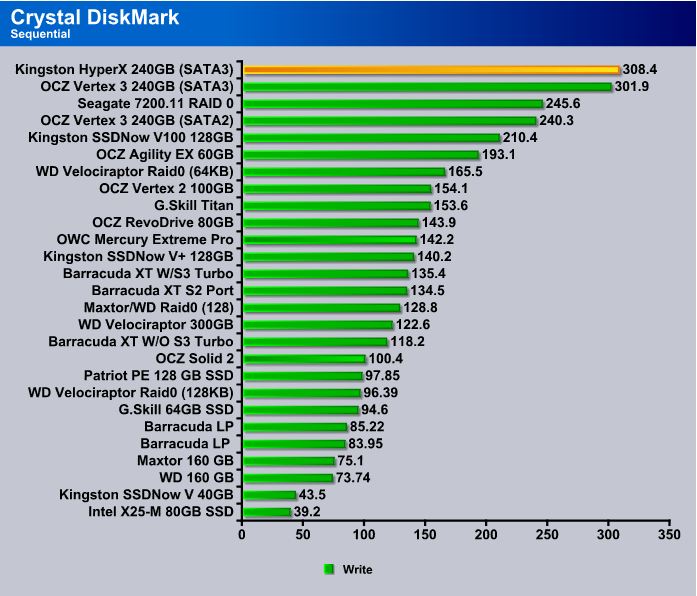 It looks like the Kingston HyperX SSD does win the larger data size file transfer throughput performance as well as the sequential performance in both read and write conditions by several MB/s. This is perfect for those working with large file sizes–loading large levels in video games, or large files during video editing.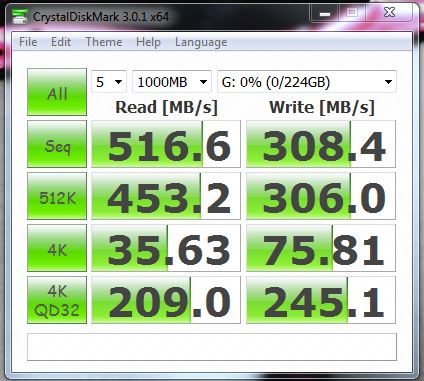 AS SSD Benchmark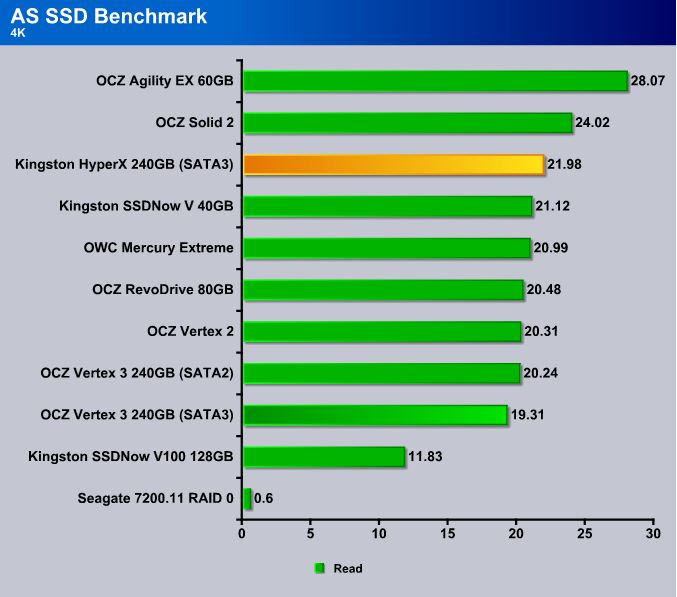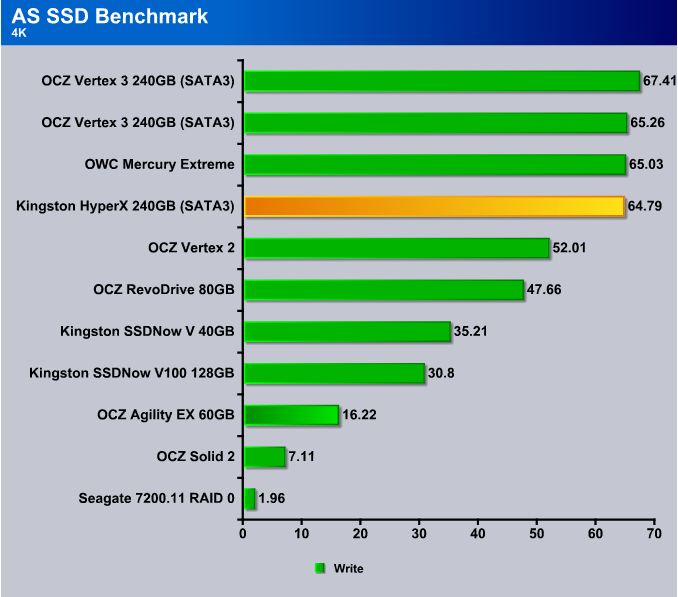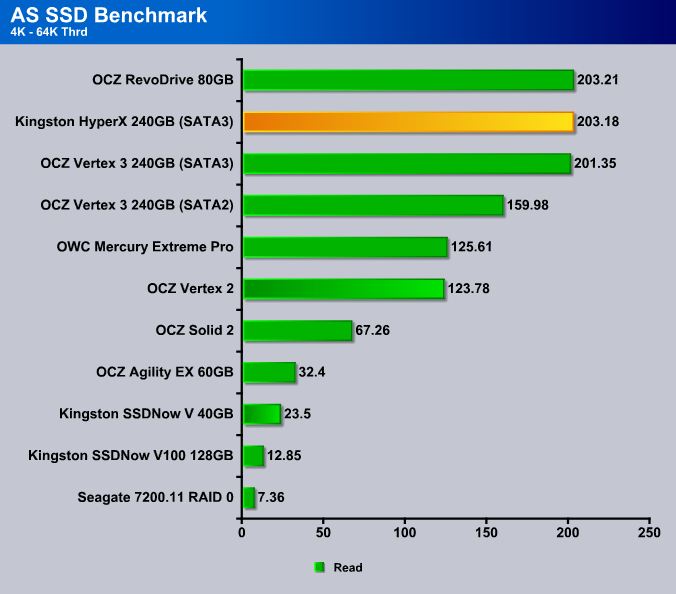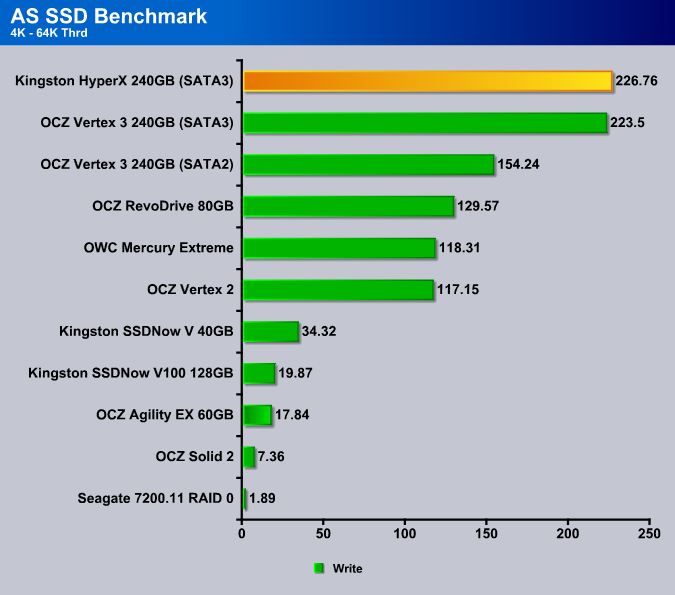 Interestingly with the AS SSD benchmark we are seeing totally different results. We are seeing lower Read performance than expected and higher Write performance. As file size gets bigger, there is a change in performance and the Kingston HyperX 240GB SSD takes the crown once again in Write performance.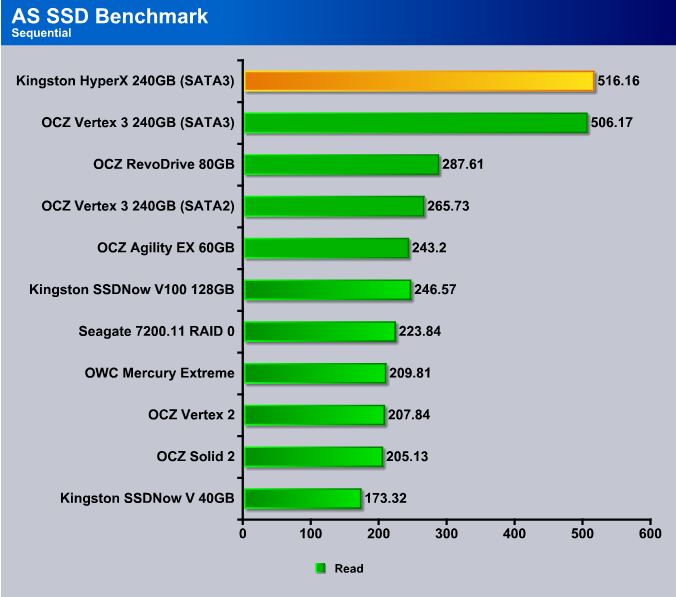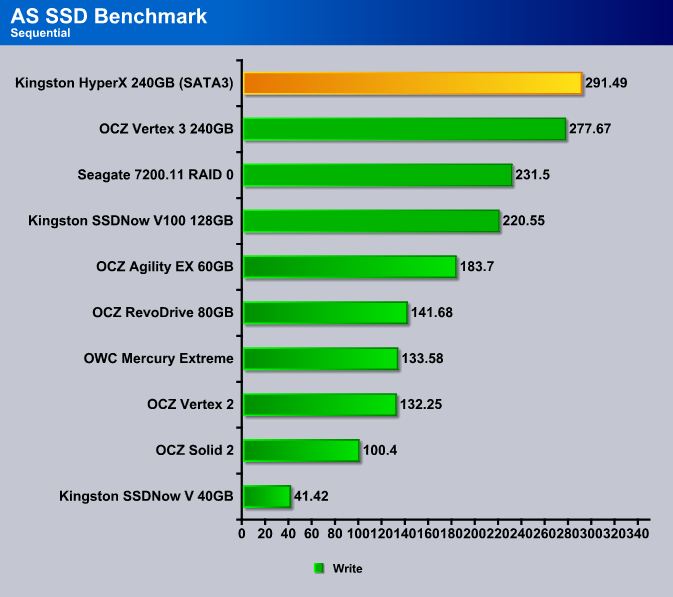 The same results show up here as in Crystal DiskMark: the sequential read and write performance is significantly faster than the OCZ Vertex 3, which would lead to a much faster overall performance in real-life copying performance, though this is better tested with a real-life performance assessment rather than with synthetic benchmarks.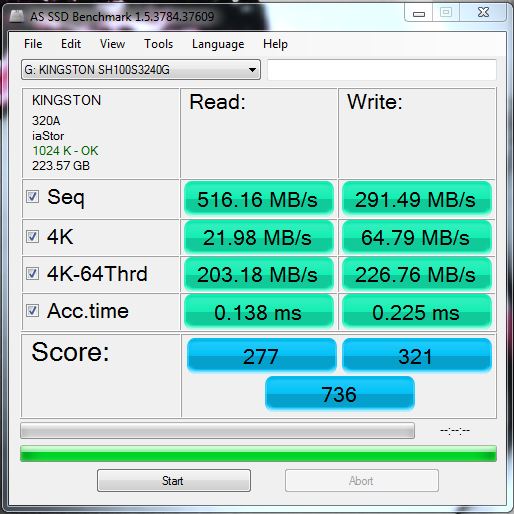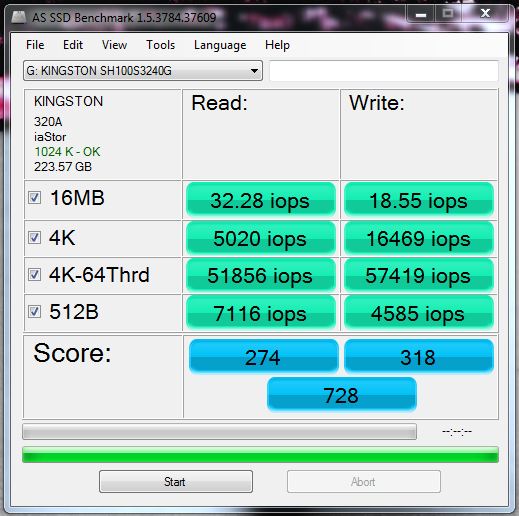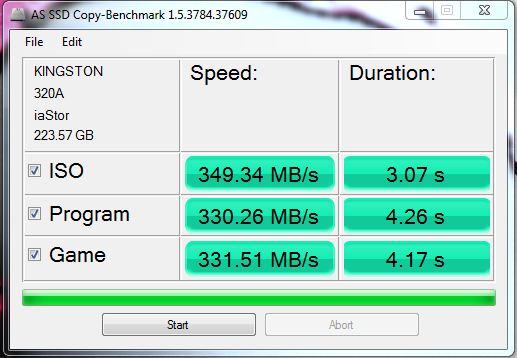 We went ahead and performed additional tests for those wanting to know IOPS performance numbers and some real life benchmark performance numbers.
PCMark Vantage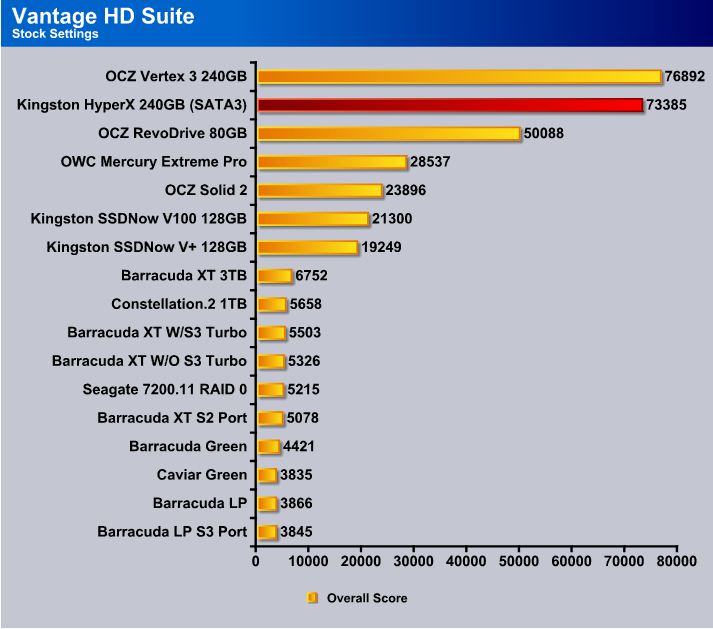 From the overall PCMark Vantage HD Suite tests, the overall score that we've got was 73385. This is roughly 3500 points lower than the OCZ Veretx 3, however we can see that a SATA III SSD performed only at 28537 points. Therefore we can see that according to some real-life tests, this newer controller provides an about 2.5x performance increase over a traditional SandForce SF-1xxx controller. There is an about 11x performance increase over a traditional 7200RPM mechanical hard drive.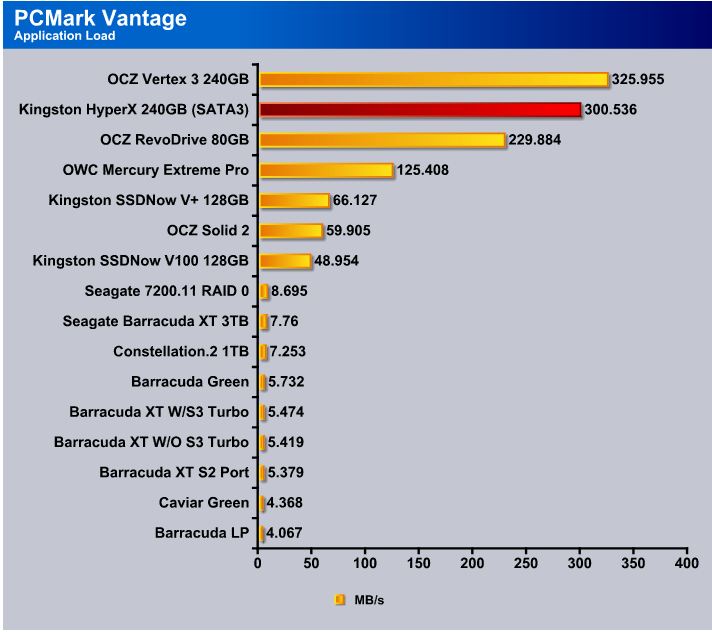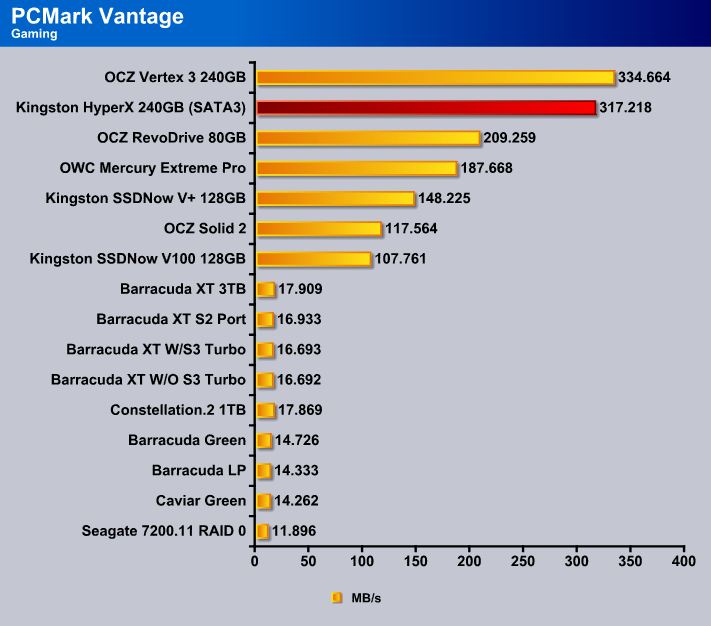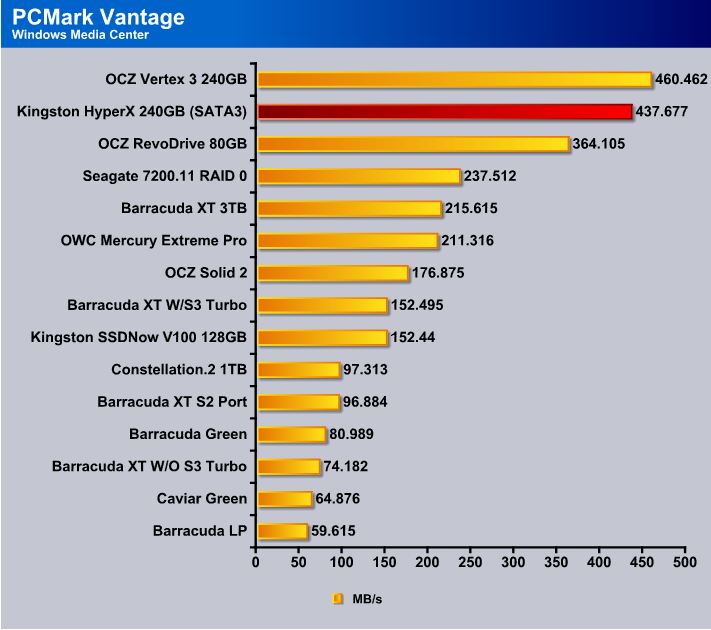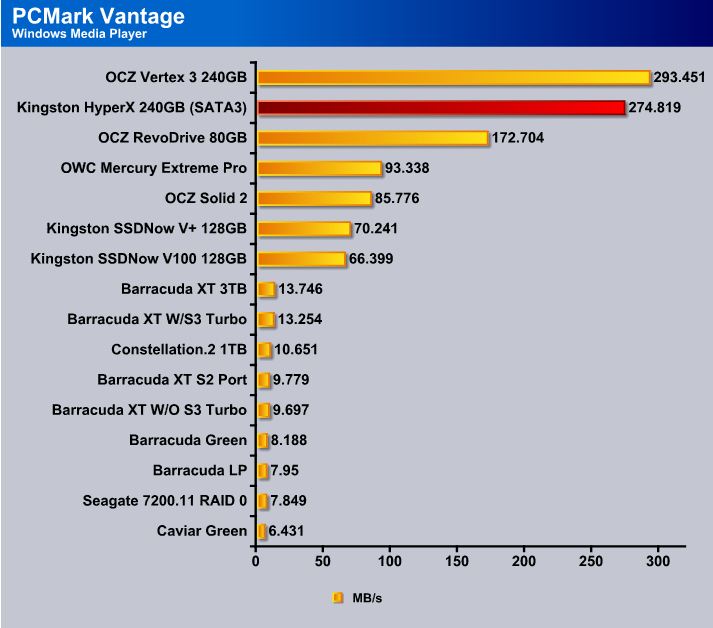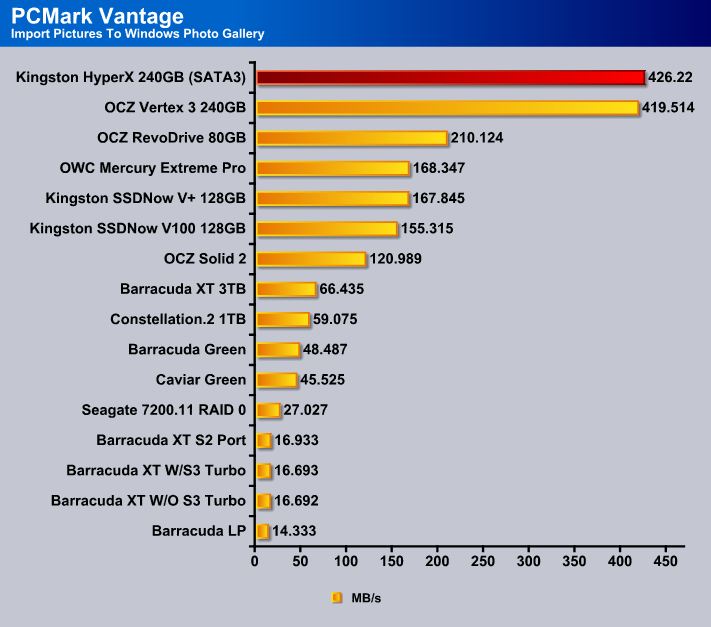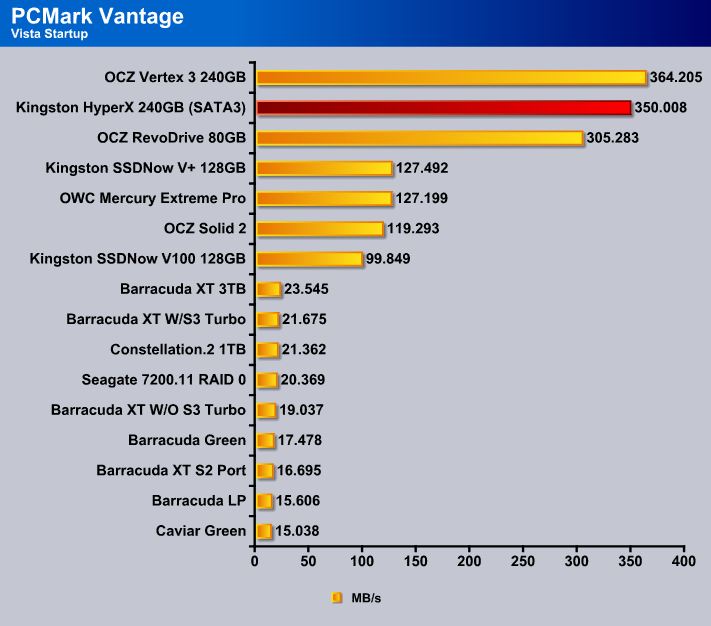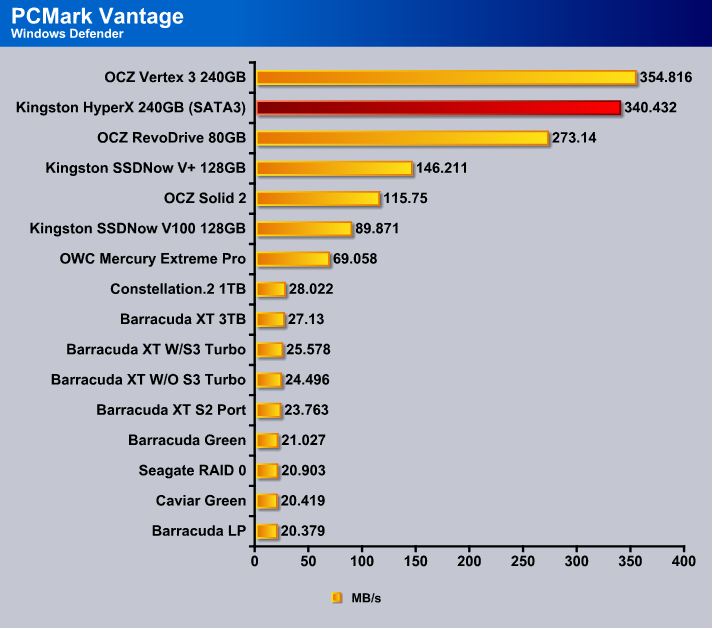 As we can notice, the Kingston HyperX 240GB SSD came in second place on each test except the "Import Pictures to Windows Photo Gallery" benchmark. Therefore, it is pretty fair to say that the OCZ Vertex 3 might actually perform better in real-life based applications.
PCMark 7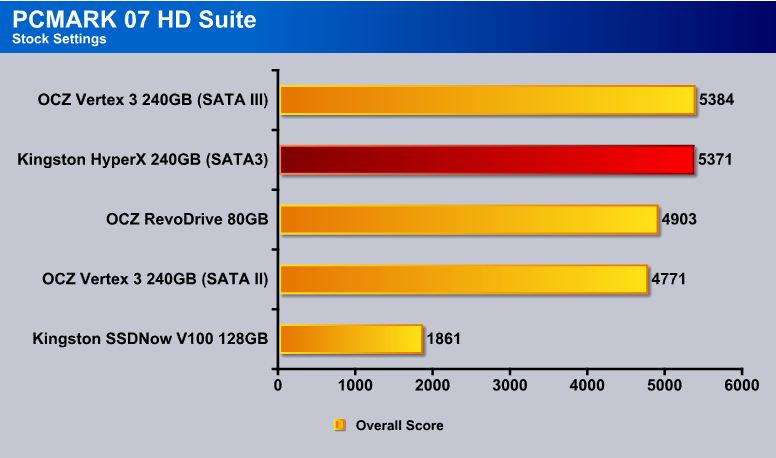 Same as PCMark Vantage, we the Kingston HyperX comes in 2nd place in overall performance, however the difference between the two SATA III SSDs is very minimal. Depending on the application the user will most likely not see the performance difference between both drives due to slight performance differences and very similar specifications of both Solid State Drives.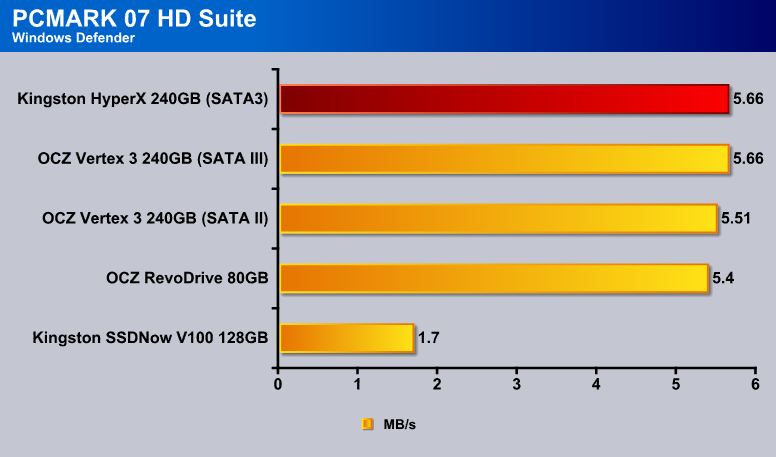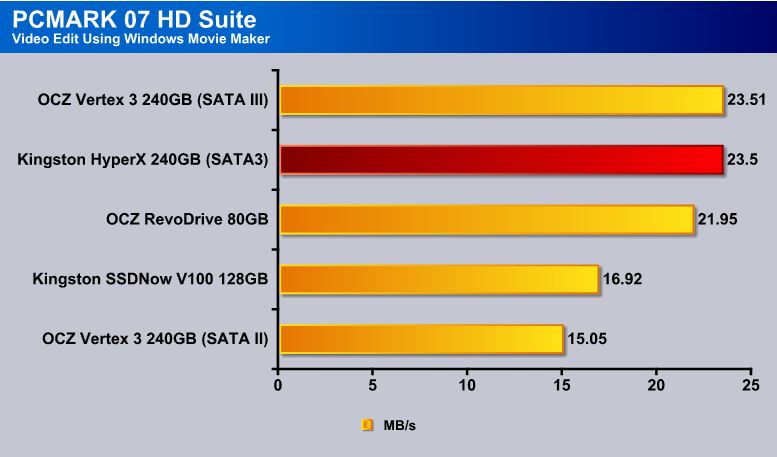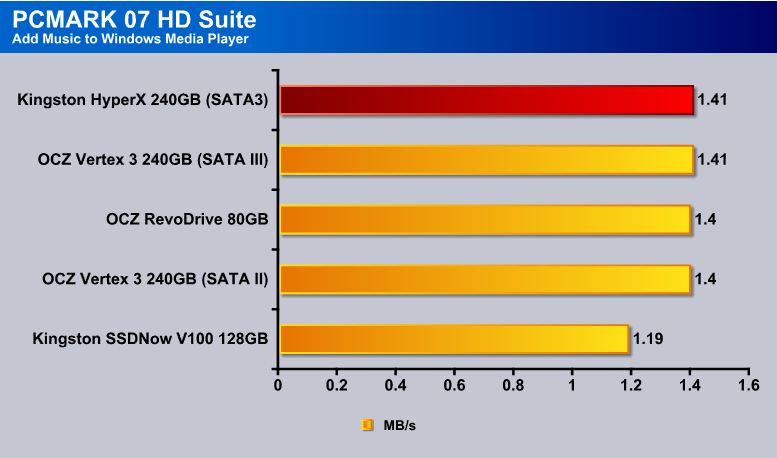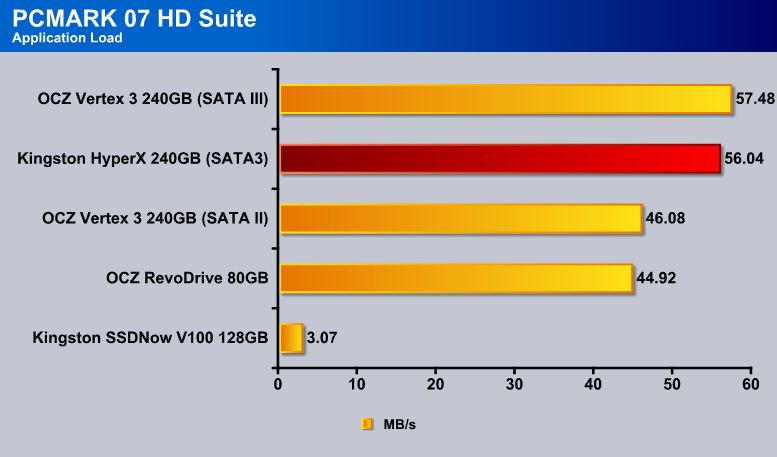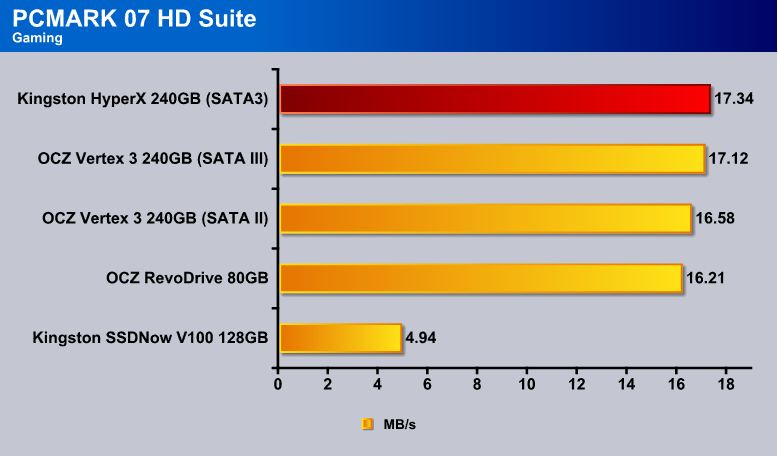 As noted in previous benchmarks where larger data files and sequential read and write tests were performed, the Kingston HyperX SSD performed slightly faster than the OCZ Vertex 3 SSD. We've mentioned it is a possibility that gaming performance might be enhanced due to this, and that is confirmed in the PCMark 07 benchmark where we see a slight performance increase over the OCZ Vertex 3 240GB SSD.
CONCLUSION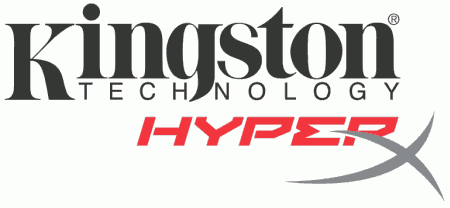 So, how was our overall experience with the drive? Absolutely fantastic. Believe it or not we are not over-exaggerating our experience. From the moment we laid our hands on the packaging and started to take apart the product, we've seen great quality not just in packaging but also in the product. The packaging is very customer-friendly and is not a big mess to take apart like some other products we've reviewed. Once we got a chance to plug the SSD into our system, the performance of the drive was phenomenal as well, and while sometimes it performed better than the OCZ Vertex 3, it also had its slightly lower scores in other benchmarks.
Is the Kingston HyperX 240GB SATA III SSD worth the extra $20-30 over the OCZ Vertex 3? This is a hard question to answer, because while the Kingston HyperX 240GB SATA III SSD has mixed performance results, users do know that they will receive a quality product and will have a great experience. The upgrade kit is about $50 more expensive than the Stand-Alone package, however it can help upgrade to an SSD.
The ultimate choice will really come down to the end-user, since both the Kingston HyperX 240GB SATA III SSD and the OCZ Vertex 3 240GB hard drives are around the same price, about the same performance, and they both come with a 3 Year Warranty.
OUR VERDICT: Kingston HyperX 240GB SATA III SSD
| | |
| --- | --- |
| Performance | 10 |
| Value | 8 |
| Quality | 10 |
| Features | 10 |
| Innovation | 10 |

We are using a new addition to our scoring system to provide additional feedback beyond a flat score. Please note that the final score isn't an aggregate average of the new rating system.

Pros
Cons
Excellent Performance

Acronis True Image HD Migration Software Included

USB External Drive Bay for easy cloning

SATA 6.0Gbps Compatibility with SandForce SF-2281 Controller

2.5" to 3.5" Bracket

Extra accessories included for easy upgrade

Steep price

USB 2.0 Enclosure
Summary: The Kingston HyperX 240GB SATA III 6Gbps SSD impressed with great performance and outstanding quality. Because of this, we truly believe that Kingston's HyperX 240GB SATA III SSD deserves Bjorn3D's Golden Bear Award.