Company PR
OUTSHINE THE COMPETITION
ROG Strix GeForce® GTX 1080 gaming graphics cards are packed with exclusive ASUS technologies, including all-new MaxContact Technology that is 2X more contact with GPU for improved thermal transfer, and Patented Wing-Blade IP5X-Certified Fans for maximum airflow and longer fan lifespan. While ASUS FanConnect II features 4-pin, hybrid-controlled headers connected to system fans for optimal system cooling. ASUS Aura Sync RGB LED synchronization enables a gaming system personalization and VR-friendly HDMI ports let gamers easily enjoy immersive virtual reality experiences. ROG Strix GeForce® GTX 1080 also has GPU Tweak II with XSplit Gamecaster that provides intuitive performance tweaking and instant gameplay streaming.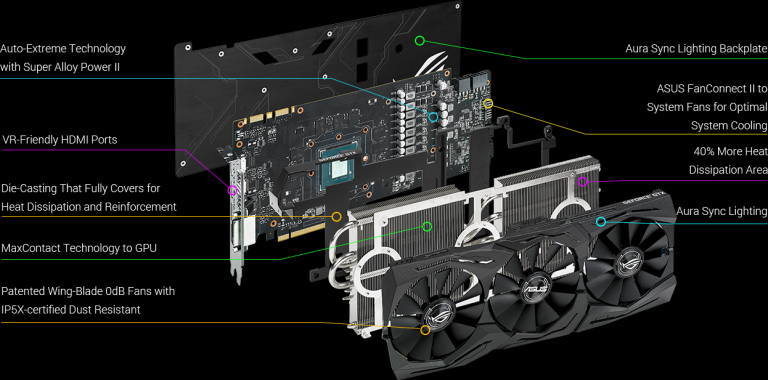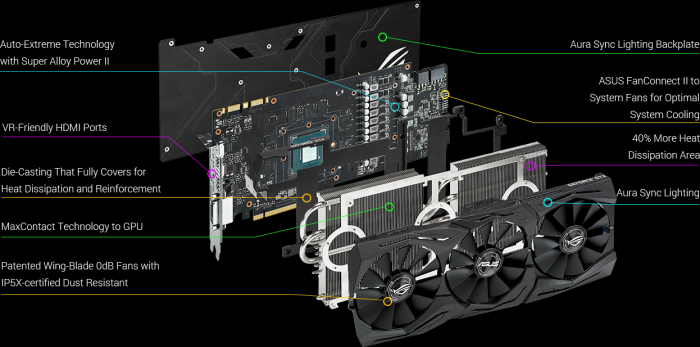 This exploding diagram shows many of the features of the  from the patented 0dB fans with IPX5-certified Dust Resistance to the auto extreme manufacturing that cuts human error out of the manufacturing equation.
40% More Heat Dissipation Area
Up to 30% Cooler and 3X Quieter Gaming Performance
New ROG Strix graphics are constructed with a 2.5-slot width, providing 40% more heat sink surface area for heat dissipation compared to previous 2-slot designs for dramatically cooler and quieter performance.
MaxContact Technology
2X More Contact with GPU for Improved Thermal Transfer
MaxContact is an industry-first GPU cooling technology, featuring an enhanced copper heat spreader that directly contacts the GPU. MaxContact utilizes precision machining to provide a surface that makes up to 2X more contact with the GPU than traditional heat spreaders, resulting in improved thermal transfer.
Patented Wing-Blade Design
Max Air Flow with 105% More Air Pressure
Patented wing-blade fans delivers maximum air flow and 105% greater static pressure over the heat sink, while operating at an up to 3X quieter volume than reference cards.
0dB Technology
Game in Complete Silence
Innovative 0dB technology stops the fan completely when the GPU temperature remains below a set level*, letting you enjoy light gaming in complete silence.
IP5X-Certified Dust Resistance
Longer Fan Lifespan
The fans in ROG Strix graphics cards are certified under the International Protection Marking (IP code) as IP5X dust resistant for improved reliability and a longer lifespan. This stringent certification process ensures ROG Strix graphics cards provide optimal fan performance, even under severe conditions.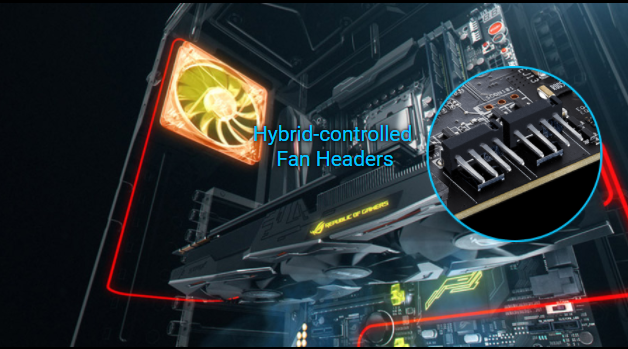 ASUS FanConnect II
Optimal System Cooling
ASUS FanConnect II features two 4-pin, hybrid-controlled headers that can be connected to both PWM and DC system fans for optimal system cooling. The connected fans reference both the GPU and CPU, operating automatically based on the one with the higher temperature. A comprehensive set of tuning options allow you to tune fan speeds for efficient cooling.
GPU Tweak II lets you easily set these ASUS FanConnect II modes:
Auto mode:
Chassis fan speeds reference GPU temperatures and operate based on the default factory setting.
Manual mode:
Allows you to set a fixed speed for connected fans.
User-defined mode:
Allows you to set chassis fans to reference either the CPU or GPU temperature to determine rotational speed. Additionally, a smart, automatic calibration routine senses the controllable range of connected fans and allows you to fine-tune speeds for efficient cooling and low noise.
Auto-Extreme Technology
Industry-only 100% Automated Production Process
All ASUS graphics cards are now produced using Auto-Extreme Technology, an industry-exclusive, 100% automated production process that incorporates premium materials to set a new standard of quality. Auto-Extreme Technology ensures consistent graphics card quality as well as improved performance and longevity. Since the introduction of Auto-Extreme technology, reliability has improved by 30%. This new manufacturing process is also environmentally friendly, eliminating harsh chemicals and reducing power consumption by 50%.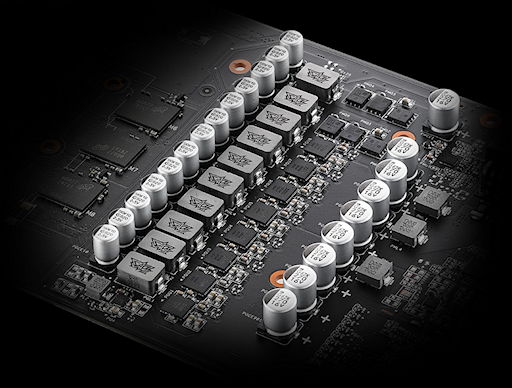 8+2 Phase Super Alloy Power II
Enhanced Durability and Efficiency
ASUS engineers have integrated premium alloy components into their graphics card designs to reinforce overall reliability. Super Alloy Power II components greatly enhance efficiency, reduce power loss and achieve thermal levels that are approximately 50% cooler than previous designs.
Tags 1080 asus Asus ROG Strix GTX 1080 Asus ROG Strix GTX 1080 OC Edition 8GB 11Gbps GDDR5X GTX 1080 ROG Strix
Check Also
QNAP TS-233 QNAP TS-233 is a two-bay NAS aimed for home user who are looking …
Introduction The prices for computer memory have dropped significantly over the last few months for …