ASUS Strix ROG GeForce GTX 1060 6GB
The  at a $329.99 initial price and with all the ROG Strix bells and whistles we would put it in the GTX 1060 Luxury video card category. Packed with Pascal technology on a 16nm process with a 200mm² die it gets half the hardware of the GTX 1080 but will dominate at 1080p and 1440p. Asus packed all the goodies into the ROG Strix GTX 1060 and from package to hand it drips ROG goodness like honey from the hive. The GP106-400-A1  core packs 4.4 Billion transistors and runs at a base clock of 1645 and a boost of 1873, amazing speeds given recent years core speeds. There are 1280 Stream Processors, forming 2 GPCs and 10SMs, 2 Rasterizers, 10 Tessellation units, 80 Texture units and 48 ROPS. There may be a partridge in a pear tree in there somewhere but we didn't see any feathers sticking out.
Now that we are past the hardware hoohaa lets talk about Asus features a little. The first thing we noticed opening the package was 3 over sized Wing Tip Fans and immediately we knew this was an ROG Direct CU III cooling design. We quickly looked at the specifications and the card came in at 298mm which is longer than some GTX 1070 and 1080s we've seen. Then there's the Auto Extreme Technology where the whole video card start to finish is produced by machines without human interference ensuring exacting standards. For flash Asus dropped Aura RGB lighting accents on the  ASUS Strix ROG GTX 1060 6GB giving you control over how the lighting effects run and the color(s) you choose. The ASUS Strix ROG GTX 1060 6GB is VR friendly with HDMI ports and ASUS provides GPU Tweak II for your overclocking fun. No one in the industry puts a better dress on their GPU's than ASUS does on it's ROG lineup and you'll be hard pressed to find this much luxury in any GTX 10xx series video card!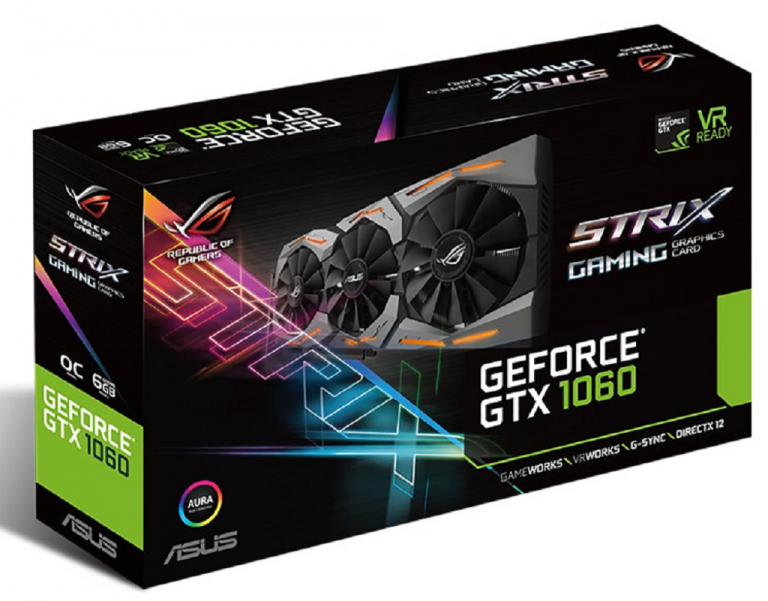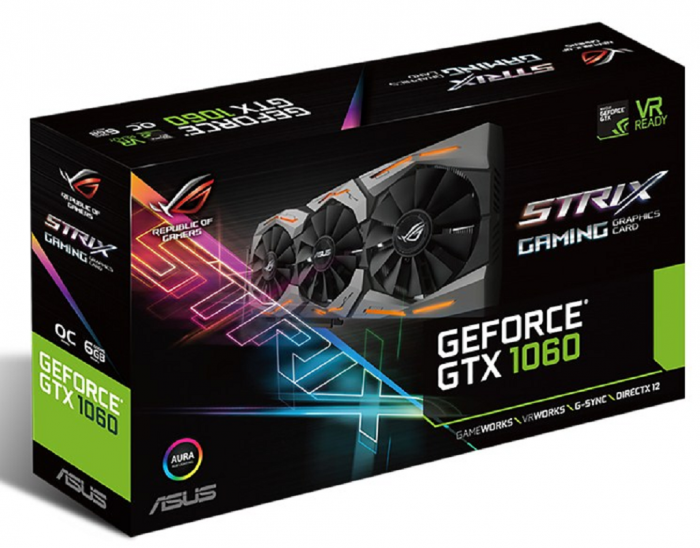 GPU Comparison Table
GPU
ASUS Strix ROG GTX 1060
EVGA
GeForce GTX 1070 FTW Gaming ACX 3.0
NVIDIA
GeForce GTX 1080 8GB
NVIDIA
GeForce GTX 980 Ti 6GB
NVIDIA
GeForce GTX 980 4GB
Architecture
Pascal
Pascal
Pascal
Maxwell
Maxwell
Codename
GP106-400-A1
GP104-200-A1
GP104
GM200
GM204
Base
Clock
1645MHz
1607MHz
1,607MHz
1,000MHz
1,126MHz
Boost
Clock
1873MHz
1797MHz
1,733MHz
1,075MHz
1,216MHz
Stream
Processors
1280
1920
2,560
2,816
2,048
Layout
2 GPCs, 10 SMs
3 GPCs, 15 SMs
4 GPCs, 20 SMs
6 GPCs, 22 SMs
4 GPCs, 16 SMs
Rasterisers
2
3
4
6
4
Tesselation
Units
10
15
20
22
16
Texture
Units
80
120
160
176
128
ROPs
48
64
64
96
64
Transistors
4.4 Billion
7.2
Billion
7.2
billion
8
billion
5.2
billion
Die
Size
200 mm2
314mm2
314mm2
601mm2
398mm2
Process
16nm
16nm
16nm
28nm
28nm
Memory
Amount
6Gb GDDR5
8GB
GDDR5
8GB
GDDR5X
6GB
GDDR5
4GB
GDDR5
Frequency
1026MHz (8208MHz effective)
1GHz
(8GHz effective)
1.25GHz
(10GHz effective)
1.75GHz
(7GHz effective)
1.75GHz
(7GHz effective)
Interface
192-Bit
256-bit
256-bit
384-bit
256-bit
Bandwidth
192.2GB/s
256GB/sec
320GB/sec
336GB/sec
224GB/sec
Card Specifications
Power
Connectors
1 x 8-pin
2
x 8-pin
1
x 8-pin
1
x 6-pin, 1 x 8-pin
2
x 6-pin
Stock
Card Length
298mm
267mm
267mm
267mm
267mm
TDP
120W
215W
180W
250W
165W
Key Features
1873 MHz boost clock in OC mode for outstanding performance and gaming experience.
DirectCU III with Patented Wing-Blade Fans for 30% cooler and 3X quieter performance.
ASUS FanConnect features 4-pin GPU-controlled headers connected to system fans for optimal thermal performance.
Industry Only Auto-Extreme Technology with Super Alloy Power II delivers premium quality and best reliability.
Aura RGB Lighting to express personalized gaming style.
VR-friendly HDMI ports for immersive virtual reality experiences.
GPU Tweak II with Xsplit Gamecaster provides intuitive performance tweaking and lets you stream your gameplay instantly.
NVIDIA ANSEL for a revolutionary new way to capture in-game screenshots.
NVIDIA GameWorks™ provides an interactive and cinematic experience, as well as incredibly smooth gameplay.