ASUS ROG Strix GeForce GTX 1070 8GB, A Closer Look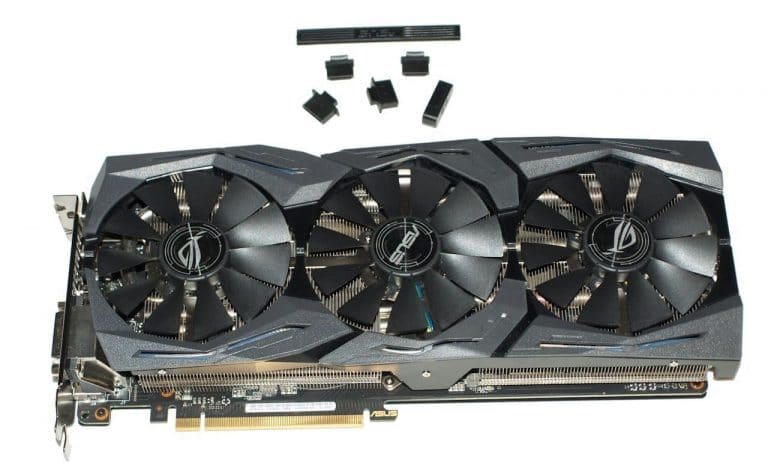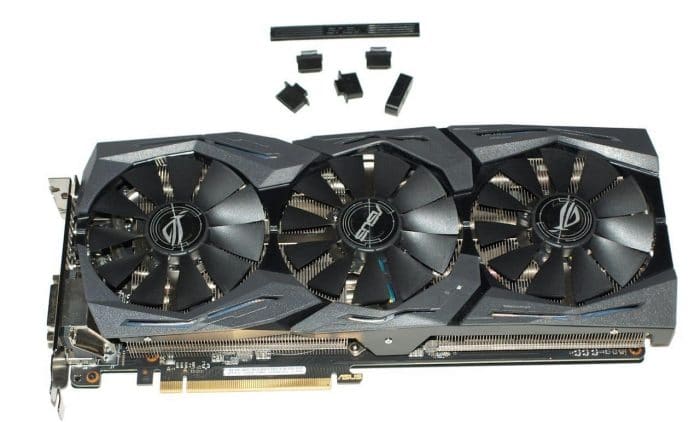 ASUS includes a full complement of dust covers for your ASUS ROG Strix GeForce GTX 1070, which we really like, as unused ports tend to collect dust and other intrusive materials that may affect connectivity. The three over sized "Wing-Blade" fans on the DirectCU III cooling solution are a big selling point for us. We like beefy cooling with massive fans on our video cards, because cooler components mean better overclocking and a longer life for your card.
Lets look at a graphic supplied by ASUS to get a better grasp on the technology packed into the Strix 1070.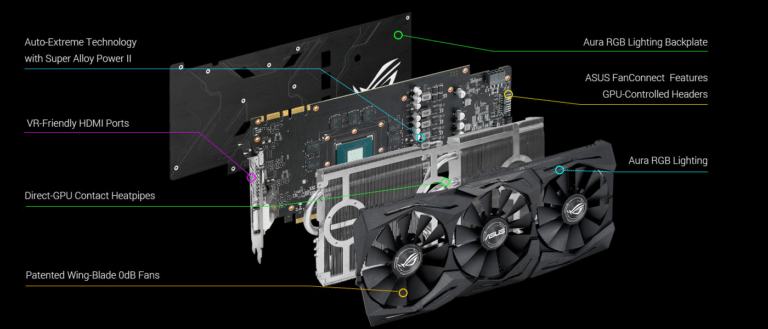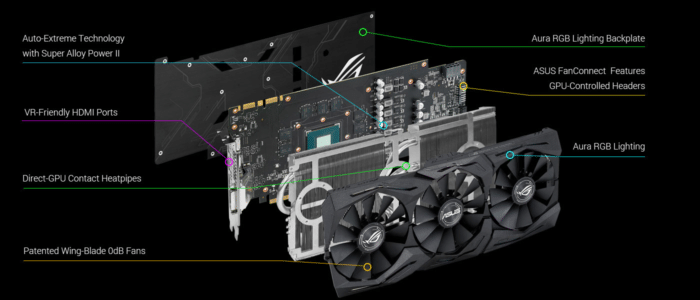 ASUS covers all bases here with just about all the goodies we can ask for. We popped the graphic from ASUS up so you can get a look at the Direct-GPU contact heatpipes and full-sized cooling solution. With three Wing-Blade fans blowing cool air across the heat sink, you're assured of a nice, cool GPU that will clock higher and last longer. With the entire industry going "RGB crazy", ASUS didn't skimp on goodies, and uses an Aura RGB lighting backplate as well as RBG lighting on the cowling.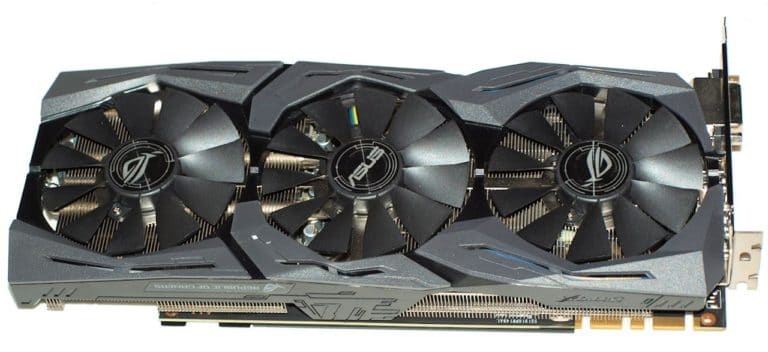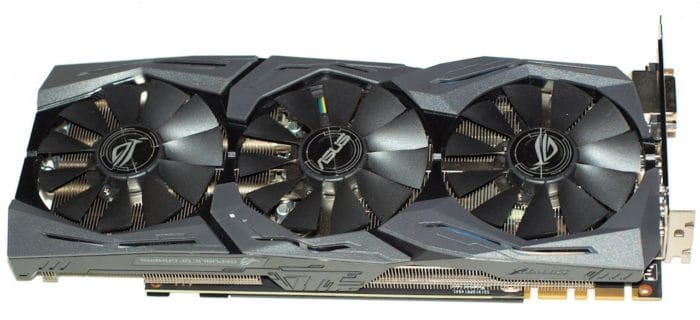 Flipping the card over you get a look at the SLI connector, and if you are lucky enough to get two of these bad boys to run in SLI, NVIDIA has you covered. Under the hood of the cowling ASUS uses 6 + 1 Super Alloy Power II. ASUS also squeezed in 2x quieter chokes for less buzzing noise with concrete alloy chokes, DrMOS for 20% cooler performance decreasing temperatures and increasing power efficiency. ASUS also includes 2.5x longer lifespan capacitors with 90,000 hours longer lifespan than traditional caps.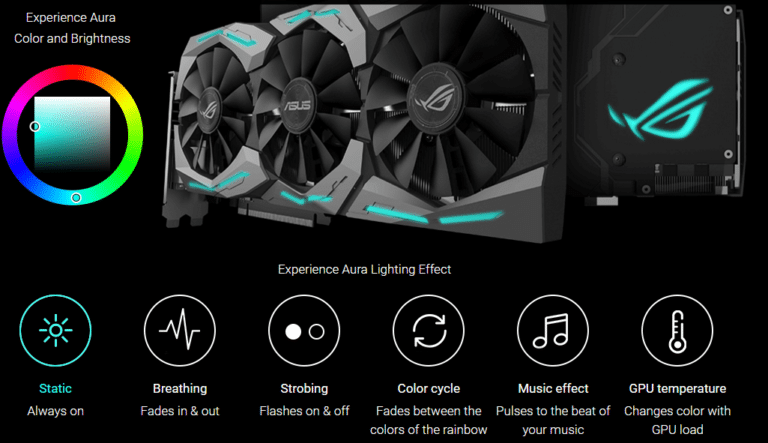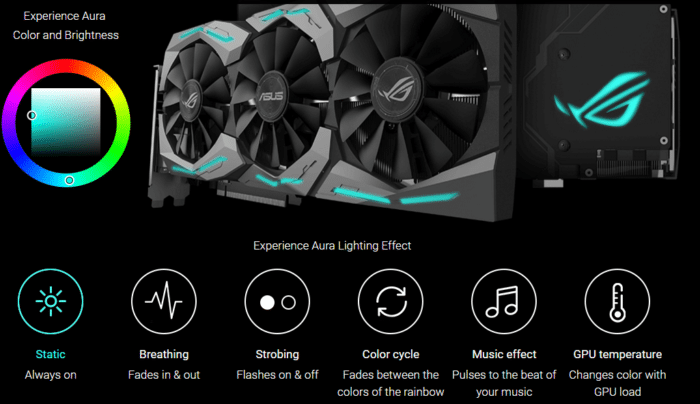 We mentioned Aura and RGB, but that hardly covers it, so ASUS has another graphic. With Aura RBG lighting you can choose a static color, breathing effect, strobing, color cycle, music effect and the particularly intriguing GPU Temperature which changes the RGB color as the GPU gets hotter. This isn't just some static colors, it's full-fledged controllable RGB lighting with effects. We liked color cycle when not OCing, as when cranking up the speeds we chose GPU Temperature. Color cycle seems to draw the most attention in the lab.


Looking top down you can see the DirectCU III full-length heat sink with the three oversized Wing Blade fans hovering over them.


Flipping the card around you get a look at the single 8-pin power connector, the RBG lighting backplate and more of the DirectCU III heatsink.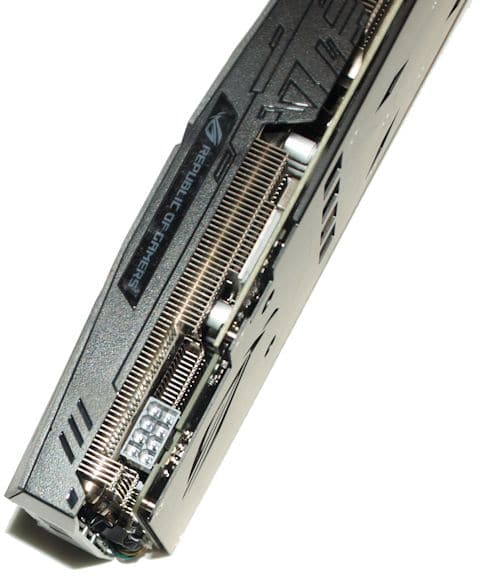 Looking at the end of the ASUS ROG Strix GeForce GTX 1070 8GB video card you see the ROG logo and a peek at the massive DirectCU III heatpipes.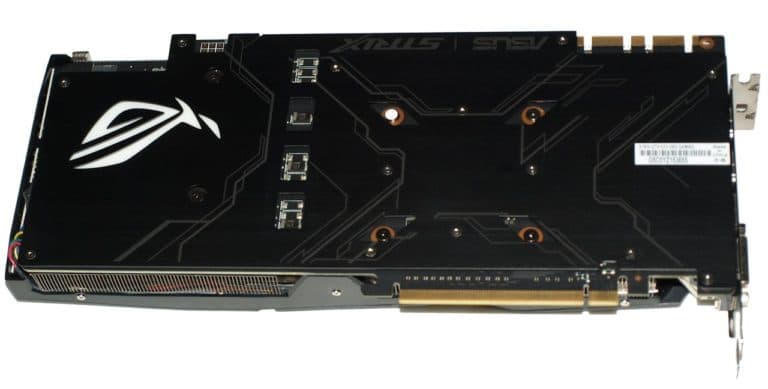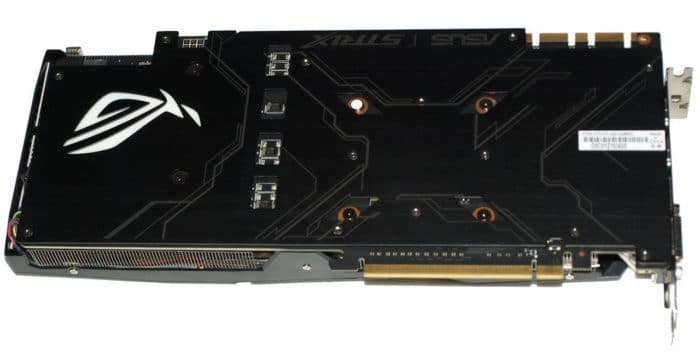 Looking at the back with the card laying down you see the full length metal backplate and the four openings for the POSCAPs which allows for airflow over the POSCAPs to maximize OCing potential.


Slipping to the end of the card you get a look at the two 4-pin ASUS FanConnect headers that alow your GPU to control fan speeds, leveraging your fans to cool the system as the video card heats up.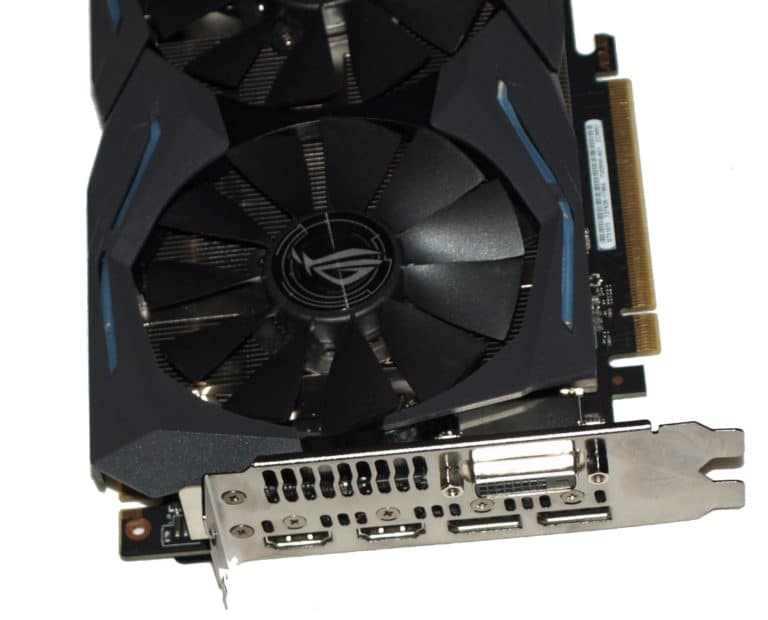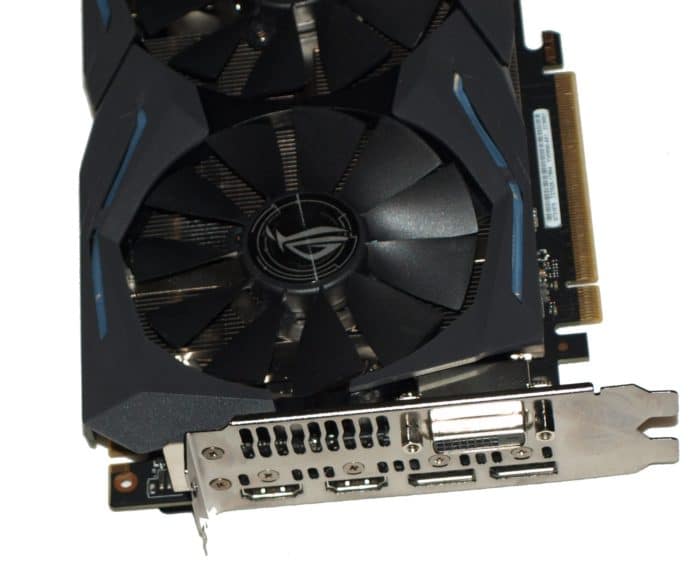 For output ports we have a single DVI-D, two HDMI and two Display Ports which rounds up our closer look at the ASUS ROG Strix GeForce GTX 1070.