ASUS ROG STRIX-GTX1070-O8G-GAMING: GTX 1070, Strix Style!
We are always excited to see a new ROG product, and even more excited to see a ROG Strix GeForce GTX 1070. As with previous generations, there's a "top dog" video card, the GTX 1080 in this case, then the next step down is typically 2/3 the price of the higher SKU with 3/4 the horsepower which is exactly where the ASUS ROG Strix GeForce GTX 1070 lands at. With 1920 Cuda cores, the GP104 variant is dubbed GP104-200-A1, and the ASUS ROG Strix GeForce GTX 1070 still has plenty of power at a couple of hundred dollars less than the GTX 1080. The ASUS ROG Strix GeForce GTX 1070 comes in at an MSRP of $448, which is right where we expect it to be in relation to the GTX 1080.
Now lets talk nerd candy. You can buy a cut back, no frills, GTX 1070 and save a few bucks, or you can go for the gusto and grab a top-of-the-line ASUS ROG model. The ASUS Strix GTX 1070 features a base clock of 1632 MHz and a boost clock of 1835 MHz which is amazingly high compared to last generation'd Maxwell GPUs. You can attribute the higher clocks to a refined 16nm FinFet manufacturing process allowing 7.2 billion transistors on a 314mm² die. Along with the 7.2 billion transistors there's the 1920 shading units (Cuda Cores), 120 TMU's, 64 Rops, 15 SM's, 8GB of refined GDDR5 running at an effective clock of 8000MHz running across a 256-bit memory bus which adds up to one large lump of nerd lust. Yes, it's the cut down model of the GTX 1080, but not everyone has roughly $650 to spend for the 1080 and the $448 MSRP is high enough for a lot of serious enthusiasts.
Giving the ASUS ROG Strix GeForce GTX 1070 8GB of GDDR5, it's easy to see that this is a card built for 4K gaming and video playback.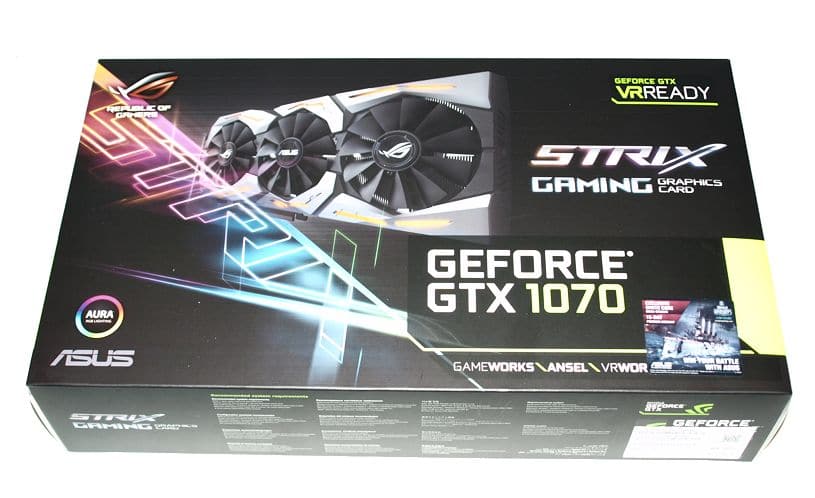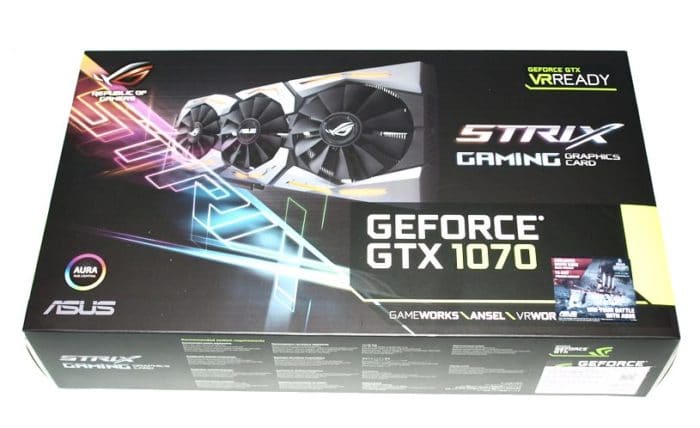 Now that we covered the generic GTX 1070 specifications and pricing, lets look at the ASUS specific goodies for a minute.  The factory-overclocked core comes in at 1632 MHz compared to the 1506 MHz clock on the reference models, so you get a factory OC of 126 MHz on the non-boost speed. The boost speed is phenomenal at 1835 MHz and with the DirectCU III with Patented Wing-Blade Fans for 30% cooler and 3X quieter performance, you're looking at a premium video card. There's a new and exciting feature called ASUS FanConnect, which is a pair of GPU-mounted fan headers that are PWM controlled by the GPU for optimal thermal conditions. Think about that for a few seconds. Fans pointed over the video card, controlled by the video card, to ramp up the external fans when the GPU temps rise. That's enough to send shivers up any enthusiast's spine.
That brings us to the Auto-Extreme Technology with Super Alloy Power II. The Auto Extreme portion means it's totally built by robots without human interference, for a build that's more consistent. The Super Alloy II is a special alloy formula which is highly magnetic, heat-resistant and anti-corrosive, delivering better performance than stock materials. ASUS just doesn't know when impressive technology is enough, and throws in Aura RBG lighting, which allows you to pick a color scheme for your video card,  personalizing it to match your likes. They also use "VR-Friendly" HDMI ports for easy setup of VR systems. VR seems to be the new technology buzz word, and specs for a VR-capable system are quite steep and out of the reach of most end users, but as technology trickles down, it becomes less expensive. For now they are saying VR is the future of gaming and it may well be, but at this fledgling stage, if you want VR you'll pay the premium price for VR gear and a machine to run it.
Of course with the ASUS ROG Strix GeForce GTX 1070 you get GPU Tweak II and Xsplit Gamecaster that provides easy OCing and game play streaming. ASUS mentions a couple of NVIDIA technologies built into the new 10xx series like NVIDIA Ansel, a new method of capturing in-game screenshots. Ansel is the ability to take screen shots from any angle 360° around your in-game avatar. We would imagine Ansel has a lot to do with VR, as VR will require a 360° view otherwise you turn around and behind you would be a black void. NVIDIA GameWorks is a sophisticated network of easy-to-use game technologies that developers can use to make more immersive games. GameWorks gives game developers a toolbox from which they can easily develop, debug and optimize their code.
Features & Specifications
1860 MHz boost clock in OC mode for outstanding performance and gaming experience.
DirectCU III with Patented Wing-Blade Fans for 30% cooler and 3X quieter performance.
ASUS FanConnect features 4-pin GPU-controlled headers connected to system fans for optimal thermal performance.
Industry Only Auto-Extreme Technology with Super Alloy Power II delivers premium quality and best reliability.
Aura RGB Lighting to express personalized gaming style.
VR-friendly HDMI ports for immersive virtual reality experiences.
GPU Tweak II with Xsplit Gamecaster provides intuitive performance tweaking and lets you stream your gameplay instantly.
NVIDIA ANSEL for a revolutionary new way to capture in-game screenshots.
NVIDIA GameWorks™ provides an interactive and cinematic experience, as well as incredibly smooth gameplay.
GPU Comparison Table
 GPU
ASUS ROG Strix GeForce GTX 1070
NVIDIA
GeForce GTX 1080 8GB
NVIDIA
GeForce GTX Titan X 12GB
NVIDIA
GeForce GTX 980 Ti 6GB
NVIDIA
GeForce GTX 980 4GB
Architecture
Pascal
Pascal
Maxwell
Maxwell
Maxwell
Codename
GP104-200-A1
GP104
GM200
GM200
GM204
Base
Clock
1657MHz
1,607MHz
1,000MHz
1,000MHz
1,126MHz
Boost
Clock
1860MHz
1,733MHz
1,075MHz
1,075MHz
1,216MHz
Stream
Processors
1920
2,560
3,072
2,816
2,048
Layout
3 GPCs, 15 SMs
4 GPCs, 20 SMs
6 GPCs, 24 SMMs
6 GPCs, 22 SMMs
4 GPCs, 16 SMMs
Rasterisers
3
4
6
6
4
Tesselation
Units
15
20
24
22
16
Texture
Units
120
160
192
176
128
ROPs
64
64
96
96
64
FP64
Performance
1/32 FP32
1/32 FP32
1/32 FP32
1/32 FP32
1/32 FP32
Transistors
7.2
Billion
7.2
billion
8
billion
8
billion
5.2
billion
Die
Size
314mm2
314mm2
601mm2
601mm2
398mm2
Process
16nm
16nm
28nm
28nm
28nm
Memory
Amount
8GB
GDDR5
8GB
GDDR5X
12GB
GDDR5
6GB
GDDR5
4GB
GDDR5
Frequency
1GHz
(8GHz effective)
1.25GHz
(10GHz effective)
1.75GHz
(7GHz effective)
1.75GHz
(7GHz effective)
1.75GHz
(7GHz effective)
Interface
256-bit
256-bit
384-bit
384-bit
256-bit
Bandwidth
256GB/sec
320GB/sec
336GB/sec
336GB/sec
224GB/sec
Card Specifications
Power
Connectors
2 x 8-pin
1 x 8-pin
1 x 6-pin, 1 x 8-pin
1 x 6-pin, 1 x 8-pin
2 x 6-pin
Stock
Card Length
267mm
267mm
267mm
267mm
267mm
TDP
150W
180W
250W
250W
165W