EKWB Publicity Info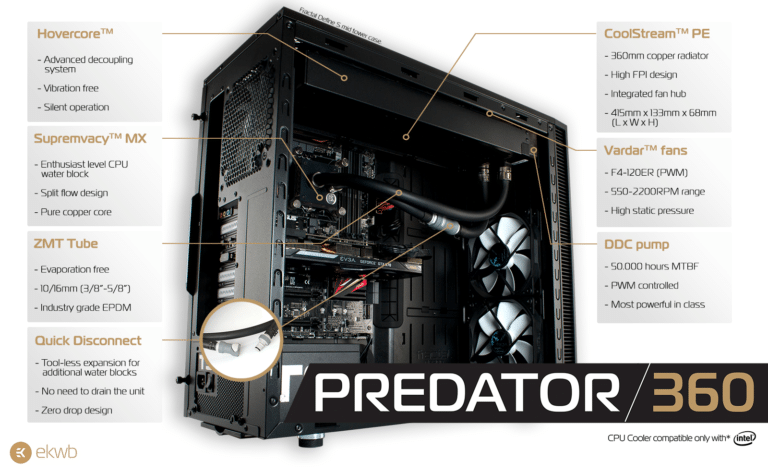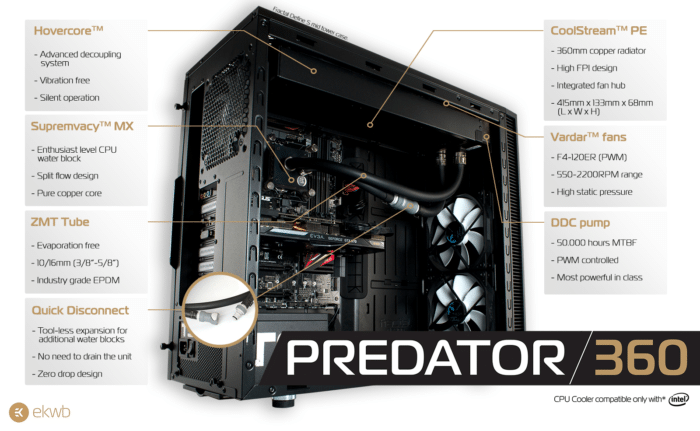 The Predator uses industry standard G1/4 threaded ports and 15.9/9.5mm (5/8″ / 3/8″) Zero Maintenance rubber tubing (EK-ZMT) which makes it compatible with most standard watercooling components. You can even upscale the kit if you desire and use G1/4 threaded 1/2in ports and convert the 3/8in AIO kit to 1/2in tubing. In side by side testing there's really little difference between 3/8 inch tubing and 1/2in tubing when it comes to cooling. The differences are marginal at best and given the same size pump the 1/2 inch tubing will slow down the water flow a bit so it may spend longer in the radiator yielding a slightly lower temperature but not really enough to justify switching tubing.
Technical highlights:
Hovercore is a new, revolutionary design of radiator de-couplering that effectively prevents transfer of pump induced vibrations from the unit to the computer chassis itself, thus resulting in vibration-free and silent operation.
Supremacy MX CPU water block, top performer in Enthusiast segment, is specifically designed for Intel CPUs and offers great hydraulic and thermal performance. Carefully machined copper base is made from purest copper available and is further polished to absolute mirror finish. This alone greatly improves the cooling performance of the Predator.
CoolStream PE 360mm radiator, has a full copper core superior to aluminum alternatives in terms of heat dissipation. In conjunction with EK-Vardar fans the result is increased performance across an entire fan operational range, thus delivering results both at low- and high airflow operation.
Vardar fans – three on Predator 360 – are high-static pressure fans developed in-house specifically for liquid cooling systems. With low noise profile and PWM technology built in, the system always controls the RPM and keeps the fans silent while maintaining excellent cooling performance.
DDC pump is a powerful 6W liquid cooling pump providing 2-3x higher flow rate compared to other AIOs on the market. It's also PWM controlled, allowing for automatic pump speed regulation depending on your CPU temperature. Full performance on demand or whisper quiet operation in idle mode!
Integrated Fan splitter hub reduces cable clutter and keeps the unit aesthetically clean. Predator pump and fans plug into the unit itself with only one PWM cable going into CPU Fan socket, while a single SATA molex cable powers the complete unit.