EK Water Blocks L360 Liquid Cooling Review, Wild Water!
It's been a while since we had hands on an EK Water Blocks Kit and with the new generation SkyLake processors right around the corner now is a good time to get back to the basics of Triple Radiator Water Cooling. An AIO (All In One) pre built kit is a pretty good solution but we've found that they are practically impossible to upgrade and few AIO cooling solutions offer triple radiators.
EK Water Blocks offers a couple of different kits with everything you need to set up your own Water Cooling Loop and their gear is standard DIY water cooling equipment. That means with the EKWB L360 you can pick up standard water cooling equipment and add-on or swap components to further customize your Loop either for improved looks or better performance.
When EKWB puts out a kit you can bet that everything you need is right there in the box and the bundle that comes with your EKWB L360 kit is no exception. All you need is a jug of distilled water and the EKWB L360 kit and your ready to rock.
The interesting thing about the EKWB kit is it feels DIY from top to bottom. Using EKWB simple and easy to follow instructions you can create your first full-fledged DIY look and gain not only excellent cooling but the confidence to move forward into the pick your own components DIY world of water cooling.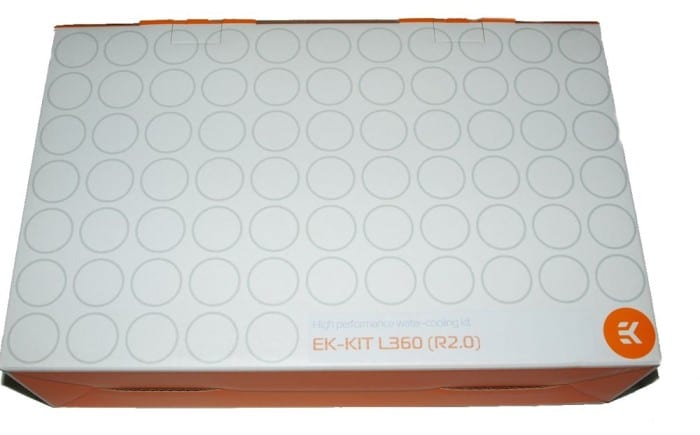 The EKWB L360 kit comes in an understated white and orange box with the EK logo on the bottom right hand corner.
1 x radiator: EK-CoolStream PE 360 (Triple)
3 x radiator fan: EK-FAN Silent 120-1850 RPM (3pcs)
1 x water pump / reservoir combo unit: EK-DCP 2.2 X-RES incl. Pump
1 x tubing: EK-TUBE ZMT Matte Black 16/10mm (2 meters)
6 x compression fittings: EK-CSQ Fitting 16/10mm – G1/4 Nickel (6 pcs)
1 x coolant concentrate: EK-Ekoolant EVO CLEAR (conc.100mL)


Yanking open the box you find everything is individually packaged but you get a glimpse of the hose and a bag of accessories.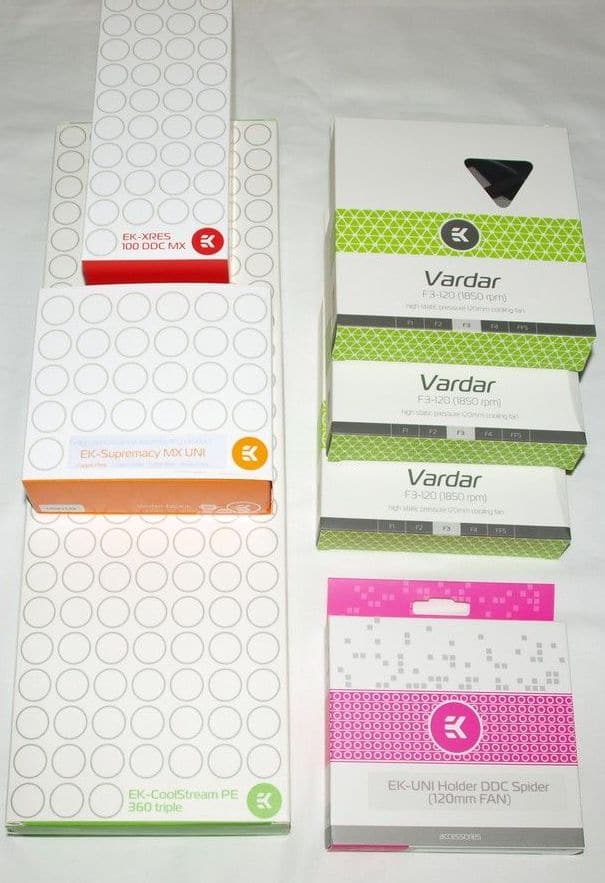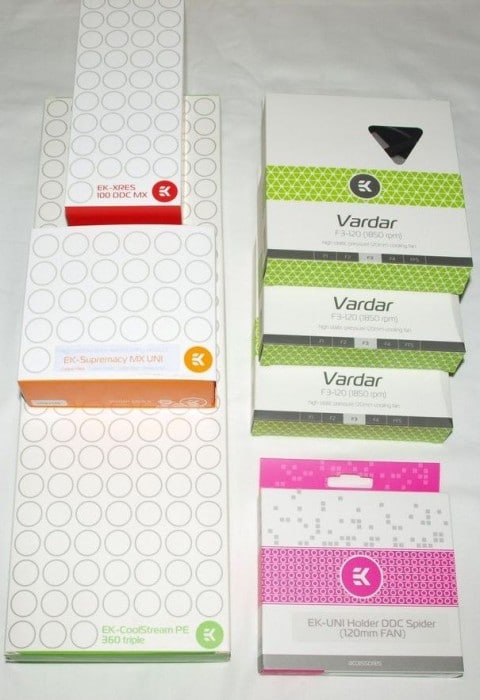 Digging into the kit you find 7 boxes with all the components you need to complete a triple radiator water loop.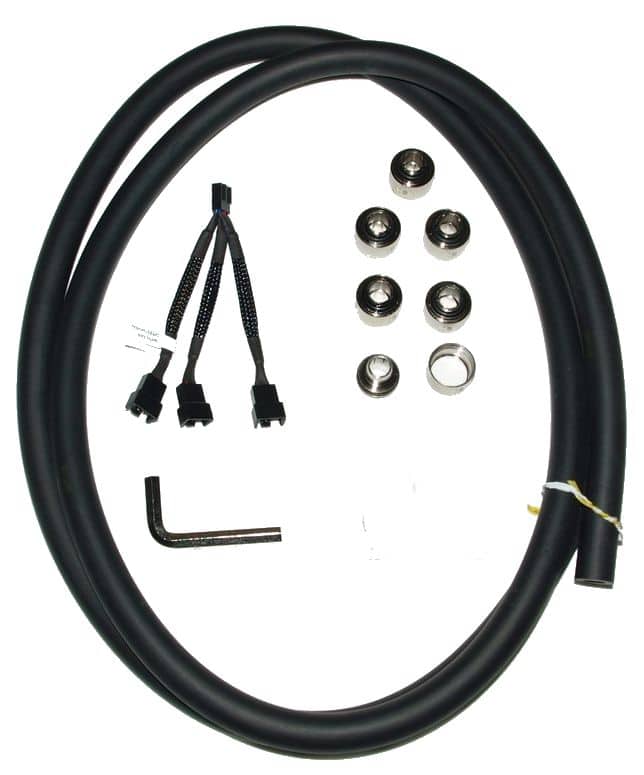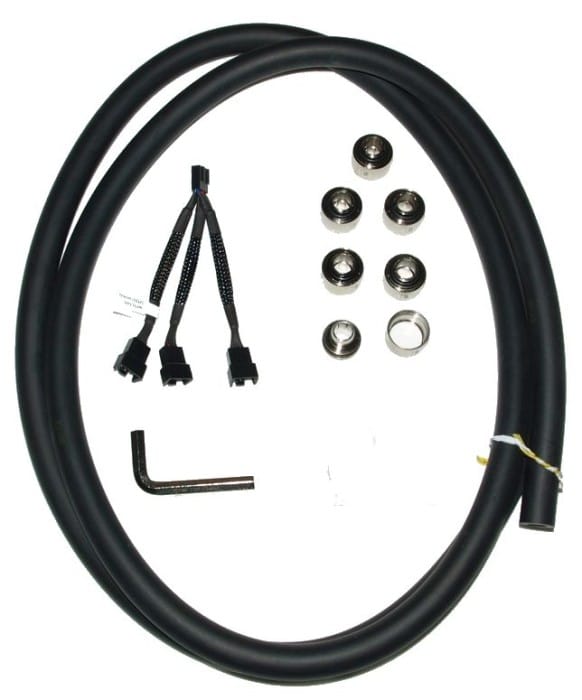 The Black rubber tubing is quite substantial with 1/8 inch high quality black rubber and well suited for a beginners kit. Having setup enough water loops to provide California with drinking water for a year we would prefer a clear hose to show the coolant circulating but when you order the L360 you know you get black rubber so we can't hold it against the kit. The hose is replaceable with 5/8 inch (exterior) hose so later you can choose a different clear or colored hose of your choice. The advantage of the black hose is it's really hard to create a water slowing crimp or water stopping pinch. The enemy of any good water loop is crimped or pinched hose and are to be avoided at all cost.
Inside the Hose loop here is one of the several Allen wrenches provided by EKWB and the fan connector. The fan connector is a triple connector to single fan header and much to our surprise both the fans and the connector are 4 pin PWM which means you can control the fan speed.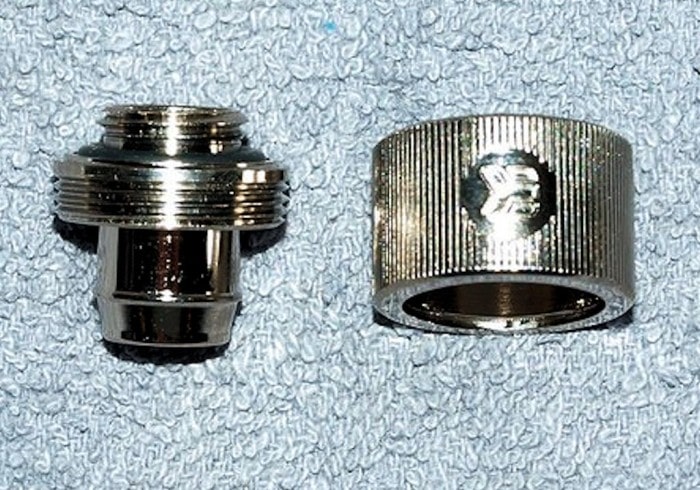 We snatched a single compression fitting and put it on a colored background for better contrast and up close you can see EKWB isn't scrimping on quality and from top to bottom the entire kit reeks of top quality components.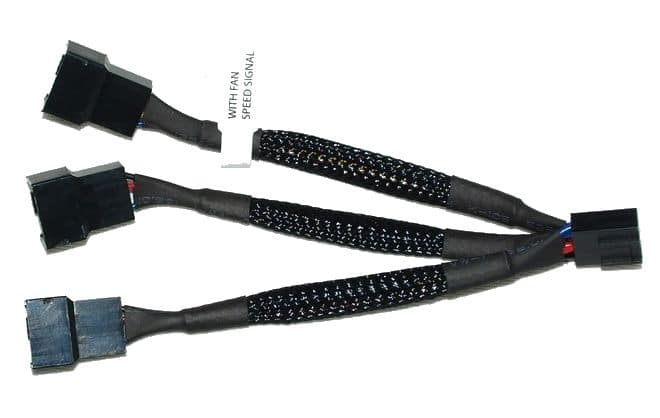 Up close and personal you can see the triple fan connector is cloth braided and the exposed wires are covered in rubber and as we mentioned 4pin PWM.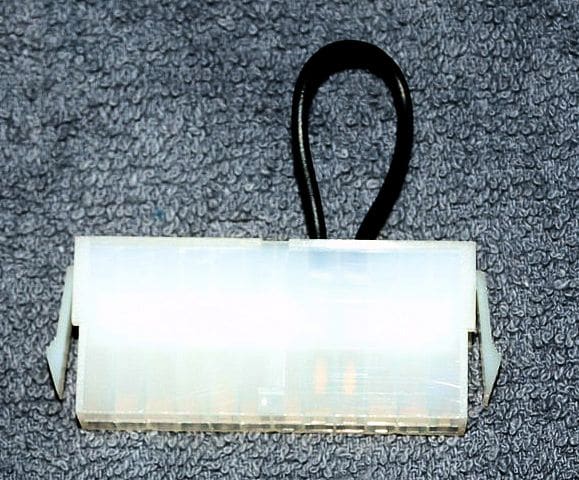 We know some of you are looking at this and going what the heck is it and others already know it's a 24pin jump starter for a 24pin power supply. Once you have your loop built fill the reservoir with coolant (900ml of distilled water and the 100ml Ekoolant mixed) then pop the jump starter onto your power supply and keep pouring coolant into the reservoir until the system is full. The idea here is to keep liquid on that pump 100% of the time, never run a water cooling pump dry, left dry to long and you have a damaged or destroyed pump.
For convenience  we used a power supply tester that has an on off button on it.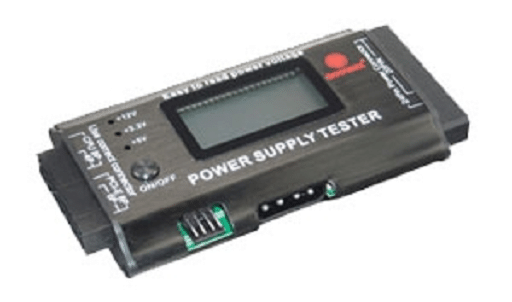 The power supply tester made the fill process a snap but if you don't have one available the 24 pin power supply jumper will work fine.


Here's a shot of the 100ml EK-Ekoolant EVO, you add it to 900ml distilled water and fill your water loop with it and it helps prevent corrosion and algae.

The EK-CoolStream PE radiator is an extremely high quality efficient 360mm radiator and is a true copper radiator. You find many AIO radiators that are made of aluminum but EKWB went full throttle on this one and it's a copper core radiator. One notable difference not readily obvious in the photo is the mounts have some stand-off distance to the cooling fins. That little extra distance gives you "Forgiving" room when mounting the radiator and you should be able to mount it without damaging any fins. The edge to fins distance is fairly rare and most radiators we've seen the fins butt right up on the mounting edge.


The back side of the EL-CoolStream PE Radiator shows the same quality and every single cooling fin is free from dings dents or bending so airflow will but as un-restricted as possible,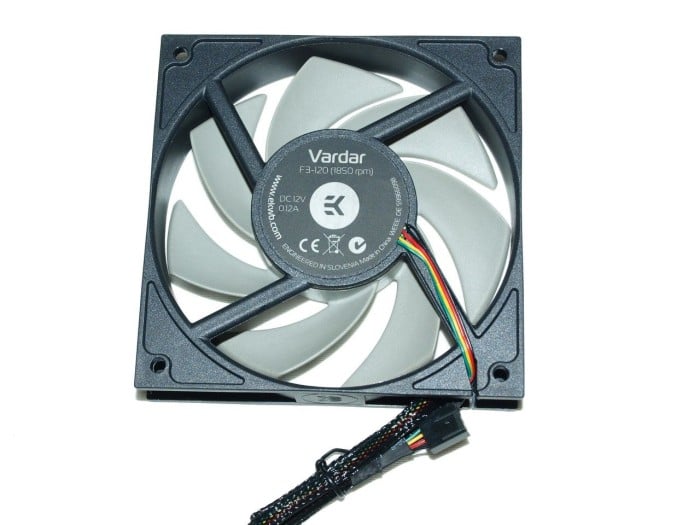 Here's one of the three fans included in the kit and it's a model EK Vardar F3-120 1850RPM silent fan.
Fan Specifications
– Speed: 1850 rpm (+/- 10%)
– Rated Voltage: 12V DC
– Power Draw: 1.44W
– PWM Duty Cycle: 50-100%
– Connector: 4-pin PWM header
– Shaft bearing: Double-ball bearing
– Bearing durability: 50.000 hrs @ 40°C (MTBF)
– Dimensions: 120 x 120 x 25 mm
Performance characteristics:
– Max Air Flow: 63 CFM = 107 m³/h
– Static Pressure: 2.24mm H2O = 22 Pa
– Sleeved cable length: 300 mm
– Noise Level: 29.5 dBA
We really like the 3 EK F3-120 1850RPM fans, they have a god solid feel to them and operate at 29.5dBA with a black sleeved wire and 4 pin PWM connector. They push 63CFM air flow and a static pressure of 2.24, H2O and rated for 50,000 hours of operation. The RPM range is 925 – 1850RPM and we ran ours at 100% with no annoying noise. The fans were slightly audible on an open chassis test bench but quieter than our previous cooling solution.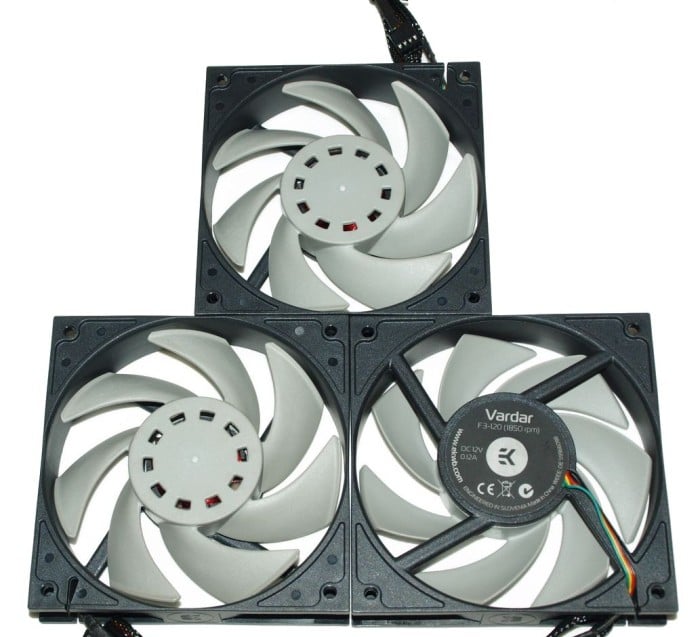 Here's the Trio of EK Vardar F3 120mm 1850RPM fans laid out together and as mentioned they have a solid look and feel which will contribute to a long life. The 50,000 MTBF should give you a 5.7 year lifespan if you run them 24/7 365 so take care of your EKWB L360 kit and it will take care of you for a very long time.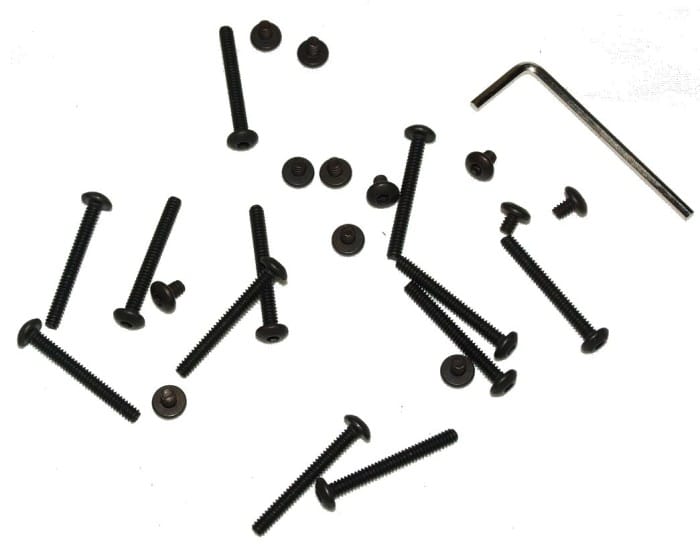 There's another of those pesky Allen wrenches and you'll find 3 or 4 in your kit and every screw in your kit uses those Allen wrenches so keep track of one pr prepare to head out to the hardware store to buy a set. The 8 long screws go through the fans into the radiator and are long enough that you can mount the fans above the case go through the fans and anchor the radiator if you want to go that route. You will need a chassis with a spot for a triple radiator on top if you use that method or do some wicked modding to your existing case.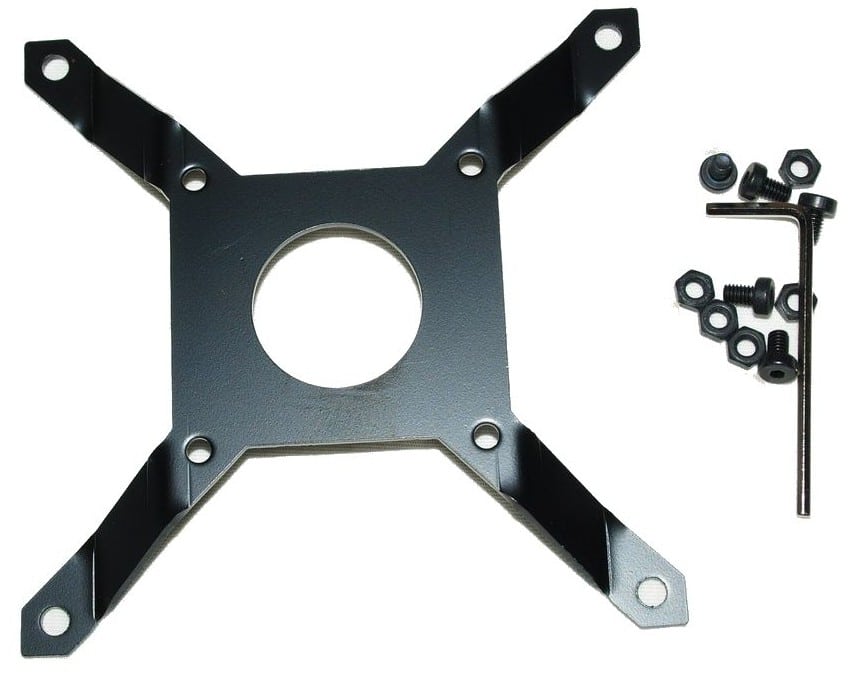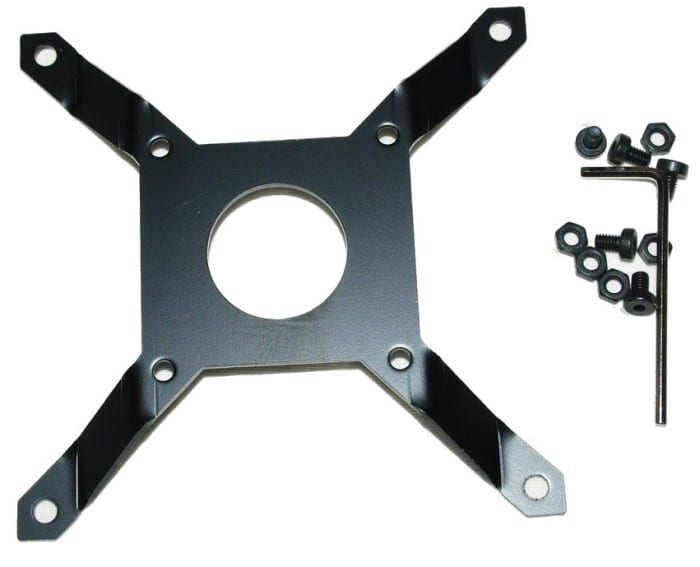 We took one look at this contraption and searched the instructions for its description, in the end we called it the spider and the 4 holes closest to the center mate with the bottom of the pump and the holes on the legs can be mounted to the holes on a fan if you like. We used it to anchor the base to the wood surface the DIYPC open test bench sits on so the thick rubber hoses wouldn't scoot it off the edge.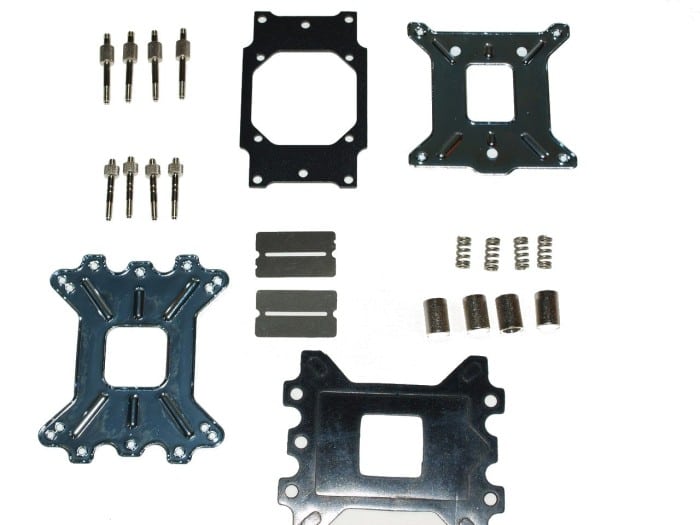 Here's a compatibility list for the EKWB L360 kit then we'll get a little gab in about the universal mounting kit. One thing we had to look up is the two razer blade looking pieces and those turned out to be jet inserts. The EKWB L360 kit is pre-set for LGA 115x and 2011(v3) so if you are on those platforms you are good to go. If you aren't on the two current Intel platforms the accompanying paperwork is easy to understand to modify the kit for your specific sockets needs.
– Intel LGA-775
– Intel LGA-1366
– Intel LGA-1150/1155/1156
– Intel LGA-2011(-3)
– AMD Sockets: 939, 754, 940
– AMD Sockets: AM2(+), AM3(+), FM1, FM2(+)
The kit is compatible with all modern socket motherboards including the current Intel HEDP (High End Desktop Platform) 2011v3 and unless we miss our guess it'll also fit the upcoming Slylake.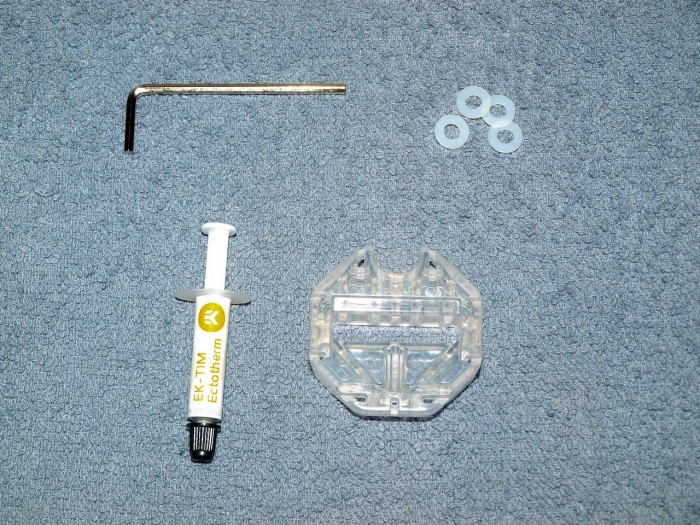 In with the Universal mounting kit you find a small tube of EK-TIM yet another Allen wrench 4 little plastic washers and a spare water block insert.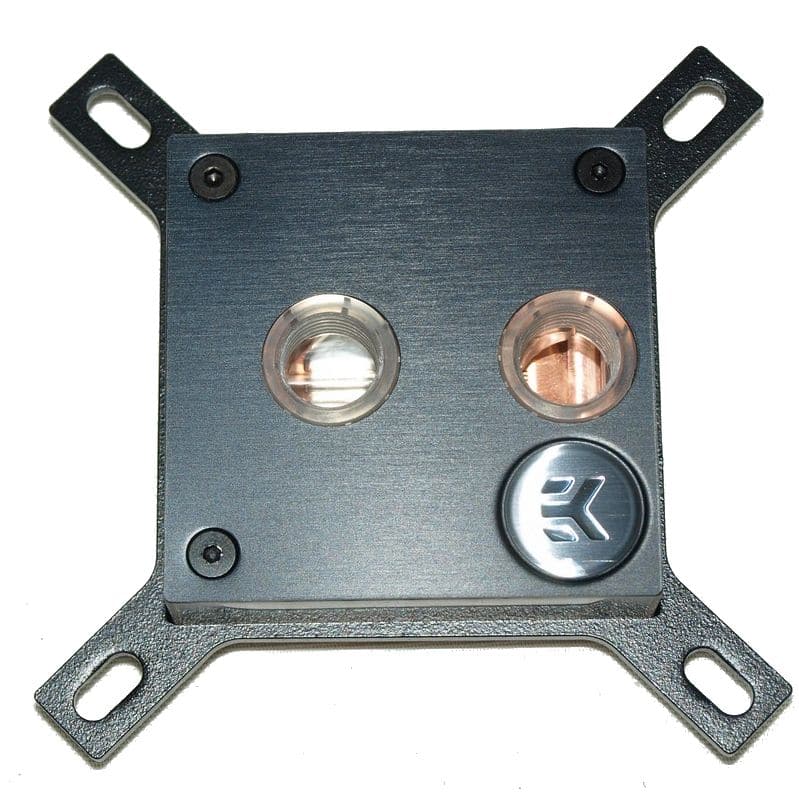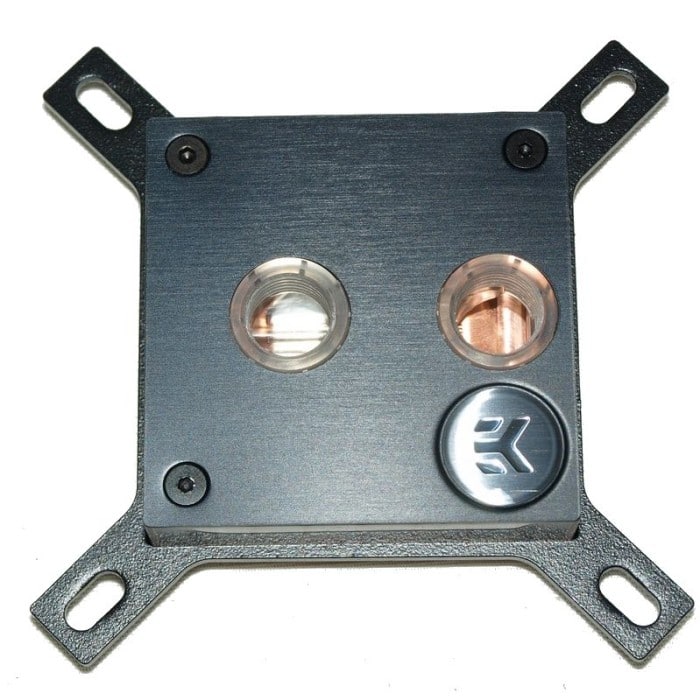 Now we are getting down to the Gritty Nitty and here's the EK-Supremacy MX Uni CPU water Block. The water block is solidly built and the only thing we aren't really fond of is the plastic part you have to screw the nipples into. The plastic is pretty rugged but the temptation here is to put the hog leg to the nipple and over-torquing the nipple could potentially strip the plastic leaving you with a paperweight. We used needle nose pliers to tighten the nipples and had no problem getting them snug enough to pass the 24 hour leak test.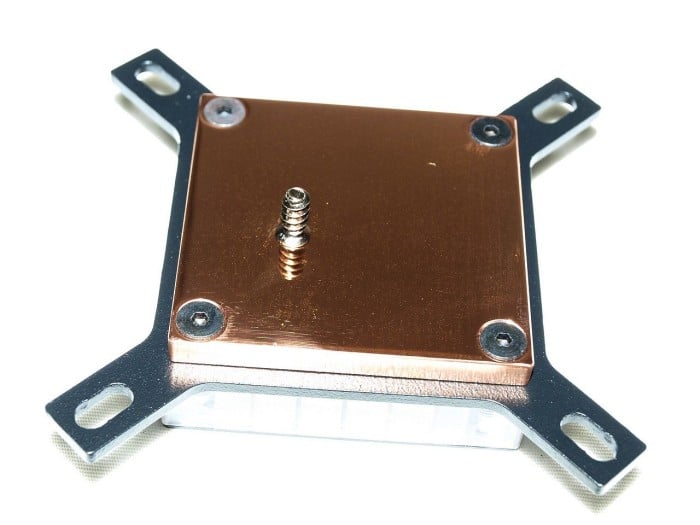 The base of the water block is well machined and only the faintest of mill marks are visible. In all the EK water block is the smoothest most mirror like water block we've seen.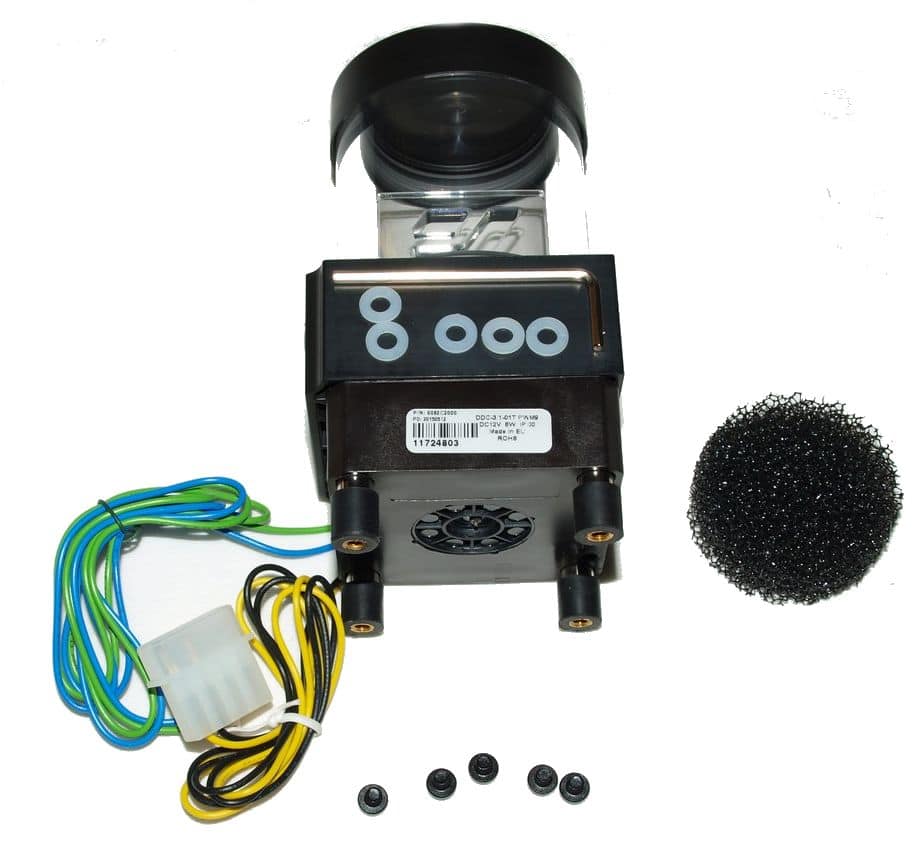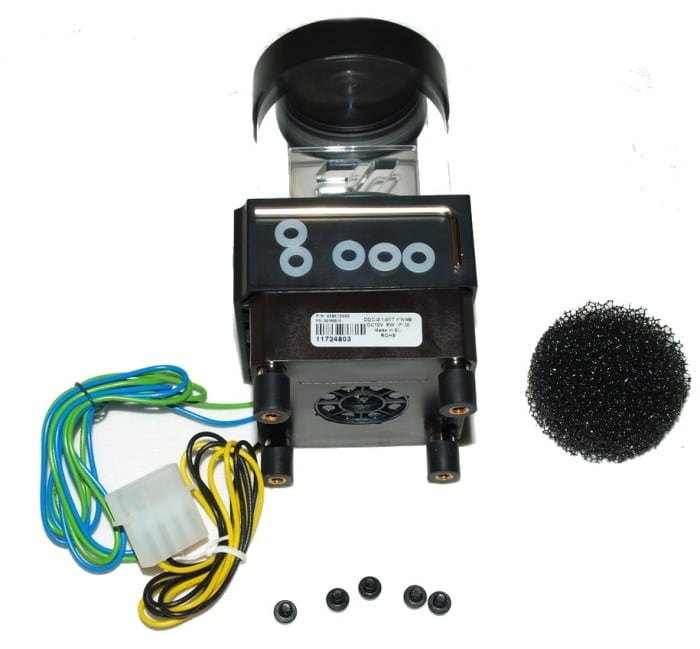 The EK-Xres 100 DDC MX is a combo reservoir / pump all in one and designed for a small mounting area and quiet operation. The black sponge-like material is in case you have cavitation, With its 400L/Hr operation the relatively low flow rate caused no cavitation on the test rig even after we purposely put in a couple of wicker 180° curves in the loop.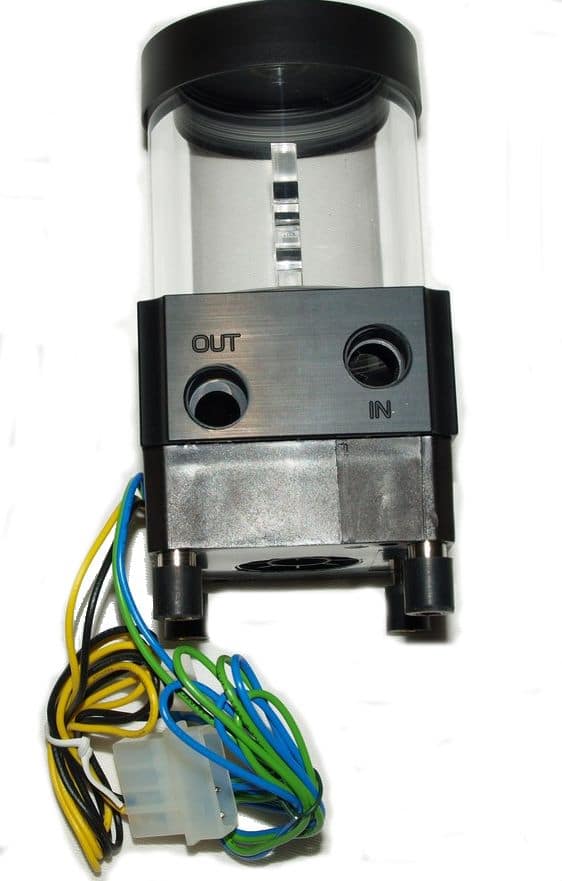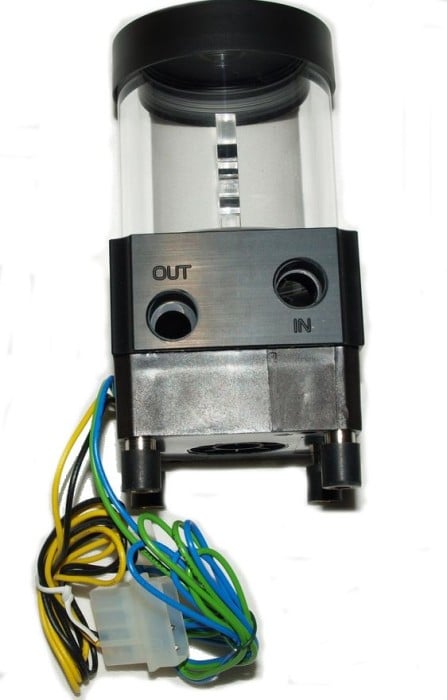 The pump has clearly labeled in and out ports and the Molex powers the pump and the fan header connector goes on your CPU fan header and reports the current speed of the pump. This arrangement will both power the pump and if the pump fails your system will sound an alarm or shutdown due to (what it sees as fan failure) pump failure.