Test Rig
First we loose fitted the EKWB L360 to the test rig, then assembled it and let it run for 24 hours to test for potential leaks. To get our temperature readings we let it Idle at the stock speed of the 5820k which is 3.3 GHz for 30 minutes, then we ran Realbench from Asus using only the H.264 Video encoding and Heavy Multitasking portions. We set it to loop infinitely and set a 30 minute timer on our phone. We repeated the procedure 3 times and averaged the 3 iterations and report that average here. Once the boring stock speed tests were done we overclocked to 4.4GHz with a CPU voltage of 1.35v and repeated the same process we used for the stock sped tests.
Test Rig
"Hexzilla"
Case Type
CPU
Motherboard
Ram
CPU Cooler
EKWB L360 (EK-Kit L360)
Hard Drives
Optical
Liteon DVD Burner
GPU
Asus Strix R9 390X Gaming 8G OC
Case Fans
1 x 180mm Mosfet / CPU / Ram cooling fan
1 x 120mm PCI-E Cooling Fan
Docking Stations
None
Testing PSU
Legacy
None
Mouse
Keyboard
Any Attempt Copy This System Configuration May Lead to Bankruptcy
Test Results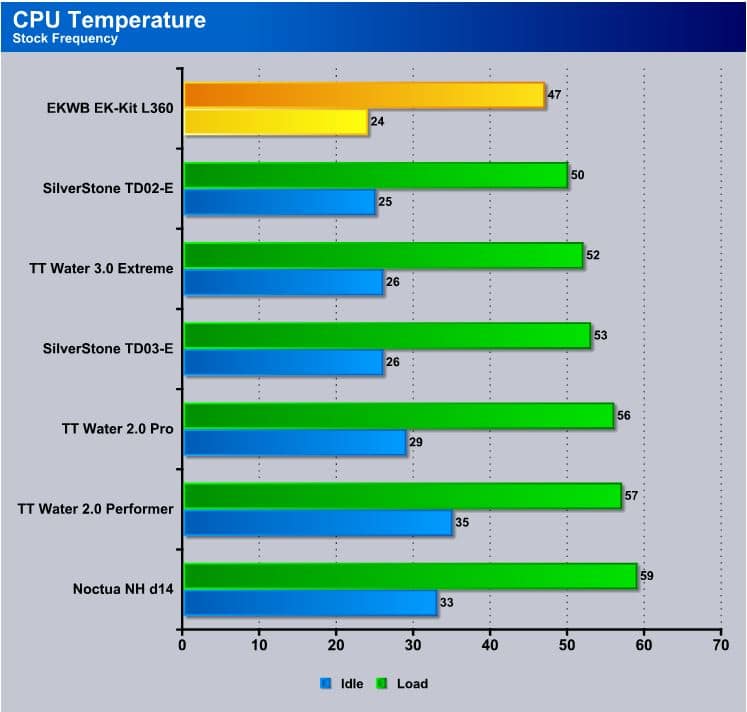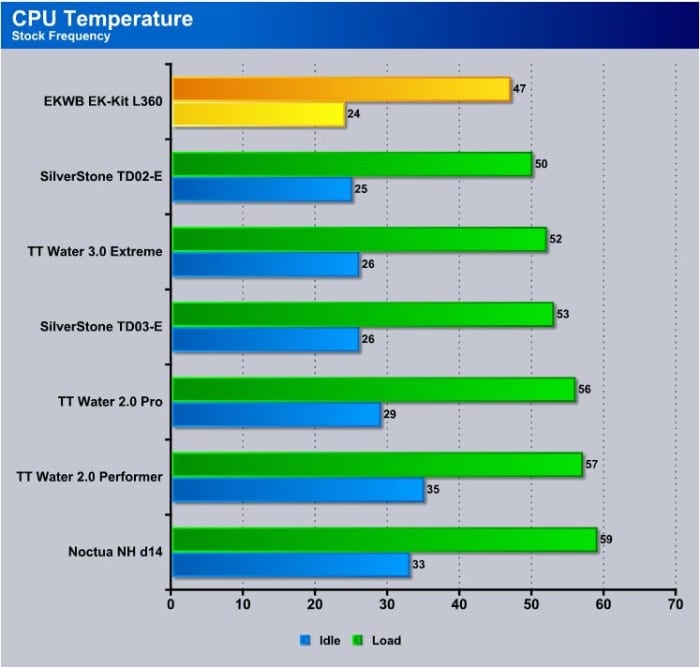 The EKWB EK-Kit L360 made a mockery of 3.3GHz and at Idle we were running 24°C Idle and 47°C load so it was time to put a little pressure on the kit.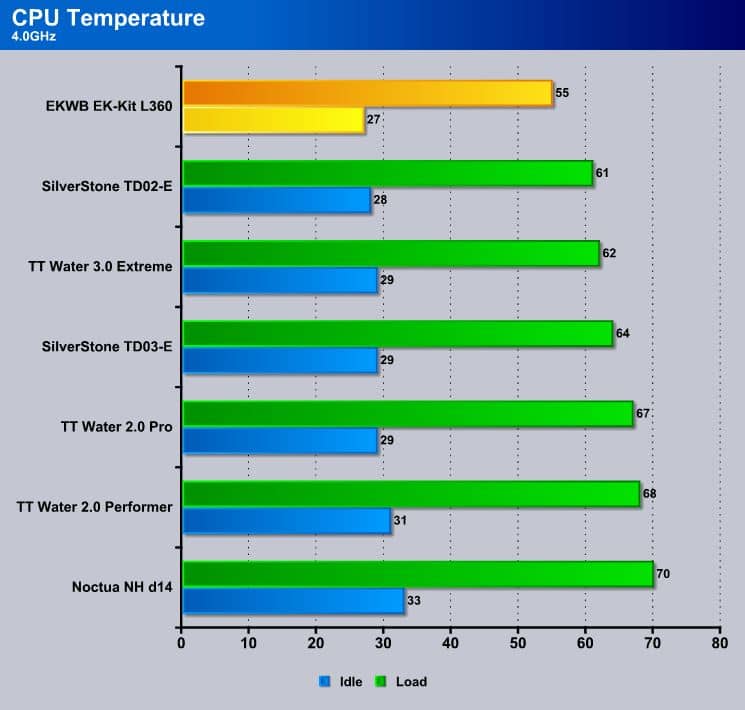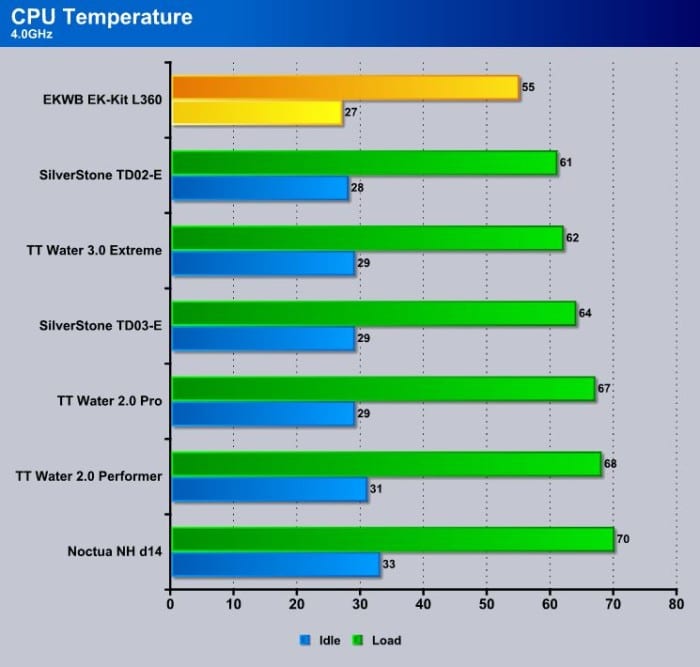 We bumped the 5820k up to 4GHz and the EKWB EK-Kit L360 barely noticed the increase and idled at 27°C and ran full load at 55°C after a half hour of RealBench CPU intensive testing.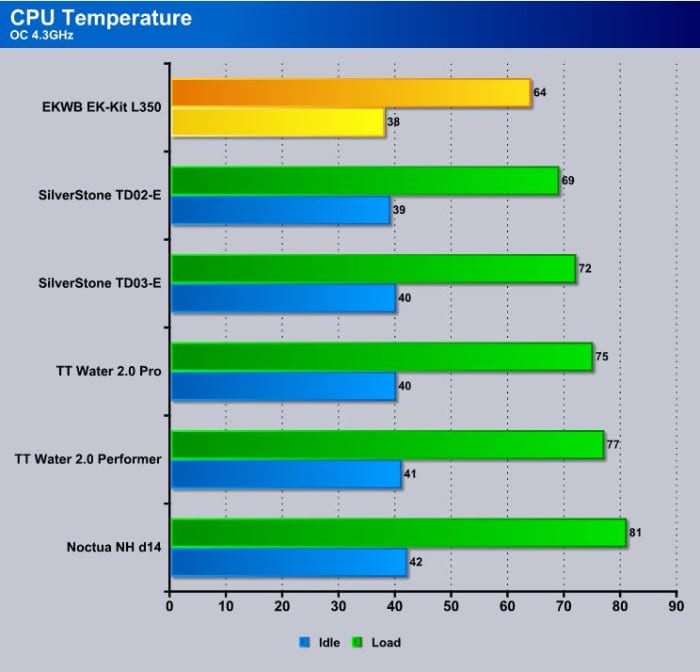 Here we are at 4.3GHz with a CPU core voltage of 1.33v and the one dual tower Air cooler has failed hitting 81°C. The Silverstone TD02-E was coming close and hit 69°C but the EKWB EK-Kit L360 was still top performer running an idle temp of 34°C and a load of 64°C so it was time to push the limit at 4,4 GHz.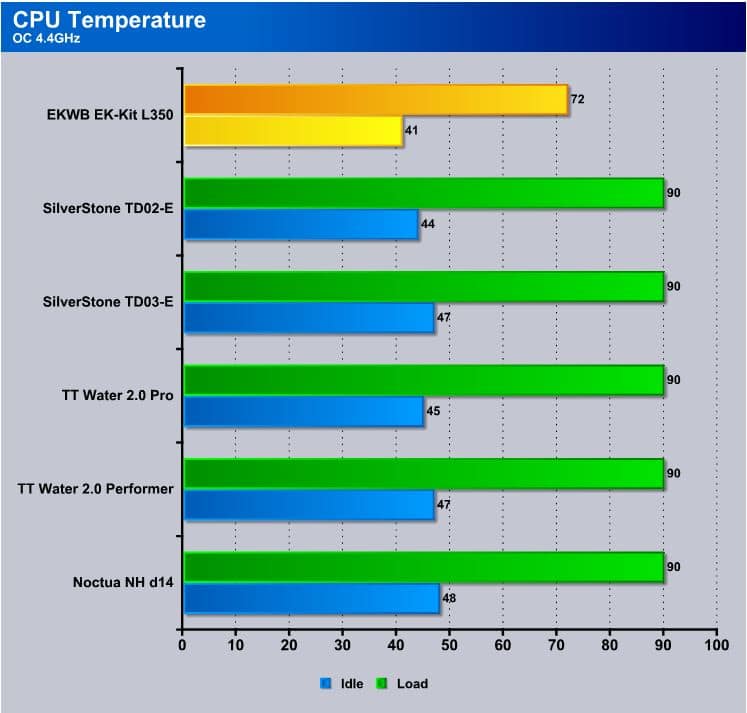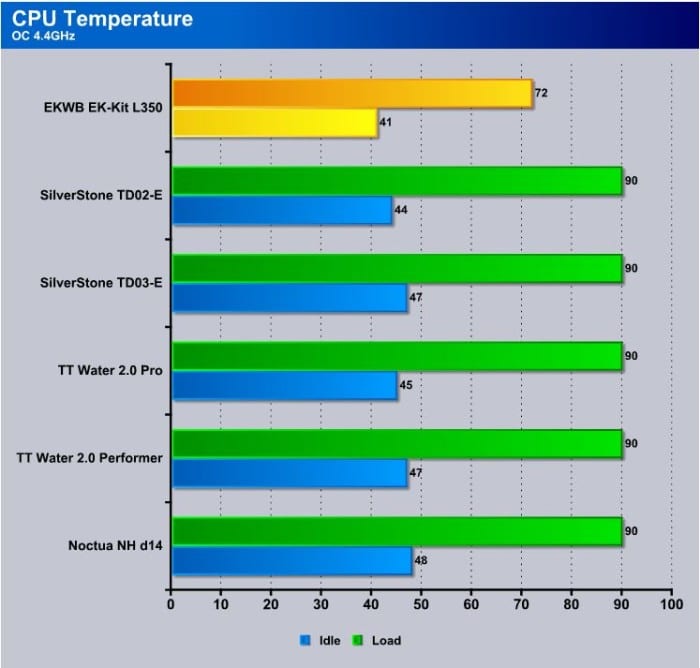 There's not really a lot to say here at 4.4GHz except the EKWB EK-Kit L360 was the only cooling solution that didn't fail. We cut the other coolers off as soon as the first core hit 90°C and on average that only took a couple of minutes. The EKWB EK-Kit L360 held the line at 72°C leaving us headroom of 8°C to try to push for 4.5GHz when we get a new competitor with a triple Radiator.