Pre-built all-in-one water coolers for today's hot running CPU's are all the rage offering good cooling with none of the hassle of custom loop water cooling. Days gone by about all that was to be had been single radiator 120mm single fan that were little better than mid range air cooling systems. Things have changed with the introduction of the SIlverStone Tundra TD03-E all in one liquid cooler. The SilverStone TD03-E is a single radiator with two PWM fans water cooling solution that will have you raising your eyebrows wondering how it cools so well.
SilverStone Tundra TD03-E LCS, Water That CPU

"Founded in 2003, SilverStone is an established leader in its field, with an elite team of engineers; we started our quest of providing products that create inspirations.  We have since expanded the lines of products as well as types of products we produce, giving our customers a wide selection of choices.
With distribution centers in different areas of the globe, SilverStone products can be seen all over the world, not just for computer users but also for home entertainment use.  Providing leisure with integration of advanced technologies that is functional and making them enjoyable to use.
Here at SilverStone Technology, we continue to pride ourselves in providing the highest level of standards in designing and manufacturing computer enclosures, power supplies, and accessories.  Our pursuit for the first class aesthetic appeal is relentless; our teams of devoted engineers are constantly searching for the best technologies that suit end-users with different needs and will make our products as technologically sound as they are beautiful."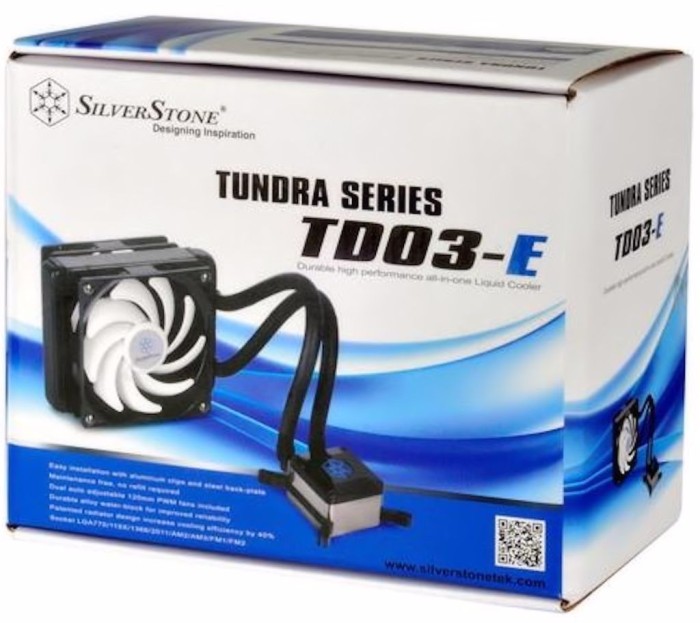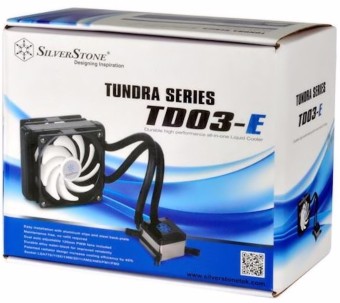 We've had hands on dozens of all in one Liquid Cooling Systems ((LCS) over the years and it was hard to get excited about the single radiator versions. The single radiator versions often offered little more headroom than mid-range run of the mill air coolers. If that's been your experience with single Rad all-in-one LCS then it's time to take a look at the SilverStone Tundra TD03-E all in one LCS. Lightweight and compact designed to fit on almost any machine with a rear 120mm fan exhaust port the Tundra TD03-E offers good single radiator cooling with push-pull fan support.
Specifications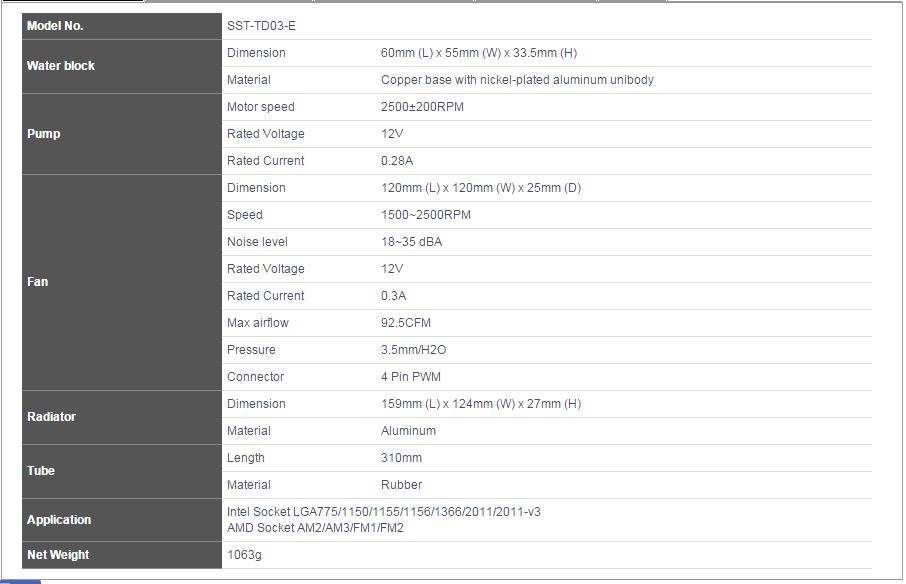 The Bundle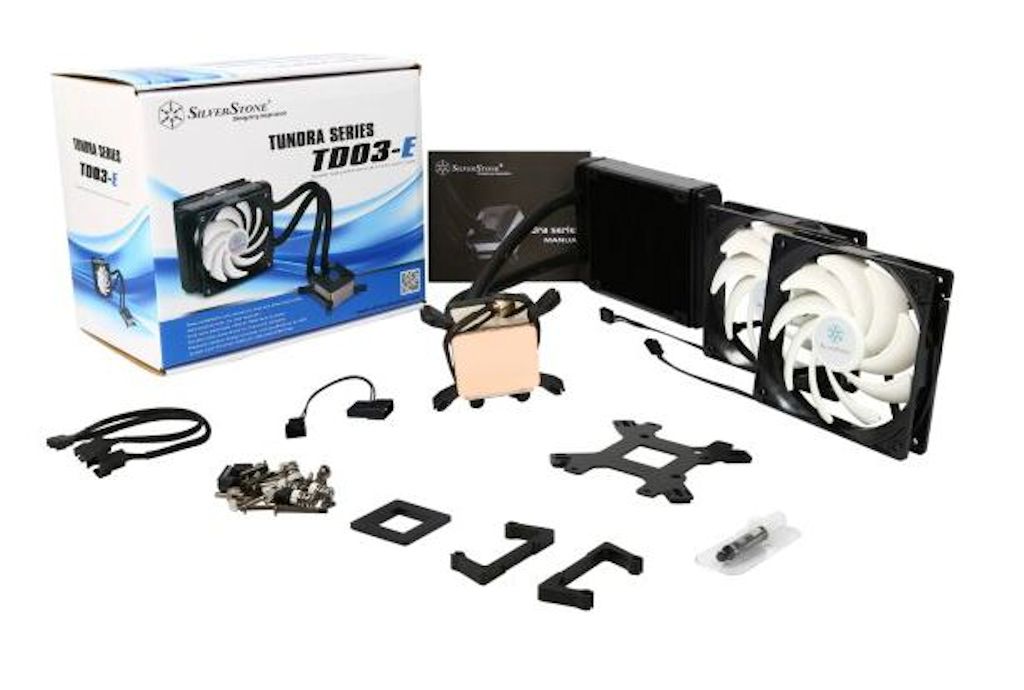 Don't be fooled by the look of the bundle. The SilverStone Tundra TD03-E went onto our X99 test rig in the SilverStone Raven RV01 Chassis in under 15 minutes and with one glance at the manual. It was literally the easiest single Rad all in one radiator LCS we've ever installed. That includes removing the behemoth Noctua NH d14 which took up most of the free space in the chassis making it hard to work around the massive air cooler. We don't like comparing Air Cooling to Water Cooling but since the Noctua NH d14/15 coolers are among the worlds best air coolers we put the NH d14 dual tower cooler on the charts so you can get an idea of what you can gain from LCS.
Suffice it to say that the bundle contains everything you need to install the SilverStone Tundra TD03-E on any of the following sockets. (with much appreciated leftover connectors we might add)
LGA775
1150
1155
1156
1366
2011
2011v3
AM2
AM3
FM1
FM2
Laugh if you will but going all the way back to LGA 775 brings fond memories of the infamous Q6600 double cheeseburger Quad core CPU, while not a true Quad core it packed two dual core CPU;s onto one die, overclocked like a demon and was a lot of fun to tinker with. We still have one in the lab and only wish we had the SilverStone Tundra TD03-E to cover its heat ridden tendencies.