Testing Methodology & Results
Testing on CPU coolers is pretty straight forward, start with a cool machine (half hour cool down) then run programs or stress tests that run all the cores at or close to 100%. I chose ROG bench by Asus as cases of overvolting and destroying equipment have been reported on Haswell E with programs like OCCT and Prime 95. While using ROG Bench we chose the Benchmark option. all of the programs in ROG benchmark drive all the cores of the CPU at or above 98% except one. The thermal readings we get using ROG Benchmark are comparable to OCCT and Prime95 but represent more real life usage than the strictly stress test utilities.
We Cool the machine off for 30 minutes then run 3 iterations of ROG Benchmark in a row without cooling the machine off. We record all three iterations, average the total of all three and report that score here. Then we switch CPU coolers making sure tha machine has at least a 30 minute cool down and we run ROG Benchmark again 3 times back to back and record the scores then average those as well. We repeat those steps for all coolers. This test all 4 coolers were retested for the review and tested in a closed SilverStone Raven RV01 chassis with the stock OEM fans mounted and running.
Test Rig
Test Rig
"Hexzilla"
Case Type
SilverStone Raven SST-RV01B-W
CPU
Intel Haswell E 5820k 3.3GHz
Motherboard
Asus X99 Deluxe
Ram
Kingston Fury 32GB 2400MHz (15 – 15 -15)
CPU Cooler
Noctua NH-D14 (W/2011v3 Hold down kit)
TT Water 2.0 Pro
TT Water 2.0 Performer
SilverStone Tundra TD03-E
Hard Drives
Kingston M.2. SM2280S3 120GB M.2. SSD
2 x Crucial MX 100 SSD
1 x Two TB Seagate Platter Storage Drive
Optical
Asus Quiet Trac BR
Liteon DVD Burner
GPU
EVGA GTX 960 SSC
Case Fans
2 X 180mm 700 RPM 18dBA
1 x 120mm 950 RPM 18dBA
Docking Stations
None
Testing PSU
SilverStone 1500W
Legacy
None
Mouse
Razer Lachesis
Keyboard
Razer BlackWidow Chroma
Any Attempt Copy This System
Configuration May Lead to Bankruptcy
Testing Results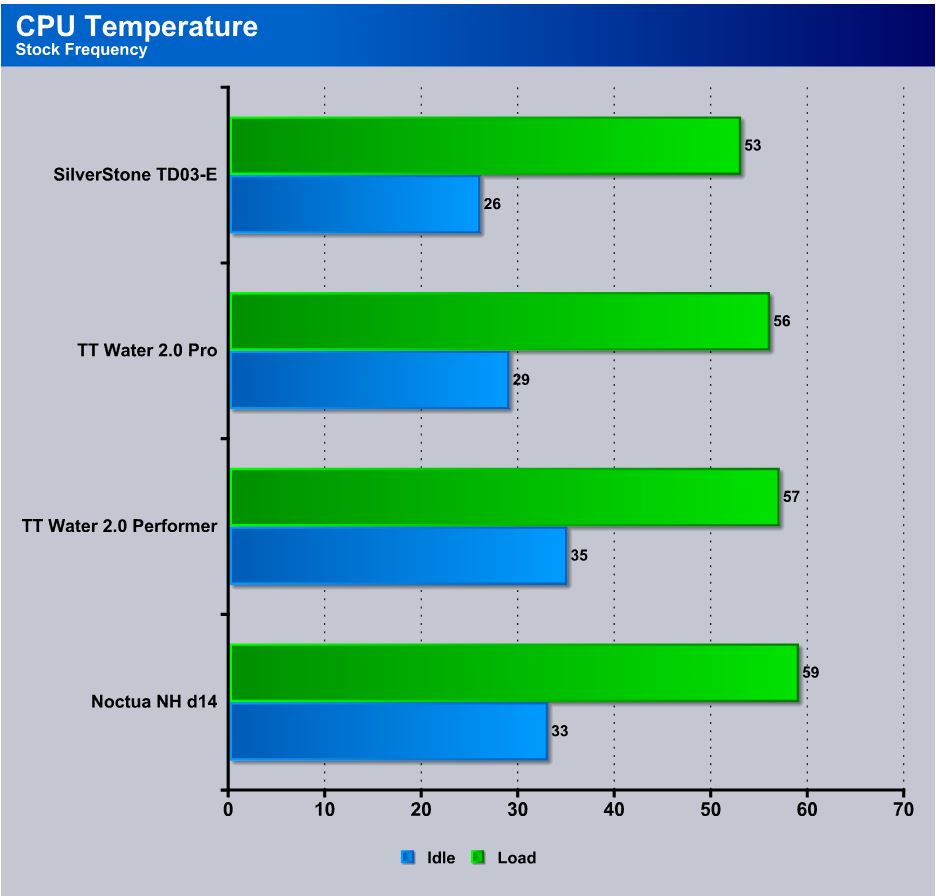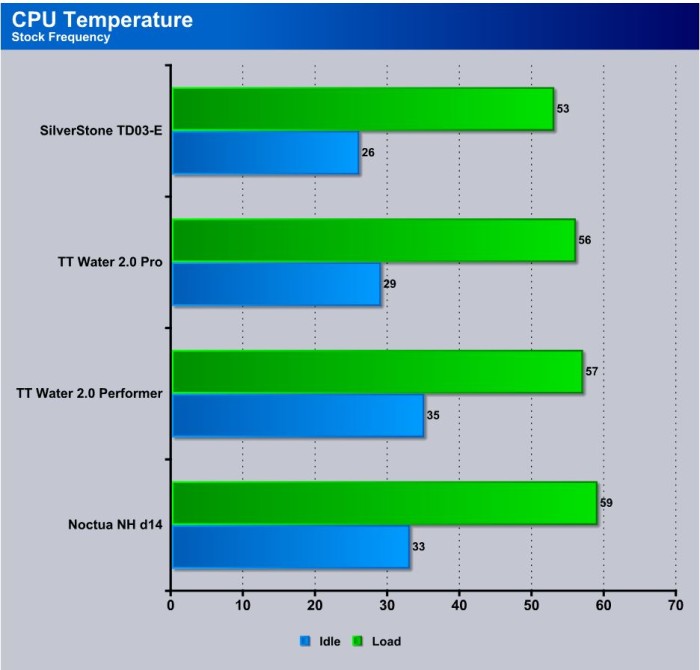 Running the 5820k Haswell E on the Asus X99 Deluxe the SilverStone Tundra TD03-E came out ahead of the TT Water Pro by 3°C or 5.4°F and 6°C ahead of the massive Noctua NH d14 but at stock speeds and low voltage we didn't expect a massive difference.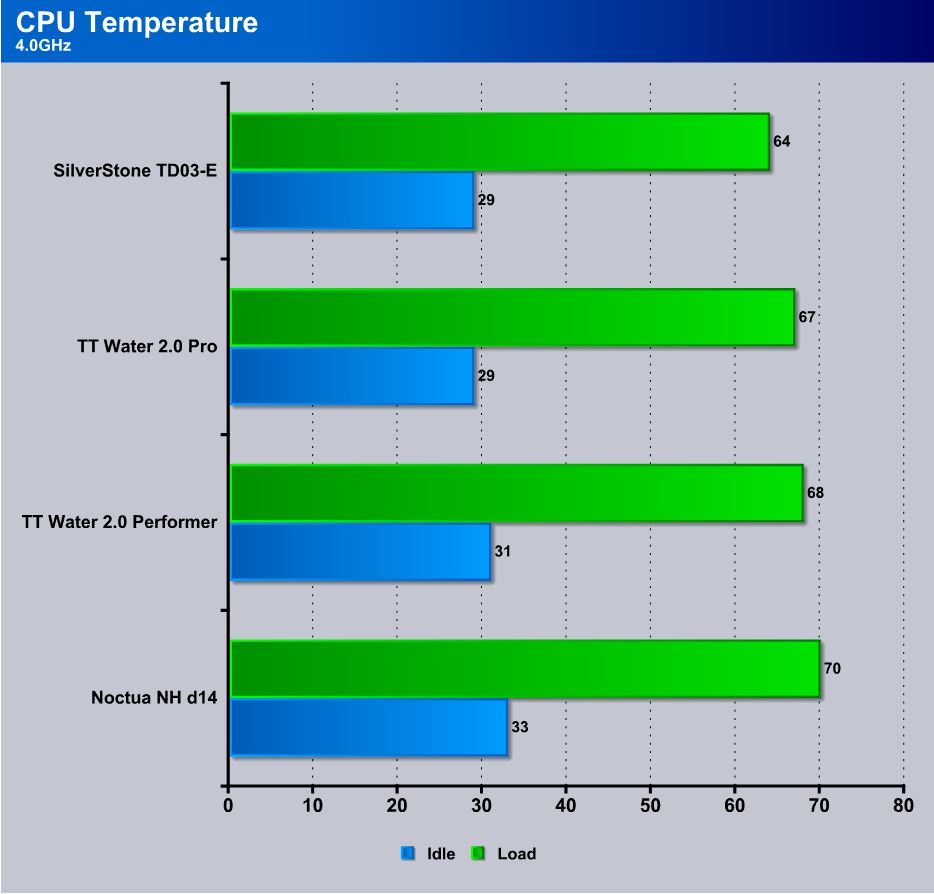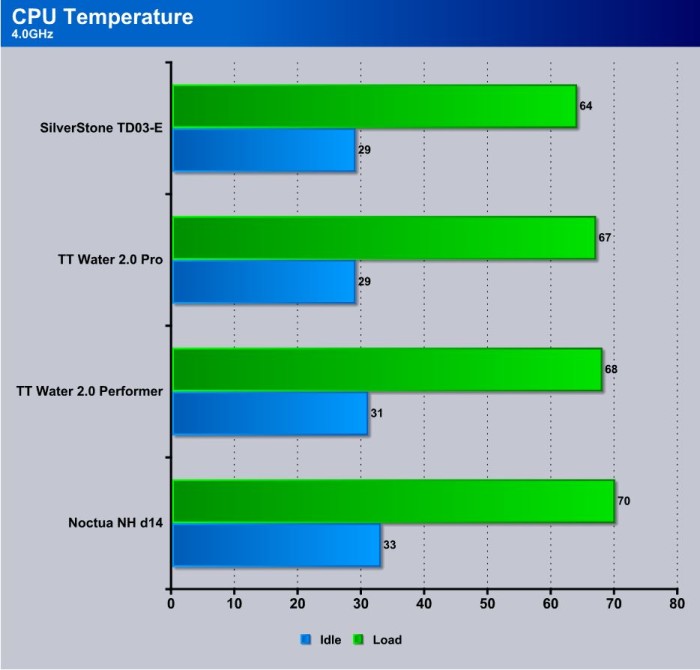 Here at 4GHz the SilverStone Tundra TD03-E came out at 3° ahead of the closest competitor and 6°C ahead of the Noctua NH d14. The reason we make reference to the Noctua is that it is well-considered to be one of the best air coolers on the market so if you are running air on the Haswell E series Intel CPU's you can expect your temps to be similar or worse. To those running 4.5GHz on air well shame on you drop some coin and water that CPU.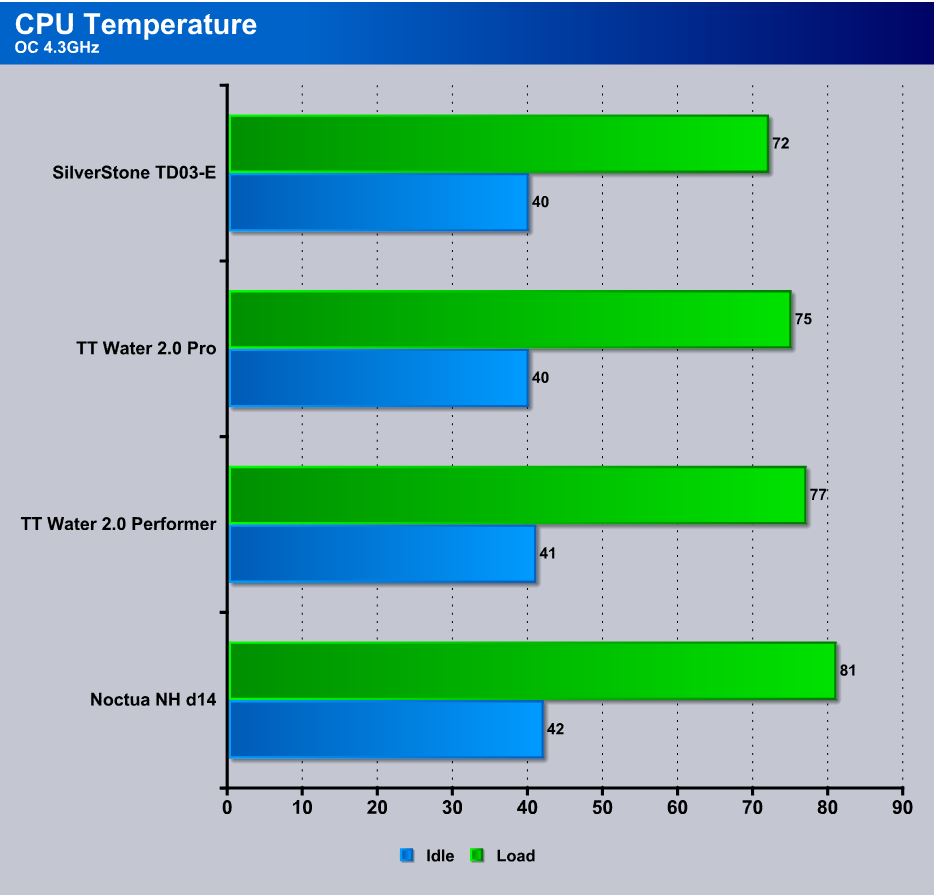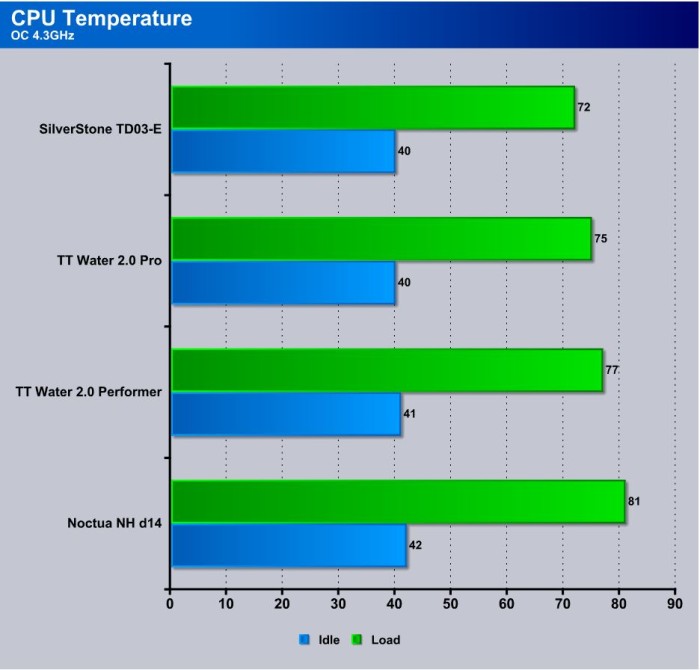 We ran the test up to 4.3GHz and the SilverStone Tundra TD03-E held the line at 72°C and with careful tuning left enough headroom to potentially run at 4.4GHz. The Noctua DH d14 failed at 4.3GHz and went above 80°C our cutoff / fail temperature. We were running at 4° ahead of the Thermaltake Water 2.0 Pro which has a much larger cubic CM radiator which should tell you a lot about the SilverStones Tundra TD03-E's design. For this final test the only LCS on the chart holding steady without some thermal creep was the SilverStone Tundra TD03-E.
We would consider this the maximum safe 24/7 OC in our labs conditions, being situated in the Sonoran Desert you may get better results but since lab conditions were strictly regulated at 72°F we would think you will achieve the same results and this would be the safe 24./7 OC for this cooler in any air-conditioned situation.