Unboxing the XFX 4GB R7 370 Part 2
Looking at the backside of the XFX R7 270 Video Card.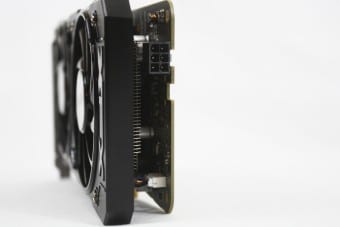 Turning our attention over to the front side of the video card, the R7 370 video card does not require a lot of power to use, so AMD felt it only needs a single PCI-E 6 pin power input. Yes, it will need the added power from this plug in order to be used, as the PCI-E expansion port will not be able to fully feed this video card with enough power.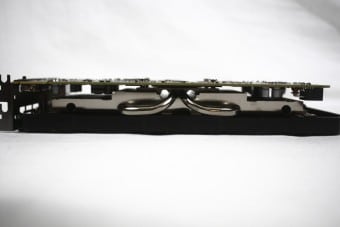 Looking at the outside edge of the R7 370 Video card, if you notice the heatsink only uses 2 6mm heat pipes to disperse the heat from the area that contacts the GPU core to the fin array. Will it prove to be enough cooling? We will have to wait and see to find out.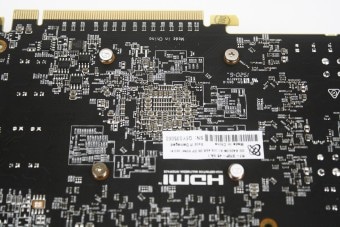 Looking at how XFX secures the heatsink to the R7 370 video card, the one thing I did not really care for was the anti-tamper sticker on one of the screws. Because, if we remove the cooler it will void our warranty; which, I was not too pleased on seeing because a lot of modders/overclockers will want to utilize a better cooler or switch to a water block.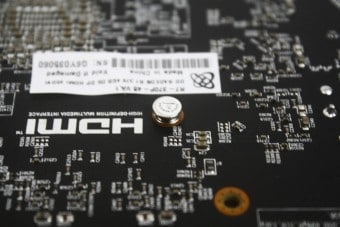 A closer image of the anti-tamper placed on two of the screws.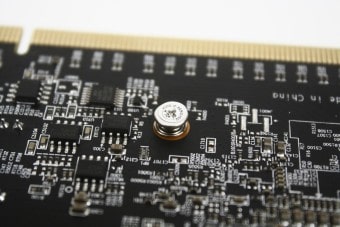 Oops, I voided the warranty.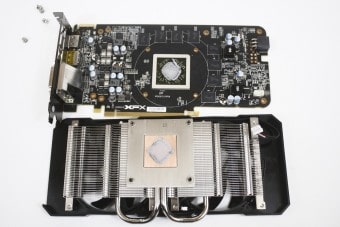 The core of the video card is placed at a 45 degree angle, and we get a better look at the base of the heatsink that XFX is currently using on this video card. Another area I think that XFX should have paid a bit more attention to was the base of the cooler is fairly rough. XFX does use a fair among of thermal compound, and we can see that the cooler is properly hitting the GPU core flatly. This video card utilizes 4 GBs of GDDR5 memory, there are 8 memory ICs @ 512MBs per IC giving us a grand total of 4 GBs of memory.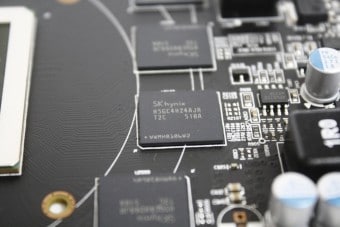 XFX employs Hynix based GDDR5 memory ICs on to this video card. I have had good luck with this memory brand on my video cards in the past, so we will see if Hynix still maintains their reliability and overclockability.