Final Thoughts & Conclusion
The Kingston HyperX Savage 3000MHz dual-channel kit owned the top of the charts, and with its native speed, that's what we expected. What we didn't expect was

the ease of installation and operation. Even though most kits have an XMP profile, you often have to boot to JEDEC 2133MHz, set the profile, then fiddle with the voltages to get stable operation. All we had to do was reset the  BIOS then boot into BIOS and click XMP Profile 1, and in no time we were setting on the Windows desktop, stable as a rock running 3000MHz at 15-16-16-39. That says a lot for Kingston's quality and commitment to hassle-free RAM.
When we went to overclock the CPU, we did have to adjust voltages to keep the RAM and CPU stable, but with Skylake and the Z170 chipset being relitively new that's to be expected. Once we got the VCCIO and System Agent Bumped up to around 1.5v we saw a minor error or two, so we went in and set the PCH up a notch or two and we were good as gold.
In computing, speed always comes at a price, and the Kingston HyperX Savage runs $169.99, which is toward the high-end of the price scale for 3000MHz DDR4 16GB dual-channel kits, but there are other things to consider. We've run about every make and model of RAM ever produced since the very beginning of desktop computers, and we have never had a Kingston kit die on us. We've never had major problems with a Kingston kit, but at times the BIOS on motherboards needed updated to accommodate faster speeds. Other than the inevitable BIOS updates, Kingston has ran for us without problem for more than a couple of decades without problems. How many products can you say that about?
There are also intangibles to think about with RAM; warranty and support come to mind. While most companies have you file a support ticket by some e-mail or contact us link, Kingston has stubbornly held onto live chat support online, as well as an actual, live tech support person available from 9AM to 5PM PST. You can talk to a live tech who will help you with RMA's, installs and any problem you might encounter. Live support is a rare and beautiful creature in today's "file a ticket" world. Toss on a lifetime warranty, and you have a blazing fast Kingston HyperX Savage 3000MHz kit that's worth a few more bucks than "file a ticket" or "go to the support forum" competitors.
Kingston also offers a 2666MHz XMP profile that runs at an amazing 14-14-14-36 just in case you do have problems at 3000MHz. Thankfully you have that as a backup to keep you running while you niggle with the voltages getting 3000MHz stable on a highly overclocked CPU. We would have liked to have had longer to play with the HyperX Savage 3000MHz 16GB dual-channel kit, but getting a 100MHz OC required upping the voltage from 1.35V to 1.4V and there's probably nothing wrong with upping the voltage for glory runs, but the kit really doesn't need overclocked. Its speed without overclocking speaks for itself.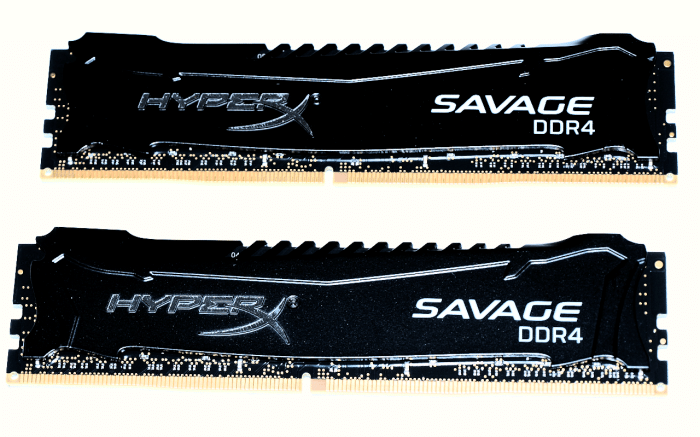 We are happy with the Kingston HyperX Savage 3000MHz 16GB kit, it's performance made the test rig a little snappier, a little faster and then there's always bragging rights. If you prefer tight timings over raw speed, there's 2666MHz at 14-14-14-36, and you can play with tightening them if you like. We run the kit just like it is right out of the clam shell, 3000MHz of Savage speed at 15-16-16-39, and with our Core i7 6700k screaming at 4.6GHz, the combination is just mind-blowing fast.
If you demand top performance with a rock solid lifetime warranty and value live tech support, the Kingston HyperX Savage 3000MHz 16GB dual-channel DDR4 kit is a remarkable choice. With only a handful of companies even offering 3000MHz, you'll be hard pressed to find a more dependable, tightly-timed kit.
Pros:
Cons

Strong Performance
Tight 15-16-16-39 Timings
XMP Profile One and Two Were Plug And Play
Two XMP Profiles
Live Chat And Live Tech Support
Lifetime Warranty
Dependable
Hassle-Free RAM Solution

A Little Expensive
Had To Use 1.4V To Hit 3100MHz