Kingston HyperX Savage 16GB Dual-Channel 3000MHz DDR4 Review  (HX430C15SB2K2/16)
15-17-17
VS

15-16-16 Timings

For as long as we can remember, the debate between looser and tighter timings has been raging, with sites reviewing different manufacturers kits with slightly different timings to try and settle that debate. We one upped that format and recently reviewed a kit of HyperX Savage here: Cl 15 16 16. The  kit is up to bat and on the review bench, so let's see just how much fighting for that one point tighter timing is really worth.

Same manufacturer, same HyperX Savage 3000MHz and merely one point off in timings. Now don't get us wrong, Kingston, especially HyperX, is near and dear to our hearts and it's our go to choice for trouble-free, plug and play RAM. There may be other brands out there, but when it comes to must reliability at stock and overclocked settings, Kingston lives in our machines.

Snap a set of Kingston into your machine and the Intel XMP will set the timings and voltages for you and you are off and running with the knowledge that your RAM is going to run now and every time you load your gaming shrine. There are also kits out there that have uber-tight timings and there's nothing wrong with those kits for "RAM Veterans" willing to dink with them and get the occasional "Well I guess it's not as dialed in as I thought" blue screen. That's why we love Kingston RAM, especially the HyperX Savage brand.

HyperX Savage represents great quality, great value, and rock solid performance all rolled into one RAM kit. When it matters and for those that don't want to dink with the $500 hard-to-run kit, HyperX Savage should be on your mind.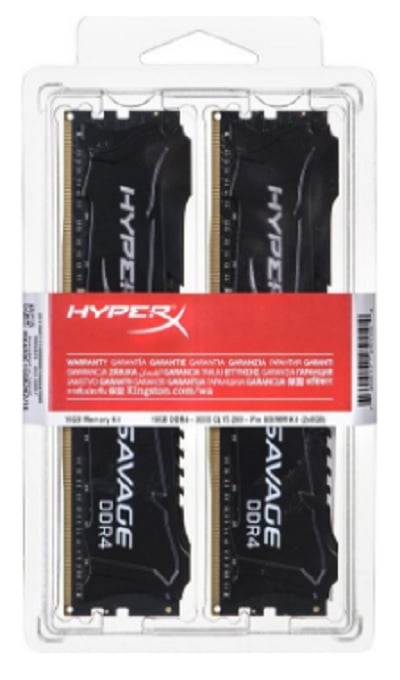 Description
"HyperX HX430C15SB2K2/16 is a kit of two 1G x 64-bit (8GB) DDR4-3000 CL15 SDRAM (Synchronous DRAM) 2Rx8, memory modules, based on sixteen 512M x 8-bit FBGA components per module. Total kit capacity is 16GB. Each module supports Intel® XMP (Extreme Memory Profiles). Each module has been tested to run at DDR4-3000 at a low latency timing of 15-17-17 at 1.35V. The SPDs are programmed to JEDEC standard latency DDR4-2133 timing of 15-15-15 at 1.2V. Each 288-pin DIMM uses gold contact fingers."
(Courtesy Kingston)
Features
Power Supply: VDD = 1.2V Typical
VDDQ = 1.2V Typical
VPP – 2.5V Typical
VDDSPD = 2.25V to 3.6V
On-Die termination (ODT)
16 internal banks; 4 groups of 4 banks each
Bi-Directional Differential Data Strobe
8 bit pre-fetch • Burst Length (BL) switch on-the-fly BL8 or BC4(Burst Chop)
Height 1.36" (34.57mm)
XMP TIMING PARAMETERS
JEDEC: DDR4-2133 CL15-15-15 @1.2V
XMP Profile #1: DDR4-3000 CL15-17-17 @1.35V
XMP Profile #2: DDR4-2666 CL14-15-15 @1.35V
Specifications
| | |
| --- | --- |
| CL(IDD) | 15 cycles |
| Row Cycle Time (tRCmin) | 46.5ns (min.) |
| Refresh to Active/Refresh | 260ns (min.) |
| Command Time (tRFCmin) | 260ns (min.) |
| Row Active Time (tRASmin) | 33ns (min.) |
| Maximum Operating Power | TBD W* |
| UL Rating | 94 V – 0 |
| Operating Temperature | 0o C to +85o C |
| Storage Temperature | -55o C to +100o C |