HyperX Savage 16GB Dual-Channel 3000MHz DDR4
When Skylake came out we were tantalized with the possibilities for high-speed RAM exceeding existing top end kits. Kingston was nice enough to send over a Kingston HyperX Savage 3000MHz kit for us to check out, and with 16GB of dual-channel Savage timed at 15-16-16-39 and 1.35V, we should be looking at a screaming fast set of enthusiast RAM. The new dual-channel DDR4 is specially built for the Z170 Skylake chipset and we have heard rumors of compatibility with X99, but unless it's just an emergency, we highly recommend using dual-channel for Skylake and quad-channel for X99. The chipsets are set for, and expecting a specific type of RAM, and while we have run dual-channel in X99, we got slower speeds than using its native quad-channel. We tried some quad-channel in Z170, but had a lot of minor problems with that configuration. In short, while the pins and the layout is the same, and the RAM sockets are interchangeable, we recommend sticking with dual-channel in Z170 and quad-channel in X99.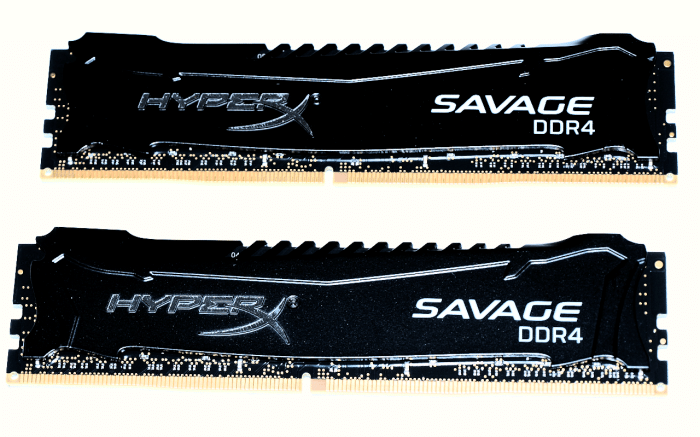 Our HyperX Savage 16GB 3000MHz kit comes in classic black with HyperX in silver and Savage DDR4 in white. These are low-profile sticks, as is all the DDR4 we've seen, due to the proximity of the RAM banks to the CPU slot. With any major air cooler you will need low-profile RAM, and we've yet to have any DDR4 with tall heat spreaders. Systems with water cooling should accommodate tall heat spreaders, but perhaps that's such a small portion of the market that vendors aren't covering it.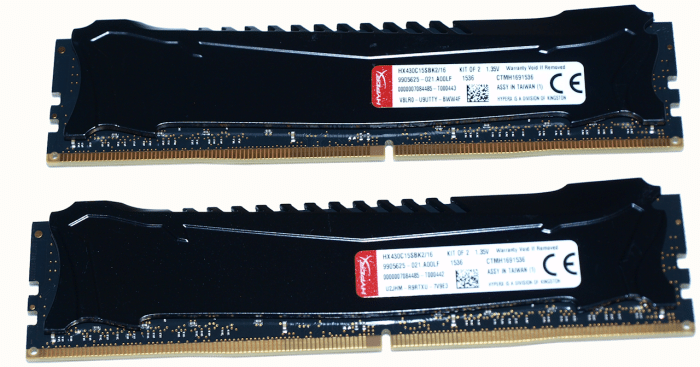 Here's the back of the kit which is fairly unremarkable, except for the sticker giving the model numbers and such, which we have a close up of for you.

The kit's part number is HX430C15SBK2/16 and it's JEDEC is 2133 for compatibility and boot reasons. The tested speed is 3000MHz with timings at 15-16-16-39 at 1.35v on XMP profile 3, but Kingston was kind enough to put in a 4th XMP for 2666MHz that we'll talk about a little later.
Specifications Table
Kingston HyperX Savage 3000MHz
Model
HX430C15SBK2/16
RAM Type
DDR4
Density
2 x 8 GB = 16GB.
Compatibility
Skylake – Chip set Intel Z170

Channel Support

Dual-Channel.
Speed
3000MHz

Connector

288 pin
Voltage
1.35v
Timings
15-16-16-39
Warranty
Lifetime
We covered pretty much everything in the specifications table except the lifetime warranty, and of course we haven't covered Kingston's technical support. You can call Kingston and get live technical support from 9 – 5PM PST, or during the same hours you can live chat with Kingston. You can also e-mail Kingston's technical support, but we highly recommend their live chat or phone support which can be reached at 1-(800)-835-6575 if you have problems with your kit. To date, with a couple of dozen kits in the last few years alone, we have never had a problem with Kingston's kits either installing or running. We have contacted support on one occasion just to check and see how support was, and they were prompt, courteous, and spot on with helping us install the kit. Of course, we didn't really need the help, but Kingston passed the tech support test with flying colors.