Cooler Master MasterCase 5 With Freeform Modular System
Cooler Master was founded in 1992 by one man working out of a rented apartment with his staff being nothing more than a secretary who handled the admin part of the business. Roger (the founder) worked at innovating, inventing building and marketing new products. He had no backing, no corporate bank roll, all he had was a vision of better equipment and was the first to grasp that people would appreciate tool-less motherboard heatsinks and that cooling was more than fans and heatsinks. Roger knew that case cooling was as much about airflow through case as a whole system than just heatsinks and fans. He also challenged his people to make the worlds first aluminum computer case, they were all hand-made market-leading high-value cases and sold out immediately.
Through the years Cooler Master has kept that cutting edge attitude and produced many revolutionary products and in ways lead the chassis industry to the air flow conscious well thought out chassis we take for granted today.
Cooler Master caught on to the modding community and started producing the MasterCase line with the idea that the entire chassis should be modular and the "guts" of the case should be freeform and adjustable to the users needs. The MasterCase being freeform and modular allows for people to upgrade the chassis rather than just replace it completely when their needs change.
What we have to take a look at today is the MasterCase 5 and CoolerMaster threw in the MasterCase Side Window Kit and the MasterCase Top Cover Kit.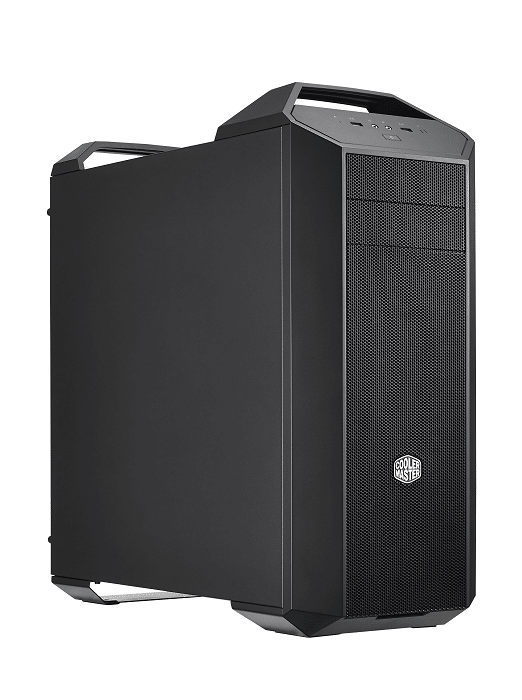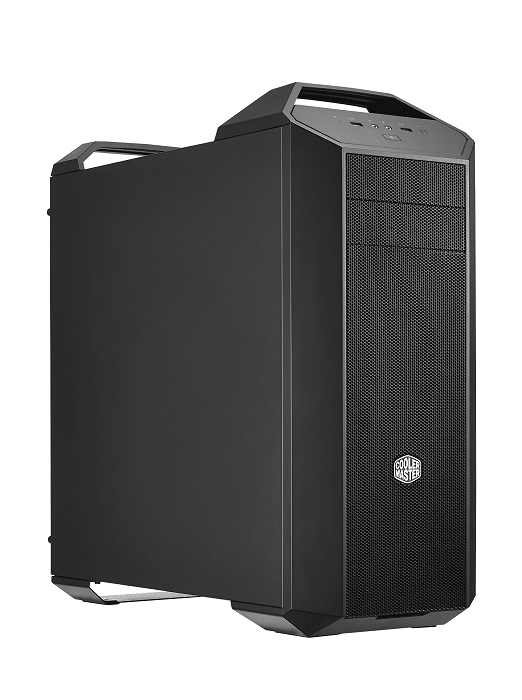 This is the MasterCase 5 as it comes out of the box and the first thing we noticed were the angular components giving the chassis an overall look of a symmetric aesthetically pleasing chassis. Next we noticed the size of the chassis and when it comes to chassis size does matter, for us enthusiasts there has to be room to expand and the MasterCase 5 gives us that. We can see some chassis that a metal side with no window for environments where sturdiness and noise suppression are more important than showing the hardware inside.
Specifications
Model
MasterCase 5
MasterCase Pro 5
P/N
MCX-0005-KKN00
MCY-005P-KWN00

Available Color

Dark metallic grey exterior with black interior

Materials

SECC, Plastic

Weight

10.6 kg/23.4 lbs

10.7 kg/23.6 lbs

Size (LxWxH)

All

512(L) x 235(W) x 548(H) mm
512(L) x 235(W) x 548(H) mm

Body

460(L) x 235(W) x 460(H) mm
460(L) x 235(W) x 460(H) mm

Mother Board Support

ATX, m-ATX, M-ITX

ATX, m-ATX, M-ITX

Expansion Slots

7

7

Drive Bay

5.25″ ODD

2

2

3.5″ HDD

2

5

2.5″ SSD

2+2

2+5

Electronics

I/O port

U3 x2, Audio

U3 x2, Audio

Fan speed control

N/A

N/A

Pre-install fans

Front

140mm x1

140mm x2

Top

N/A

N/A

Rear

140mm x1

140mm x1

Fan Support

Front

120/140mm x3

120/140mm x3

Top

120/140mm x2

120/140mm x2

Rear

120/140mm x1

120/140mm x1

Water Cooling
Support

Front

240/280mm radiator, up to 40mm thickness without fan

240/280mm radiator, up to 40mm thickness without fan

Top

N/A

240mm radiator, up to 40mm thickness without fan

Rear

120/140mm

120/140mm

CPU Air Cooling Support

190mm/7.5inches

190mm/7.5inches

VGA Card Support

w/ 3.5″ HDD Cage

296mm/11.7inches

296mm/11.7inches

w/o 3.5″ HDD Cage

412mm/16.2inches

412mm/16.2inches

Cable Management

25mm

25mm

Dust Filters

Front/Top/Bottom

Front/Top/Bottom

Power Supply Type

Bottom Mount, ATX PS2

Remark

No Top Cover
No Front Door
W/ Top Cover
Top Water Bracket
Side Window

Product Sheet Download

 MasterCase 5
 MasterCase Pro 5

Manual Download

 MasterCase 5
 MasterCase Pro 5