PowerColor PCS+ R9 380 4GB: The affordable 4GB Solution!
With the release of the , for the first time we see an affordable 4GB gaming solution, a 4GB gaming GPU that runs $229.99 (NewEgg). Face it, games and gaming resolutions memory demands are exploding exponentially. It takes 2GB GRRD5 to do a good job running 1080p, 4 GB will get you 2560 x 1440 (1440P) and some 4k games using reasonable settings. The amount of GDDR5 on your GPU is the going currency for what resolution and settings you can game at. While 1080p still is the most popular resolution for gamers, at least for Steam Users (Steam Hardware Survey June 2015) there is no doubt that as the price comes down on 1440p-monitors and to some extend the new more affordable 4k-monitors, gaming at 1440p and higher will become more popular. 1440p in many cases needs 4 GB of high-speed GDDR5 to minimize stuttering and maintain higher framerates.
The PowerColor PCS R9 380 4GB gives you the price, the performance and the GDDR5 ram you need and does it on a 256-bit wide bus with 1792 Stream Processors, and a core speed of 980MHz connected to 4GB of GDDR5 running at 5900MHz. While the R9 380 GPU's are a re-badge of the R9 285, PowerColor chose to go with significant tweaks that make looking at the PCS+ R9 380 4GB like looking at a completely different card.
Lets start with PowerColors focus on overclockability on the PCS+ R9 380 4GB, how about all digital PWM, an 8 phase (6 +1 + 1) power design driven by PowerIRstage technology to to provide clean conditioned power to the GPU and does so at a reduced power footprint with 3 – 13% power savings. Not enough to impress you yet? The PowerColor name for all this power design is Gold Package running at 93.7 efficiency with reduced conduction loss, lower operating temperatures, high current capacity and ready for Extreme Overclocking.

About PowerColor
PowerColor, established by Tul Corporation in 1997, is a graphics industry leading brand name now and well known for its outstanding performance and innovative technology. As a leading provider of graphics card, PowerColor offers powerful, reliable and cost-effective solutions to customers worldwide.
PowerColor Spirit
Unleash the Gaming Power
PowerColor is the platform of choice for avid PC gamers and video prosumers looking to get the best possible performance out of the latest graphics processors from ATI.
Stunning Performance
PowerColor graphics cards deliver every-last-drop of super-charged performance from ATIs most advanced visual processing units (VPU). Running a PowerColor graphics card, todays gamers are able to unleash the 3D graphics performance of their favorite game playing it the way it was meant to be played.
The card looks more like a Transformer than the old video cards from decades gone by. That's state of the art AMD technology with an extreme PowerColor twist. PowerColor packed 4GB of slamming GDDR5 and DirectX 12 ready packaged into a sharp-looking cowling with two 80mm fans with PowerColors Mute Fan Technology which reduces noise and slows the fans down when the GPU is under 60°C.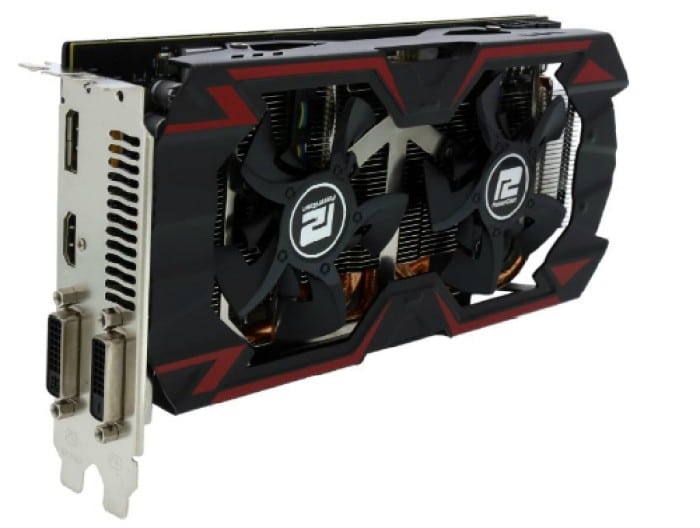 With two distinct sets of aluminum cooling fans backed by a total of 5 copper heatpipes and a copper GPU heatsink that completely covers the GPU core PowerColor has designed extreme cooling for its extreme PCS+ lineup. We were rather impressed with the open design of the premium metal cowling, We have plenty of cooling in our chassis's and on the open test bench. We'd much rather have some of the GPU heat escape the cowling inside the machine where well planned cooling fans can whisk it away than have it reside inside a closed cowling driving heat the length of the GPU.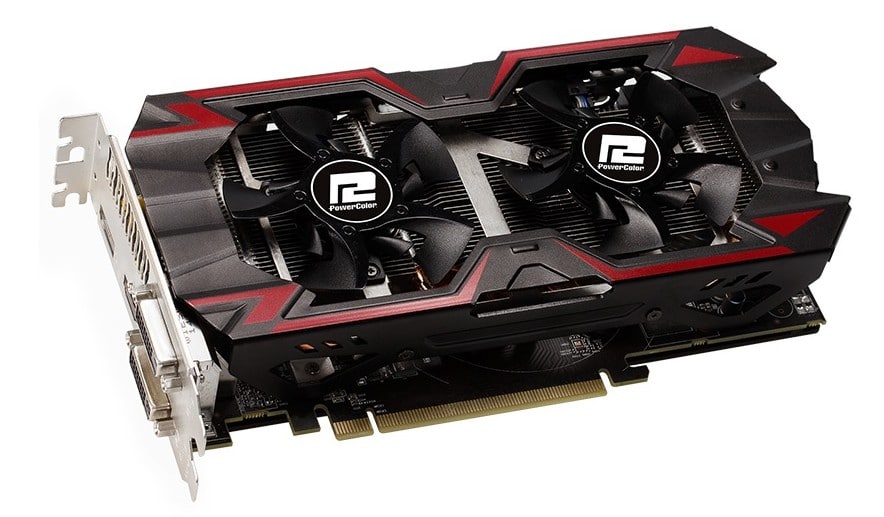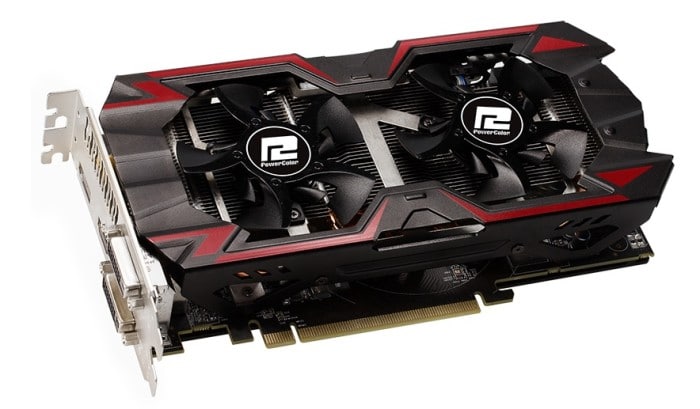 The PowerColor PCS+ R9 380 4GB is, of course, PCI-E 3.0, Crossfire ready, has enhanced anisotropic filtering and is Microsoft DirectX 12 ready. Incorporating AMD's PowerPlay technology the GPU core is extremely responsive to load needs and dynamically adjusts core speed in response to GPU needs. AMD's Eyefinity design allows you to run multiple displays from one GPU and you aren't limited to using one design graphics port use any type port to connect your monitors saving money by using existing displays rather than having to match displays connectors.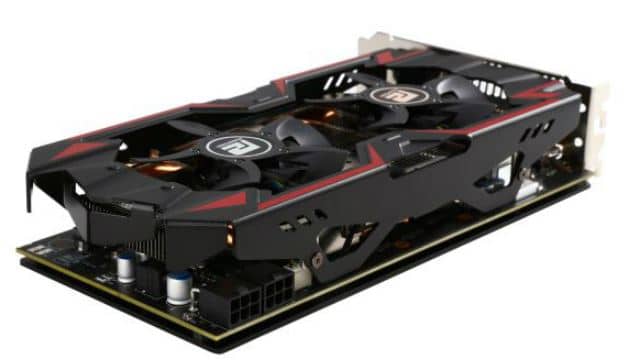 Pushing two 6-pin PCI-E power connectors supplying the 8 phase (6 + 1 + 1) power design, Power Play technology and the PCS+ cooling design yields overclock-ability, better stability, 24% lower temperatures and a 17% reduced noise level.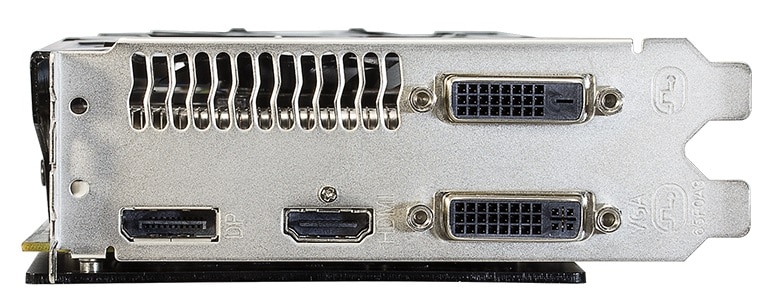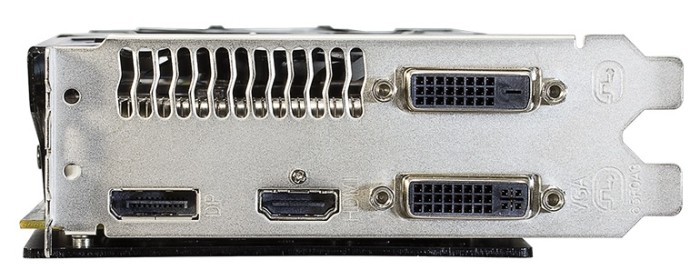 Being a dual slot design with half length heat exhaust the sports a DIsplayPort, HDMI and two DVI-D ports covering all modern display ports and as we mentioned earlier you can use any of the ports to drive multi-monitor displays from a single card.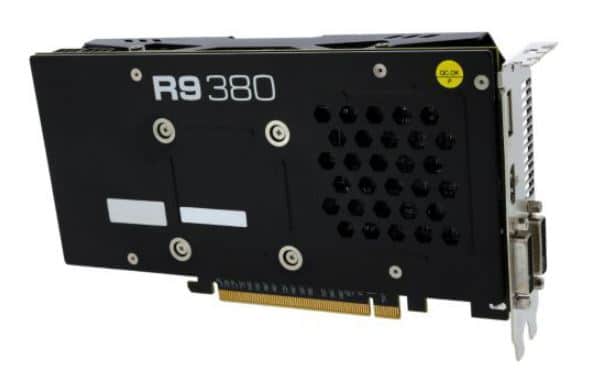 Along with the truckload of special features already mentioned PowerColor uses a premium anodized metal backplate to protect vital components and further channel heat away from the PCB.
Looking at different models of GPU's on an ongoing basis gives you a certain eye for design and PowerColor has gone all out and pulled out all the stops putting their best technology and R & D into the PCS+ lineup.
Refrence R9 380's run at a core clock of 918MHz and a GDDR5 Memory Clock of 5,5GHz but PowerColor put a factory OC on the PCS_ R9 380 4GB of 980MHz an increase of 62MHz and a sweet memory clock of 5.9 GHz or an increase of 400MHz. Of course you always have the option to go rogue and break out a OCing utility and ramp that OC up and of course we will See just how far we can push the GPU;s limits.
Specifications
Graphics Engine
RADEON R9 380 (Tonga Pro)
Video Memory
4GB GDDR5
Engine Clock
980MHz
Memory Clock
1475MHz (5.9Gbps)
Memory Interface
256bit
DirectX® Support
12
Bus Standard
PCIE 3.0
Standard Display Connecors
DL DVI-I/ DL DVI-D/ HDMI/ DisplayPort
Feature Support
OpenGL
Support
CrossFireX™ Technology
Support
ATI Stream Technology
Support
ATI Eyefinity Technology
Support
ATI Hypermemory Technology
Display Support
VGA Output
DVI Output
DL DVI-I/ DL DVI-D
DisplayPort
DisplayPort
HDMI
HDMI
TV Output
HDTV Output
HDCP Support
Support
Maximum Resolution
VGA
DVI
2560×1600
DisplayPort
4096×2160
HDMI
4096×2160
Power Specs + Board Dimensions
Board Dimensions
207.25mmX111.15 mmx38mm
Minimum System Power requirement (W)
500W
Extension Power Connector
Two 6-Pin PCI Express Power Connectors
Features
AMD Eyefinty Technology


Run multiple displays from a single graphics board and expand your gaming field of view across all displays.
GCN Architecture

 

A new design for AMD's unified graphics processing and compute cores that allows them to achieve higher utilization for improved performance and efficiency.
AMD App Acceleration

 

AMD App Accelerator creates a "co-processing" environment in which the compute processing potential in your AMD Radeon™ Graphics processor works together with the system central processor, to accelerate enabled applications.
AMD HD3D Technology


Supports the latest stereoscopic 3D content and display technologies 

Play 3D games, watch Blu-ray 3D videos, and edit 3D photos on your 3D Monitors, TV, or projector.
AMD CrossFire™ Technology

Multi-GPU support offers superior scalability 

Increase our gaming performance up to 2x with AMD CrossFire™ technology, 2.75x for TriFire configurations, or 3.75x with QuadFire configs.
Microsoft DirextX® 12

Get intense gaming performance and unrivaled image quality with stunning 3D visual effects, realistic lighting and lifelike imagery.
Enhanced Anisotropic Filtering

Improved anisotropic filtering algorithm eliminates distracting artifacts and produces reference-level image quality.
Dolby® TrueHD and DTS-HD Master Audio™

Support of content protected, high bandwidth, 7.1 channels of surround sound over HDMDI and DisplayPort.
AMD HD Media Accelerator

Assumes rendering responsibility for HD encode (VCE)/decode (MPEG-4 ASP, H.264. MVC, MPEG2, etc.) and conclusively enable superior video playback quality with advanced hardware post-processing algorithms.
AMD PowerPlay™ Technology

AMD PowerPlay™ Technology dynamically adjusts clockspeeds in response to GPU load, saving power for just when you need it.
AMD PowerTune Technology

Maximizes performance under load conditions by dynamically increasing the GPU engine clock to take advantage of unused TDP headroom. Also allows users to configure their own TDP limit, within a provided range, for even higher performance or more power efficiency.
PCI Express 3.0

Delivers double the bandwidth per lane of PCIe Gen 2 for faster GPU.
Advanced GDDR5 Memory Technology

GDDR5 memory provides the highest available memory bandwidth of any memory technology today, enabling higher GPU performance.
PCS-Professional Cooling System

The unique cooling technology can decrease operating environment temp. Effectively, and enhance headroom for OC capabilities.
Gold PowerKIT

The Solidly-built Components enhance the stability, performance, efficiency and quality.
HDMI

Integrated high speed HDMI output with 1080p 120Hz 3D Stereoscopic support, and 4K resolution display support.
Enhanced Internet Applications

Accelerate rendering performance with the latest web browsers and programming interfaces.
Microsoft Windows® 7 Support

Comprehensive OS support including Windows XP, Windows Vista, the very latest Windows® 7 functionality and Driver support.

Microsoft Windows® 8.1 Support

Comprehensive OS support including Windows XP, Windows Vista, the very latest Windows® 8.1 functionality and Driver support.