PowerColor is an AIB vendor with a long history of producing AMD videocards, and today we are taking a look at one of their RX 580 offerings. The PowerColor Red Devil Radeon RX 580 8GB GDDR5 is a factory-overclocked RX 580 featuring, you guessed it, 8GB of GDDR5. While there is a more limited-quantity  "Golden Sample" version of the Red Devil with a higher GPU clock speed, this card shares the same specifications and comes with a 40MHz boost speed increase of 1380MHz over the stock 1340MHz reference design. As AMD's current high-end offering in the RX 500 series, the RX 580 is an updated version of the RX 480, which sees improved performance due to platform maturation and manufacturing improvements. Let's take a look at what the PowerColor Red Devil Radeon RX 580 8Gb GDDR5 has to offer.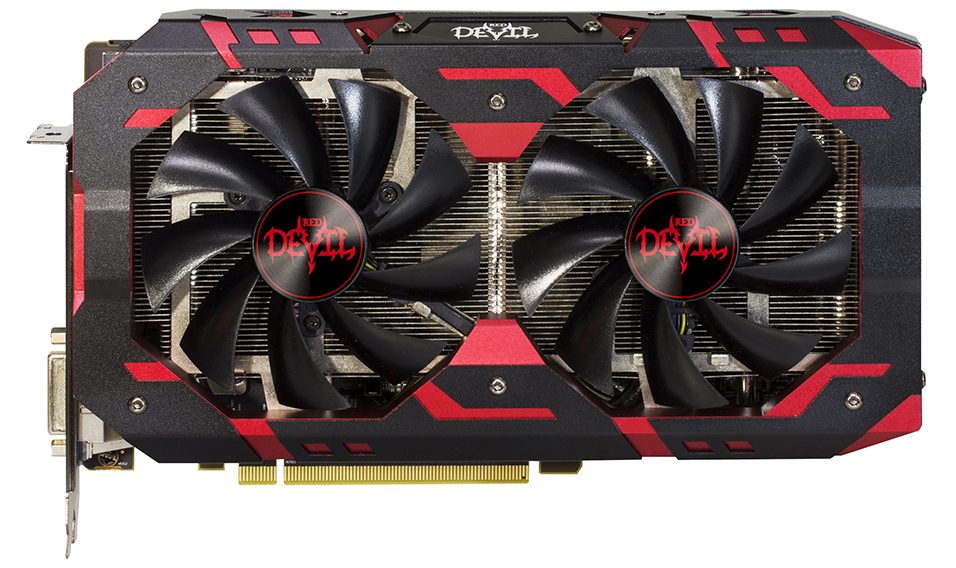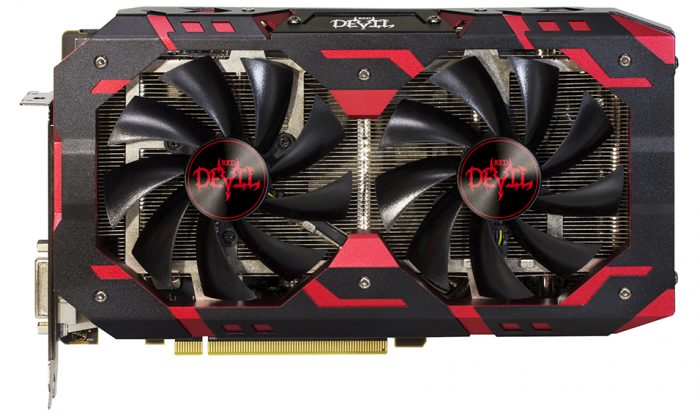 STANDOUT FEATURES
As with all products, there are a few standout features on the PowerColor Red Devil RX 580 that we would like to cover. Without standout features to differentiate one product from another, we would live in a pretty boring world. Lets take a look at what makes the PowerColor Red Devil RX 580 stand out from the crowd.
Factory Overclocked – For those users looking for a little boost, the Red Devil comes with a 40MHz boost speed increase from the stock 1340MHz up to 1380MHz. We took things a bit further with our sample, and nearly reached the 1425MHz of the Golden Sample units from PowerColor. Keep reading to see just how far we made it, and the performance increases we saw. The Red Devil also has a two-way switch on the PCB that allows you to swap to a lower clock of 1355MHz for a quieter experience.
Mute Fan Technology – PowerColor designed the cooling solution on the Red Devil RX 580 with enough headroom to allow the fans to come to a stop when below 60C. When using a PC equipped with the Red Devil for non-gaming tasks, the silence of this card is a great feature.
Metal Backplate – For added protection and support, the Red Devil features a 1.5mm backplate, with a brushed finish and cooling holes for components below. The backplate is also home to a pentagram-style design, which suits the name of the card, but may be found offensive to some potential customers.
SPECIFICATIONS
Graphics Engine
RADEON RX 580
Video Memory
8GB GDDR5
Engine Clock
up to 1380MHz with boost
Memory Clock
2000MHz x4 (8.0Gbps)
Memory Interface
256bit
DirectX® Support
12
Bus Standard
PCIE 3.0
Standard Display Connecors
DL DVI-D/ HDMI/ DisplayPort x3
Feature Support
OpenGL
Support
CrossFireX™ Technology
Support
ATI Stream Technology
Support
ATI Eyefinity Technology
Support
ATI Hypermemory Technology
Display Support
VGA Output
DVI Output
DL DVI-D
DisplayPort
DisplayPort x3
HDMI
On Board
TV Output
HDTV Output
HDCP Support
Support
Maximum Resolution
VGA
DVI
2560×1600
DisplayPort
4096×2160
HDMI
4096×2160
Power Specs + Board Dimensions
Board Dimensions
255mm*157mm*46mm
Minimum System Power requirement (W)
550W
Extension Power Connector
One 6-Pin and One 8-Pin PCI Express Power connectors