Testing Methodology & Results
Memory testing can be a bit touchy at times. I test at stock advertised maximum speed. The vast majority of people are going to use stock speeds set by the XMP profile. The conundrum of the 2011v3 is CPU speed, the three available top-tier CPU's are K series unlocked multiplier and highly overclockable with a simple Multiplier increase and a little added voltage. So where are we going to gain more down clocking the CPU and overclocking the ram, or overclocking CPU and leaving the ram at stock speed. In most cases CPU overclock and stock ram speeds gives the best yield for most end users. So I overclock and provide those numbers but test at stock speeds.
The system is a fresh load of Windows 8.1 all updates applied, Drivers for every device completely updated. Cache and prefetch cleared before each test, indexing on the drives disabled and no background programs running. Nothing should pop in and interfere with the tests skewing the results.
Tests are run 4 times and the average of the 4 tests reported here, should an anomalous score present the score is discarded and another test run.
Kits Tested
Patriot Viper 4 Series DDR4 16GB  2800MHz
Kingston HyperX DDR4 16GB Predator 3000MHz
Kingston HyperX Fury DDR4 32GB 2400MHz
Kingston HyperX Fury DDR4 32GB 2666MHz
Test Rig Hexzilla
Test Rig Hexzilla
Case
DIYPC Open Test Bench
CPU
Intel Core i7-5930k 22nm Haswell E 4,4GHz
Motherboards
Asus X99 Pro
Ram
Kingston HyperX Fury DDR4 2666MHz 15 17 17 35
CPU Cooler
SilverStone TD03 Dual Radiator Water Cooling
Hard Drives
2 TB Platter Drive for storage only
SSD
HyperX Predator 480GB PCI-E
Optical
ASUS DVD-Burner
GPU(s) SLI
EVGA GTX 980Ti
PSU
1500W Silverstone St-1500GS
Mouse
Razer Naga Chroma
Keyboard
Razer Black Widow Chroma
Test Suite
We will use the following applications to test the performance of the memory.
AIDA64 Extreme
Superpi
CineBench
Sisoft Sandra 2015
Benchmarks
SuperPi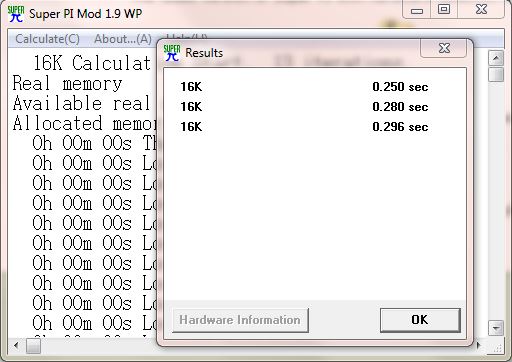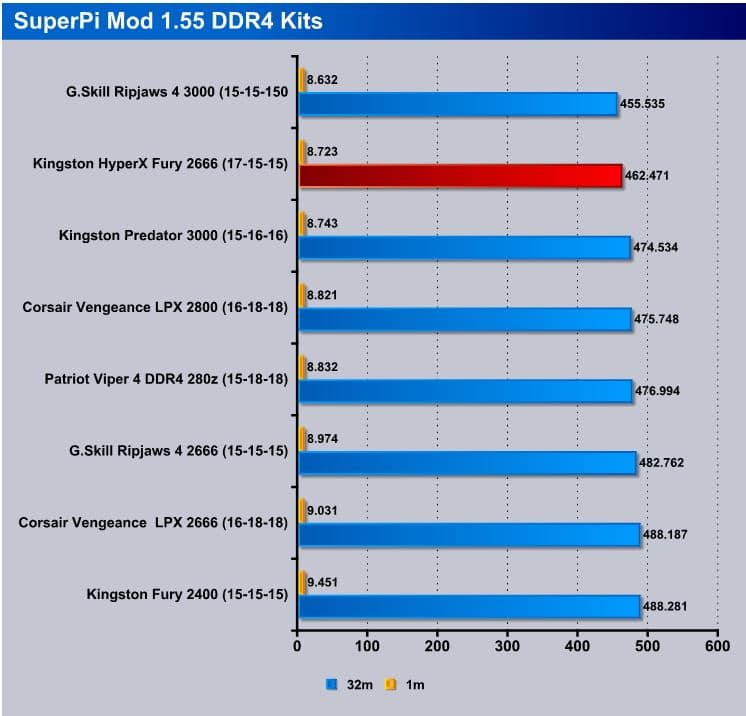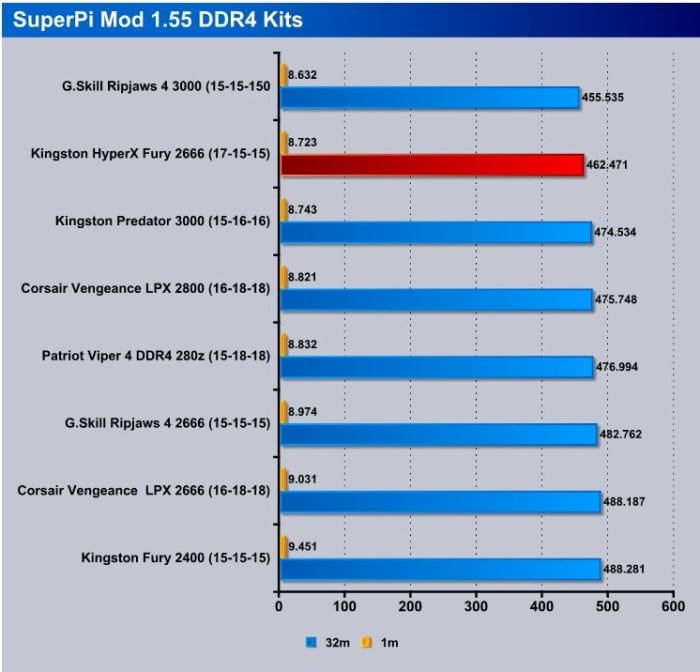 SuperPi like the Kingston HyperX Fury 32GB 2666MHz kit nd it dropped into 2nd place. In all fairness we;ve been on 2011v3 for some time now and can better fine tune it but fine tuning won't account for that placement so we may be looking at a low Latency kit.
AIDA64
AIDA64 Extreme Edition is a streamlined Windows diagnostic and benchmarking software for home users. AIDA64 Extreme Edition provides a wide range of features to assist in overclocking, hardware error diagnosis, stress testing, and sensor monitoring. It has unique capabilities to assess the performance of the processor, system memory, and disk drives.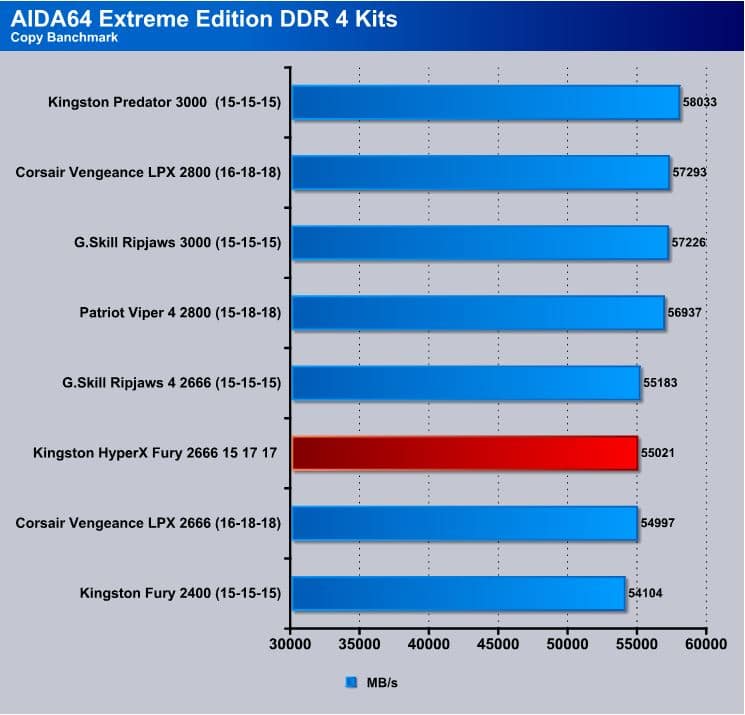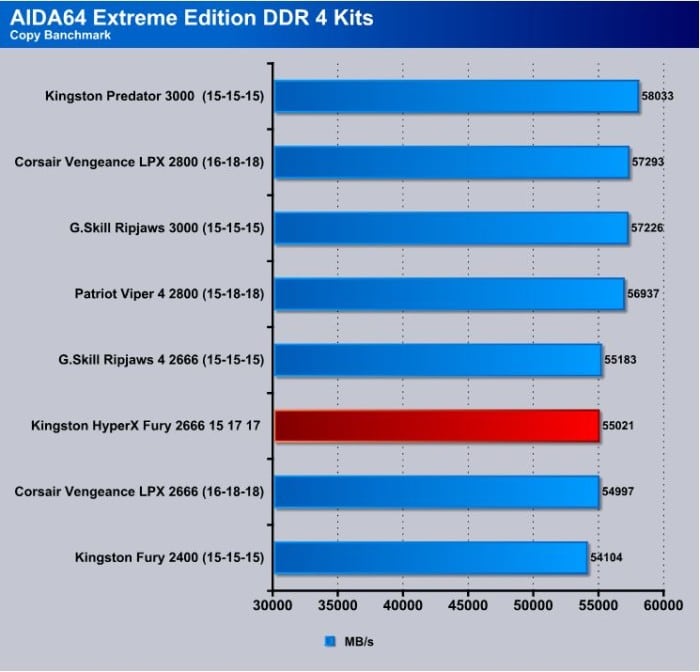 The AIDA64's sees the HyperX Fury 32GB kit in at 55021 MB/s and the kit is right about where it should be given its timings and speed.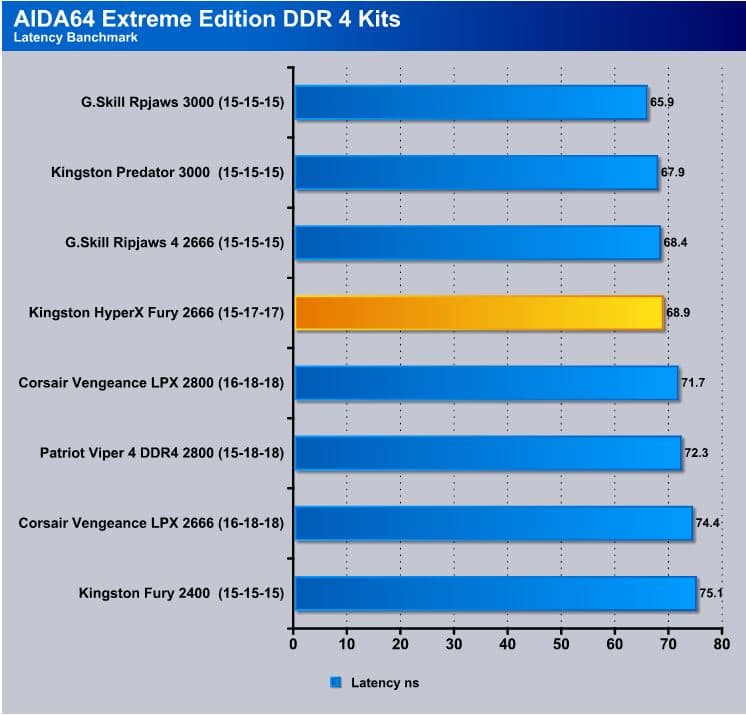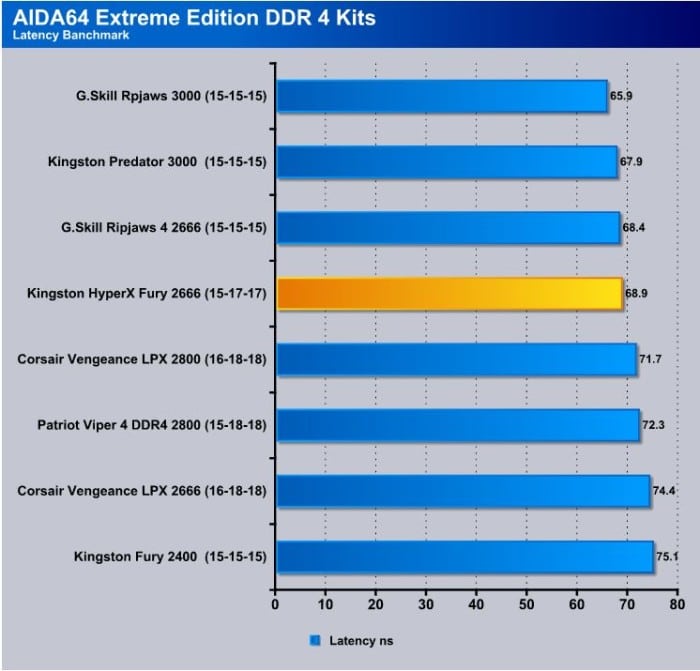 As we suspected the HyperX Fury Kit dropped into fourth place on AIDA64's latency test. Lower latency's can make a big difference when it comes to ram.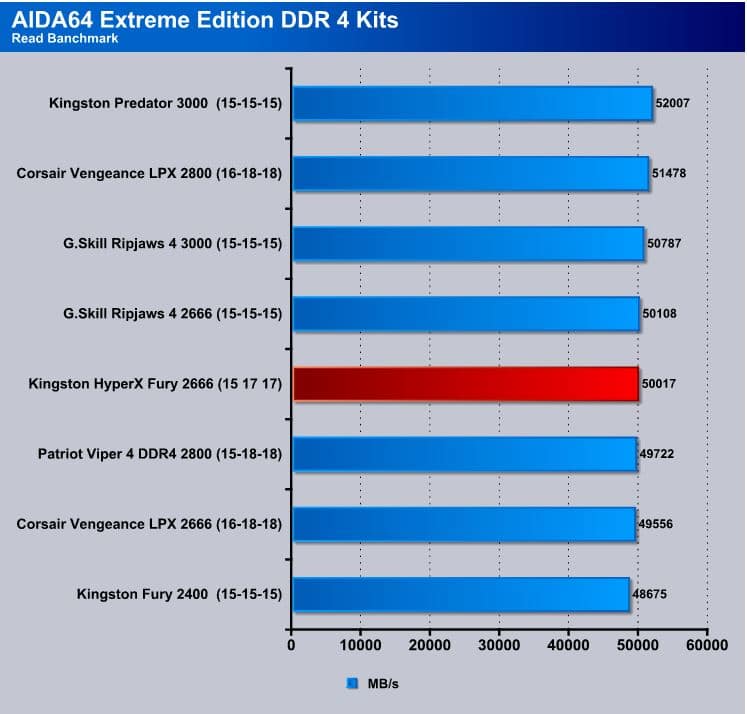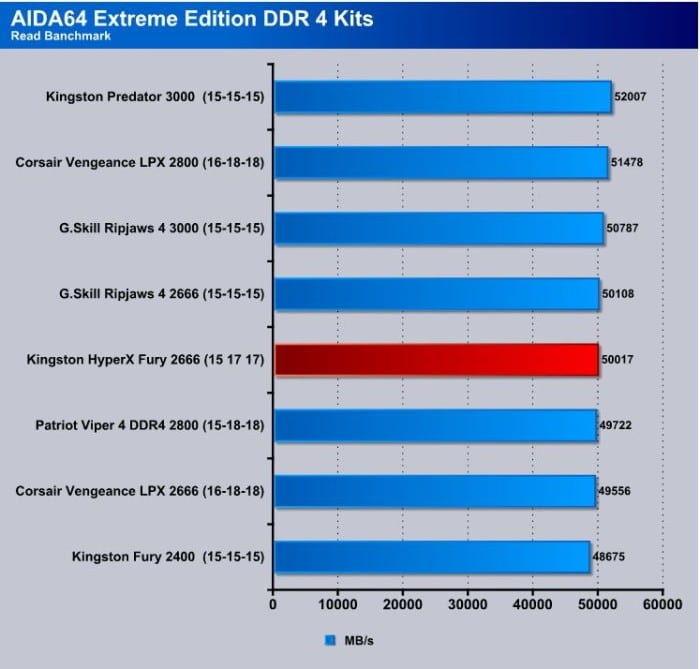 The Read benchmark in AIDA finds the Fury 2666MHz kit above the Patriot Viper Kit that runs at 2800MHz and the kit scored a 50017 MB/s and the kit is about where we expected it on the charts.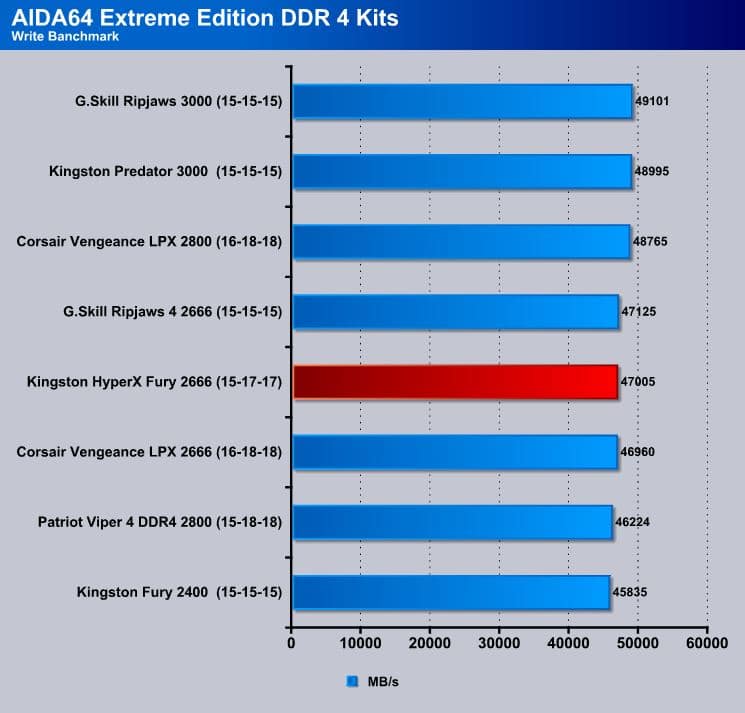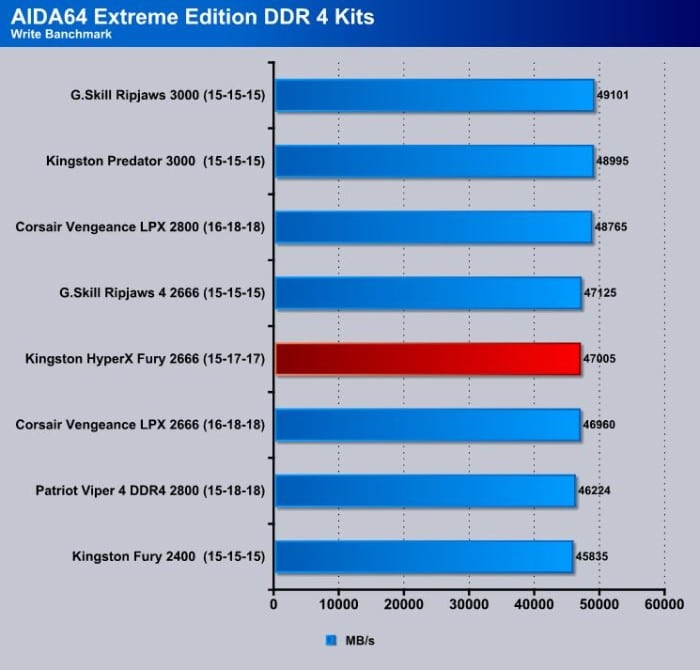 In AIDA64's Write benchmark the Kingston HyperX Fury 32GB 2666 kit came in mid pack but face it we've run some seriously fast ram since 2011v3 launched. At this kits $309.99 price point it's holding its own, some 2666 kits run north of $490 for slightly tighter timings.
Sisoft Sandra 15
Designed as a complex utility for analyzing your computer's software and hardware abilities as well as running various tests to stress out components separately, SiSoft Sandra Lite is one of the most resourceful apps in its category. It includes numerous options that require significant time to get used to if you're not familiarized with this kind of software. Suffice it to say, it targets power PC users.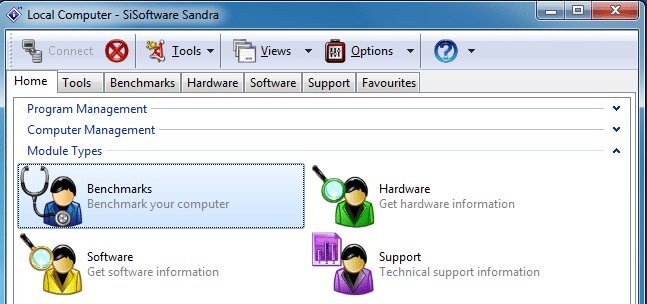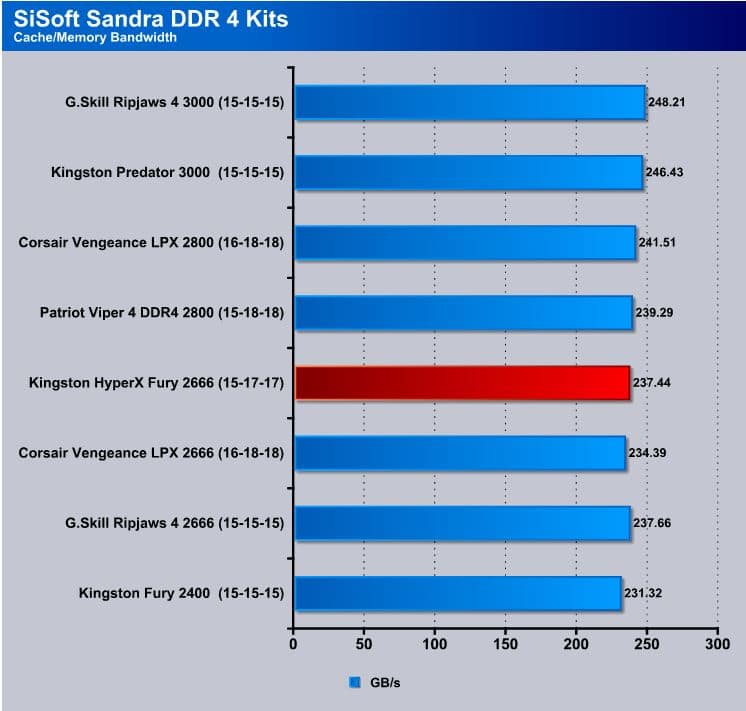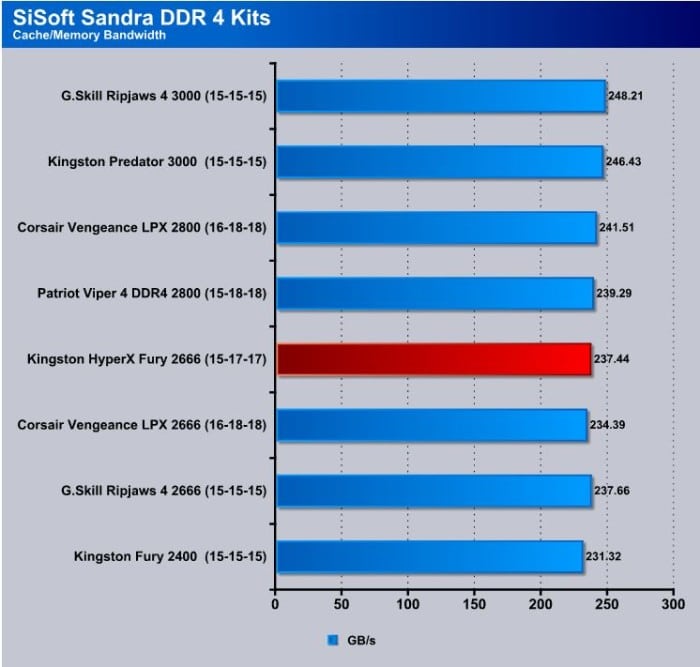 SiSoft Sandra Cache Memory bandwidth tests finds the HyperX Fury 32GB 2666MHz kit right where it should be mid pack and it turned in a 237.44 GB/s score.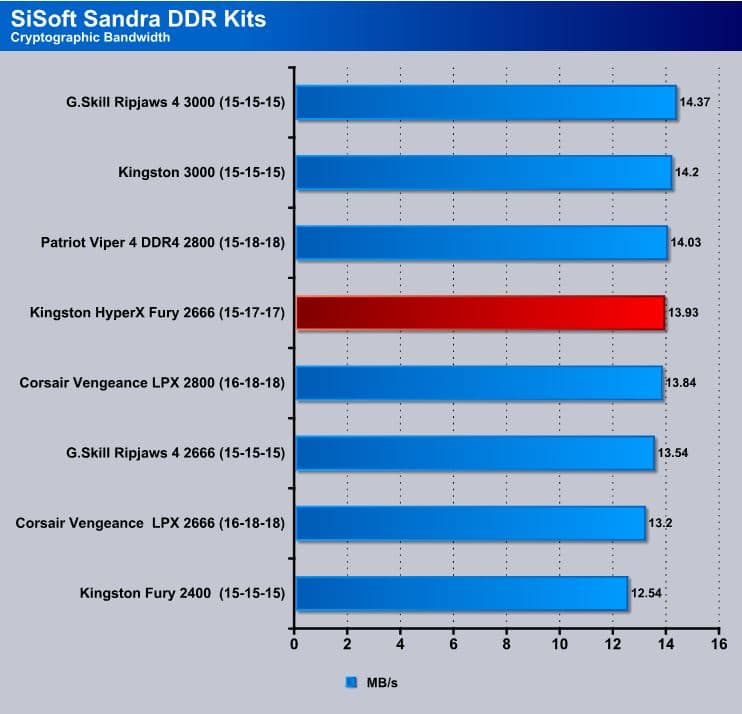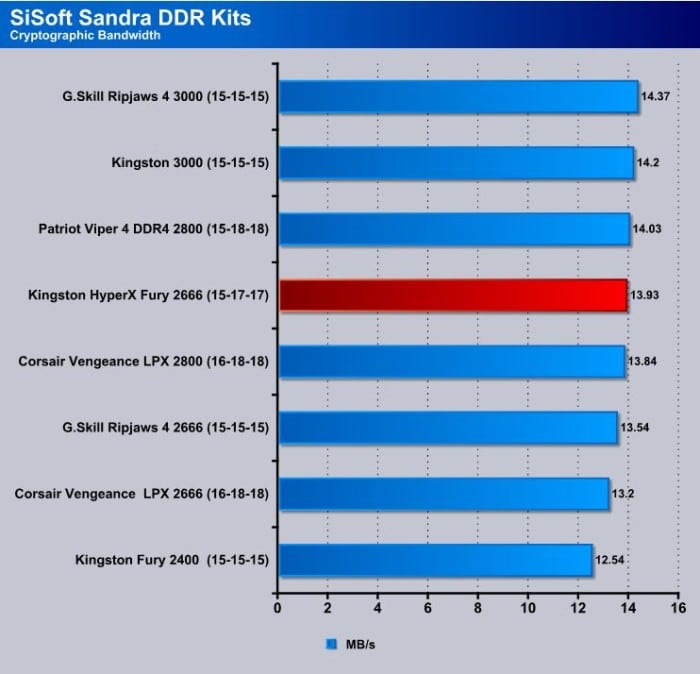 It seems everything is encrypted these days and the Crypto test on Sisoft Sandra shows our Fury kit at 13.93 MB/s and running a little higher than we expected.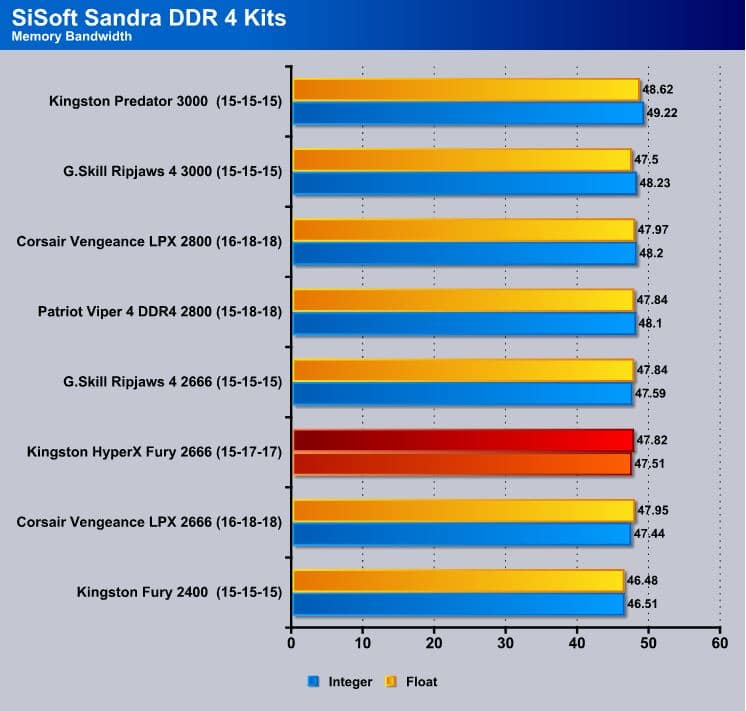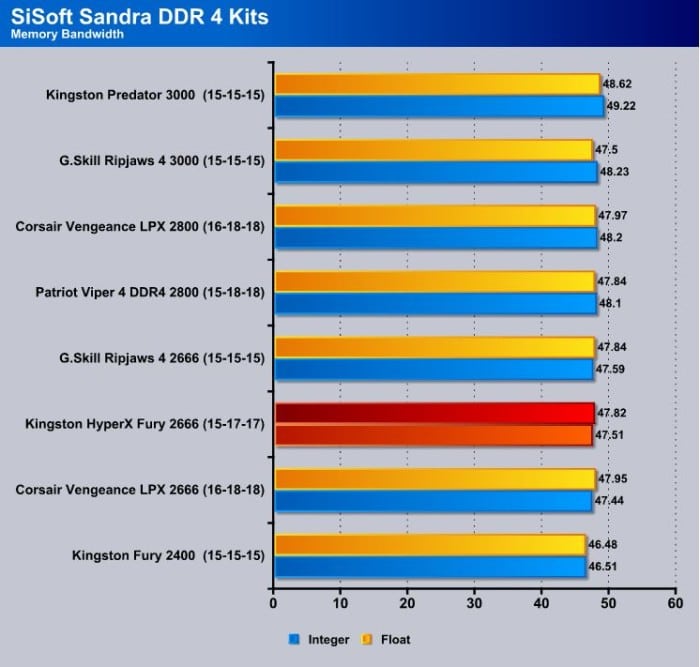 The Memory Bandwidth test on Sandra shows the Kingston HyperX Fury 2666 kit at 47.95 on the Float test and the Integer test sees it at 47.51.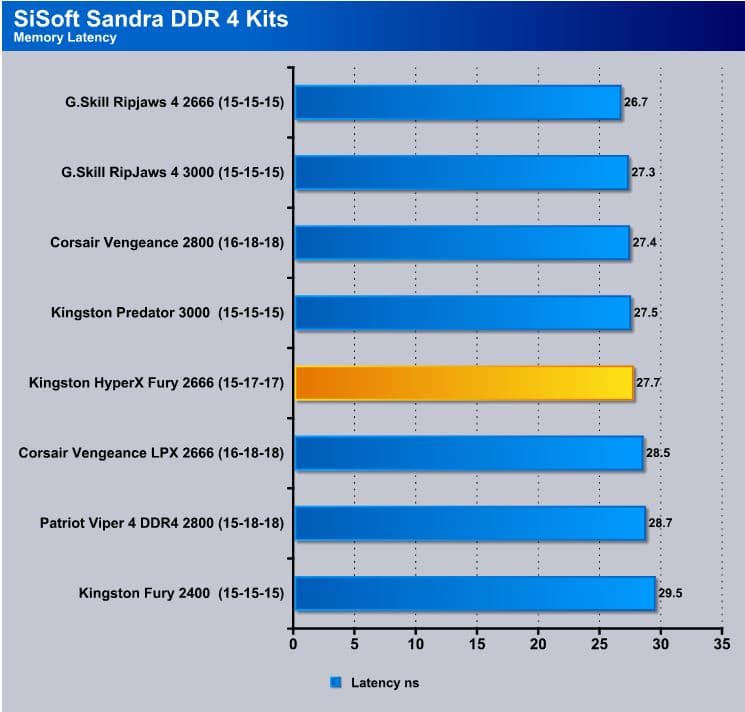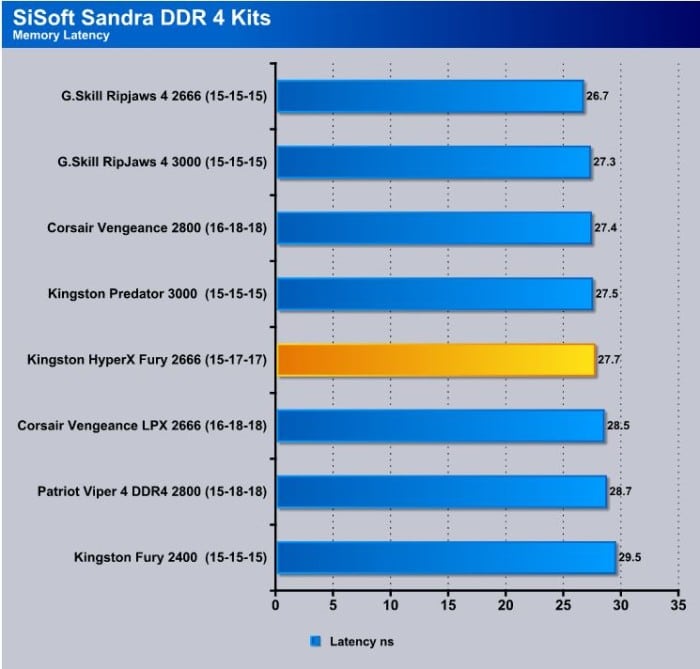 In Sandra's latency test here again we see the kit way up there on the charts on Latency and it scored a 27.7ns Latency.
RealBench
We've been using RealBench with ram for a while now and have found that it scales well with different kits and timings.
RealBench uses real, open source applications to test your PC as it would perform in RL. Although it can be competitive, it's not primarily designed to be more hardcore and time-consuming – it's a benchmark for everyone.
Select the three tests and run the benchmark to get your result. Each test uses different parts of your PC subsystem, so all areas are covered. Share the result here on the forum to compare to others, or, compare to pre/post overclocks and pre/post upgrades to get maximum value from your PC.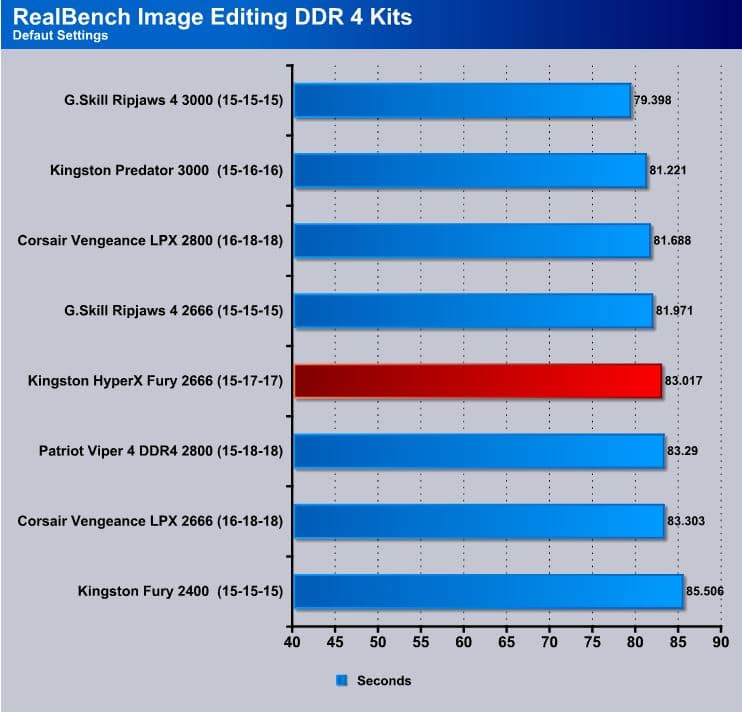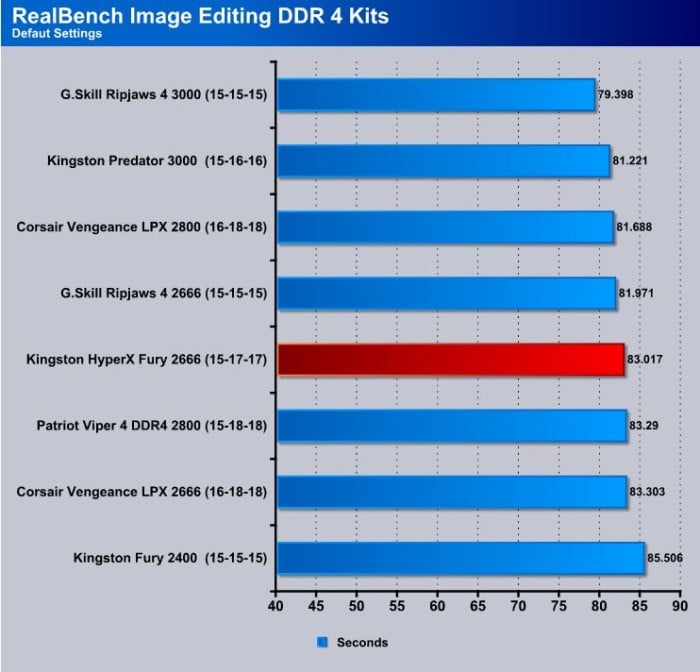 RealBench Image editing is Ram intensive and the Kingston HyperX Fury 32GB 2666 kit turned in a respectable 83.017 Second score.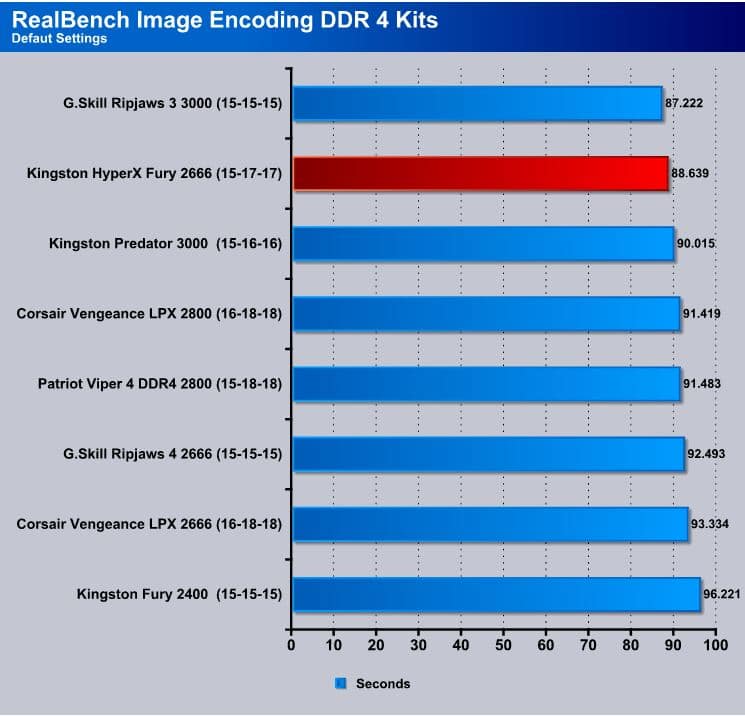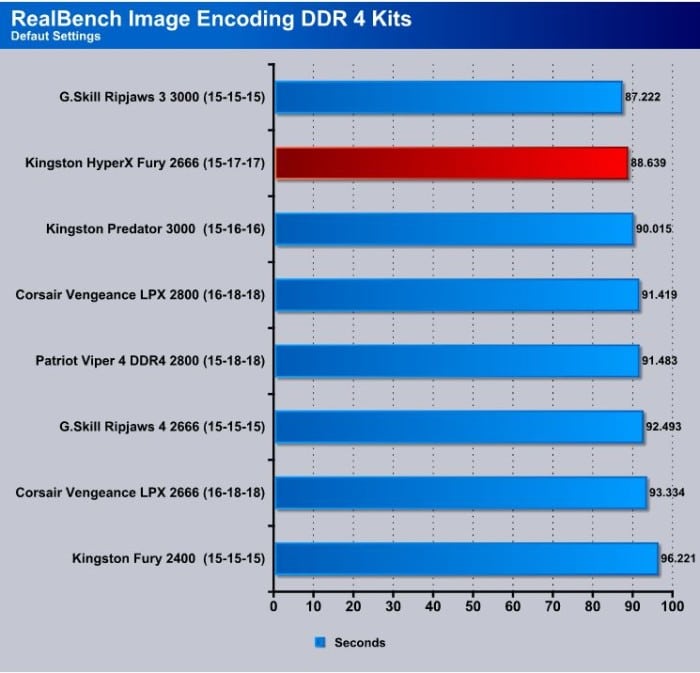 Image encoding sees the Fury 2666MHz kit in second place with a 88.639 second score, Here again the lower latency on the kit is showing how the smallest thing can make a huge difference in a Ram Kit.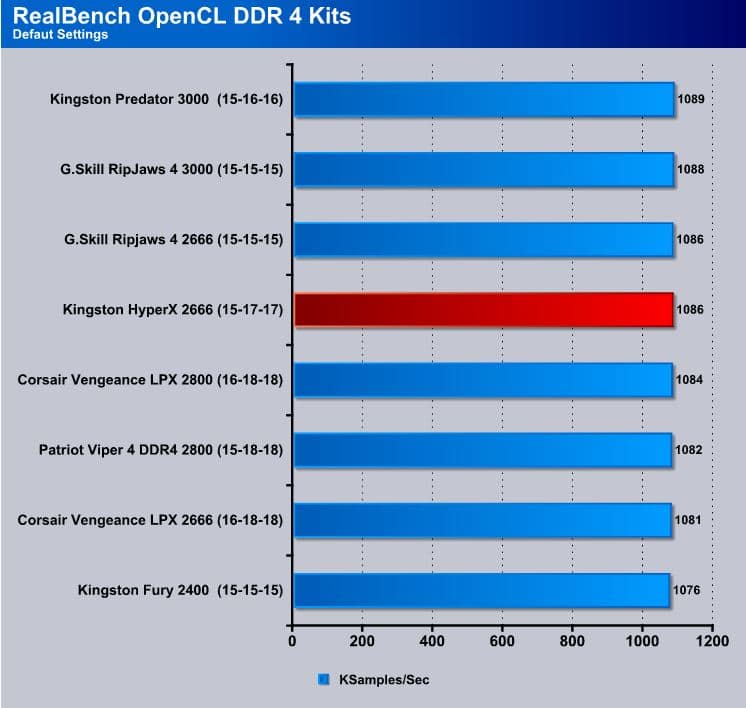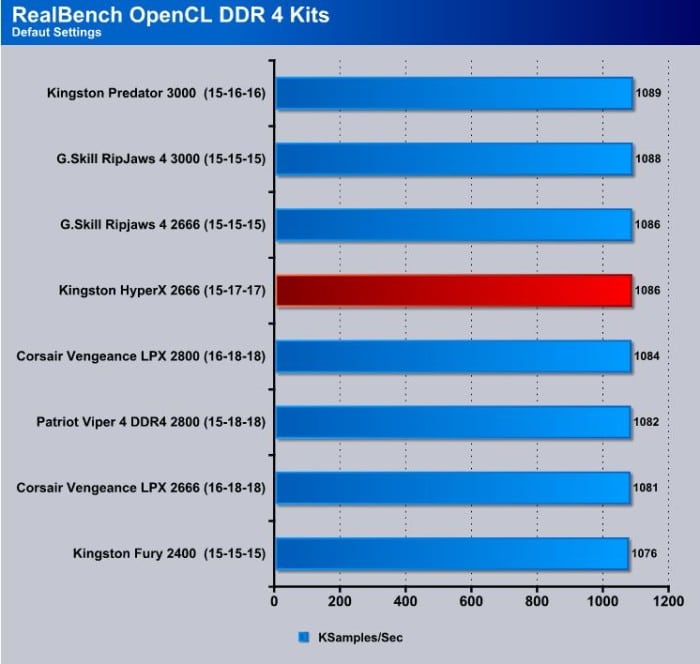 The OpenCL test sees the Corsair Vengeance LPX 2800 tied with the Kingston HyperX Fury 2666 kit and our guess would be the tighter timings jumped it up in the charts.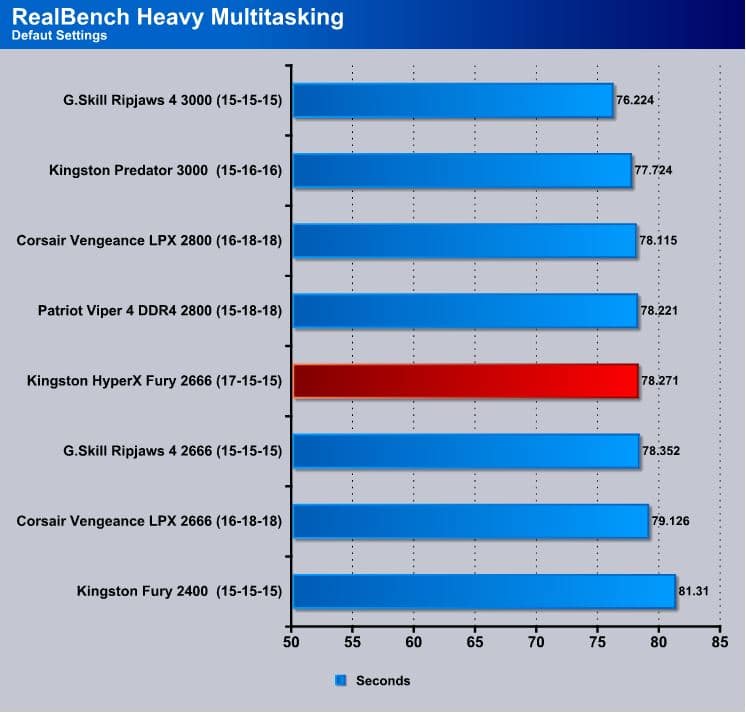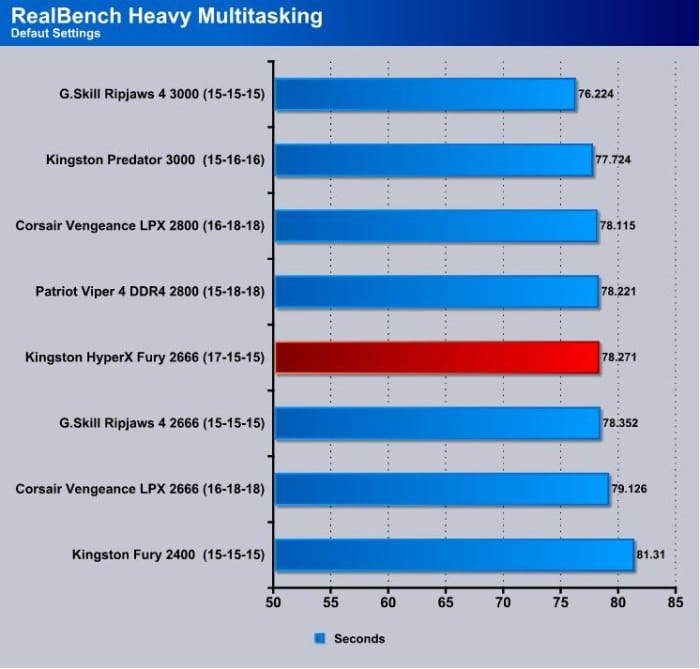 Heavy multitasking sees our test kit in at 78.271 seconds and ahead of a tighter timed G.Skill Kit.
Overclocking & Mating the 2666MHz and 2400MHz Kits
Overclocking this kit earned it some points just on ease of setup and overclocking alone. Some kits it's like trying to drive nails with a banana to get it to OC, others you can OC to a dozen different speeds and timings and the kit never BSODs. This kit is one of those overclock to a dozen speeds with different timings kits.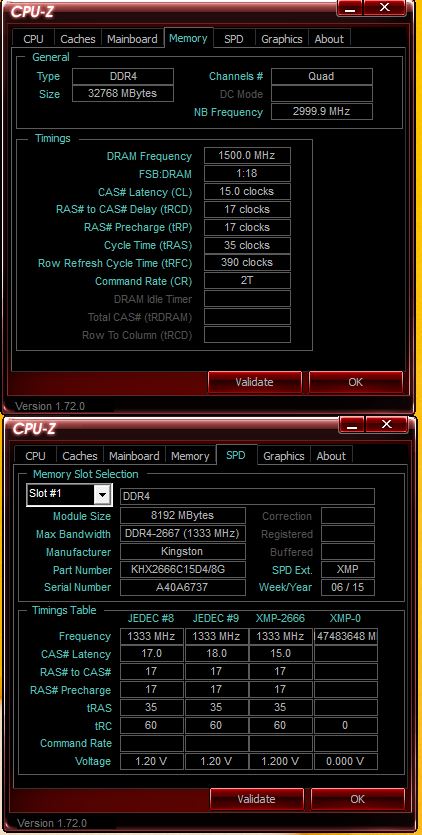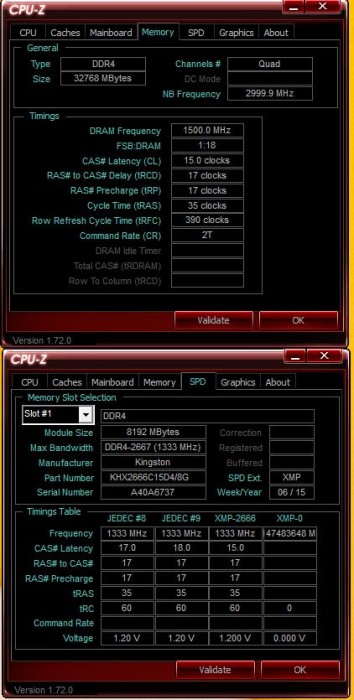 Top Overclock was 3000MHz at XMP standard timings with the System Agent Voltage at .4v offset and Ram Voltage at 1.35v. The system was entirely stable and benchable at 3000MHz.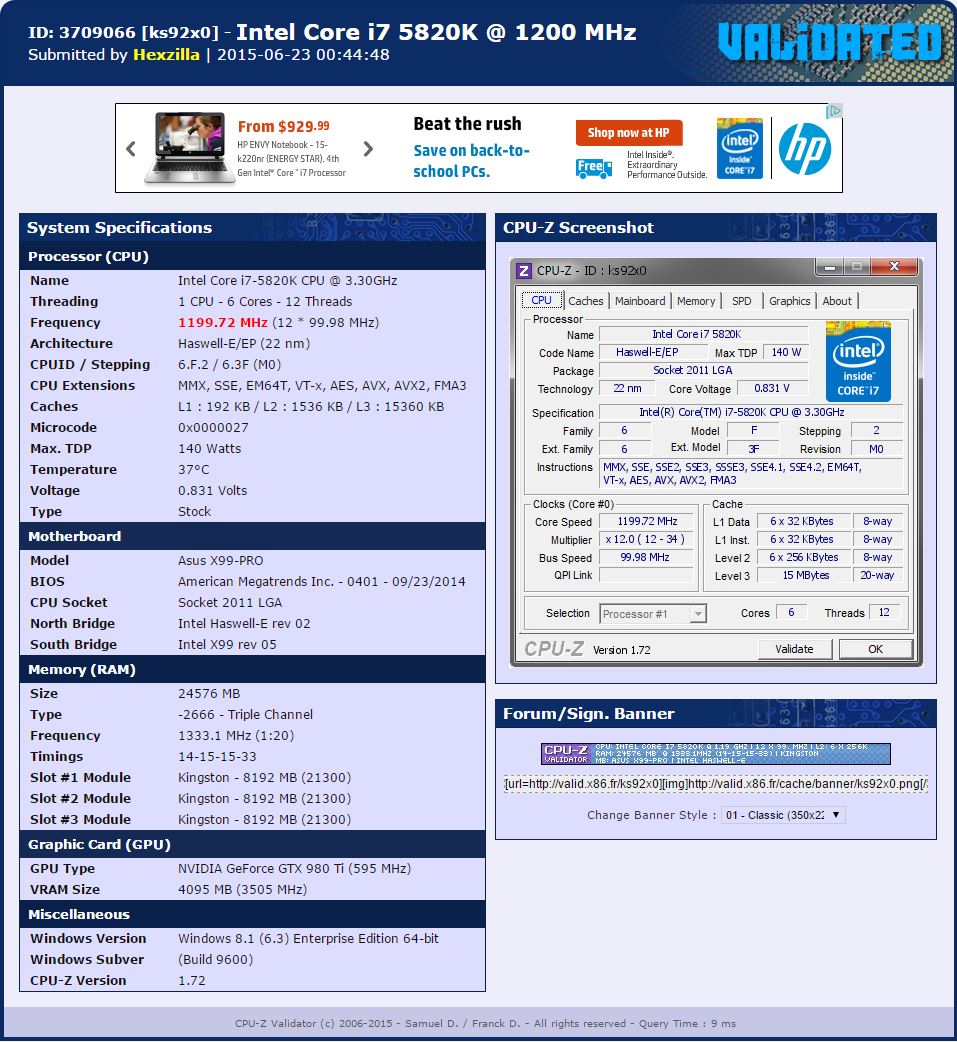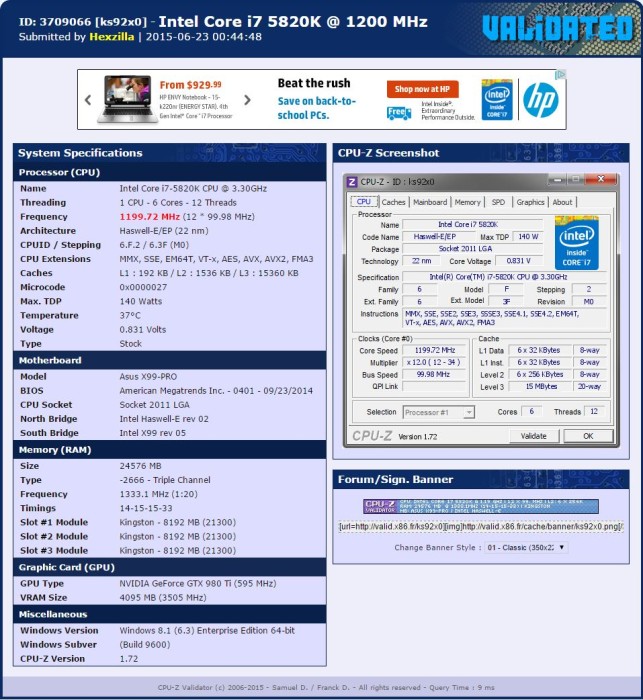 We could run and benchmark the kit at 2666MHz with 14-15-15 timings with no problems but didn't see much performance gain in that configuration.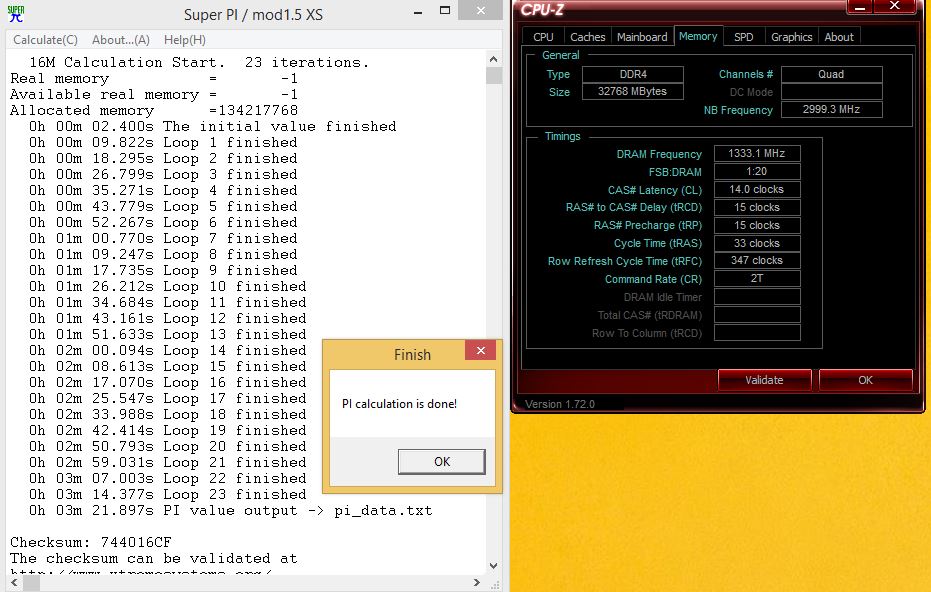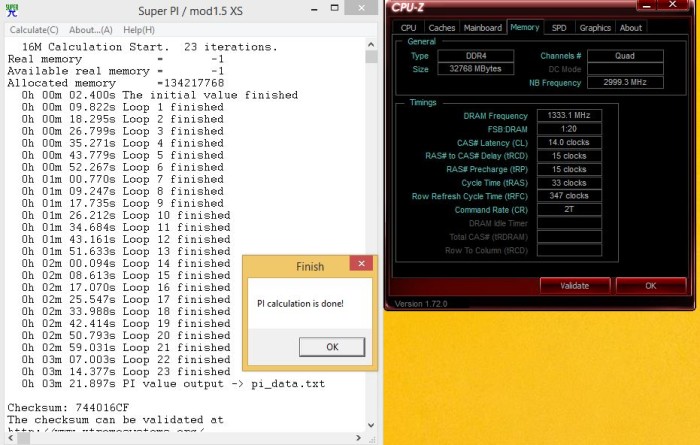 We could complete 16 Million digit runs of SuperPi with no hesitation at 2666 MHz 14 15 15 timings considerably tighter than the factory specified 15 17 17 timings. But down to brass tacks our best OC was 3000MHz and after tinkering with the kit for a day we had runs from 2400MHz to 3000MHz and were fairly confident we could mate the two kits at a good speed.
Mating the Kingston HyperX Fury 32GB 2666 and 2400MHz Kits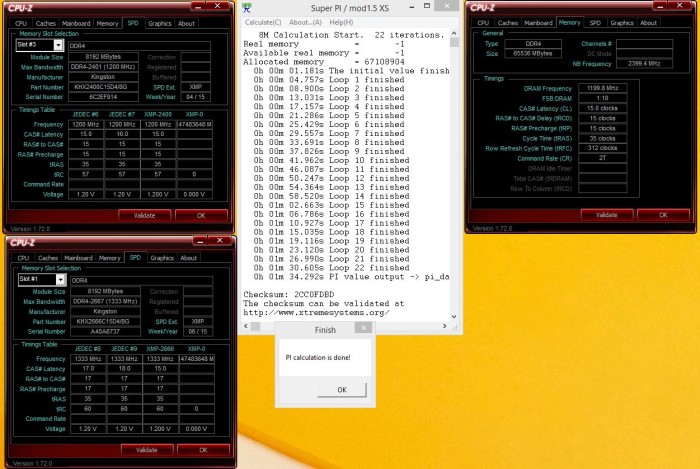 We started the kits at the lowest common denominator 2400MHz 14-15-15 and had no issues with 6 or 7 different SuperPi Runs. Check out the video of the two kits running at 2400.
Here's the video of the two mixed kits the Fury 2400 and Fury 2666 benching successfully t 14 15 15. Since that was so easy we decided to go for the gusto and try for 2666 15 17 17 on both kits.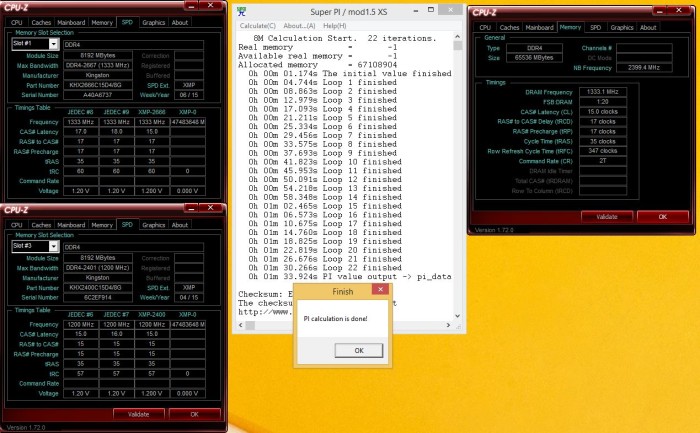 Here's a shot of  completed run with both kits running at 2666MHz at the XMP settings of the 2666MHz kit which are 15 17 17. We made the OC without a voltage increase on the kits but we are running the system agent (IMC) voltage offset at .4v but we had that already set because the system just feels more stable with extra System Agent Voltage.
Then finally with no hassle whatsoever we clocked both kits to 2666MHz 15 17 17 at 1.2v System Agent still at .4v offset and the CPU stroking a 4.4GHz OC. You can't get much better than that, a 266MHz OC on our Kingston HyperX Fury 2400 kit successfully mating it to a Fury 2666 MHz kit and running 64GB mismatched without a problem.
Why would you do that, you may have a 2400MHz kit and see a kit ridiculously priced on Craigs List and pick up the 2666MHz kit. The point being similar kits even with different speeds can find a common ground (usually) and run together in a system if you take the time to test and tune it.