AIDA 64 and 3DMark Physics Testing
AIDA 64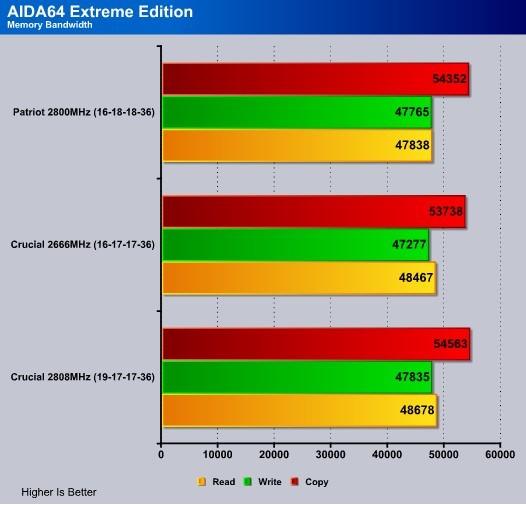 Starting off with one of our favorite benchmarks for testing our memory, AIDA 64 has become one of the many standards of testing Random Access Memory. Even though the Crucial Ballistix memory has a handicap of 134MHz when compared to the Patriot Viper 2800MHz memory, it performs right on par with it. Overclocking the memory did not give us much more performance, considering that we had to loosen the CAS latency in order to get this memory to operate at 2808MHz.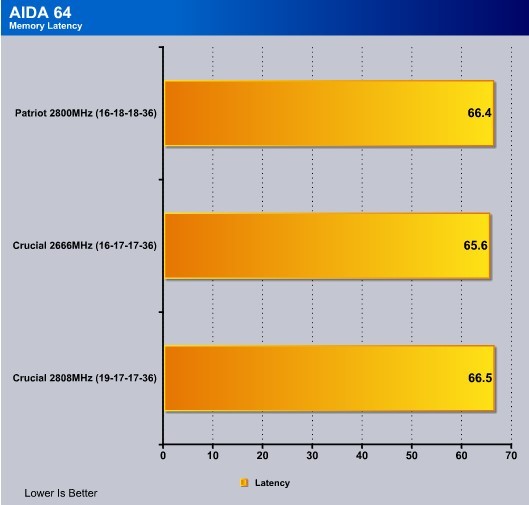 Looking at the Latency results of AIDA 64 benchmark, we can see that this particular benchmark still prefers to have tighter timings as opposed to all out frequency.
3DMark Physics Testing
Instead of doing the normal, everyday, full-on gaming benchmarks, we decided to take things on a different path. So instead of testing how the memory affects a game, we decided to see how the memory effects the physics of our games. This testing area is highly CPU intensive, and for this task we chose to use the Physics testing of 3DMark.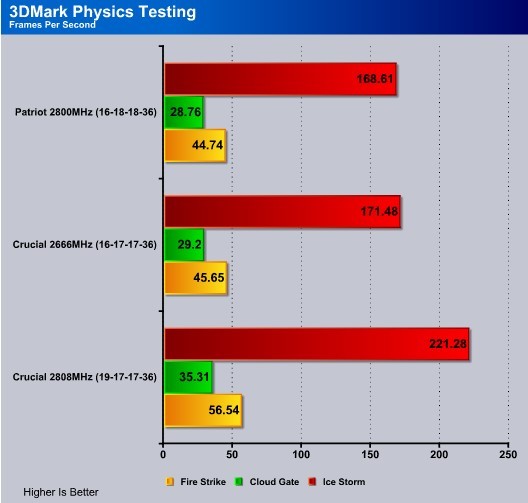 While we are not seeing a huge difference in performance between the Crucial Ballistix 2666MHz memory and the Patriot Viper 2800MHz memory, it is enough to see how memory timings and frequencies effect the physics capabilities of our computer systems. The results of our testing shows that having tighter timings verses all out memory frequency is preferred.