PCMARK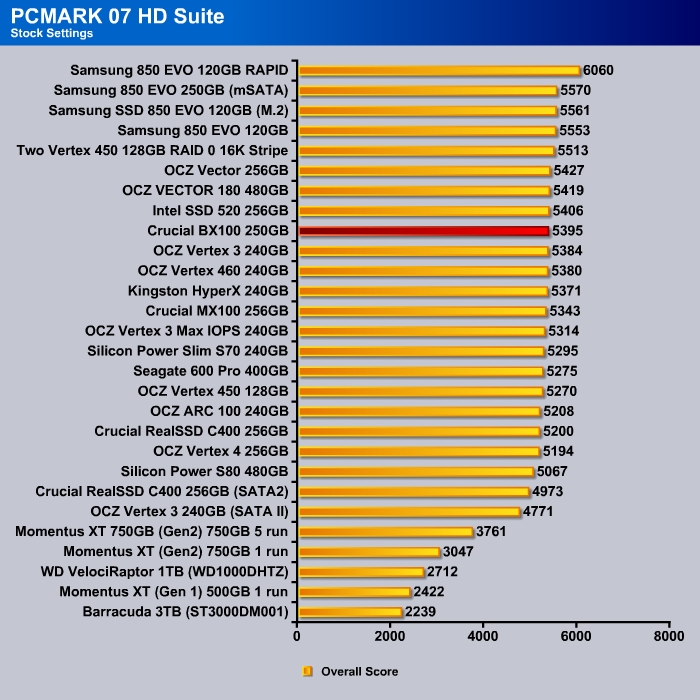 In PCMark 7, the BX100 manages to scored 5395 points. It is clearly not as fast as Samsung 850 EVO but scores basically the same as the MX100 "beating" it by just 52 points. Clearly, the BX100 is a capable drive that replaces older SSDs if you are on the market for a newer drive either for its performance or additional storage space.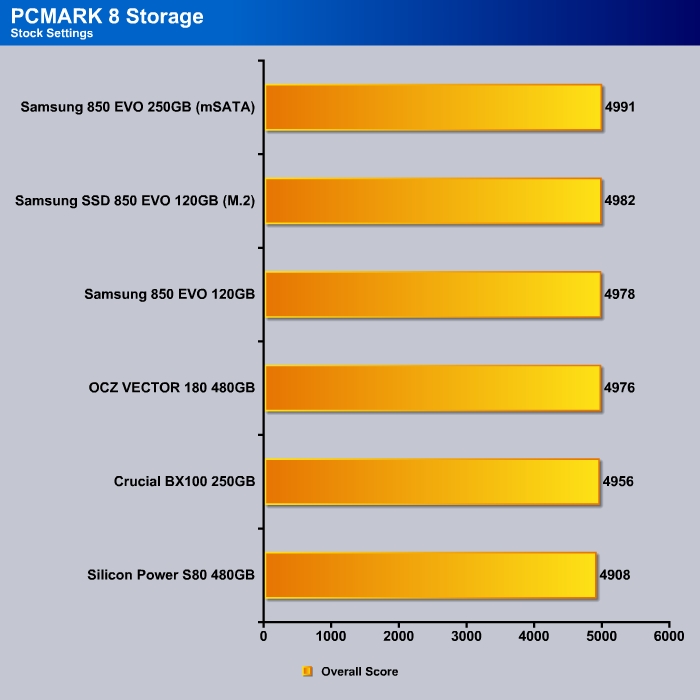 We include the latest edition of the PCMark result here. As you can see the BX100 is lagging behind other drives budget drives here. The BX100 does edges out the Silicon Power S80 that uses another budget controller, the Phison PS3108-S8. The differences in scores however are so small it is hard to really draw any conclusions.
Conclusion


The BX100 is a worthy replacement for the MX100. The drive shows improvement across the board over the MX100. While the older MX100's read is lagging behind the competitor, the  BX100's read performance is now competitive against the competitor. The write performance shows a slight boost in performance by about 10%. While this is still lagging behind the competitor, it is a welcoming improvement nonetheless.
There are a few things that you should be aware if you are looking to buy the BX100. First, the drive is lacking the hardware accelerated encryption support.  While this feature is probably not going to matter for average desktop user, it is something that you need to take into consideration. If you feel that hardware acceleration encryption is something that you may need or want, then you probably would want to check out the Crucial's MX200 drive. In addition, the drive's 3 year warranty and 72TB of endurance rating is a bit lower than what the Samsung's 850 EVO's 5 year and 75TB endurance rating. Longer warranty and higher endurance certainly is good but we are not bothered much with the BX100's rating. Most SSDs last longer than 3 years and writes less than 72TB of data in the lifespan of the drive.
Crucial is managed not only boost the performance of the MX100 but also brings the price of the drive down, which makes the BX100 even more appealing. Certainly, the BX100 is not all around drive and not without flaws, but its price to performance ratio makes it a worthy contender among the budget drives. At around $100 for 250GB storage space, it is hard not to pick it up if you are looking to venture into your first SSD and enjoy the performance benefits of speedy responsiveness. Also, if you are looking for a new drive to replace your aging drive that is 3 years or older or need a drive to expand the storage capacity, the BX100 is certainly worth checking out.
Pros
Cons

Good performance improvement over MX100
Good software bundle
Excellent price to performance ratio
3 year warranty

No hardware encryption support
Write performance is lagging behind the competitor
Endurance rating is less than the Samsung 850 EVO
Warranty is shorter than Samsung 850 EVO