Subjective Testing Results
L4D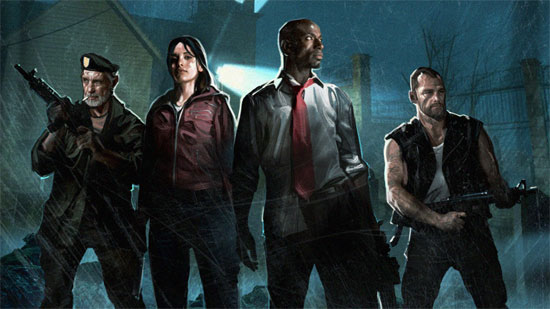 Now when you first play L4D it's a deceptively easy game to play.  The pace can range from sit in a sniper position and headshot ceaselessly spawning Zombies to Dual pistol run and gun to the nearest shelter for more ammo. The Controls aren't particularly complicated until a Zombie rush hits you and all your mind can process is click click click. Unfortunately unless you have a cheat enabled the reload tome or lack of ammo will eventually lead to a click whit no boom following.  Yea it's embarrassing but we have all been there. BrainLock happens in gaming and you just can't quite shake the memory of how to butt stroke a Zombie back from you until the reload cycle completes. In those BrainLock moments the BlackWidow Chroma shines the brightest.
Lets go over the most commonly used Keys in L4D (One not Two)
W A S D standard movement keys no explanation needed (What ever happened to the good old Joystick days sigh)
F for Flashlight
R Reload
E Open doors/interact with objects (Pick up things)
Z or X Make your character talk
CTRL to Crouch
Mouse Wheel cycle weapons
Left Click Fire
Right Click Punch or give someone an item
~ for Developer console (Shame on you for cheating)
Space Bar to Jump
I start my BlackWidow Chroma testing on L4D at a safe house Ammo supply point leading to an outside scene, interior scenes tend to be crowded Zombie Rush scenes with a lot of mindless Zombie killing. Oh did I mention I have a Razer BlackWidow Non-Chroma? Since the two keyboards are almost identical except for the lighting lets start with that. You should know I'm one of those idiot savant game players, I just start playing and hardly ever look at instructions.
Coming out of the safe house with the BlackWidow Non-Chroma and a 10 round automatic shotgun locked and loaded I felt pretty confidant, Mouse wheeling the Shotgun into storage I flip out a set of pistols and pot shot a couple of lackluster zombies mindless shuffling along in the paper blowing on the street. The noise attracts a large crowd of Zombies and the oh heck no here they come music starts to play. Mouse wheeling back to the shotgun and finding a corner to put my back on I start shaving away at the mindless Zombie hoards crowding in on me. Ten shells in the shotgun quickly exhausted, a few quick right clicks and try and mouse wheel to loaded pistols and my character Bill lays dead on the floor waiting re-spawn.
Exiting out to Widows I connect up the BlackWidow Chroma, the keys give a definitive click and good tactile response but lets look at what the Zombies are facing with this technological marvel.
Keys with a 60 million keystroke life span
Chroma backlighting with 16.8 million customizable color options
Razer Synapse enabled
10 key roll-over anti-ghosting
Fully programmable keys with on-the-fly macro recording
5 additional dedicated macro keys
Gaming mode option
USB pass-through
1000Hz Ultrapolling
Braided fiber cable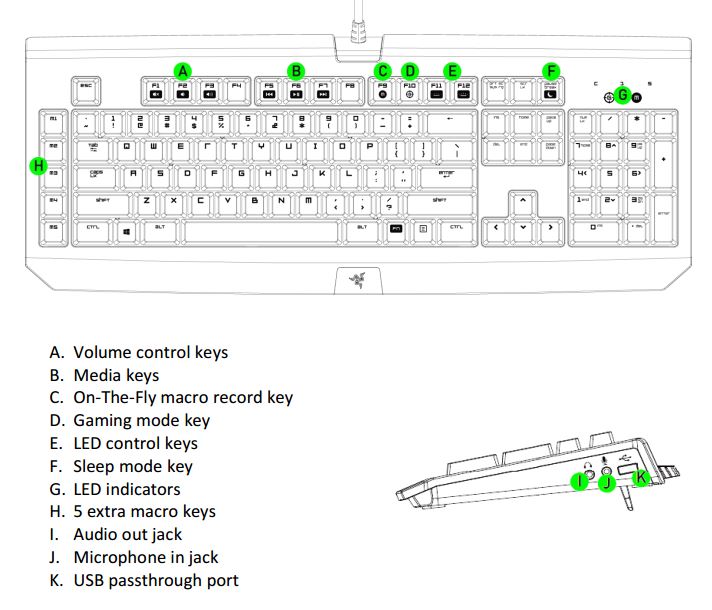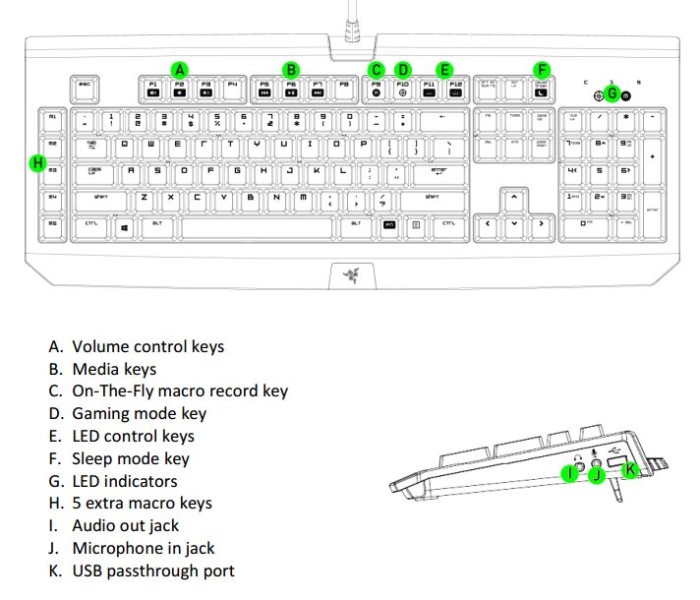 There's what we are working with, let's try this little trick. Toggle the "C" key for On the Fly Macro Creation. Once toggled let's do a simple right-click 20 times, in-game during a fight that will translate to club the buggers 20 times while I find my brain. Assign that to Macro 1.
Let's hit the "C" quick record key again and left click 10 times (Fire), one mouse wheel down, left click 15 times, and right-click 15 times. So unload ten 12 gauge shotgun shells, switch to pistols, then butt stroke 15 times followed by a R which should reload us if we are empty. Assign that On the Fly Macro to Macro key 2.
Assign green to WASD, orange to "E" (USE/Open). give Reload (R) priority with Red and head back out into ZombieLand.
Leaving this safe house there's a ledge looking down on some zombies milling around so for fun lets trigger Macro 1. The auto shotgun starts spewing non-stop re-death (they are Zombies and dead so you can't make them dead so re-dead kind of fits) and I sweep side to side sending Zombie body parts flying. The screen runs green and the message pops up "A Boomer vomited on you". Quickly I stab the red key reloading the Auto shotgun and press into a corner. The horde swarms the ledge and I trigger Macro 2 the Auto shotgun spews Zombie killing fire as the 10 shell counter drops, through the blinding green I see the pistols flip up and start throwing alternating shots but even the limitless ammo pistols go dry and reloading takes time. The third stage of the macro kicks in and Bill is kicking some serious zombie butt punching left and right. The screen clears and zombies lay dead all around he takes 2% damage from a boomer throw up and a hoard attack thanks to the easy to see L4D colored template keys and dedicated macro keys.
The keys respond nicely but are a tad clicky if anyone else is close by, we don't know about anyone else but if you're in our gaming zone the clicking keys are the least of your worries.  Gunfire, explosions, dying zombies, team mates yelling at each other far overshadow the clicks.  We can easily see the advantage of the clicks, you know you hit a key it's just a light 50 gram (weight) tap and the ley clicks and you know lead is headed toward a Zombie.
Review Overview
Performance - 9.5
Quality - 10
Innovation - 9.5
Value - 9
Features - 10
9.6
The Razer BlackWidow Chroma performed marvelously, the colored light show it provides drew every eye in the lab. The On the fly macro keys are a gift from gamers heaven, and the colored profile keys make you a deadlier virtual warrior. Pick one of these beauties up and your enemy will feel the Bite of the Razer BlackWidow Chroma!