Razer ManO'War 7.1 Gaming Headset
The audio portion of computers has advanced light years over the initial offerings some decades back. A multimedia computer kit consisted of a 1x CDROM, a small set of unamplified speakers and a Sound Blaster or Adlib card and cost $269. Now you can enjoy state of the art audio with Razer's ManO'War 7.1 gaming headset. The Razer ManO'War 7.1 gaming headset utilizes 50mm neodymium drivers that offer virtual 7.1 for gaming and video. It's not often we've seen both 7.1 via USB and Stereo 2.0 via a 3.5mm jack on one headset. The versatility of having USB and 3.5mm combined with Razer's dedication to quality makes the ManO'War more than worth looking at for your next headset purchase. Razer has the ManO'War for , which seems a little high until you understand this sweet headset will work on your Wii, Phone, Computer, Xbox, Playstation and any device that has a 3.5mm jack and all computers and tablets. Looking at the Razer ManO'War 7.1 gaming headset from that perspective it takes all the sting out of the price.
Feature-wise the ManO'War is packed, starting with the 50mm neodymium drivers, plush ear cups (over-ear), retractable microphone, braided cloth cable, virtual 7.1 surround sound and stereo 2.0. We'll get more into the geek candy later but lets get a look at the critter and some specifications.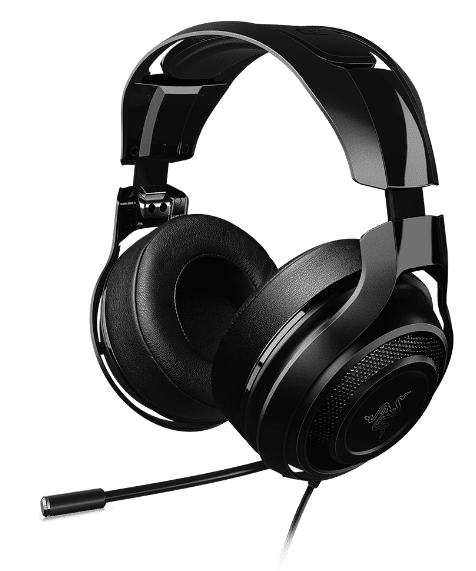 Now that's one sexy headset by anyone's measure; just looking at it makes you want to strap it on and crank up the tunes. The ear cups give plenty of room for those of us who are ear size impaired (big ears) and the sheer comfort and luxury feel of the headset negates the possibility of buyer's remorse.
Specifications
Headphones
Frequency response: 20 – 20,000 Hz
Impedance: 32 Ω ¬ at 1 kHz
Sensitivity (@1 kHz): 118dB
Input power (Max): 30 mW
Drivers: 50 mm, with Neodymium magnets
Inner ear cup diameter: 60 mm / 2.36 in
Connection type: 3.5mm Analog
Approximate weight: 332 g / 0.73 lbs
Microphone
Frequency response: 100 – 10,000 Hz
Signal-to-noise ratio: > 55 dB
Sensitivity (@1 kHz): -42 ± 3 dB
Pick-up pattern: Unidirectional
System Requirements
PC / Mac with USB port; PlayStation ® 4 ; Xbox® One*
Windows® 10 / Windows® 8 / Windows® 7 / Mac OS X (10.9 and higher)
Internet connection for driver installation
At least 100 MB of free hard disk space
* Xbox® One Stereo Headset Adapter may be required, sold separately