Razer Gigantus Black Edition
Ever run out of real estate during that critical e-battle, run that mouse right off the mat in an attempt to sweep the battlefield for the sniper zeroing in on the head shot? If you need more real estate for your mouse to roam on, Razer has released the Gigantus mouse mat that runs 455mm (17.9″) x 455mm (17.9″) and 5mm high. Yes it's Gigantus meets ginormous and the Aleutian fields all mice dream of. Constructed as a smooth mouse mat, the Gigantus offers a smooth gliding surface that lets your mouse float across the surface and at the same time stop quickly for that precision shot.

Engineered for low DPI mouse swipers that need the precision low DPI offers and the acreage to pull it off, the Gigantus will take up some space on your desktop, but if you demand the best and a lot of it, the Gigantus is a great option and runs   so it won't leave a gigantic hole in your wallet. We do have to admit it's a little big for a stocking stuffer, but wrap that puppy up and no amount of shaking will give away what's inside the wrapping!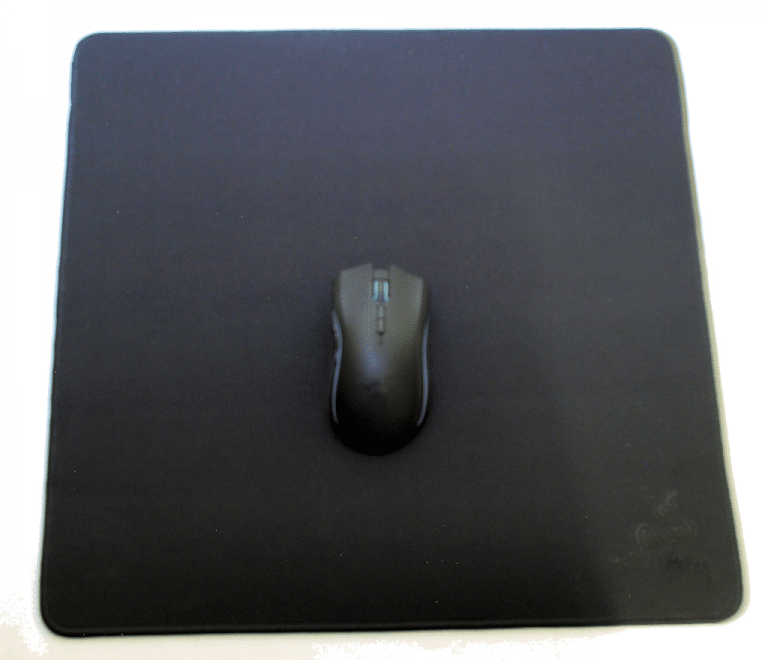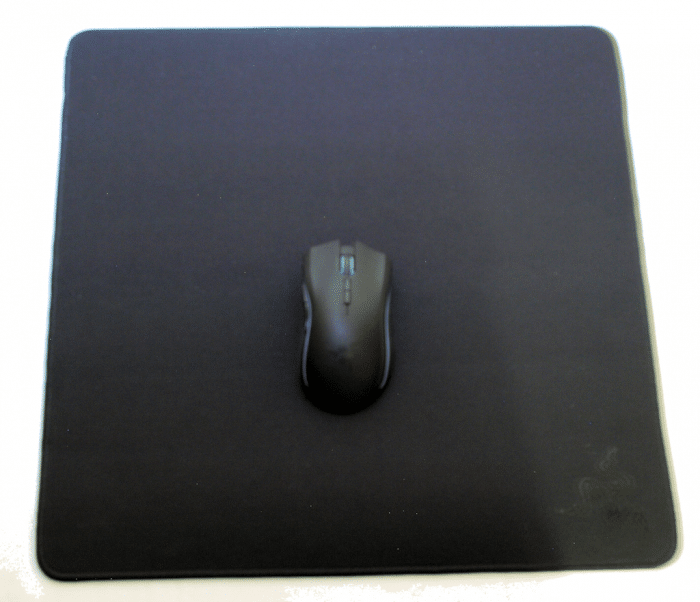 Shown above here with the Razer Mamba Tournament Edition in the center you get an idea of just how large the Gigantus is. There's plenty of room for low DPI players and plenty of speed and precision for higher DPI players on multi-monitor setups.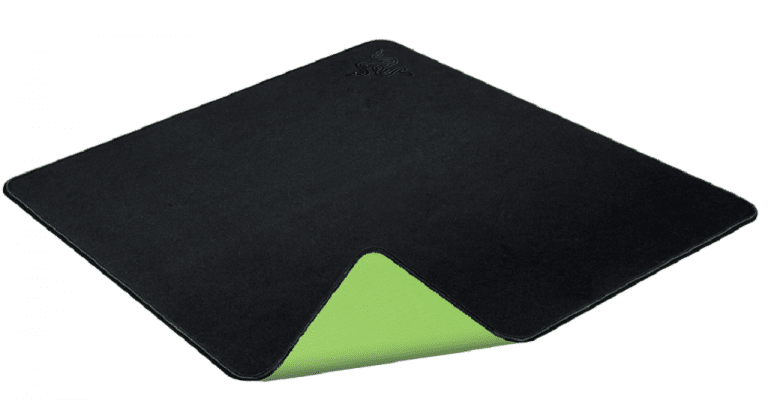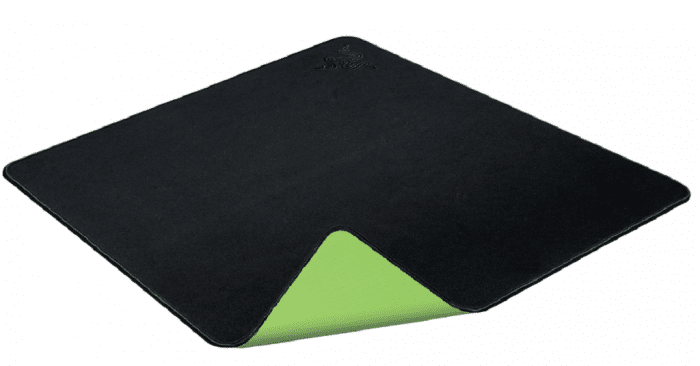 The backing on the Gigantus is rubberized and will hold the mouse mat solidly in place, even on less than perfect surfaces. The sheer size of the mouse mat increases the resistance to movement, so there are no worries about mat slippage during gaming. The edges of the mouse mat are firmly stitched to prevent fraying. Coming in at 1.4 pounds, if you can't beat your opponent on the field of e-battle, you can likely slap them silly with the Gigantus rolled up tightly.
Features
Ultra large mat area designed for low-sense mouse swipers
Optimized gaming surface, engineered for speed and control
Enhanced thickness for surface consistency
Specifications
Ultra large size for low DPI gameplay
Textured cloth finish for perfect balance between speed and control gameplay
Dense foam with rubberized base for optimal comfort
Anti-fray stitching
Approximate size: 455 mm (L) x 455 mm (W) x 5 mm (H) (17.9″ x 17.9″)
Approximate weight: 617 g / 1.4 lbs
Testing
Well there's no better way to test a mouse mat other than long, grueling hours of gameplay. We used the Razer Mamba Tournament Edition, the Cooler Master Sentinel III, a low 800 DPI generic mouse and the Razer Deathadder Elite. We went with Half Life, Doom (2016), Team Fortress 2, and Quake for our testing games.
Using the low DPI generic optical mouse the Gigantus game us plenty of room to wander across the battlefields searching for that headshot as a sniper in Team Fortress 2. Moving to higher end mice the surface provided plenty of room for any DPI we chose and the surface was smooth and easy to glide across lending speed and precision to our game.
Unfortunately for some, the biggest advantage of the Gigantus is also it's biggest flaw. The sheer size of the Gigantus takes up a lot of space on your desk so make sure you have room for it. We also noticed that small specs appeared on the mouse mat out of nowhere. Probably small fibres and dust mites hunting for a clean mouse mat to reside on.
Every game we tested the Gigantus on it performed well, there was no wrist fatigue but you end up dragging your arm across the pad if you try and use the entire pad to game on. Then we tended to move toward the outer edge of the enormous mouse mat to prevent arm slides but that felt like we weren't utilizing the mat to it's fullest.
Every gaming mouse mat has it's purpose and if you need a really big mouse mat your options are somewhat limited and the Razer Gigantus is one of the largest mouse mats we've seen. Low DPI players and multi-monitor players might be able to use the real estate it offers, but it was a little large for our liking. The Razer Gigantus takes home a solid Bjorn3D Bronze Bear Award.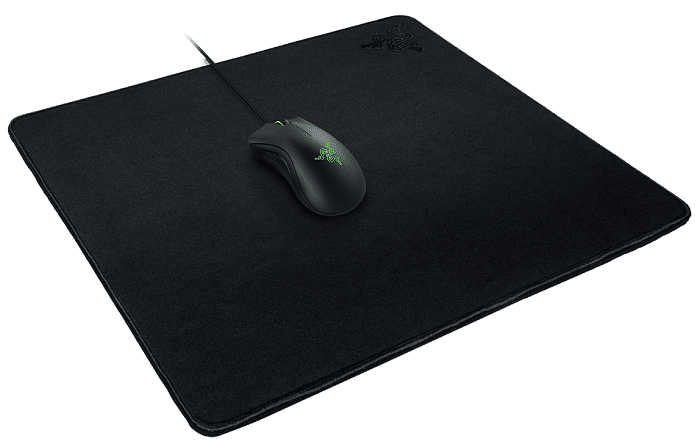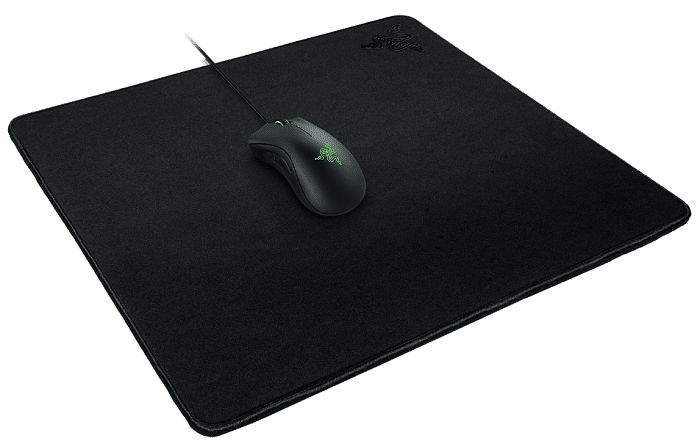 Pros:
Cons

Great Mouse Surface
Rubberized Backing
Anti-Fray Stitching
Enhanced Mouse Precision