Final Thoughts & Conclusion
We spent a lot of time with the Razer ManO'War and it is a sheer pleasure, almost a guilty pleasure, to game and listen to audio with. We especially love the 2.0 stereo sound reproduction which was rich and deep, revealing layers of music and even background sounds we had never noticed before. The cables covered every device we tried the  on including phones, tablets, computers and stand alone stereos. You may need an Xbox adaptor if your Xbox doesn't support 3.5mm, but other than that this is one of the most versatile headsets out there. Music playback from online sources was spot on clean without any muddying of tones via both USB and 3.5mm. We wouldn't recommend the 7.1 surround sound for music, but it's not designed for that. Coming in at under 3/4 of a pound, the headset is light and comfortable and shuts out ambient sound well.
During gaming and video playback, the virtual 7.1 surround sound was excellent and the Surround Sound Engine reliably modulated the frequencies to fool our ears into believing we were getting 360° 7.1 surround sound. It was easy to pick out enemies coming up on our six and duck for cover and ambush them. Every game ambient sound was crystal clear down to frog croaks in Crysis and weapon strikes in Skyrim. We spent weeks with the ManO'War and never once found a sound source it didn't handle well. The only way it could get better is with noise cancellation, which we all know well exceeds the  price tag of the ManOWar.
If we had to choose one headset to be stranded on a desert island with, the ManO'War would be on the short list and a serious contender for best all around headset of the year (reasonably priced ones). Razer's ManO'War 7.1 earns the Bjorn3D Golden Bear Award.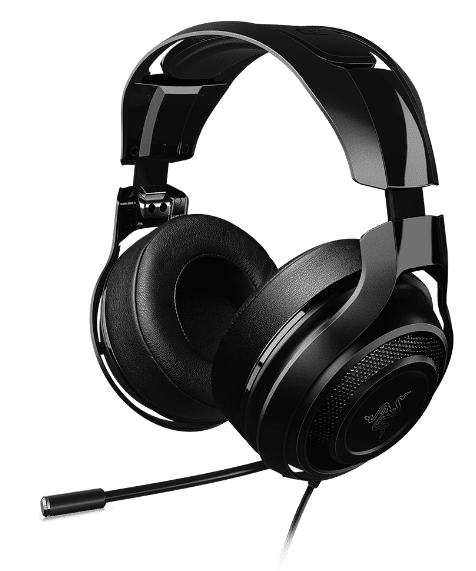 Pros
Cons

Versatility
Immersive Game Play
Rich, Deep Sound
Stereo 2.0
Virtual 7.1
50mm Driver
Comfort
RGB
Durability

Synapse Updates Too Often (Requires Reboot)