Razers legendary gaming peripherals have launched Razer onto bigger things, now they handle custom designed cases, gaming tablets, ultra thin laptops and more. Despite their branching into new products Razer is now and always will be a gaming company at heart. Everything they produce is for gamers by gamers and their designs show just that. Well made products for gamers with that extra little bit of flash that differentiates Razer from other peripheral manufacturing companies.
Razer BlackWidow Chroma, Feel The Bite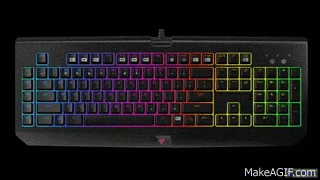 Since part of the Razer BlackWidow Chromas allure is the "Wave" I went ahead and animated a Gif to show you what it actually looks like. Animated Gifs are usually a pretty good size and prohibitive to load times on web pages so don't get your hopes up for a pile more but that one gives you an idea of the Razer Black Widow Chroma. In reality there are several other functions.
The Wave
Spectrum Cycling (Colors change one at a time)
Breathing (Same color fades in and out)
Reactive (Everything you type is colored and fades out)
Static (you pick the color and it stays the same)
Templates (Different keys are lit up for different genre games, more on the Preset Gaming Profiles page)
Now here's a mind blower for you. The Razer BlackWidow Chroma features individually programmable back-lit keys with 16.8 million color options, all easily set through Razer Synapse.  One point six Billion color options, for once in my long life I'm just speechless (Alert the press).
Launched in 2010 the Razer BlackWidow Chroma quickly became the keyboard of choice for professional gamers and the most popular highest selling keyboard worldwide. Topping the charts in sales wasn't it's only mark on the world it quickly became the keyboard of choice for eSports athletes worldwide. Lets think about that statement for a second. The eSports athletes worldwide picked the Razer BlackWidow Chroma as their favorite keyboard, was it because it was pretty? Being pretty might have influenced their decision at first but each key is programmable to individual colors, if you are in a competition on a first person WASD game you can design a custom profile for that game specifically. Having the correct gaming keys lit for a specific game opens up a world of possibilities, no seconds wasted fumbling for the right key, there it is colored and color coded at your fingertips (literally). How many times have you fumbled for the right key and splay someone head shots you from a concealed position? The ability to program specific keys to different colors will cut the learning curve on any game to almost zero. Now why do the eSports athletes love the BlackWidow Chroma, because they see and utilize the great advantage the BlackWidow Chroma gives them.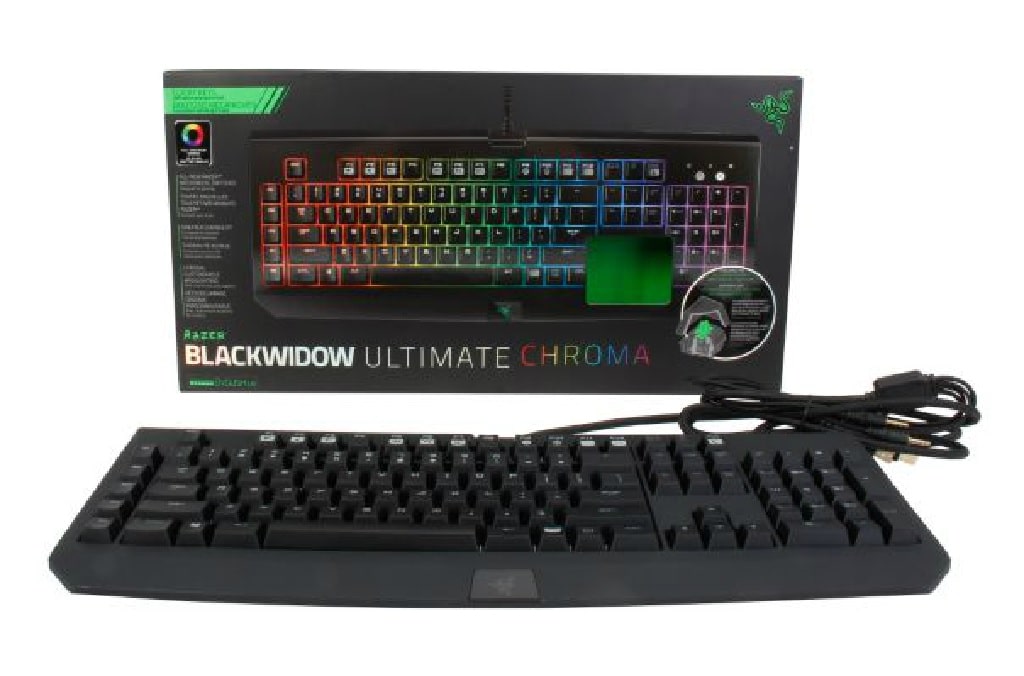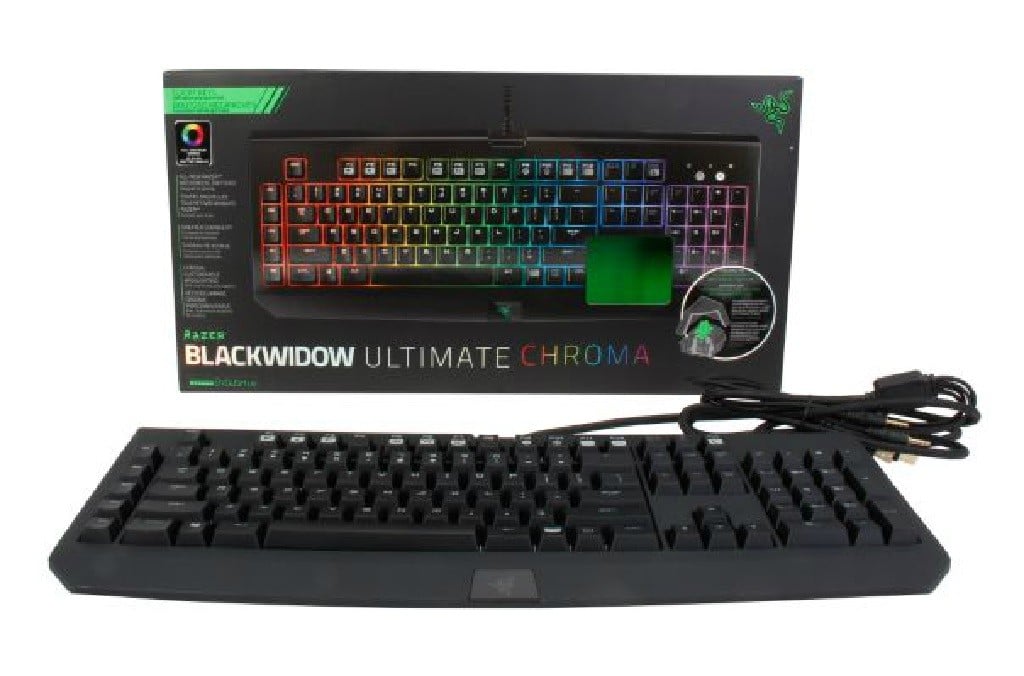 Boxed and heavy, much heavier than you would imagine, the BlackWidow Chroma has a substantial durable feel. It didn't take long for it to click in our minds that the reason its heavy is not only durability but since it's heavy it's harder to accidentally move during those desperate moments before obliterating your opponent with your weapon of choice. We'll get a little more into it but most times when we test a gaming device we prefer to go to a long played and loved game and in this case the first game we fired up was Left 4 Dead. We have to tell you even though it is a well-loved and played game the Chroma was easy to program, the game specific keys being lit up added a measure of fun to the game we've never seen before. Gaming is fun but it has its stressful moments and having a lit color coded key bound to the pipe bomb alleviates some of that stress and makes you a better Zombie Killing Machine.
Review Overview
Performance - 9.5
Quality - 10
Innovation - 9.5
Value - 9
Features - 10
9.6
The Razer BlackWidow Chroma performed marvelously, the colored light show it provides drew every eye in the lab. The On the fly macro keys are a gift from gamers heaven, and the colored profile keys make you a deadlier virtual warrior. Pick one of these beauties up and your enemy will feel the Bite of the Razer BlackWidow Chroma!