Pre-set gaming profiles
We mentioned it earlier so now we are putting out keyboards where our mouths are,  We don't normally like to use images from the vendors website but these images are conducive to getting a major selling point across.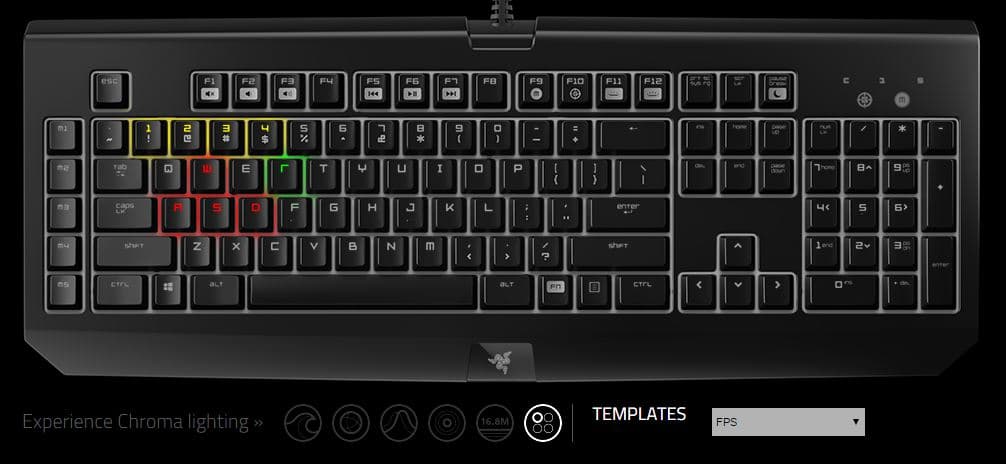 Here's what we were talking about earlier, these days many games use the same keys but with special keys added in to make them game specific functions. In this case this is a generic First Person Shooter profile, every key you need is highlighted and color coded. No more blindly stabbing at keys hoping you hit the right one in a pinch, known in gaming as the "NoUDidn't" panic move.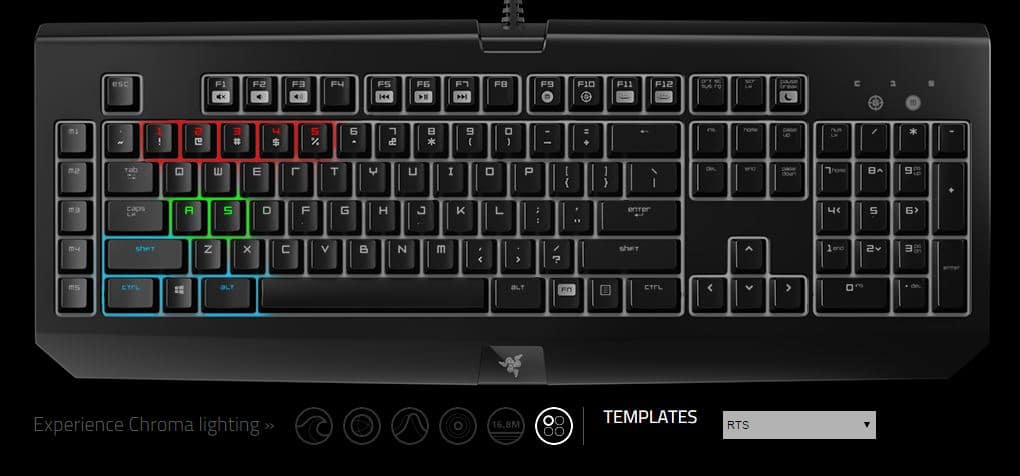 This is the RTS generic template and as you can see the keys have changed. Say your switching from a game that uses the standard WASD movement keys to a mostly mouse game that uses "S" for secondary strike. We've all done it you stab at the last games key and instead of the proper move you just swapped a silenced 9mm for a knife, head-shot ensues your now lifeless body plops on the floor blood seeping from your wound and you grimace waiting on re-spawn and revenge. Why not avoid all that and create a custom killer profile for your favorite game and hand out the head-shots instead of take them.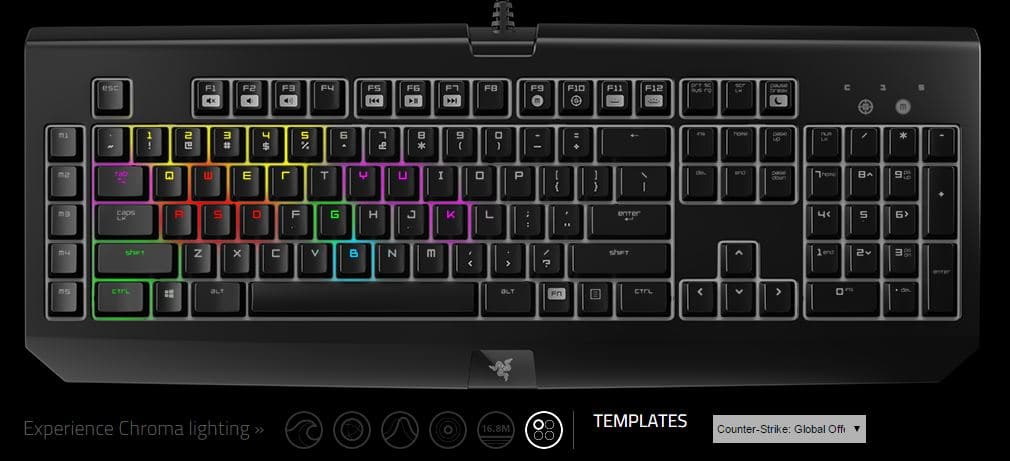 Here's a custom Counter Strike Global Offensive template, notice the complexity of the key layout, how each section is color coded. You can work out your own codes, red for move, purple special weapons, yellow for fast switching weapons you name it the possibilities are endless. By now you should begin to see the advantages for professional gamers, custom colored game key templates with colored visual ques. We have been to some top eSports events and it's not unusual to see custom aluminum padded cases for a set of BlackWidow Chromas and a couple of Razer mice to be carried in. The eSports athletes want an important part of their arsenal protected and for it to arrive at the event safely so they spring $400 for a custom aluminum padded case. That should tell you how good the BlackWidow Chroma is.
Review Overview
Performance - 9.5
Quality - 10
Innovation - 9.5
Value - 9
Features - 10
9.6
The Razer BlackWidow Chroma performed marvelously, the colored light show it provides drew every eye in the lab. The On the fly macro keys are a gift from gamers heaven, and the colored profile keys make you a deadlier virtual warrior. Pick one of these beauties up and your enemy will feel the Bite of the Razer BlackWidow Chroma!