Asus X99 Deluxe A Closer Look
You'll have to bear with me here the Asus X99 Deluxe is so feature packed we may be here for a while.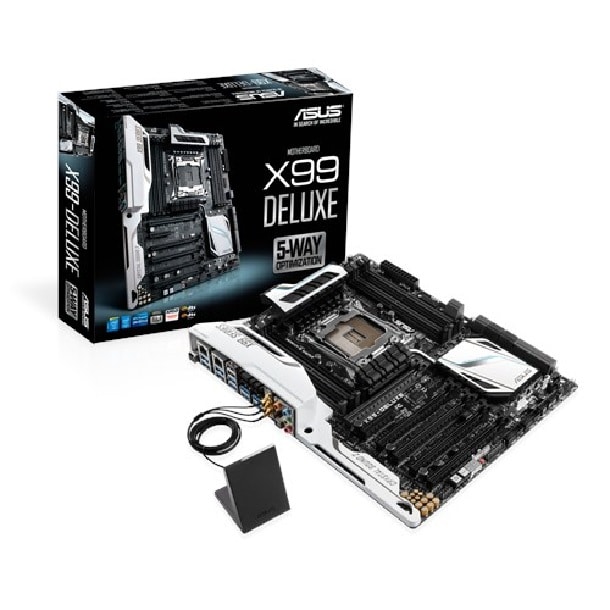 One of the interesting bundled features is the 3×3 dual band 2.4/5GHz 802.11ac* Wi-Fi antennae running up to 1300Mb/s transfer speed, it looks like I'm in for a Router upgrade.  This technological marvel is a triple antennae capable of driving  162.5MB per second given the right router. Not only do you receive Wi-Fi you can use Home Cloud to turn your PC into a streaming media server as well as access your PC from anywhere.  It even turns your HD into personal cloud storage. Why would you want that you ask? How about extending your tablet or phones storage over to your huge hard drive? Streaming those HD movies to your tablet or phone outside, the possibilities as well as the freedom are endless.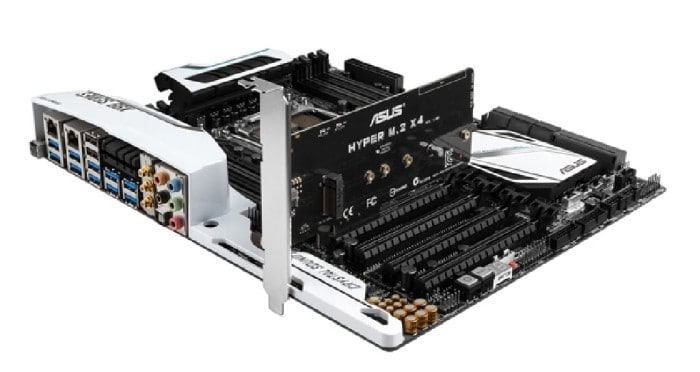 Here's a sweet little feature I plan on using, the Hyper M2 x4 with the PCIE 4x addon card you can strap on two additional M2 Drives. By two additional I mean one fits directly on the motherboard and two more on the Hyper 4x add-on card and enjoy up to 32Gb/s speed. I will be testing an M2 drive in the near future so stay tuned!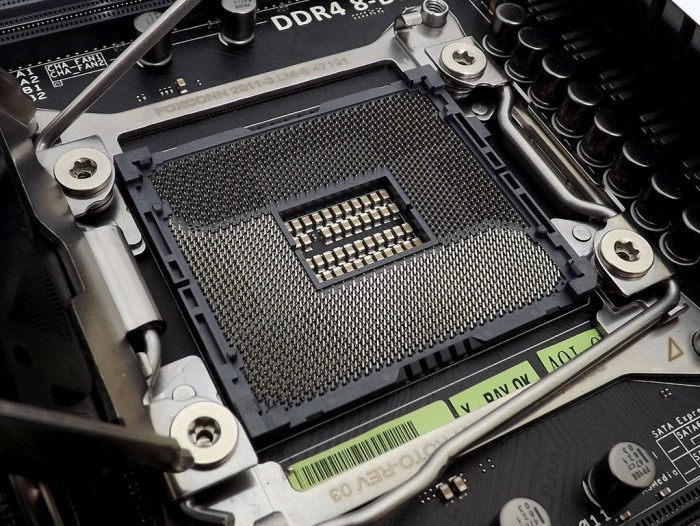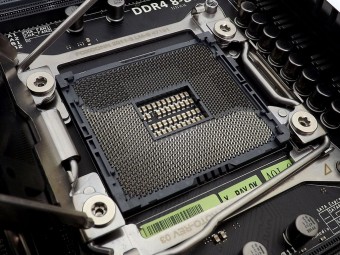 Previously mentioned the 2011v3 socket Asus is using is in reality a 2011v3 compatible 2083 accessing extra pins on the Haswell E family that are conducive to extreme cooling and overclocking. Pour the LN2 on and enable the 2083 pin CPU socket and you can attain speeds only dreamed of before. On a side note it may be interesting to watch how the 2083 socket plays out, Asus has a patent pending and Gigabyte has the SOC boards utilizing a 2083 socket as well.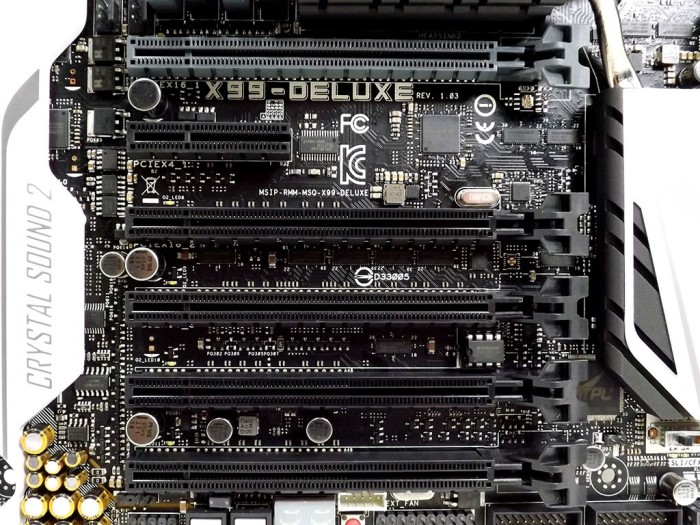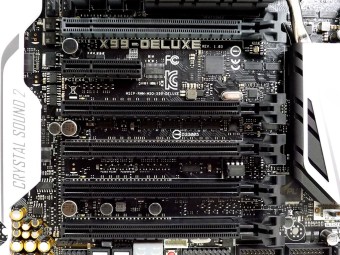 Things get even more interesting at the PCIE sockets, 5x full-sized sockets and a 4x socket. With a 40 lance PCIe CPU you get 5 x PCIe 3.0/2.0 x16 (x16, x16/x16, x16/x16/x8, x8/x8/x16/x8, x8/x8/x8/x8/x8 mode). Here's the specs for a 28 PICE lane CPU on the Asus X99 Deluxe, 3 x PCIe 3.0/2.0 x16 (x16, x16/x8, x8/x8/x8). So with dual GPU you get 16x 8x for dual GPU but in personal testing the FPS on dual GPU with 28 lanes and a 40 lane CPU there was about a 1 FPS difference. Now going to triple or Quad GPU yes a 28 PCIE lane will hurt your GPU performance, but you see a degradation in performance with two GPU's, put three in there and your scaling drops farther, try 4 and your scaling is shot to shoot. Single powerful GPU is the best, dual SLI with two less expensive cards next but scale past two cards no matter how many PCIe lanes you're facing diminishing returns.
I am a hard-core power user myself and have 2 5820K and one 5830K and the dual GPU performance on a 28 Lane CPU makes me just as happy as on a 40 Lane CPU. Now start tossing on an M2 drive and even at 28 Lanes your running 16x, 8x, 4x which by chance is the full 28 PCIE lanes available on a 5920k and your packing one heck of a gaming rig.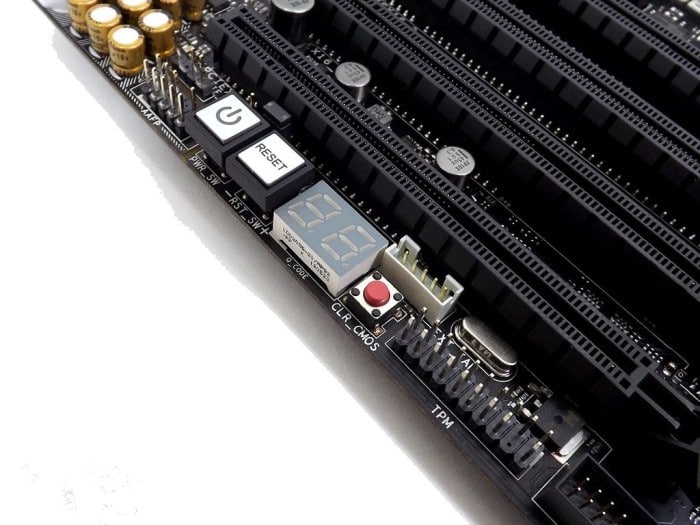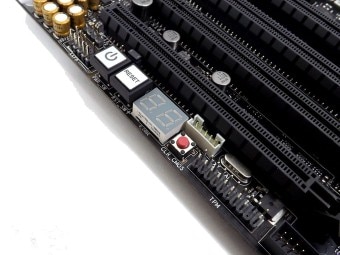 In a way I understand the need to crowd components onto a motherboard but of late manufacturers have taken it to far not to mention. On the Asus X99 Deluxe the on board power switch, reset button and clear CMOS all set right up against a PCIe slot.You'll also find the connector for the fan header card, a dual digit debug LCD square right on top the PCIe slot. Having that close a proximity is going to limit the use of the PCIe slot and make accessing that bank of buttons and connectors hard to get to.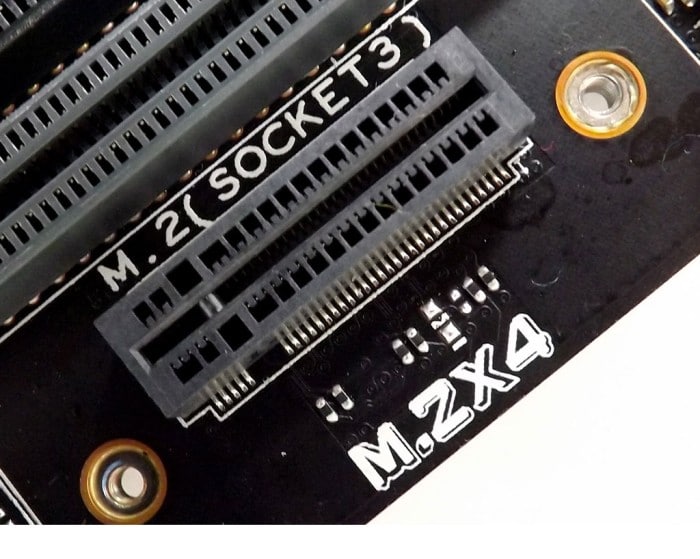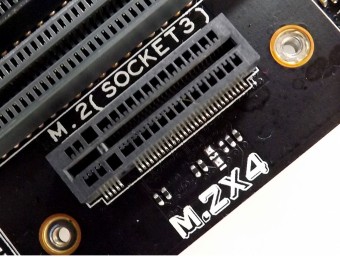 Here's a shot of the M2 drive socket and lets move to the next picture so I can show you the cramping on the Asus X99 Deluxe.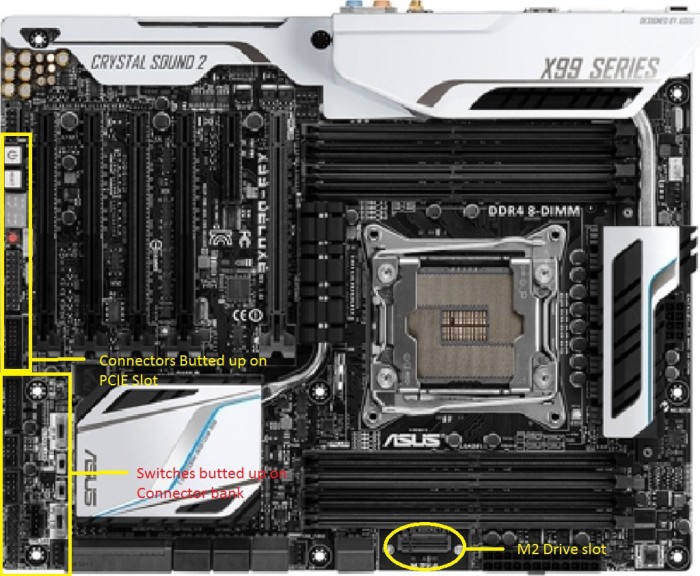 If you want a single M2 drive the slot is backed up on your ram banks, over on the left the bank of buttons hidden behind the last PCIe slot. Up by the big heat sink is a bank of switches sitting on top a bank of connectors. Any way you look at it there's little space to be had here without sacrificing a PCIe slot or working through a knot of wires. Sure distance from circuit to circuit slows down performance by enough for no one to notice but this cramping is just poor layout.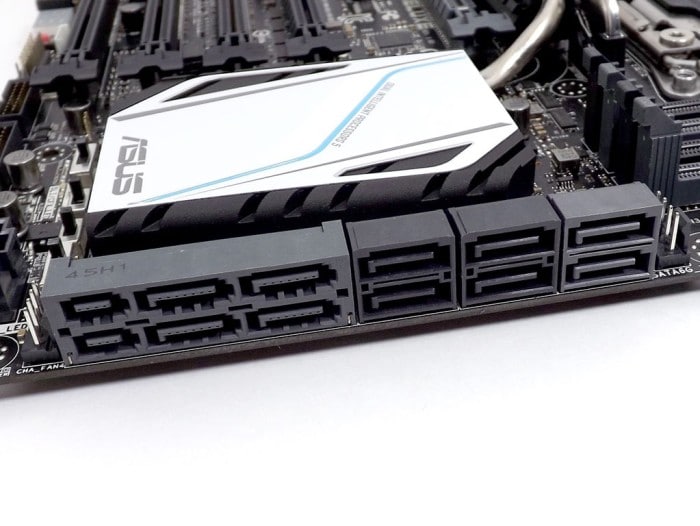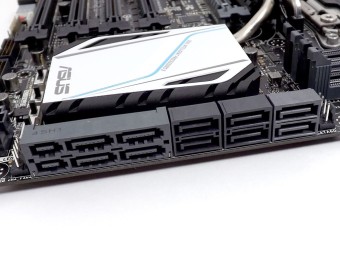 Drive connectors you get 6 Sata 6Gb/s connectors and two Sata Express, thankfully the Sata Express are backwards compatible with one Sata drive each because as of the time of post I found no Sata Express drives available, In this writers early opinion (subject to change) Sata Express is nothing more than a couple of Sata ports married together with a little hardware trickery thrown in to Raid0 the Drive. After extensive research on the fairly new interface it's a single drive with two drive controllers and an early attempt at something long overdue, increased drive speed, but I'm not sure the technology is ready for end consumer use.  Send me a half-dozen Sata Express drives ready for retail let me test them and I'll get back to you on that. Oh wait so far no Sata Express drives are market ready.

No hows that for spoiling a person, 10 full USB 3.0, dual Lan connectors, a couple of legacy USB 2.0. the triple connectors for the Wi-Fi antennae and 7 analog audio connectors with one optical audio port. The audio riser is to support the Crystal sound 2 driven by the Realtek ALC1150 8-Channel High Definition Audio.

Some X99 boards we've seen are quite sparse on the bundle. a few SLI bridges and a Crossfire bridge, manual Driver CD and a few Sata Cables.  Not with this Asus board, Asus can spoil a person on the bundle alone. Let me list the bundle contents then we'll go from there.
2 x Features/set-up guide
1 x I/O shield
8 x SATA 6 Gb/s cables
1 x ASUS O.C. ADRENALINE case sticker
1 x SLI bridge
1 x Audio power plug
1 x Q-Connector kit (2 pieces)
1 x ASUS case badge
1 x ASUS HYPER M.2 X4 PCIe card
1 x M.2 Support stand
1 x Fan Control Hub
1 x Driver disc
Most interesting in that bunch is the Wi-Fi antennae we discussed earlier, the Mobile fan header that ups the fan controllers available from 6 to 9 and the Hyper M2 4x. You may have noticed the M.2. drive slot earlier, you'll also find a M.2. Drive bracket in the bundle and Asus went with a vertical mount on the M2 drive, the jury is out on that one but if I run into M.2. drive problems after testing I will update the article.
Literally I could go on for another 20 entries on this page and still not cover all the Asus Spoilage on this board.