Final Thoughts

The Patriot Viper 4 Series DDR4 16GB 2800MHz kit not only looks good it performs well. Nothing about the 2011v3 platform is cheap and the Patriot Viper is no exception at the time of writing the price rang in at $299.99.  Complete 2011v3 systems often run upwards of $3k just from not carefully picking system components, while your not going to come in under 1k you can trim the $3000 down considerably by picking smart longevity choices like the Patriot Viper 4 DDR4 16GB 2800MHz kit. The Patriot Viper 4 Series DDR4 16GB 2800MHz kit performed well and fit right into our charts well. The looser timings of 16-18-18-36 cost it a little performance but the blazing 2800Mhz made up for it. We tinkered with the kit a little and came up with manual settings of 15-17-17-36 at 1.2v and 2800MHz. it only took about 10 minutes to get them stable at those settings.
We got the performance we expected out of the Patriot Viper 4 Series DDR4 16GB 2800MHz kit, it overclocked well, installed plug and play to an amazing 2800MHz speed and just for fun we installed it and another 16GB kit onto an 8 slot ram board and even at 64GB the kit ran like a champ at 1.2v. There's not much to complain about with the Patriot Viper 4 16GB 2800MHz kit like all other 2011v3 kits it stings the wallet a little but not nearly as mich as some comparable kits we've seen.
The Patriot Viper 4 Series DDR4 16GB 2800MHz kit runs faster then the 2400 MHz kit we have on hand but not as fast as the 3000MHz kit so it's performance is right where it should be but the bang for the buck factor might be a little lacking.  We did some research and found several kits with the same or better timings and 2800MHz speed that cost about a hundred dollars less. If you like most enthusiasts you have your favorite brand of ram and if it's Patriot then this kit will serve you well.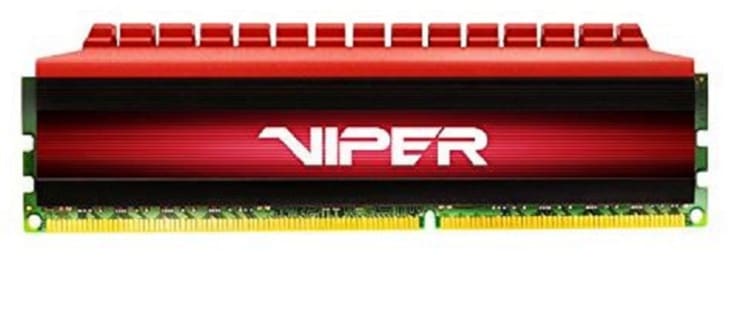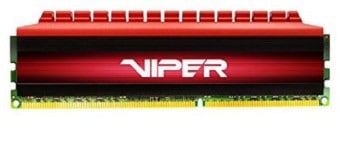 If you looking for a flashy high density high performing kit of DDR4 look no farther the Patriot Viper 4 DDR 4 16GB 2800MHz kit will fill the bill and amaze you with it's smoking hot performance.
Pros
Cons

High Quality
Lifetime Warranty
High Density
Low Profile
Intel XMP
Self Overclocking
Review Overview
Performance - 8.5
Value - 5
Innovation - 9
Quality - 8.5
Features - 8.5
7.9
The Patriot Viper 4, while pricey, performed well and if your like most enthusiasts you have a favorite brand, If Patriot is your brand then this kit might be just what the Viper ordered.