A Closer Look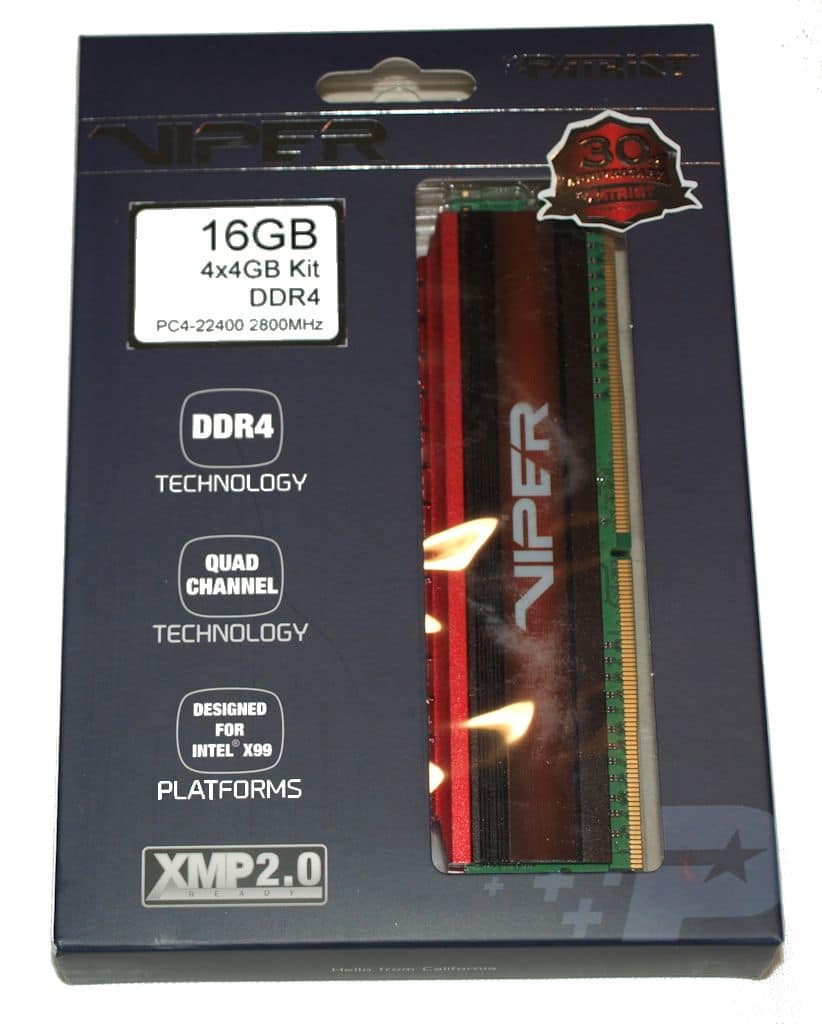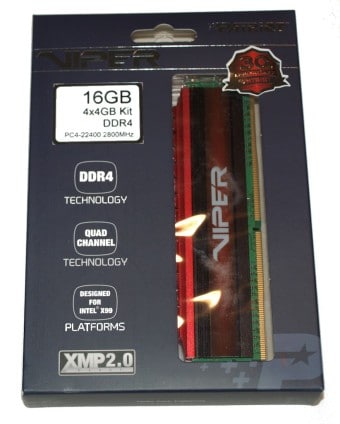 The external package of the Patriot Viper 4 DDR4 16GB kit is a simple hang on rack design with a few of the features described. On a slightly comic note we took the box picture 32 times and no matter what we tried the edge of the box appeared to have flames coming out but the clear ram insert. If this is any indication of speed this kit might be (Excuse the pun) On Fire Fast".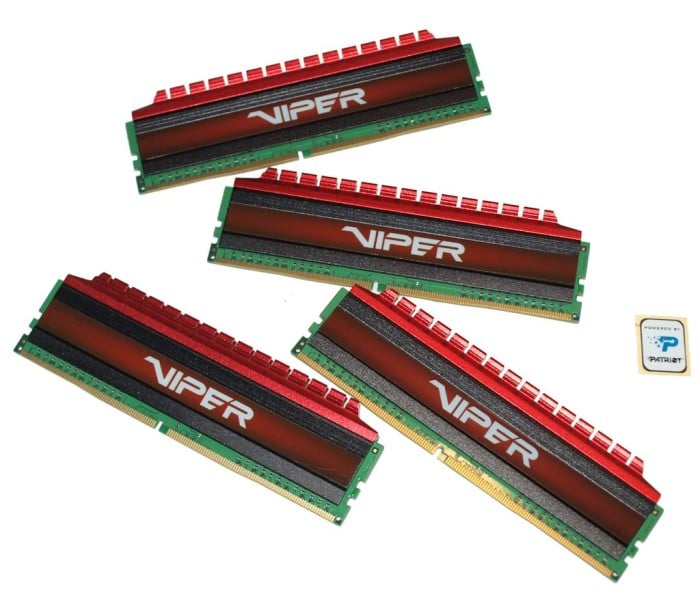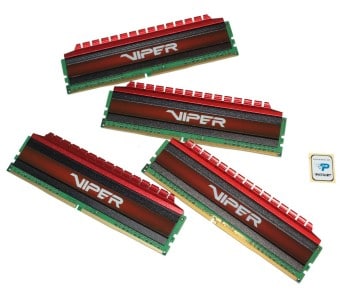 This is a quad channel kit so of course there are 4 sticks density is 16GB so each stick is 4GB and comes with a "Powered by Patriot" case badge. The pictures really don't do justice for the kit the black tends to bleed into the red and in your hand pretty it's a sight to see.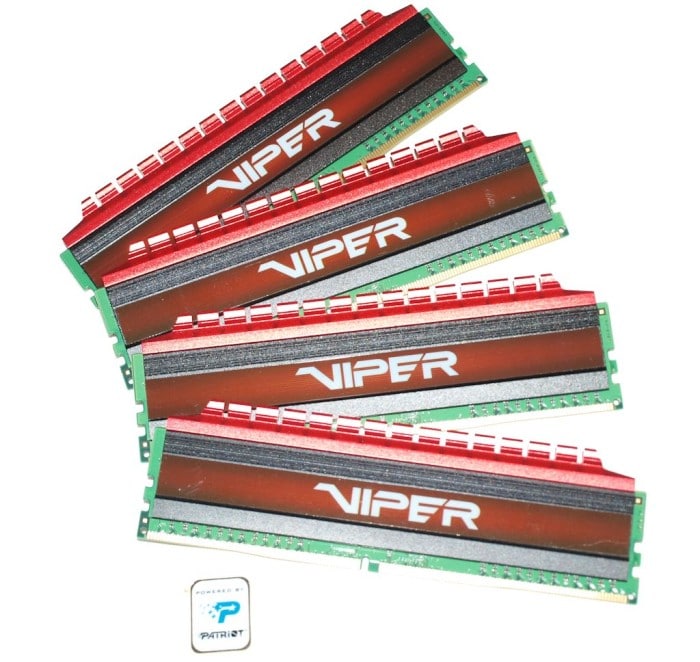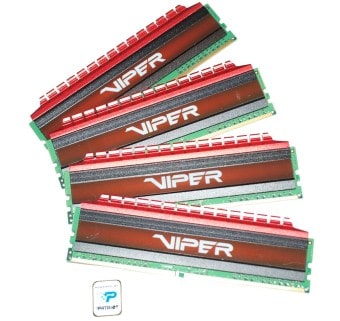 The Patriot kit of four has a standard greed PCB and we would have preferred to see this expensive a kit with a muted Black PCB since it's highlights are black. Since the price at the time of posting is about a hundred more than other name brand kits there really isn't any reason why a black PCB would hurt the profit margins (much).


For those wondering here's a sticker shot so you can identify the kit should you want to purchase an identical kit.
Testing & Methodology
Memory testing can be a bit touchy at times. I test at stock advertised maximum speed. The vast majority of people are going to use stock speeds set by the XMP profile. The conundrum of the 2011v3 is CPU speed, the three available top-tier CPU's are K series unlocked multiplier and highly overclockable with a simple Multiplier increase and a little added voltage. So where are we going to gain more down clocking the CPU and overclocking the ram, or overclocking CPU and leaving the ram at stock speed. In most cases CPU overclock and stock ram speeds gives the best yield for most end users. So I overclock and provide those numbers but test at stock speeds. (Update. Due to a busted CPU the overclocking number will be added after the review goes live. I had the memory run at 2600 MHz when the CPU broke and am waiting for a replacement).
The system is a fresh load of Windows 8.1 all updates applied, Drivers for every device completely updated. Cache and prefetch cleared before each test, indexing on the drives disabled and no background programs running. Nothing should pop in and interfere with the tests skewing the results.
Tests are run 4 times and the average of the 4 tests reported here, should an anomalous score present the score is discarded and another test run.
Kits Tested
Patriot Viper 4 Series DDR4 16GB  2800MHz
Kingston HyperX DDR4 16GB Predator 3000MHz
Kingston HyperX DDR4 32GB Fury 2400MHz
Test Rig Hexzilla
Test Rig Hexzilla
Case
Corsair Obsidian Series 800D
CPU
Intel Core i7-5930k 22nm Haswell E 3.5GHz
Motherboards
GIGABYTE X99-SOC Champion
Ram
Kingston HyperX Fury DDR4 2400 32GB CL15Kingston HyperX Predator DDR4 3000 16GB CL 15Patriot Viper 4 DDR4 16GB CL 15 – 18 – 18
CPU Cooler
Thermaltake Water Pro Dual Radiator
Hard Drives
NA
SSD
2x Corsair P128 in Raid 0
Optical
ASUS DVD-Burner
GPU(s) SLI
MSI GTX 960 Gamer 2GEVGA GTX 960 SSC
PSU
1700W Silverstone
Mouse
Logitec M750 Trackball and Razer Naga
Keyboard
Razer Anansi
Test Suite
We will use the following applications to test the performance of the memory.
AIDA64 Extreme
Superpi
3DMark 11
Sisoft Sandra 2015
Sniper Elite V2
Review Overview
Performance - 8.5
Value - 5
Innovation - 9
Quality - 8.5
Features - 8.5
7.9
The Patriot Viper 4, while pricey, performed well and if your like most enthusiasts you have a favorite brand, If Patriot is your brand then this kit might be just what the Viper ordered.