INSTALLATION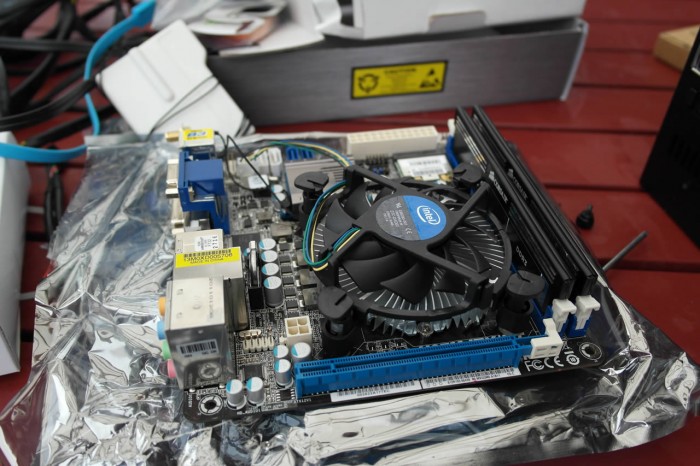 We choose to install the Asrock H67M-ITX/HT motherboard together with a Core i3-2100 CPU, 8 GB of memory, a 1 TB HDD and a small 90 GB SSD for the OS. We then installed Windows 8 on it. 
The order that we installed the components in were:
Motherboard with CPU and memory
HDD and SSD
Power supply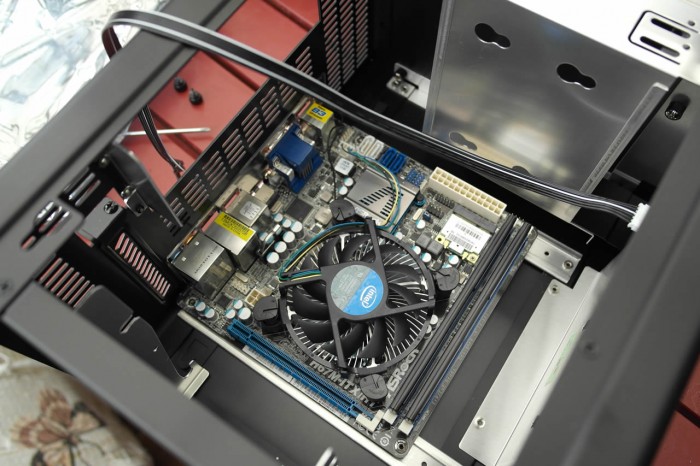 Installing the motherboard is pretty easy as there is plenty of room even though it is a small case.  Since this case only takes mini-ITX-motherboards there are no questions about what motherboard stands-offs to use. One interesting thing we can see on this image is that Lina Li actually could have allowed dual-slot graphics card by allowing the user to remove the hard drive cage, something you already can do, and instead of a fan use the space for a card. The reasoning for not allowing this is most probably that the case simply would get to hot as there would be nothing helping the air move around more than the fan of the graphics card. 
Lian Li includes screws for both a 3.5″ HDD and a 2.5″ SSD. They allow you to hang the drives on the side or slide them into the holder at the bottom.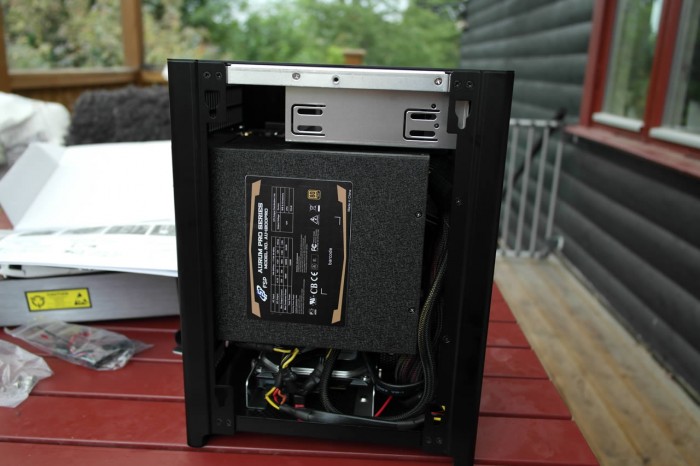 When choosing a PSU we recommend looking at a smaller one with modular cables. It will be cramped in the case so we need as few cables as possible.  In fact, it might be better to use a special SFX unit instead to save space. A case like this does not need very long cables and it would be cool to see some PSU-vendors release PSU's aimed at smaller mini-ITX-cases with shorter cables and shorter depth. 
The finished product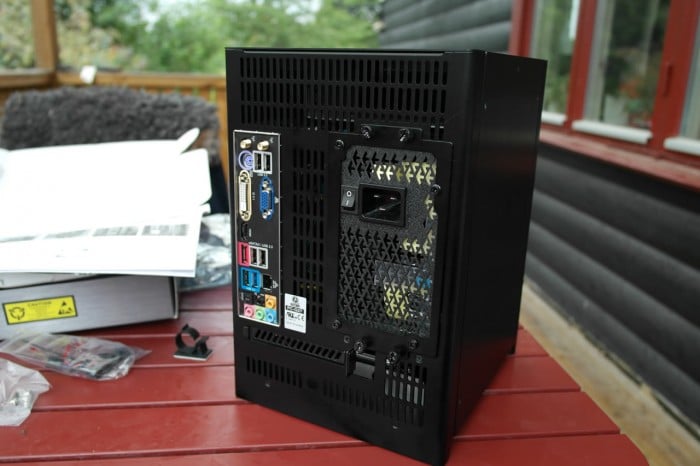 The system is very quiet when we turn it on. In fact, we hd to listen very close to hear the hum of the components. Since the noise is dictated by the components, as the case in our build did not get a fan, the right selection can make this a virtually silent computer. We still need to keep an eye on the temperature inside but even when letting our system play high-res movies or running the PC Mark-benchmark did we encounter any issues with heat. Your mileage will vary as it really depends on the chosen components. 
Review Overview
Performance - 7
Value - 8
Features - 7
Innovation - 7
Quality - 9
7.6
The Lian Li Q27 is yet another nice clean looking aluminium case from Lian Li. At around $70 (Newegg) it is relatively cheap and offers good features and performance for the money.