The software
Nvidia has added a lot of ways to play games via GeForce Now. In addition to a PC or Mac you also can play it via Safari on IOS, on Android and even on some newer LG TV's. I'm sure they will continue to add more ways to play over time.
In my case I choose to play it on my Apple Mac Book Pro with the M1 Pro-chipset and 32 GB of RAM. I subscribe to the RTX3080-tier which means I should be able to get the absolute best experience.
For Mac and PC Nvidia has released software to download. Up until a few days ago the Mac-software was not available natively for the M1 Silicone (although it worked) but the latest version now natively supports the Apple Silicone which should improve the performance even more.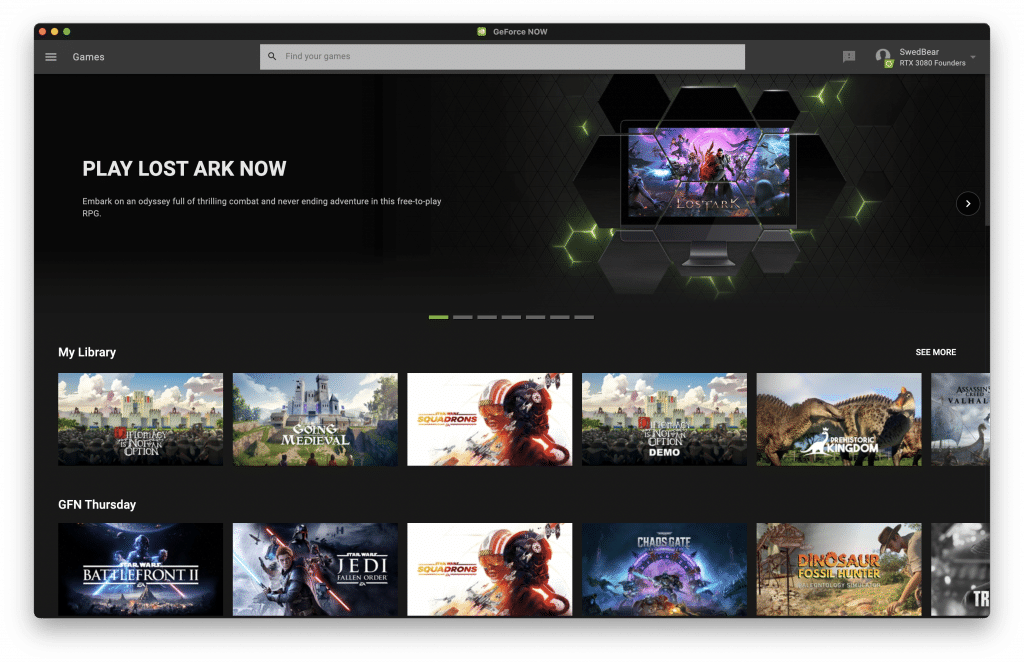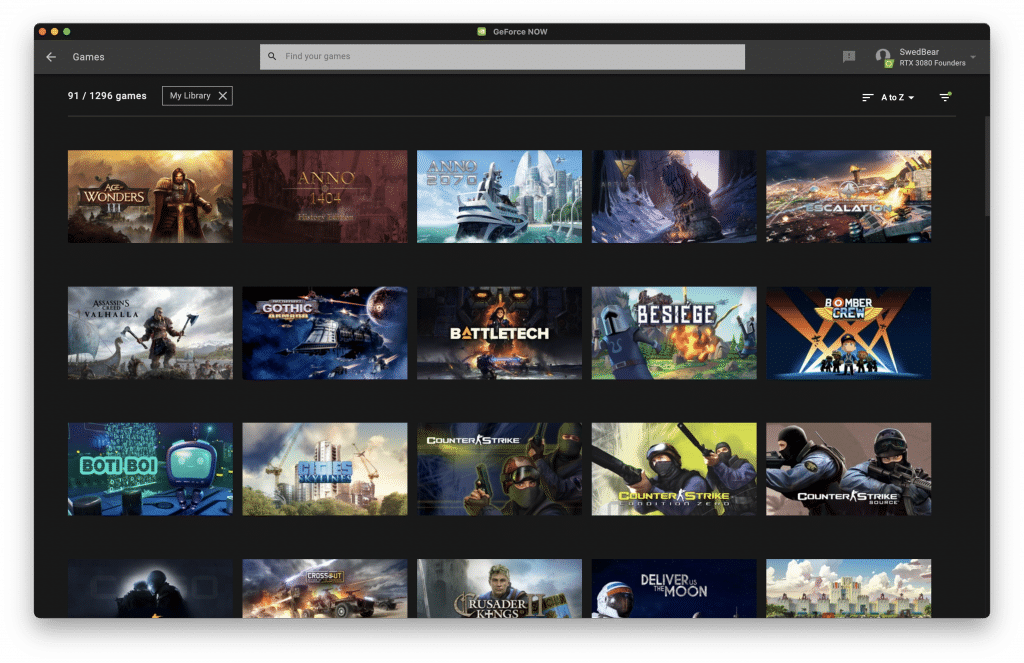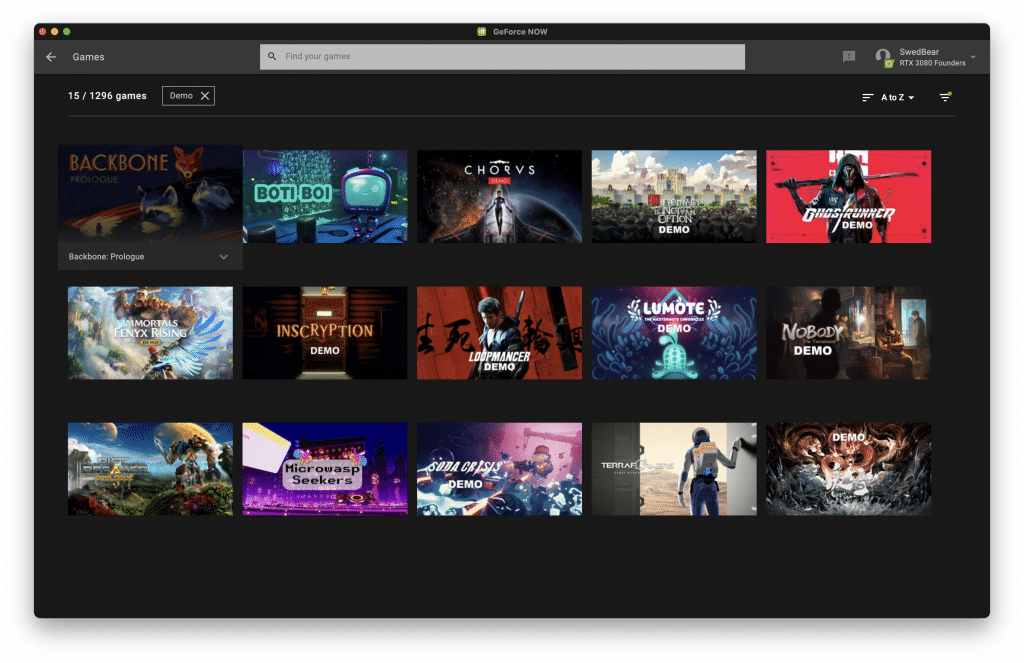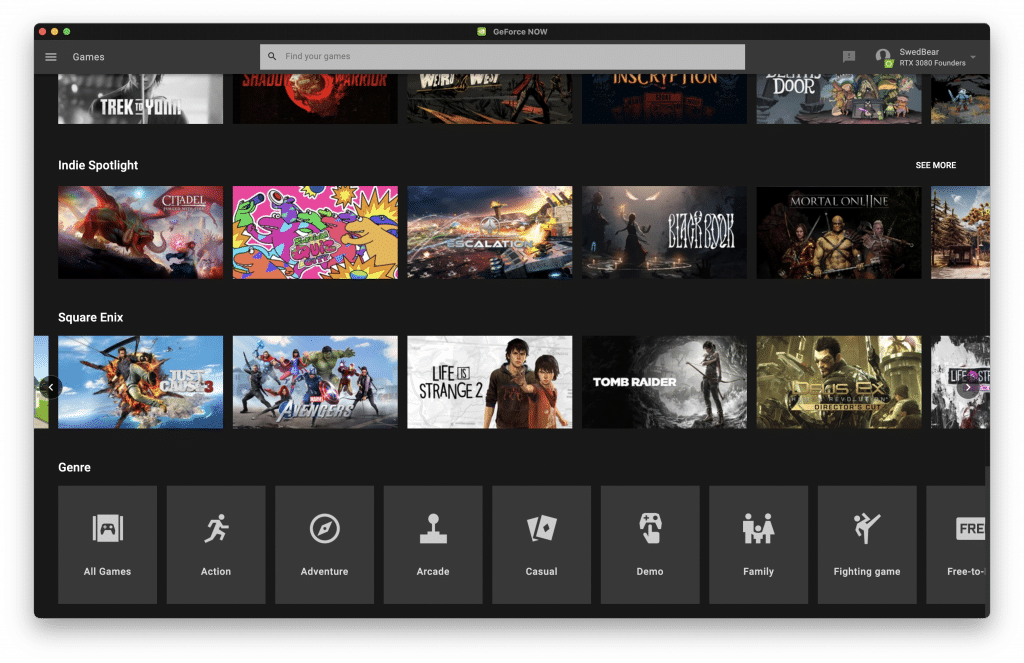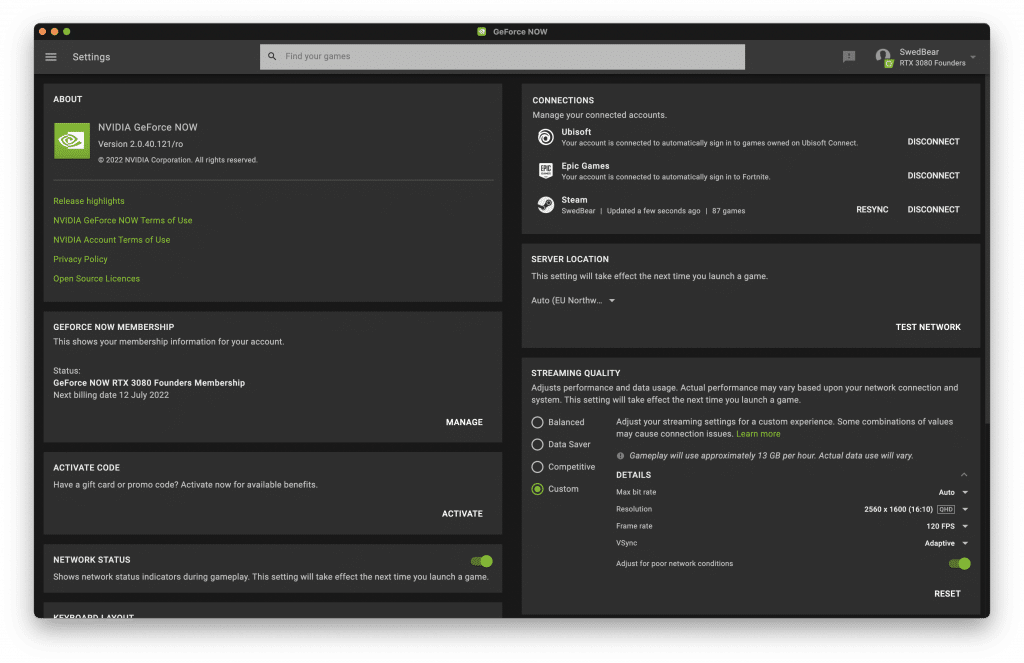 The software is a quick way to access all your supported games. It allows you to connect Nvidia GeForce Now to Steam, Epic Games and Ubisoft Connect. This means you can play supported games in these services. As far as I can see however only Steam syncs your library of games so GeForce Now will not know if you have bought a game on one of the other services or not.  This makes the dashboard a bit of a mess as it mixes games you own with supported games and do not clearly label them. I wish Epic and Ubisoft would just allow GeForce Now to sync their libraries. And while you add it, add GoG-support and full Origin support.
Not all games are supported, mainly because the developer for some reason does not want to give access. At the time of writing 1296 games are supported.
It also supports some games from Electronic Arts which can be played via Origin. Even though you cannot directly connect your Origin account in the software you just have to log in as the game starts.
I suggest going through the settings to make sure they are set correctly. I could not understand why I only got 1680×1050 as the highest resolution until I realised that you need to change to "Custom" under Streaming Quality to be able to use higher resolutions.
Balanced gives you a max resolution of 1680×1050 (60 fps), Datasaver has a max of 1280×800 (60 fps) while Competitive goes up to 1920×1200 (120 fps). I still would like to use as high resolution as possible, so I set my max resolution to 2560×1600 at 120 fps which is the max for my computer.
Since you are streaming the games the software allows you to do a basic check to see how well your network performs. It also detects if you are connected via 5 GHz or 2.4 GHz over WIFI and warns you if the latter is used. You still can start the games but it expects worse performance.
One thing I like is the Instant Play Free Demos which start right away without any need to install anything.  I started to play both "Diplomacy is not an option" and the Ghost Runner demo and could quickly get an idea of the game. I would hope more developers support these instant play demos as it is an excellent way to sell your game.